Back to selection
TIFF 2016: Five Questions for Tramps Writer/Director Adam Leon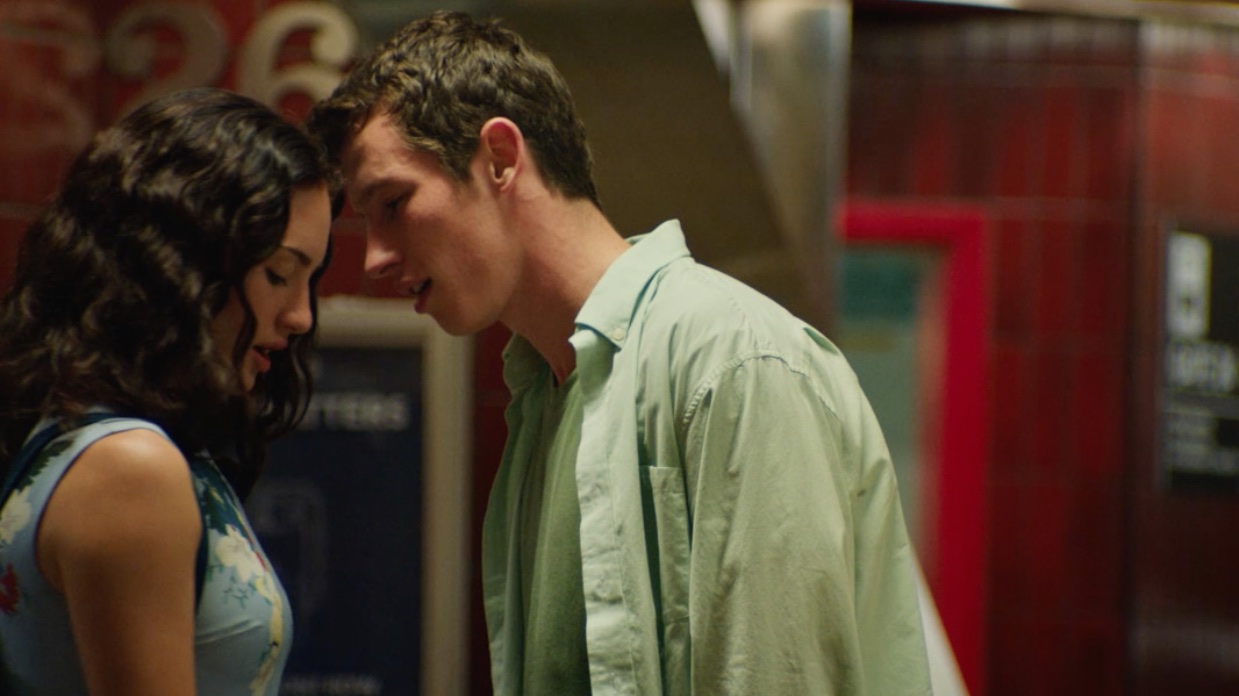 Tramps
Adam Leon's fleet-footed Gimme the Loot was a giddy discovery out of SXSW in 2012. Winner of the Grand Jury Prize there, it went on to Cannes' Un Certain Regard and announced Leon as a promising new voice in American independent film, one who married specificity of character and location with keen storytelling chops. Four years later, Leon has made a follow-up feature, Tramps, which premieres in Toronto in the Contemporary World Cinema section. Once more, there's a man and a woman — in this case, rising stars Callum Turner and Grace Van Patten — and a peripatetic caper. Here, though, the caper moves from the smalltime stakes of our Loot heroes' attempt to tag the giant apple atop Citi Field to midlevel larceny laced with romance.
I interviewed Leon back when Gimme the Loot premiered, and one of the things we discussed was independent film financing. In that interview he gave in just a couple of paragraphs perhaps the best breakdown of how to write an independent film business plan we've published. So, here, I asked him about working his producers and putting this film together along with questions about this new film's larger scale and why he returned to the independent world after Loot's success.
Tramps premieres tomorrow at the Toronto Film Festival.
Filmmaker: When you were last in the pages of Filmmaker, it was just before the release of your debut feature, Gimme the Loot. I remember talking to you about the various Hollywood meetings you were doing, and the process of finding what would be your next feature. So, how did you get from Gimme the Loot to Tramps? And why led you go back to make an independent film rather than develop something within the studio system?
Leon: Well I just want to do the work. I love the job, it's a privilege. And so basically I'm looking for stories that are of high quality, artistic merit, and provide a moving, worthwhile experience for an audience. That's my criteria, something an audience can have the potential to love, that takes them on an adventure. That can be done in or out of the studio system, and I'm still absolutely interested in telling different kinds of stories on different kinds of scales. It just depends on the project, the timing, whom I'd be working with.
What happened with Tramps was I wanted to tell a story that would capture the feeling of falling in love at the movies. I was on a kick of watching classic romantic adventures like His Girl Friday and Trouble in Paradise. So that was a goal, and at the same time I had become very interested in a specific element in Rohmer movies: his handling of transportation and how people move around a city. This was suggested to me by a critic after seeing Loot, and I started studying that concept in his work. and how essential it is to his storytelling, in particular in Winter's Tale.
Then I was on a trip in Peru with my brother, eating lunch with him, and I had this idea about two brothers where the older one convinces the younger to fill in for him on a heist because he's in jail. That's Darren and Danny, and Ellie came to me pretty quickly after that. I could hear those characters and they just grabbed me. I wanted to take them and tell this classic romantic adventure where they're constantly moving in all these different modes of transportation, with the idea of movement as not just action but as a theme. I talked about it with Jamund Washington, who developed the story with me, and we became very excited about the possibility of spending a couple of years with Danny and Ellie and felt audiences would want to spend 90 minutes with them too.
Filmmaker: A couple, a MacGuffin, of sorts, a compressed time period — it sounds as if Tramps has some similar elements to Gimme the Loot. What's different about the movie? What were you trying to do differently in terms of both story and filmmaking?
Leon: Loot is in some ways a "hang out" movie, which makes sense since it's goal is to observe these two friends exploring the world around them. Tramps is completely different in its approach to story. It's taking a set, well known, pre-existing type of movie, the Romance, but with a specific and hopefully new take on it. We're telling a classic Hollywood idea and embracing it, but trying to do so in a way you haven't seen before and with characters who you haven't seen it with.
In terms of the filmmaking, we're operating on a bigger scale cinematically, and I think Tramps involves a more emotional type of filmmaking, even impressionistic at times, both in its visuals and its edit. In general I wanted to be less rigid than I have been previously. There were a lot of "rules" on Loot — it's very literal in terms of the shooting and editing, which is right for that movie. With Tramps, in part because we're telling a more traditional story, I encouraged my collaborators to be less traditional in the telling of it. This idea played out in specific ways throughout the process, like incorporating non-linear sequences, an increased use of montage and close-ups, isolating elements in the sound editing, the use of original score at times instead of just songs, etc. There's a sense of being less strictly observational, even though some observational elements like the use of long take street shooting remain, and allowing ourselves to get into the feelings of the characters in terms of the filmmaking itself.
Filmmaker: You're working with a new cinematographer, Ashley Connor, who is known for her work with Josephine Decker, among others. Tell me about the process of working with her. How'd you land on a look for a film and a style of shooting that was congruent with your budget and schedule?
Leon: We then went through a sort of rehearsal process where, along with pouring over references and doing camera and color tests, we hung out and talked about life, went to movies, to a basketball game. It was basically a several month conversation that centered around Tramps, and her influence on the movie extends beyond the visual language to the dialogue, characters, and just the emotions of the piece. She's a major collaborator in every sense.
I always have a very specific look in mind when I'm writing, and it's important to give each project it's own distinctive visual style and to not make it look like every other movie out there. But that can't come at the expense of story. Ashley, even though she maybe first became known for more outre stuff, was very passionate about that. She said to me once, "If the first line of the review mentions me, we failed. It needs to mention Danny and Ellie." That's a beautiful, confident thing for a DP to say, and I really admire not only her phenomenal talent but also her use of it in service of the movie rather than her reel.
As for the visual language, we wanted Tramps to feel like a warm, beautiful, colorful blast of a movie. Loot has a washed out, brown palette (we purposefully emulated bad '70s film transfers), but on Tramps we were drawn to saturated colors with bright greens and yellows and bursts of reds. I put two stills from each movie next to each other for a lookbook recently, and they couldn't live on the same page; the Loot ones looked recessed about 20 feet and Tramps stills looked like they were coming out of the page. And then with the camera movements, we talked a lot about the zoom work, making sure it never felt winking or self-aware and always emotional, and I asked her to push me on using hand-held more.
Filmmaker: In our previous Filmmaker interview, you gave one of the best explanations of how to put together a business plan and pitch document for an independent feature. Did you go through this process again? Was the financing easier to come by this time, and what were the elements that triggered that financing?
Leon: Oh the flattery! I'm not sure I can live up to that but what happened here is I knew David Kaplan and was really taken with his approach and the movies Animal Kingdom were making. I actually wrote the script with them in mind, in the way that some people would write a script with an actor in mind, which is a bit odd but I think speaks to the quality of films they're producing.
I met with David's partner, Josh Astrachan, last December. Josh produced for Altman and has this justly deserved esteemed reputation. I was nervous. It was this three-hour meeting, and at some point I just blurted, "Look, we should we make this movie together," and he said, "Yeah, alright, let's make this movie together." I was so buzzed from him agreeing that I literally jumped up and danced on the street once I left, giddily called Jamund, and walked all the way home in the cold in a daze of excitement.
Then David was like, "I got you, we're going to get this movie made." And I trusted him, that's one of the reasons I wanted to work with Animal Kingdom — they make their movies. They brought in these two other fantastic companies to partner with, Rooks Nest and Beachside. I was shielded from the financial process but it was also transparent in that I was privy to as much going on as I wanted.
It was an adjustment because I was the head of the LLC on Loot, which meant I was in charge of the whole operation. On Tramps there's a day where I signed a contract that says not only am I not in charge, I don't own the project. It's not mine anymore. That's why having people that I trusted 100% in both business and as human beings was so essential. And they've never let me down except that time Josh took me to a bad pizza place and we sat by the bathroom.
Filmmaker: Gimme the Loot was a real location-dependent movie, and it sounds as if this movie is similarly suffused with the meanings of its settings. Tell us about your locations — how you picked them, and what challenges you encountered.
Leon: I think location can define an event as much as character or the action. So when I'm writing and shooting, location is informing the story thematically, visually, in terms of plotting, just in every sense.
You get to go places in movies by just sitting in this dark room and I want to maximize that. I'm attracted to stories that are adventures and Tramps, as I mentioned, centers around movement. So travel and transportation were key to the settings and we have them on buses, trains, bikes, cars, subways and in these transit hubs like Grand Central, Penn Station, and the Port Authority.
Then we wanted to move Danny and Ellie out of the city and into the suburbs. Story wise it both provided them with a foreign place where they could freely explore being someone different, and also it allowed us to isolate them in the frame as their relationship develops. Except for the carnival scene, there are literally five other faces you see in the entire middle section of the movie, and then of course in the New York sections there can be hundreds in a given shot.
The challenges were typical things that come from shooting in the real word — sound issues, people looking at the camera, etc. The New Jersey Transit and Metro North days were particularly fraught — we ended up hiding in a train bathroom at one point. But I'm working with an incredibly talented crew and a team of producers, led on set by Andrea Roa as well as Jamund and Corey Deckler, who just are calm and smart and get things done. So I wouldn't say the locations were a particular challenge from my perspective, but you should talk to them, they probably have all the good stories!