Back to selection
Five Questions for Closet Monster Writer/Director Stephen Dunn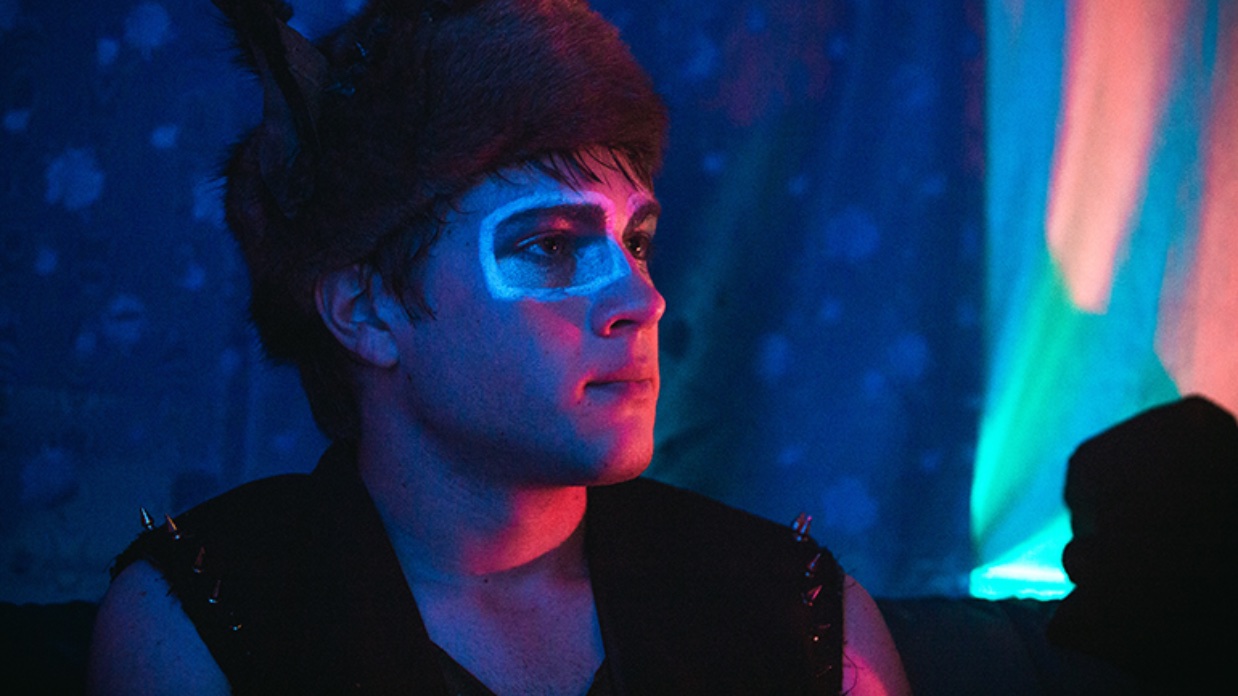 Closet Monster
A surreal and entirely original coming-of-age tale, Closet Monster tells the story of Oscar, a gay, cinephilic high school senior who has been grappling with the implications of his parents' divorce — and a witnessed act of gay bashing — by, among other things, conversing with his "spirit animal": Buffy, a pet hamster voiced by Isabella Rossellini. The feature debut of Canadian writer/director Stephen Dunn, the film has drawn comparisons to the work of countrymen David Cronenberg and Xavier Dolan, but it pulses to its own unexpectedly sincere wavelength. Below, we asked Dunn about that Cronenberg connection, star Connor Jessup (one of Filmmaker's 2016 25 New Faces), and the impact today of '80s New Queer Cinema.
Closet Monster opens today at the IFC Center from Strand Releasing.
Filmmaker: When we last wrote about you, you were bringing the Pop Up Porno series of shorts to Sundance. Tell us about the relationship between those shorts — if there is one — and Closet Monster? Do any stylistic elements carry over?
Dunn: Stylistically, my approach to Closet Monster was completely different to the Pop-Up Porno series. The Pornos are a series about humiliating sexual encounters cheekily illustrated through raunchy pornographic pop-up books, while Closet Monster is a live-action feature. However, both projects share themes of sexuality and its relationship to shame. But I guess, in a way both stories playfully explore sexuality in an indirect way through visual metaphor and surrealist elements.
Filmmaker: Your lead teenage character, Oscar, is an aspiring special effects makeup artist, and your film has drawn some comparisons to the work of your fellow Canadian, David Cronenberg, with regards to aspects of body horror. Tell us how an interest in special effects makeup plays into this feature? Are you yourself interested in special effects, and what special effects have made an impact on you?
Dunn: I think I first saw Videodrome long before I probably should have. Even as a kid, I've always been drawn into sci-fi, supernatural and magical realist stories but for me I find these kind of elevated styles and genres most powerful when expressed in a world rooted in reality. I've always loved how filmmakers like Spike Jones and Michel Gondry have used magic realism in their work, but I think I've been getting the Cronenberg references a lot because the imagery in Closet Monster is really rooted in ugliness, violence and fear, therefore the surrealist components tend to bleed into more of a visceral body horror genre.
Filmmaker: Your film deals with a coming-of-age story, and one that's backgrounded by an act of violence. What were the elements you drew on to imagine the emotional journey of Oscar?
Dunn: I was compelled to develop Closet Monster out of a desire to articulate the complex feelings of self-hate and internalized homophobia I felt growing up in St. John's, Newfoundland. As a child, Oscar is witness to a violent act towards a young gay man and grows up connecting his sexuality with a fear of violence and judgement. As a teenager Oscar begins to fall for a charming boy he meets at work and the fear of his repressed desires bubbles up inside him, literally, in the form of an ulcer that's growing in his stomach. Enter body horror. I can't really go into too much detail without spoiling the ending, but I wanted to make this film to illustrate the internal struggle of when the heart betrays the mind and the body is in full-fledge war with itself.
Filmmaker: Back when Filmmaker started, it was the era of New Queer Cinema, and films by Gregg Araki, Tom Kalin, Rose Troche and others were regulars in our magazine. That specific movement has dispersed, or is relegated to that specific moment in history, a moment that coincided with both AIDS activism and a new wave of DIY production. As a young gay filmmaker, what current cinema inspires you, and do you think gay cinema — or perhaps just independent cinema in general — should draw again from the oppositional status of so many New Queer Cinema films?
Dunn: The presence of this kind of independent cinema developed out of a need for representation. An urgency to see these voices on screen and in society. Mere decades ago Queer Cinema barely existed and now so much has changed. Gregg Araki, Todd Haynes, Gus Van Sant and basically anything Christine Vachon touched has laid the groundwork for me to be able to make a film like Closet Monster. In today's modern landscape I look forward to films about queer characters to no longer be a genre made and marketed exclusively for queer audiences. I feel optimistic that mainstream audiences are becoming understanding that queer/minority stories have universal importance.
Due to the lack of mid-range budget films and the dominance of comic book movies at the box office, I feel like queer stories have moved to television. If I'm going to be honest, I've drawn more inspiration from Jill Soloway and Transparent, Skins and Buffy the Vampire Slayer than I have from recent cinema. Except for Moonlight. That movie is a fucking masterpiece.
Filmmaker: Finally, Connor Jessup was one of our 25 New Faces this year. Tell me how he got involved in the project and what specific qualities of his you drew on to create your Oscar?
Dunn: I actually discovered Connor while I was writing the film in a library on University of Toronto campus. I spent the summer locked up in there writing, undisturbed, except for once a week when a group of nerds would come in and play a noisy board game. Connor was one of these nerds. While I was writing the world of Oscar, Connor was actually in the room with me, inadvertently incepting his way into the film.
Having him at the helm was a godsend. Because Closet Monster is a very personal project for me, it makes casting really difficult because you're essentially handing over your story to someone else. Thankfully not only was Connor a generous collaborator but he brought level of seriousness and dedication that elevated his performance beyond my expectations.