Livia Ungur and Sherng-Lee Huang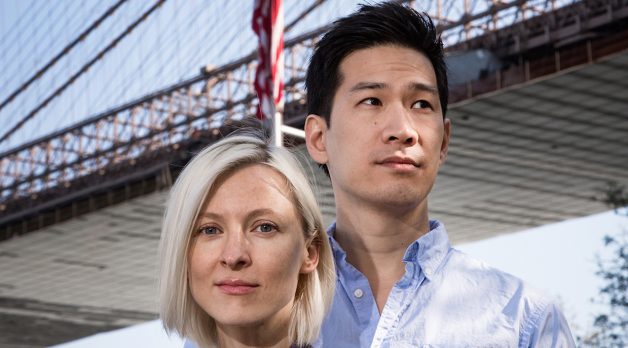 Livia Ungur and Sherng-Lee Huang

Romania in the 1980s was a time defined by communism, austerity and the authoritarian rule of Nicolae Ceaușescu — and also capitalism, Texas excess and the fictional oil tycoon J.R. Ewing. Artistic and life partners Livia Ungur and Sherng-Lee Huang explore this dichotomy in their unbelievable (in all senses of the word) feature debut Hotel Dallas, a hybrid doc that's been blowing minds on the festival circuit ever since its Berlinale 2016 premiere.
The couple's relationship began as strictly personal — they met on Match.com, actually. "We got married first, in 2010," Huang explains. "And pretty soon after that, we started collaborating. It was tentative at first, but by 2013,we were working exclusively as a duo." "It took us a long time to acknowledge that this collaboration was not just a side project," Ungur continues. "This is the main project — and we are going to center our lives around it. It's a scary realization, because most collaborations end eventually. Most bands break up. Meanwhile, here we are with our first feature and a baby on the way. In the end, it's about commitment in the face of uncertainty."
Their doc/fiction hybrid, heavy on experimental film and music video techniques, tells the true story of how the soapy series Dallas — the only American program allowed to be aired in Romania because the authorities believed it a cautionary tale about the evil capitalist West — became must-watch TV that influenced an entire generation. It also tells the fuzzier tale of how Livia, who fell in love with Patrick "Bobby Ewing" Duffy as a youngster, and her father Ilie, who fancied himself a wheeler-dealer like J.R., pursued their Dallas dreams after the fall of the regime. While Ilie built Hotel Dallas (a Southfork replica and a means to embezzle millions in taxes), Livia left for America, only returning years later to revisit her adolescent obsession through the prism of the "new" — although '80s-inspired — Romania. (And yes, Duffy actually agreed to be in the film, compensated with only a bottle of wine.)
But unlike first-time feature director Ilinca Calugareanu's Chuck Norris vs. Communism, another recent film about how an '80s icon from the wicked U.S. contributed to the fall of Ceaușescu, Hotel Dallas is solidly part of the American indie firmament. Though Huang's parents hail from Taiwan and Malaysia, the Brooklyn-based filmmaker himself was born and raised in Tennessee. Ungur, who immigrated to the states after winning a green card lottery visa as an adult, developed Hotel Dallas as her thesis for Yale's sculpture MFA program.
As for future projects, with Hotel Dallas still on the festival circuit, not to mention their first child due in the fall, Huang cited his mantra, which, naturally, comes from another Duffy-starring TV show: "Step by step, day by day…" — Lauren Wissot/Photo by Richard Koek
CONTACT: ungur-huang.com