Back to selection
Recommended on a Friday: Little Sister, Christine, Tower, Certain Women and More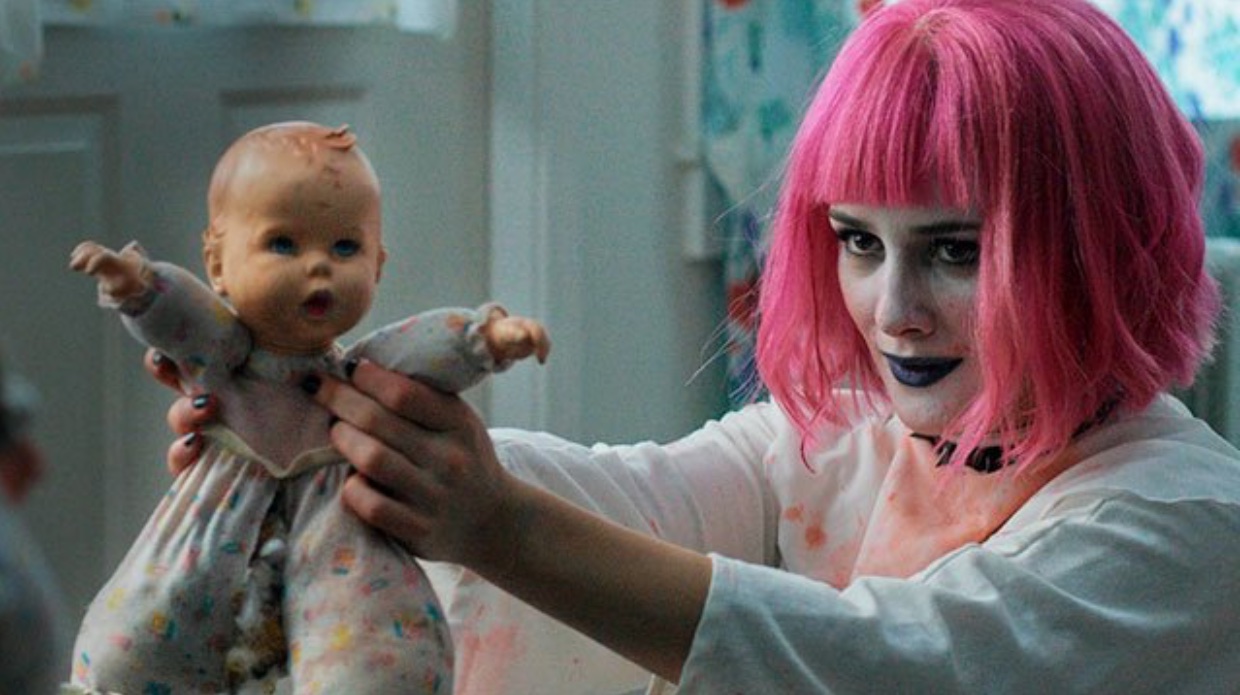 Little Sister
If you look at the long list of movies opening every weekend, not just in theaters but on digital platforms too, you probably feel like you can't keep up. We feel the same way here at Filmmaker, with usually more films entering the marketplace then we're able to devote meaningful editorial to. Invariably, some films slip through the cracks, while others may have been covered by us at their festival premieres months ago, with our coverage now buried in the depths of our CMS.
So, we're starting this "Recommended on a Friday" series of picks designed to help you navigate the opening weekend thickets while allowing us to throw some appreciation on films we especially like. Kicking off this weekend's picks is Zach Clark's Little Sister, which opens today at New York's Metrograph and October 28th at The Arena Cinema in L.A.
Writes Brandon Harris:
Little Sister, Zach Clark's fifth feature, focuses on a Brooklyn nun, long obsessed with the music and iconography of Goth, who returns to her North Carolina hometown during a crisis of faith and after her brother's disfigurement in Iraq. The movie swerves elegantly from comedy to tragedy, achieving a tonal ambiguity and stylistic go-for-broke quality that Clark has been working toward in previous features like Vacation! and White Reindeer.
Howard Feinstein calls Little Sister "an unaffected masterpiece" in a review at this site that draws lines between Clark and Douglas Sirk, Rainer Werner Fassbinder and '70s exploitation cinema.
And in my newsletter out of SXSW this year, I called Little Sister "my favorite fiction film" of the festival, and commented on its 2008 period setting: "All the Obama-election tropes of hope, change and reconciling all forms of American division are given the kind of anarchic, hilarious post-modern twists Clark is known for even as his film hits deeper, more emotionally resonant notes."
Also out of SXSW this year was Keith Maitland's Tower, which opened Wednesday and is going into its first release weekend at New York's Film Forum. My favorite doc out the Austin festival, it's a must-see. I wrote:
Largely done using rotoscope animation, the film is a riveting, moment-my-moment depiction of the 1966 University of Austin shooting, when a former Marine, Charles Whitman, killed 16 by firing with a high-powered rifle from the observation deck of the university's tower. Mixing reenactments with present-day interviews and employing a dynamic visual style that is both fresh while not overly aestheticizing the killings, Tower unexpectedly goes on 20 minutes longer than you think it will. It's in that 20 minutes that the film becomes especially bold, allowing the previous animated section to function as memory as it dignifies the victims and makes larger commentary on our desensitization to the mass shootings that run across the headlines every few days now in America.
The second 2016 release dealing with the suicided TV reporter Christine Chubbuck, Antonio Campos's Christine opens today from The Orchard. In 1974, Chubbuck, who had a history of depression, shot and killed herself on live TV following a series of personal and professional setbacks. The latter involved the conflict between her own preferred brand of local human interest story to the emerging "if it bleeds, it leads" aesthetic that would come to dominate television news. Campos moves from the icy formalism of his teen-themed Afterschool and the Highsmithian coolness of the Paris-set neo-thriller Simon Killer to this film, which provides both a cogent analysis of '70s media workplace dynamics and social pressures as well as an astonishingly empathetic portrait of a woman struggling with depression. Odd and even offputting at the start, Hall's intelligent, committed, awards-worthy portrayal of Chubbuck builds to the positively heartbreaking. I moderated a panel with Campos and Hall at this year's IFP Film Week, which Meredith Alloway reported on here. Christine is now playing at the Film Forum.
After a Sundance premiere and a New York Film Festival slot, Kelly Reichardt's Montana triptych Certain Women opens today at the IFC Center and other theaters. Starring Kristen Stewart, Michelle Williams, Laura Dern and Lily Gladstone, the film was hailed by Vadim Rizov out of Park City. He wrote:
As usual, Reichardt dwells in pockets of location sound that are both very quiet and intensely detailed: it's the ambience of a horror movie where the big jolt never comes. The film is gorgeous, maximizing use of 16mm grain: a shot of the rural landscape from behind a glass window is distorted by both that surface and the celluloid, rendering Montana in pointillist fashion. It's suprisingly apposite late-night viewing, a long exhale rather than a rapturous swoon; in its deliberately small-scale way, it feels just about perfect.
Today on the site, Paula Bernstein interviews Reichardt.
Down South, Contributing Editor Lauren Wissot writes in with a pick out of the New Orleans Film Festival:
Appropriately world premiering at the New Orleans Film Festival this weekend (October 15, 6:30PM) is Shelter, the latest VICE Film from the Peabody (and IDA and Overseas Press Club and Columbia Dupont and Edward R. Murrow) Award-winning Renaud brothers. The cinema verite project was shot over a period of six months at New Orleans's very own Covenant House, a Catholic organization that serves homeless, runaway and at-risk youth with the same true compassion and respect (regardless of race, sex, sexual orientation or gender identity) that Craig and Brent Renaud continue to show to their own subjects.
Finally, Vadim Rizov recommends you check out Jonas Wood's show at the Anton Kern Gallery:
Jonas Wood — new to me, still getting my feet wet in the gallery world — is a painter in a semi-Koonsian vein (but much much better, don't let that throw you), with deeply textured canvases that, at least in his current exhibition, reworks unpromising materials into large, startling new forms. His portrait of semi-remembered NBA journeyman, college ball legend Dwayne Schintzius (freakishly, today is his birthday) knocked me for a loop: an athlete possibly best known for a mullet-esque haircut, deemed "The Lobster," captured from a Topps card. (Wood appears to be a basketball freak in general.) Elsewhere, the exhibition reworks Sears photographs and Elsa Dorfman. The results aren't just nostalgia multiplied by pop culture; wander up close and weird textures reveal themselves. Walk into the back room and a truly messed-up painting of a 7-Up branded vase, the whole of the space, will startle you. The show is on view through October 29; prep with this interview, which has a perfect opening: "Go ahead; you can write whatever you want about me," Jonas Wood says. "Everyone knows I'm a stoner."