Back to selection
"On a Picture of this Size, Time and Money Are Your Enemy": DP Armando Salas on Bitch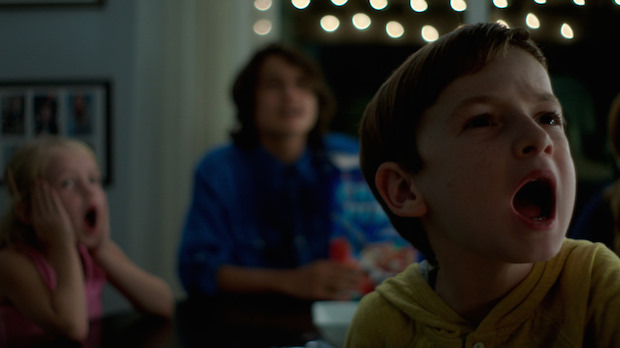 Bitch
Writer/director/actor Marianna Palka has appeared at Sundance to present a feature (2008's Good Dick), a documentary short (2014's The Lion's Mouth Opens) and to serve as a Sloan Juror. She returns to Park City in 2017 with Bitch, her surreal new film on the crumbling of a nuclear family. Palka hired DP Armando Salas to shoot the film, which stars Jason Ritter, Jaime King and Palka herself. Ahead of the film's premiere, Salas spoke with Filmmaker about the film's seriocomic tone, visual influences and its toughest scene to shoot. The film will screen four times at Sundance this year.
Filmmaker: How and why did you wind up being the cinematographer of your film? What were the factors and attributes that led to your being hired for this job?
Salas: Josh Waller, one of the producers of the picture, thought that I would like the script and be a good fit with Marianna. I really enjoyed how odd and surreal the story becomes while being grounded in a bittersweet tenderness of what it is to be a family. Marianna and I hit it off from the time we met.
Filmmaker: What were your artistic goals on this film, and how did you realize them? How did you want your cinematography to enhance the film's storytelling and treatment of its characters?
Salas: All of the films Marianna referenced have a slower cutting pattern with long masters and beautiful close ups that allowed the actors to be expressive without having to say much. Our goal was to take that sensibility and infuse it with a genre element as the family slips into chaos. When the story takes a turn into the surreal, we also played with giving the image a bit of a dreamlike state.
Filmmaker: Were there any specific influences on your cinematography, whether they be other films, or visual art, of photography, or something else?
Salas: The photography of Philip Lorca DiCorcia and Joel Meyerowitz for capturing a timeless feel and the large format polaroids of Sally Mann for color reference.
Filmmaker: What were the biggest challenges posed by production to those goals?
Salas: On a picture of this size, time and money are your enemy! Luckily we had an amazing cast.
Filmmaker: What camera did you shoot on? Why did you choose the camera that you did? What lenses did you use?
Salas: We shot on an Alexa. The majority of the picture was shot on older funky lenses; a mix of uncoated super speed and standard speed primes, as well as a Kowa spherical. Our work horses were the 32mm, 55mm, and 21mm focal lengths in that order. We wanted to be as close as possible to the actors in close ups to feel the immediacy of their performances, and balance that with tableau wides which Marianna was a huge fan of to allow the scene to develop naturally. The combination of these lenses and the Alexa sensor gave us the creamy, natural skin tones we wanted to capture. Panavision also provided their 19-90 zoom which we used for the beginning of the film and for any VFX elements.
Filmmaker: Describe your approach to lighting.
Salas: The lighting had to strike a balance between completely naturalistic and dream-like (or nightmare!). We augmented windows and practical sources and mostly took light away. My gaffer Eric Clark used a selection of LiteMat fixtures near the actors. The dreamlike came from how much we allowed the light sources to flare, and glow the uncoated lenses. My focus pullers Ryan O'Hara and Neil Chartier did an amazing job of dealing with the older lenses and mechanics, as well as pulling focus nearly wide open.
Filmmaker: What was the most difficult scene to realize and why? And how did you do it?
Salas: The most technically challenging sequence was selling the lead character running on all fours at canine speeds down a residential street, completely nude! We played with frame rates and motion blur, while three crew members pushed Marianna on a Western dolly as fast as they could!
Filmmaker: Finally, describe the finishing of the film. How much of your look was "baked in" versus realized in the DI?
Salas: I created a couple LUTs in pre-production which we used for monitoring on set and for rendering dailies so that everyone was on the same page. Taylor Mahony at Tunnel Post put the finishing touches on in the DI. The grade is very filmic and doesn't stray far from what we were capturing in camera.
Camera: Alexa
Lenses: Panavision 19-90. Uncoated super speed 55mm. Uncoated standard speed 21mm. 32mm Kowa.
Lighting: A mix of tungsten, HMI, and LEDs.
Processing: Digital capture.
Color Grading: Nucoda at Tunnel Post