Back to selection
"Like Nothing Else I Have Shot": DP Sean Price Williams on Marjorie Prime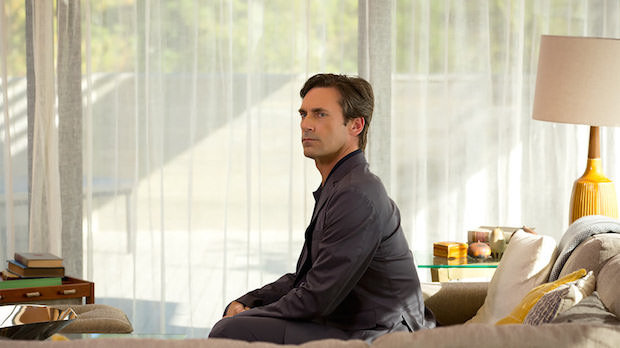 Marjorie Prime
Sean Price Williams has become an indomitable force in American independent cinema. Filming regularly on Super 16mm, Williams has served as DP on the films of Alex Ross Perry (Queen of Earth, Listen Up Philip), Robert Greene (Kate Plays Christine), Albert Maysles (Iris) and the Safdie brothers (Heaven Knows What). Williams sought to shoot something unlike any of his previous work for his latest feature, Marjorie Prime. With a cast that includes Jon Hamm, Geena Davis and Tim Robbins, Marjorie Prime is the latest film from writer/director Michael Almereyda. The film will have its world premiere at the 2017 Sundance Film Festival.
Filmmaker: How and why did you wind up being the cinematographer of your film? What were the factors and attributes that led to your being hired for this job?
Williams: I worked at Kim's Video for a few years almost two decades ago. Michael was a very regular customer and I always admired his taste and cool disposition. Also, he was one of the only working directors that I would spot at repertory film screenings all over the city.
He saw Queen of Earth and I think he was impressed that we were able to shoot the entire film in 12 days and never seemed to cover any two scenes the same way. As Marjorie Prime is mostly set in one location, like Queen of Earth is, he considered me as a potentially useful collaborator. I think that is how I got roped in. We met and got along very well and began watching movies together which we still do as much as possible. We really connected over a few films, and he introduced me to a pretty obscure Renoir film that blew my mind. Anyone who can hip me to a film I love is a friend for life!
Filmmaker: What were your artistic goals on this film and how did you realize them? How did you want your cinematography to enhance the film's storytelling and treatment of its characters?
Williams: I wanted the film to be very calm and clean, which is counterintuitive to me. I wanted to try to make something very different than what I have done in the past. Very muted, calculated, and moody in a way that catches you in subtle ways.
Filmmaker: Were there any specific influences on your cinematography, whether they be other films, or visual art, of photography, or something else?
Williams: Michael and I watched lots of movies. From Bullitt to Bergman to Renoir and lots of films that I can't recall right now. We also did a trip to the Met. Michael is very educated on photography and had some images that inspired poses and lighting for a few shots.
Filmmaker: What were the biggest challenges posed by production to those goals?
Williams: We were shooting in the early winter and had short days of sunlight which we needed to use as the house is surrounded by windows, visible in almost every shot. Trying to keep light consistent over the course of a scene was very tricky. On top of that, some scenes asked for snow and the phony snow was a nightmare. I flipped out many times over this, not having faith that much if it could be fixed in post. I hate the mantra "fix it in post."
Filmmaker: What camera did you shoot on? Why did you choose the camera that you did? What lenses did you use?
Williams: We shot on the Alexa. Michael and I were pushing to shoot on Super 16, but the producers said it wasn't possible. I really wish we had shot on film, still. I struggle with the Alexa. The lenses were new to me. I like to try out new lenses and I felt that no lenses I had worked with before were definitely going to give me what I wanted. And as I said before, much of the draw of working on the film was to make something that looked like nothing else I have shot.
Filmmaker: Describe your approach to lighting.
Williams: I always have a gaffer who is a great friend and great artist in his own right. We look at the faces of our actors and try to make them glow. And I like the rooms to have strong atmosphere. Not necessarily noirish lighting, but mood. I can't stand bright flat rooms in life or on screen. I get chills and want to get the hell away!
Filmmaker: What was the most difficult scene to realize and why? And how did you do it?
Williams: The final scene in the film was the toughest, perhaps. There were calculated dollies and snow machines that had to go off on a cue and everything was making noise and bugging me. The actors were so patient and kind and I just love them for always being so good! Lois [Smith] had done the play that the film was based on and knew the role backwards and forwards. Michael had made significant changes for the film version, but she was never mixed up, which astonished me when I finally saw the play and realized that it is a comedy! The whole tone around her performance was night and day from our film. Lois is a marvelous actor that has had reams of intelligent words written about her brilliance, so I will just say, I love her.
Filmmaker: Finally, describe the finishing of the film. How much of your look was "baked in" versus realized in the DI?
Williams: We only did a couple of days of color. The look is pretty much in the shooting for me usually. I don't like sitting in a dark room for eight hours a day looking at my mistakes. I would rather be watching another movie. So I really try to get it in the shooting. I learned my job on the cusp of the digital age and I still try to not count on the technologies of post too much.
Camera: Alexa Plus 2K
Lenses: Cooke Speed Panchros Mark 2 and 3, and a Cooke 25-250 Mark 3
Lighting: Lots of smaller units. Also available light and trying like hell to manage it
Processing: Digital
Color Grading: Metropolis Film