Back to selection
A Slice of Southern Life: DP Dustin Lane on Dayveon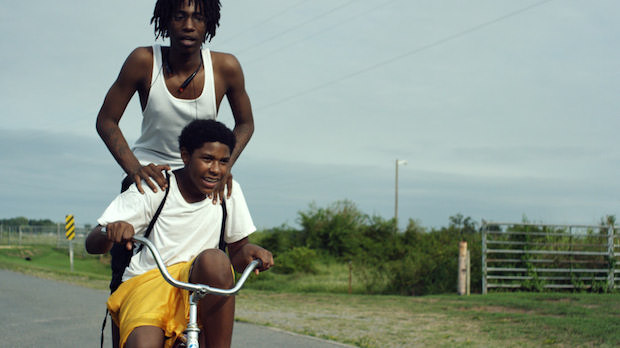 Dayveon
Hailed one of Filmmaker's 25 New Faces in 2016, Amman Abbasi makes his Sundance and feature film debut with Dayveon. The film stars Devin Blackmon as a 13-year-old kid coping with the violent death of his older brother in small-town Arkansas. Given the setting, age of the characters and Abbasi's lyrical approach to the story, the film has strong echoes of George Washington by David Gordon Green, who served as an executive producer here. Below, Filmmaker speaks with Dayveon DP Dustin Lane about his connection to the American South, shooting in a small town and his visual approach to this story.
Filmmaker: How and why did you wind up being the cinematographer of your film? What were the factors and attributes that led to your being hired for this job?
Lane: Amman and I had a mutual friend in editor Michael Carter. He saw some work of Michael's that I was involved in and reached out. I think it was important for Amman that I had grown up in the south and had an understanding of the landscape. I immediately responded to the rough drafts of the script/outline and Amman's previous work.
Filmmaker: What were your artistic goals on this film, and how did you realize them? How did you want your cinematography to enhance the film's storytelling and treatment of its characters?
Lane: I think for the most part I wanted to capture as truly as possible what was being presented to us, be open and reactionary. I do find the region of which I'm from to be beautiful, and wanted to honor that as well.
Filmmaker: Were there any specific influences on your cinematography, whether they be other films, or visual art, or photography, or something else?
Lane: We shared lots of references back and forth in the months leading up to production. I think the communication was more about how specific scenes felt and the energy they created more than lighting or specific "looks." Ultimately, I think the character of the location influenced our path more than anything.
Filmmaker: What were the biggest challenges posed by production to those goals?
Lane: We had a small though incredibly versatile core group of crew, but we suffered at times from all the things a low budget can bring about. Losing additional crew or extras, locations dropping out last minute. The town in Arkansas where we filmed was very contained, so it was fairly easy if something fell through to quickly repo to another area. We had a running list of moments to explore outside of a scene so we could always be productive if our schedule changed for one reason or another.
Filmmaker: What camera did you shoot on? Why did you choose the camera that you did? What lenses did you use?
Lane: We did some initial testing to find a setup that worked well for us. I think we were both drawn to a more impressionistic look overall. Ultimately though, we just needed a device to record the story that out-shined any technical need or preference.
Filmmaker: Describe your approach to lighting.
Lane: When Amman and I first connected in Arkansas to meet and do some preliminary scouting, we walked into one of our actor's houses around noon. The sun was out, but it was so dark inside. A TV was on, and the house's small windows let in just enough light to edge people out from the dark walls. Amman said, "I want it to look just like this" and on we went.
Filmmaker: What was the most difficult scene to realize and why? And how did you do it?
Lane: There was no singular pinnacle difficulty that I recall, but there were a handful of times where we lost what little control we did have. Sometimes it was the locations, or the cast, and it would spin in this delirious state for a bit, but I also think some of my favorite moments came out of that.
Filmmaker: Finally, describe the finishing of the film. How much of your look was "baked in" versus realized in the DI?
Lane: I was unfortunately unable to attend the color session as I was out of the country, but overall we had a very close to finished look in camera. I supplied frames for Amman to take in and our colorists Alex Bickel and Mike Howell did an amazing job of leveling and finding the consistent tone throughout.
Camera: Red Dragon
Lenses: Canon K35
Lighting: Natural/Practical/Artificial
Processing: Digital