Back to selection
"The Horror of Modern Warfare": Editor Joe Klotz on The Yellow Birds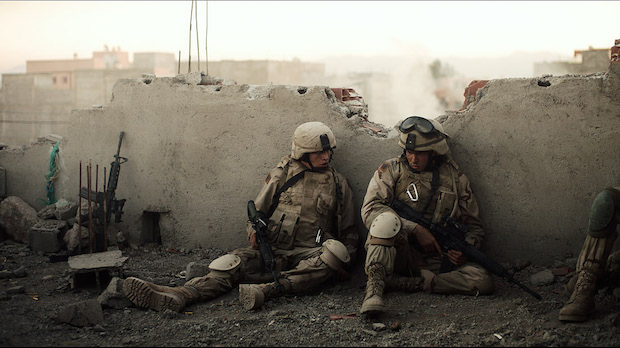 The Yellow Birds
French filmmaker Alexandre Moors made his feature debut in 2013 with Blue Caprice, an acclaimed indie inspired by the 2002 Washington, DC sniper attacks. He returns to Sundance (where Blue Caprice premiered) in 2017 with The Yellow Birds, an Iraq War drama screening in competition. Moors hired Joe Klotz to edit The Yellow Birds in part based on his affection for The Paperboy, one of three Lee Daniels films Klotz has edited. Below, Klotz discusses how he and Moors balanced "the fragmented nature of time" in the script with their mandate to tell a coherent narrative. The Yellow Birds will screen six times during the 2017 Sundance Film Festival.
Filmmaker: How and why did you wind up being the editor of your film? What were the factors and attributes that led to your being hired for this job?
Klotz: I found out about the film from my agent and FaceTimed with Alex Moors while he was doing prep in Morocco. I loved the script and, more importantly, his take on what he wanted to do with it. One factor that led to my being hired was Alex's appreciation of one of the less well received films I worked on, The Paperboy. It bombed here but was big in France.
Filmmaker: In terms of advancing your film from its earliest assembly to your final cut, what were your goals as an editor? What elements of the film did you want to enhance, or preserve, or tease out or totally reshape
Klotz: The biggest goal was to find a balance between the fractured nature of time in the script and the telling of a coherent story that was engaging and entertaining to the audience. We tried arranging the scenes of basic training, deployment in Iraq, and being back stateside in many different ways before coming up with the final configuration that worked.
Filmmaker: How did you achieve these goals? What types of editing techniques, or processes, or feedback screenings allowed this work to occur?
Klotz: Oddly enough, a lot of the heavy lifting on the final structure was done on a cork board with scene cards. We spent a lot of time staring at that board, talking about the possibilities, and rearranging the cards with push pins. Then obviously recutting, refining new transitions, and screening to see if it worked.
Filmmaker: As an editor, how did you come up in the business, and what influences have affected your work?
Klotz: After graduating from film school at Syracuse University, I worked my way through every kind of editing other than features. I spent years cutting news, promos, commercials, fashion videos, music videos, until I finally got a break cutting on sketch comedy shows at Comedy Central and that led to features. My influences come from a voracious appetite for seeing as many films as possible and from all the actors, producers, and directors I've worked with over the years. Learning from both the good and the bad.
Filmmaker: What editing system did you use, and why?
Klotz: AVID. Because it is what I started on many years ago, but I've also cut on and am open to other platforms.
Filmmaker: What was the most difficult scene to cut and why? And how did you do it?
Klotz: The final scene in which the mystery of Murph's disappearance is revealed in flashback to his mother (Jenifer Aniston) by his best friend in Iraq (Alden Ehrenreich). It was difficult because as the mystery was revealed you wanted to stay in the moment, but at the same time see and feel the emotional reaction of his mother. We made it work by carefully modulating the rhythm and tone as we shifted between the past and the present.
Filmmaker: Finally, now that the process is over, what new meanings has the film taken on for you? What did you discover in the footage that you might not have seen initially, and how does your final understanding of the film differ from the understanding that you began with?
Klotz: I originally felt the film was about PTSD and the horror of modern warfare, but came to realize that the film was also about the mystery of how two soldiers come to deal with survival and death.