Back to selection
"More Eyes, More Money and More Pressure": Editor Casey Brooks on Landline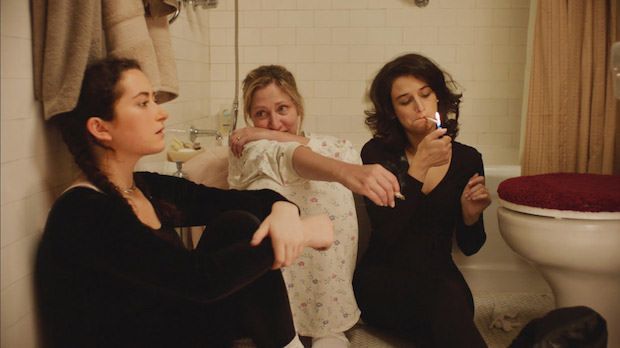 Landline
Gillian Robespierre assembled a familiar team for her second film. Like her 2014 breakthrough Obvious Child, Landline features the work of DP Chris Teague, co-writer/producer Elisabeth Holm, star Jenny Slate and editor Casey Brooks. In the below interview, conducted before the film's world premiere at Sundance 2017, Brooks discusses the film's balance of comedy and drama, his entry into editing and dealing with heightened expectations in the wake of Obvious Child. Landline costars John Turturro, Edie Falco, Abby Quinn and Jay Duplass.
Filmmaker: How and why did you wind up being the editor of your film? What were the factors and attributes that led to your being hired for this job?
Brooks: I worked with Gillian Robespierre (writer/director) and Liz Holm (writer/producer) on their last movie, Obvious Child. I met Gillian at the School of Visual Arts in 2001, and we've worked on each other's projects since then. We've always had a very similar sense of lowbrow humor. So when Gillian and I are together we get Liz to lower the bar and get on our level.
Filmmaker: In terms of advancing your film from its earliest assembly to your final cut, what were your goals as an editor? What elements of the film did you want to enhance, or preserve, or tease out or totally reshape?
Brooks: This film was our first ensemble feature. Not only that, but the movie rides the line of comedy and drama. So we knew it was going to be a challenge. I knew from reading the script that the film would be funny, but I didn't realize how beautiful the dramatic scenes would be until I saw the dailies. I was really blown away by the performances in the film. The whole cast really brought it. So we wanted to make sure those scenes were preserved. But keeping those dramatic moments balanced with the comedic moments was tricky. I think some of the early cuts we tried to jam in a few too many jokes and we realized that was taking away from the more intense dramatic scenes. So we pulled some of the comedy back a little and in doing so we realized the core comedic moments became even funnier. On top of all of that, we were bouncing around between certain characters and story arcs. So keeping a balance between all of this was the name of the game. It was by far the most challenging film I've worked on.
Filmmaker: How did you achieve these goals? What types of editing techniques, or processes, or feedback screenings allowed this work to occur?
Brooks: We constantly experimented with moving scenes around until we landed a flow that felt right. But there were many sleepless nights where I lay in bed reordering the film in my head. I can guarantee Gillian and Liz did the same. We had some feedback screenings that really helped us out a lot in the beginning. It was great to know which story lines and characters were tracking and which ones weren't. There were times we were definitely guilty of trying to reshape scenes into something they weren't. To really sell how a certain character is feeling. Ultimately we ended up really embracing what was shot in the first place. We also brought on Anne Macabe as a supervising editor, and she really helped us navigate the final two months in the edit room. Since this was our second film, there were more eyes, more money and more pressure. Expectations were high for sure, and we wanted to make sure we ended up with the best possible movie we could make.
Filmmaker: As an editor, how did you come up in the business, and what influences have affected your work?
Brooks: I got into the business a bit by accident. In 2006 I started working for the photographer/filmmaker Andrew Zuckerman. Although I was more interested in photography assisting at the time, he needed someone to manage media and post-assist on a documentary he was producing about Bill Withers. So every day I would either work on photography projects or film projects. More and more I would end up working on the film stuff until that's all I did. So I got really used to editing something every day. I began to feel more confident with my abilities as an editor and grew from there.
Filmmaker: What editing system did you use, and why?
Brooks: I use Adobe Premiere mostly. I dig it. It does everything I need it to do. I come from the super low budget world. I never had access to Avid. But I've used Avid more lately and I've began to appreciate it.
Filmmaker: What was the most difficult scene to cut and why? And how did you do it?
Brooks: Probably the opening scene of the film. Known to the team as "Tree Sex." We probably made 50 different versions of it. A lot of people had a lot of different ideas of what it should be. It gave us a lot of headaches. When Anne started working with me, she said we'll probably be editing that scene up until picture lock. She wasn't wrong. In the end I think the final locked cut is the best version we ever got.