Back to selection
DPs Yoni Brook and Joshua Z. Weinstein on Ultra-Orthodox Hasidic Jewish Drama Menashe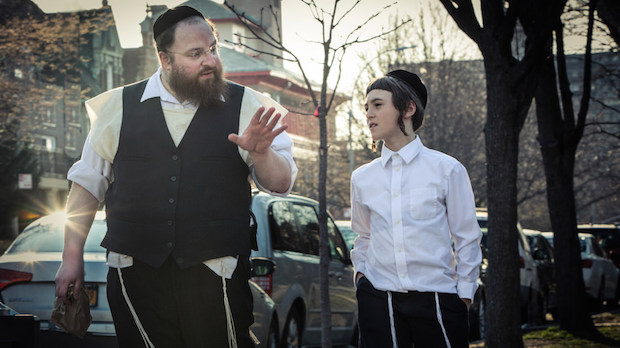 Menashe
Documentary director Joshua Z Weinstein makes his first foray into fiction filmmaking with Menashe, a drama set in the ultra-Orthodox Jewish neighborhood of Borough Park in New York City. Weinstein shot the film with co-DP Yoni Brook, a fellow documentary DP and director. With dialogue almost entirely in Yiddish, the film premiered earlier this week in the NEXT lineup at the 2017 Sundance Film Festival. Filmmaker spoke with Weinstein and Brook before the film's premiere. Below, the two discuss the film's necessary blend of documentary and fiction techniques, lighting scenes for first-time actors and earning the trust of a notoriously hermetic community.
Filmmaker: How and why did you wind up being the cinematographer of your film? What were the factors and attributes that led to your being hired for this job?
Weinstein and Brook: This was an unconventional film and therefore required a unique approach to cinematography.
We both came to the project as more than film collaborators; we are close friends. Working on each other's projects for years has given us a sense of our mutual affinities in terms of visual style, but also in how we wanted to work together. I think it helped that we started collaborating on Menashe very early on – from the project conception and casting. Initially we were the only people in the casting room, shooting test scenes and running dialogue ourselves, so our actors could sense our mutual trust, and then feel confident in being vulnerable on camera.
Filmmaker: What were your artistic goals on this film, and how did you realize them? How did you want your cinematography to enhance the film's storytelling and treatment of its characters?
Weinstein and Brook: We share similar aesthetic sensibilities – appreciating realism from our backgrounds as documentary directors and cinematographers, but also wanting to make a film that had a dramatic, heightened realism.
Filmmaker: Were there any specific influences on your cinematography, whether they be other films, or visual art, of photography, or something else?
Weinstein and Brook: We watched a lot of films together – looking at depictions of New York in cinema, particularly those of William Friedkin, Andrew Dosunmu, Morris Engel, and John Cassavetes.
We also tried to keep a light touch to the film's tone – which is a theme in historic Yiddish theater and culture – so we kept in mind the work of photographers like Gary Winogrand, Alex Webb, and Joel Meyerowitz.
Filmmaker: What were the biggest challenges posed by production to those goals?
Weinstein and Brook: We shot the film on location in Borough Park, Brooklyn, a neighborhood that is an enclave for the ultra-Orthodox Jewish community. Shooting on location with minimal control was both our greatest asset and challenge. Shooting in the community made our actors comfortable, and gave us an authenticity in minute details. But we weren't making a documentary, so we sometimes needed to control crowds and sets. We had to balance our desire to tell a narrative story while being sensitive to a community with its own codes of conduct in terms of gender and public behavior. Our cinematography had to be flexible, sometimes shooting like a documentary when on the street, and sometimes like a narrative film in private.
Filmmaker: What camera did you shoot on? Why did you choose the camera that you did? What lenses did you use?
Weinstein and Brook: We shot on Canon C300s, which is both lightweight and produces a beautiful image in low light. We used vintage Russian prime still photo lenses with adapters for the Canon – they gave our film a texture that felt almost anamorphic at times. When we needed telephoto we used standard Canon 70-200mm zoom with a doubler and lots of Black Pro Mist filters.
Filmmaker: Describe your approach to lighting.
Weinstein and Brook: We often lit our interiors in simple ways that afforded our actors the most flexibility in movement. Since our actors were mostly first-time performers, we didn't want to force them to hit marks or be boxed in by cinema lighting. We often used practical bulbs with color temperature variations to create moods in different environments.
Filmmaker: Finally, describe the finishing of the film. How much of your look was "baked in" versus realized in the DI?
Weinstein and Brook: We liked the idea of making choices while we were shooting and trusting them in post. So we thought about the kind of lenses, diffusion, and color temperatures, from the light sources to the art design, to give the film a distinctive look. That said, Fixafilm in Poland did a wonderful job with the grade on a Nucoda system.
Camera: Canon C300
Lenses: Various