Back to selection
Oregon Doc Camp: A Weekend in the Woods with Documentary Filmmakers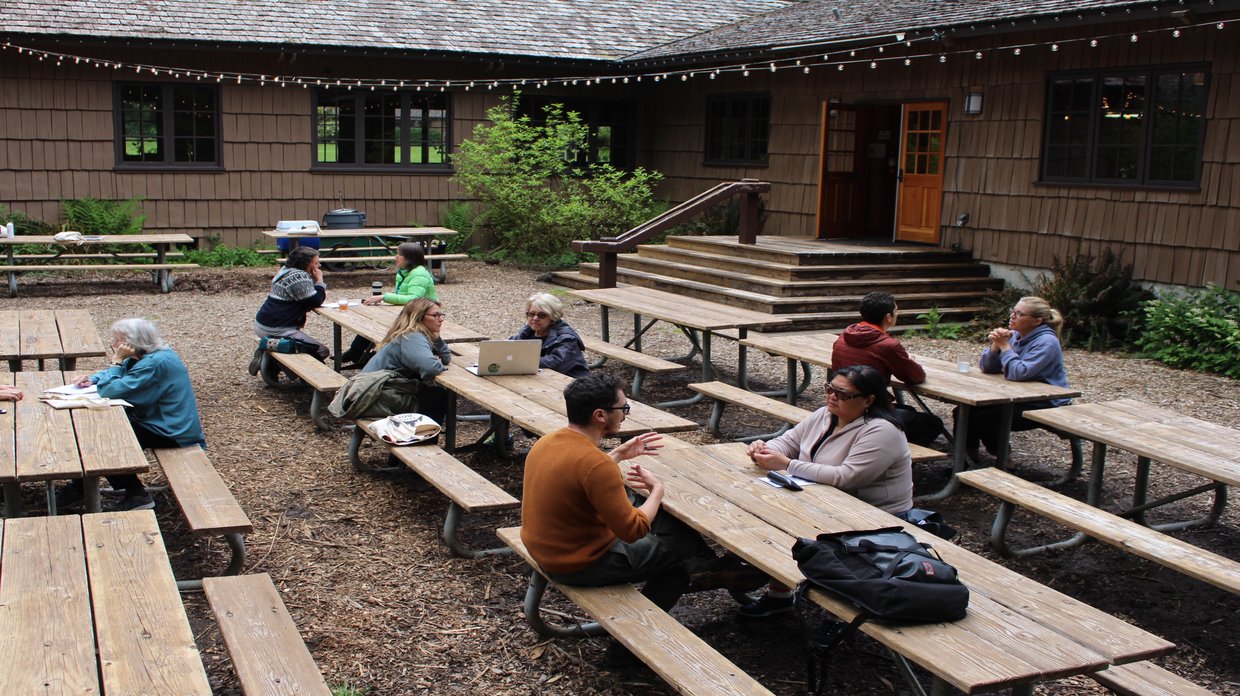 Oregon Doc Camp (photo: Amanda Elder)
What happens when 50 documentary filmmakers converge in the woods of Oregon for a long weekend? It sounds like the premise of an episode of Portlandia or a new reality TV show. But Oregon Doc Camp, featuring four days of film talks, screenings, workshops, and campfires at a Silver Fall State Park in Oregon, is something entirely different. It's a relaxed, non-competitive environment where nonfiction filmmakers can swap war stories, share hard-earned expertise and provide support and feedback.
In its fourth year, Oregon Doc Camp, presented by Women in Film Portland from May 18-21, gained momentum with a top-notch lineup of speakers, including editor Kate Amend (The Keepers, The Case Against 8), director/producer/editor Doug Blush (20 Feet from Stardom, The Hunting Ground), director Lisa Klein (The S Word, Of Two Minds), director/producer/development executive Marcie Hume (Magicians: Life in the Impossible, Hood to Coast), and director/producer Jilann Spitzmiller (Shakespeare Behind Bars, Still Dreaming).
But what makes Oregon Doc Camp so special year after year is that at camp, there is little distinction between the official speakers and the participants. There's a "we're in it together" attitude that comes from sharing a bathroom. Unlike at a film festival, nobody was rushing off to get to an industry creening or a meeting and there were no prizes to win. In the wilderness of Oregon Doc Camp, time slows down and "camp" mentality rules.
Though this marked my third year attending Oregon Doc Camp, it was my first as both a member of the press and as a filmmaker. Last year's Oregon Doc Camp inspired me to take the leap and direct my first documentary short.
Along with the other filmmakers, I absorbed essential insights during panels and workshops, as well as late-night campfires (and karaoke!). Oregon Doc Camp provided a rare opportunity to discuss documentary ethics, grassroots distribution and editing techniques with professional filmmakers in a relaxed, intimate environment (with the added bonus of S'mores!).
In addition to watching works-in-progress screenings of two highly anticipated documentaries: Lindsay Grayzel's The Reluctant Radical and Lisa Klein's The S Word, attendees presented clips from their own works-in-progress and got feedback from their peers. "Speed dating" allowed filmmakers to have ten minutes of one-on-one time with the weekend speakers at the picnic tables outside of the camp dining hall (see above photo).
Of course, this being a camp full of documentary filmmakers, there was no shortage of heavyweight topics.
In presenting The S Word, director Lisa Klein and writer/producer/editor Doug Blush explained how even though the film's subject matter of suicide is dark, it's important the documentary is also humorous. "If you don't have humor, you don't allow your audience to breathe and exhale and laugh. No matter how grave a situation is, there's always humor," said Blush,  who was Supervising Editor on 20 Feet from Stardom and Co-Editor and Associate Producer of The Hunting Ground and The Invisible War.
Editor Kate Amend, who most recently edited Ryan White's gripping Netflix documentary series The Keepers, delivered a keynote address on "Grabbing the Audience with Editing: Great Openings."
"I'm always thinking about how to start the film," said Amend. "It's one of the things I like to do for my own process — set a tone, set a style, set a mood, and launch into the film."
The most common mistake filmmakers make with openings is "trying to get too much exposition in," said Amend. "I don't think the opening should be exposition. It should be more tantalizing, tempting. Once the film begins, you can unfold the story."
Claire Aguilar, who was appointed Director of Programming & Policy at IDA earlier this year, informed attendees about the various programs offered by the Los Angeles-based non-profit organization. In addition to its educational and grant programs, IDA serves as an advocate for the documentary community.
"If you're a filmmaker and you get arrested or you need some legal help, you don't really know who to turn to," said Aguilar. "The IDA is here for you. We can't get you counsel, but we can get the word out." She emphasized that right now, "our freedoms are being threatened every day and more and more so for filmmakers." 
Grayzel, who, late last year was arrested while filming The Reluctant Radical, can attest to that fact.
Prodded by the audience, who was eager for tips about how to successfully pitch, Aguilar shared the following advice:
Introduce yourself: "So many people just go into their pitch. Just say, 'This is my name, and I'm from blah blah blah.' I know people get really excited and nervous, but just take a breath."
Listen to feedback: "You don't have to respond to everything right away. You don't have to agree with everyone. The person who just listened to your pitch is entitled to their opinion. You should listen to it and not rush to defend your approach. Take it in stride."
Put on a show and have the goods: "

Pitching is a performance. It may not reflect your skills. At the end of the day, the proof of the pudding is material. If 

have a one-minute trailer that knocks people's socks off, people aren't going to remember what you said."
Aguilar acknowledged that competition is tough. There are so many worthy films competing for the same grants and festivals. But, she said, "If you get visibility — especially if your work is good — it will rise to the top and get somewhere." Of course, "it takes a lot of perseverance, and money, and time."
After several days at Oregon Doc Camp, I left feeling overwhelmed, inspired, and bursting with ideas. With promises to stay in touch, we filmmakers headed back to our "real" lives and vowed to return next year.