Back to selection
Expert Tips for First-Time Documentary Filmmakers (Like Myself)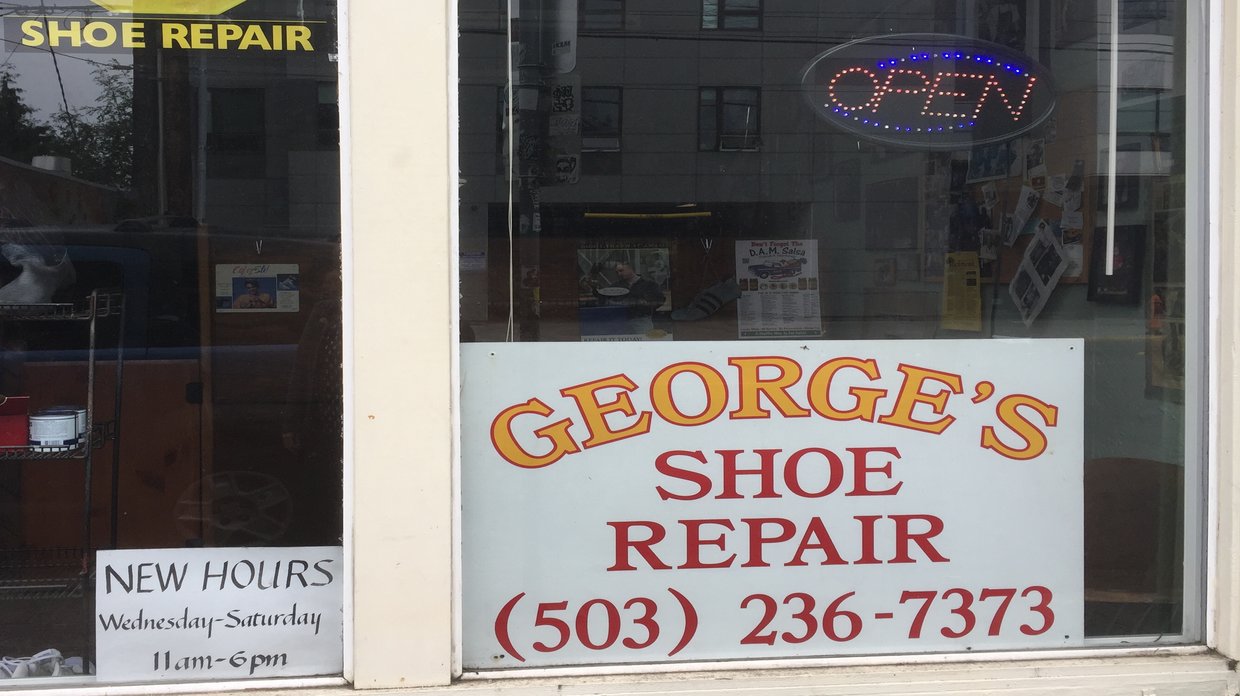 Doctor of Sole
Months ago, I got the crazy idea to write, produce and direct my first documentary. I wasn't completely unrealistic — I knew enough to start small with a short, micro-budgetfilm. I also knew I could count on a supportive network of documentary filmmakers — including pros such as Doug Block, Marshall Curry, Laura Nix, Tracy Droz Tragos, Robert Greene, and others — to help guide me through the process. Later in this piece, I'll share some of their invaluable wisdom. But first, here's a bit about my film and my process so far.
I had been on the lookout for a subject that grabbed me, and I found one in George, a 78-year-old African-American shoe repair shop owner in Portland, Oregon, my recently adopted hometown.
Born and raised in a small town in then-segregated Arkansas, George moved to Portland and set up shop more than 50 years ago. Several wives and many children later, George is still holding court in the funky Hawthorne area of Portland. George's Shoes is where all walks of life (so to speak) get their shoes repaired and talk life, love, and politics. It's also where George holds his weekly Monday night domino game with his old crew.
Now, planning to retire, George hopes that his son, Joshua, a single dad and former professional dancer who recently returned to Portland from Brooklyn, will take over his business. The film, tentatively titled Doctor of Sole, will be a character portrait of George which delves into his relationship with his son and touches on issues related to race, work, and family — with quickly gentrifying Portland (which has the dubious distinction of being the whitest large city in America) as the backdrop.
After many late nights obsessing on whether I could do justice to George and Joshua and their story, I decided to let things proceed naturally. I would go through the motions of pre-production and soon, I hoped, actions would replace doubts.
I plowed ahead and interviewed DPs, sticking to ones recommended by my local filmmaker friends and The Oregon Film Board. Through those connections, I met with a number of highly qualified DPs (truly an embarrassment of riches). I would have been lucky to work with any of them but I decided to work with Bradley Sellers, an experienced cinematographer (more experienced than I deserve) who was enthusiastic about the idea, willing to work with a novice like myself, and flexible about scheduling and budget (I'm lucky and/or stupid enough to be self-financing).
After describing the project to George and Joshua, and assuring them I wouldn't ask too much of them, both men agreed to participate. I worked around their schedules and would reschedule when I felt my presence would be a hassle to them. Eventually, we nailed down a production start date and Bradley found me a reliable sound person. So I had the basics lined up, but I knew enough to know I was neglecting key details.
What sort of music would the film have? How did I want the film to look? Should I hire an editor before I even started shooting? My husband is a video editor so I knew I could count on him to at least give it a first pass (for free), so I had that on my side. But what else did I need to know in order to make this happen?
"Maybe you should take a filmmaking class first," one close friend, who has directed a number of documentary features (and teaches a filmmaking class), suggested quite reasonably after I told her my plans.
Another documentary filmmaker friend assured me that I was in good shape to proceed since, as she said, I had a strong idea, willing collaborators, and a clear vision. I appreciated her vote of confidence. And I knew that I had to start this thing before the moment of opportunity passes – or before I got cold feet.
Because who I am to think I can direct a documentary, albeit a short one? I have an M.A. in Cinema Studies from N.Y.U., but studying the works of Fritz Lang and the theories of Jacques Lacan didn't school me in film production. In fact, aside from an intro filmmaking class I took at SUNY Purchase decades ago, I have no actual filmmaking experience.
Still, I have interviewed countless filmmakers (and other people) throughout my career and have also researched and written a nonfiction book. Surely those experiences helped to hone some skills that would come in handy as a documentary filmmaker.
And while it wasn't film school, for the past two years, I attended Oregon Doc Camp where I had the privilege of learning from filmmakers such as Steve James (Hoop Dreams), Jennifer Grausman (Art and Craft), and Andy Schocken (Songs of Lahore), among others.
I remember being comforted by Steve James' words at Doc Camp. He assured us that in nonfiction filmmaking, things almost never go as planned, but that sometimes, the final product benefits from those happy accidents. "You typically don't know as much as you think you know going in. The process itself is enriching," said James. Given that I don't think I know that much, perhaps I was ready to proceed.
But first, I reached out to some documentary filmmakers I consider friends, some I've interviewed, and some I've met at various film festivals (confession: some of these overlap).
I shared the basics: I was preparing to direct my first short documentary. "I've got the subjects onboard and have found a DP and sound person who are keen to collaborate. I'm planning on self-financing. But…what now?" I asked them. Could they please tell me what you wish someone had told them before they started shooting their first documentary?
Of course, a few of them were in production and didn't have time to answer. And a few probably thought, "Do you really think I could tell you in a short e-mail what you need to know to make a documentary?" and I completely understand.
But on the whole, the filmmakers I contacted responded with thoughtful, practical answers (as a group, documentary filmmakers are incredibly generous).
My old Park Slope neighbor Marshall Curry assured me that directing a documentary is "not crazy at all!" He recommended the Michael Rabiger book Directing the Documentary, which I, of course, immediately ordered and devoured. Rabiger's words are instructive and encouraging, especially when he writes, "You can learn documentary simply by lots of doing." The book's web site also includes essential resources, including a production checklist and project forms.
Curry is an inspiration because he was self-taught. I remember hearing his story about how he actively decided to become a documentary filmmaker. He went out and bought a camera, found an interesting story, and started shooting. The result was the amazing Street Fight.
Doug Block, whom I've known for years, also boosted my confidence by saying, "It sounds like you have the makings of a great story." Then he shared some invaluable advice:
"More important than anything," Doug said, "is your ability to make George and Joshua feel comfortable and protected on camera. You want to be real with them at all times. And curious, attentive and very appreciative that they're letting you into their lives and baring their souls for you. It's a gift not to be taken lightly."
I appreciate Doug's important reminder that George and Joshua are opening up their lives' for me, someone they've only known for a brief time and who has never made a film. I will do my best to make George and Joshua comfortable at all times given they are giving me a great gift.
Below are a few more essential tips filmmakers shared (in their own words, though in some cases I excerpted) and my reaction to them.
Watch movies.
"Watch movies, both fiction and nonfiction, just to get ideas. Making a documentary means relishing in uncertainty, so you need cinematic life rafts. Trust those ideas — images, set ups, shots, obsessions. When you mix passionate ideas with the serendipities of nonfiction, you can do cool things." – Robert Greene (Kate Plays Christine, Actress)
PB: I feel pretty qualified for this one. I'm always watching both fiction and nonfiction films and jotting down ideas. This summer, I've been particularly inspired while screening the 10 excellent features nominated for a Cinema Eye Outstanding Achievement in Nonfiction Filmmaking for Television award. In Heroin, Cape Cod USA directed by Steven Okazaki and How to Dance in Ohio by Alexandra Sheva, in particular, I was reminded of the importance of respecting your subjects.
Think big picture.
"Just because it's a short doesn't mean you don't go through the same thought process as that for a feature. What's the main conflict driving the story, and how do you show it as visually as possible? What are the underlying themes? In other words, what's the big picture?" – Doug Block (112 Weddings, 51 Birch Street) 
PB: Honestly, I'm not sure what the main conflict driving the story is, but I do have some strong hunches based on my short time with George. As far as how best to show it visually, I've talked a bit with my DP about the look of the film, but not nearly enough. So I'm not yet sure what the big picture is. Because the story isn't extremely time-sensitive, I plan to shoot a half day before deciding the exact number of production days. I feel like I need to do a test mission before I the big picture becomes clear.
Focus on the subject and know your point of view.
"The subject of your documentary should dictate every single formal decision about your documentary you make. Most often [filmmakers] think documentaries are information. I've seen this countless times. There's something they want to do an interview about. They go out and do all their interviews and then they think they're ready to edit. It seems obvious, but I've seen so many people do it so many times. I've learned to ask the question: 'What are you planning to shoot?'" – Laura Nix (The Yes Men Are Revolting)
"Understand the point of view you want to represent. It's a bit different than saying 'understand your story' because the point of view you're representing is coming directly from your primary character/characters. More than just what story do you want to tell, whose story do you want to tell, and how does the way you interpret their story filter who your characters really are? You should be an expert in all your characters' voices, but really have a clear understanding about the way your main character sees things, and don't neglect them. Everyone else is reactionary to that voice." – Nick Berardini (Killing Them Safely)
PB: Since I don't see this project as a straight interview-based film or an issue-based film, I don't think there's any chance that I'll fall into the problem of doing too many information-based interviews. I look forward to getting to know George better. I'm nervous and excited because I honestly don't know where the story will lead or what George will have to say. I'm nowhere near an expert in George's voice. I'm not even sure I have the right to tell his story, nor do I have a good sense if he knows why I'm at interested in him. I hope he's not sorry that he agreed to be part of this project, but perhaps all filmmakers feel that way about their cast, regardless of genre.
Plan ahead, but be flexible.
"Writing a treatment is an important part of the process, but don't be wedded to it. Your story won't play out as you anticipate, so don't stay beholden to storylines/characters that aren't working out, and incorporate new opportunities that come up. This is especially important in the edit, where it's critical to find new ways to shape your narrative." – Andy Schocken (Songs of Lahore)
"When you're dealing with real people and real situations, you have to be really flexible and think fast on your feet and make the film that's in front of you and not the film you thought you would make." – Laura Nix (The Yes Men Are Revolting)
PB: Frankly, this is the aspect of nonfiction filmmaking that comes naturally to me. As a writer, I'm not daunted by the treatment. But I'm also flexible about where the story will go. As a former daily journalist who has appeared on live TV, I love the challenge of thinking fast on my feet. As someone who is fascinated by people and open to hearing stories, I'm looking forward to having George and Joshua show me the film I should make.
Listen to advice, but find your own way.
"My advice to first-time documentary filmmakers is to listen to my advice and then forget about it. Films will be shot on different cameras, with different lenses, with varying degrees of success and cinematic splendor. But all of this is icing on the cake. Sure you want your film to look and sound good (sound is often underestimated), but ultimately, nothing matters so much as authenticity, story, and access — and by being a beginner at this, you may break form in fabulous ways."  – Tracy Droz Tragos (Abortion: Stories Women Tell, Rich Hill)
PB: I teared up when I read Droz Tragos' response since her words made me feel like maybe I can do it. She also shared an amazingly helpful list that I plan to print out and use as a cheat sheet during production. You can read it below:
Remember why are you making this film. It better be good — because there will be lean, tough times – and you want the reason to be strong enough to keep you going.
Decide early on about the POV of it.
Don't be bullied into filming in a way that doesn't feel good (for the film or you personally). Hold your ground.
Work with collaborators you trust and admire — and who treat you with respect.
Whenever possible, use a lav mic (boom poles are the stick of death).
Hold your shots. Much, much longer than you think. You will thank me in the editing room.
Slow down, be patient, pay attention to detail and nuance. This is not a race. Documentary is not reality TV.
Don't always ask for permission. Beg for forgiveness.
Be open to changing your plans, when it makes sense.
Honor your subjects — be worthy of their trust.
Follow your own instincts, curiosity and heart.
Be open to input — and hold a couple work-in-progress screenings. These will keep you honest.
Remember why you made this film.
Encouraged by the filmmakers' generous advice and inspired by their wisdom, I'm slated to begin production this week. What else should I keep in mind before I start shooting? Is there any way to properly prepare for the unpredictability of nonfiction filmmaking? Share your tips and cautionary tales below and I promise to update you on my progress.