Back to selection
The Ballad of Cable Hogue, Straw Dogs and Eight Million Ways to Die: Jim Hemphill's Home Video Picks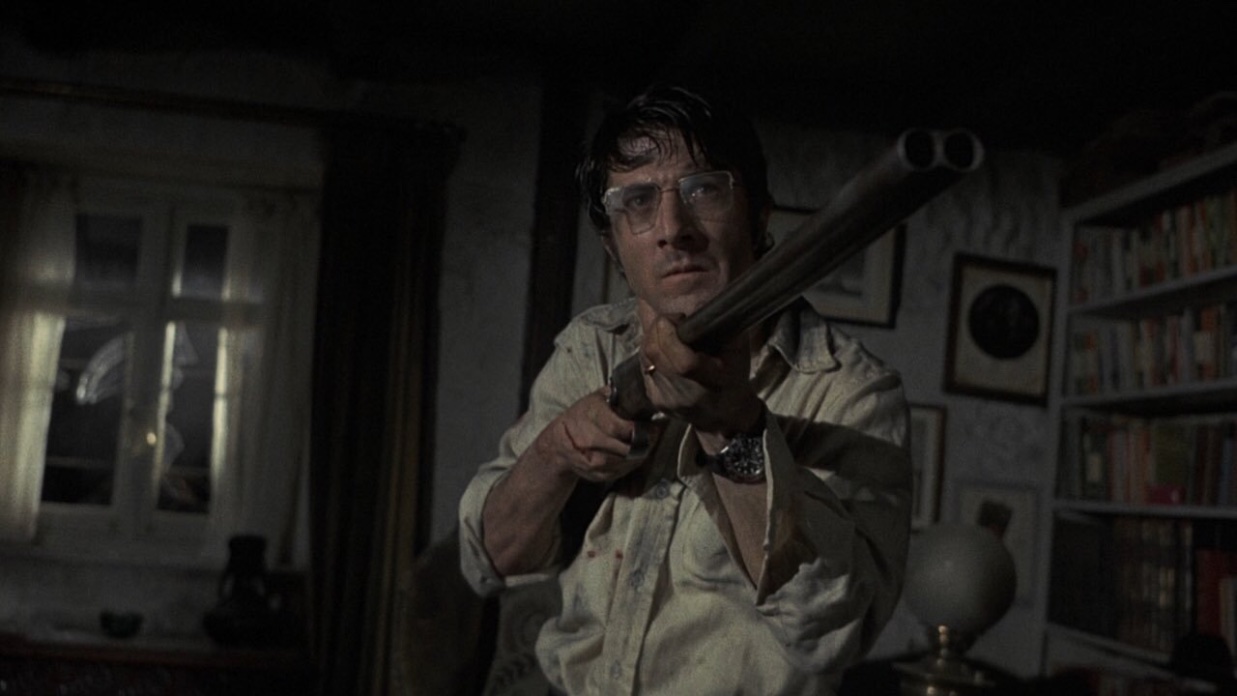 Straw Dogs
It's been a good few months for Sam Peckinpah fans, as several films that were previously only available on standard-def DVDs with serviceable transfers have started appearing on Blu-ray. In an earlier column I recommended Warner Archive's exquisite pressing of Ride the High Country, and now the label has released an upgrade of another essential Peckinpah film, The Ballad of Cable Hogue. Released in 1970 on the heels of The Wild Bunch, it's a softer, more humanist movie than audiences were expecting from "Bloody Sam" — a sweet, reflective tale of the rise and fall of an American dreamer (beautifully played by Jason Robards in one of his finest performances), it's closer in spirit to Peckinpah's rodeo dramedy Junior Bonner than to darker fare like Wild Bunch and Bring Me the Head of Alfredo Garcia. To call it atypical isn't exactly accurate, given that almost all of Peckinpah's films are drenched in spiritual longing and elegy; his best works, like The Wild Bunch and Pat Garrett and Billy the Kid, achieve their grandeur via the intense cynicism that can only come from an artist who is at heart a romantic but whose ideals have been shattered by reality time and time again. Cable Hogue doesn't cut as deep as those films, but it offers different and possibly rarer pleasures; John Huston called it the most wayward movie he'd ever seen, and it has a relaxed, anecdotal charm that looks forward to the more playful and idiosyncratic moments of Westerns like The Outlaw Josey Wales and Walter Hill's Wild Bill. It's also one of the best character studies in Peckinpah's oeuvre; working from a consistently inventive script by John Crawford and Edmund Penney, the director and Robards craft a lyrical portrait of a certain kind of American male that's both highly specific and thoroughly archetypal — not to mention self-sabotaging and contradictory, two characteristics that perfectly describe Peckinpah himself.
Peckinpah followed the leisurely and romantic Cable Hogue with his most intense and uncompromisingly disturbing film, the 1971 thriller Straw Dogs. Dustin Hoffman plays David, an American mathematician who moves to a house in the English country with his wife Amy (Susan George), hoping the peaceful remove from the Vietnam-era chaos in the U.S. will enable him to get some work done. Such dreams are dashed when working class locals taunt the young couple with mild intimidations and insults that quickly escalate into all-out violence, ultimately eliciting a savage response from David. Over the years Straw Dogs has largely been misinterpreted as being the opposite of what it is; at the time of its release, both its admirers and detractors mostly saw it as a celebration of the values it was intended to indict. This assessment has stuck in spite of the fact that there's not one moment of glorification in the movie's 117 minutes — the movie is a scathing critique of male rage against women and a harrowing examination of the corrosive effects of violence on the body and spirit. Before it turns into a thriller it's a Bergman-esque dissection of a brutally unhappy marriage, a marriage made toxic by Hoffman's smug condescension toward his wife — as Peckinpah noted, he is the true villain of the piece, which burrows deeply and unsettlingly into the pathology of misogyny. The film is also an astute analysis of the connections between bigotry and class, something director Rod Lurie picked up on when he made his underrated remake of Straw Dogs in 2011 and turned it into a sly commentary on red-state/blue-state resentments. The movie's layers of sharp insight and analysis are as dense as its troublesome moral incongruities, giving it the weight of classics like Citizen Kane, Vertigo, and The Searchers; it rewards repeat viewings in a similar way, offering up new provocations and raising new questions with every passing year. Criterion's new Blu-ray, aside from sporting a flawless transfer from a new 4K restoration, contains a generous helping of supplements addressing Straw Dogs from multiple perspectives. A celebratory commentary track by Peckinpah expert Stephen Prince and a more measured, conflicted consideration by film scholar Linda Williams are highlights, along with an engaging and informative conversation between critic Michael Sragow and director Roger Spottiswoode, who began his career as an editor for Peckinpah. Prince's commentary in particular is a must for aspiring directors, as he beautifully breaks down the visual and thematic components of Peckinpah's style and makes a strong case for Straw Dogs as the director's masterpiece.
Peckinpah had an incredible creative streak from the late 1960s to the mid-'70s, directing The Wild Bunch, Cable Hogue, Straw Dogs, Junior Bonner, The Getaway, Pat Garrett and Billy the Kid, and Bring Me the Head of Alfredo Garcia in a six-year period. Unfortunately, the shifting tastes of the audience and the changing economics of the business were not kind to him in the post-Jaws and Star Wars era, and he lost more battles than he won on films like The Osterman Weekend (1983), which was reedited without his involvement. The career of his contemporary Hal Ashby, who like Peckinpah died too young at 59, followed a similar trajectory. After helming some of the best American films of the 1970s — Harold and Maude, The Last Detail, Shampoo, Coming Home, Being There — Ashby crashed and burned in the 1980s, directing several movies in a row that were plagued with production problems and taken out of his hands by antagonistic financiers. Given that Ashby's background was in editing (he won an Oscar for cutting In the Heat of the Night), this kind of disrespect on the part of his producers was particularly insulting and harmful — and somewhat inexplicable, given that unlike directors of his generation such as William Friedkin, Francis Coppola, and Peter Bogdanovich, he had never made an expensive bomb.
Nevertheless, by the time he got to Eight Million Ways to Die in 1986, Ashby's clout had diminished to the point that he was thrown off the picture several times, and had nothing to do with the final cut that was a critical and commercial disaster. Even though many of the creative forces involved with the film — not just Ashby but screenwriters Oliver Stone (who had one hell of a year in 1986, directing both Salvador and Platoon) and Robert Towne (uncredited) — disowned it, I actually think it's an unsung neo-noir treasure jammed with worthwhile elements. First and foremost is a strong lead performance by Jeff Bridges as Matt Scudder (the same character Liam Neeson plays in A Walk Among the Tombstones), an ex-cop and barely recovering alcoholic who takes on a drug and prostitution ring run by the slick and sleazy Angel Moldonado (a terrific Andy Garcia a year before The Untouchables). Nobody does weary resignation crossed with edgy burnt-out resentment like Bridges, whose performance here stands alongside similar turns by William Petersen in Friedkin's To Live and Die in L.A. and Michael Mann's Manhunter. All three films were part of a mid-'80s noir resurgence that felt like a delayed reaction to the success of Lawrence Kasdan's Body Heat — and that, in Ashby and Friedkin's case, seemed autobiographically reflective of their tarnished places in the film industry. Film historians Howard S. Berger and Nathaniel Thompson explore these connections and many others in a fantastic commentary track on the new Kino Lorber Blu-ray of Eight Million Ways to Die, a disc that's worth purchasing for the astute and entertaining audio narration alone. Berger and Thompson are quickly becoming two of the best commentators in the business (I'd also recommend the new Kino edition of Ridley Scott's 1492: Conquest of Paradise on which they appear), and they strike the perfect balance between scholarship and enthusiasm in their celebration of this underrated sunbaked thriller.
Jim Hemphill is the writer and director of the award-winning film The Trouble with the Truth, which is currently available on DVD, iTunes, and Amazon Prime. His website is www.jimhemphillfilms.com.