Back to selection
Cinematographer Lucas Alvarado-Farrar on Shooting Whose Streets?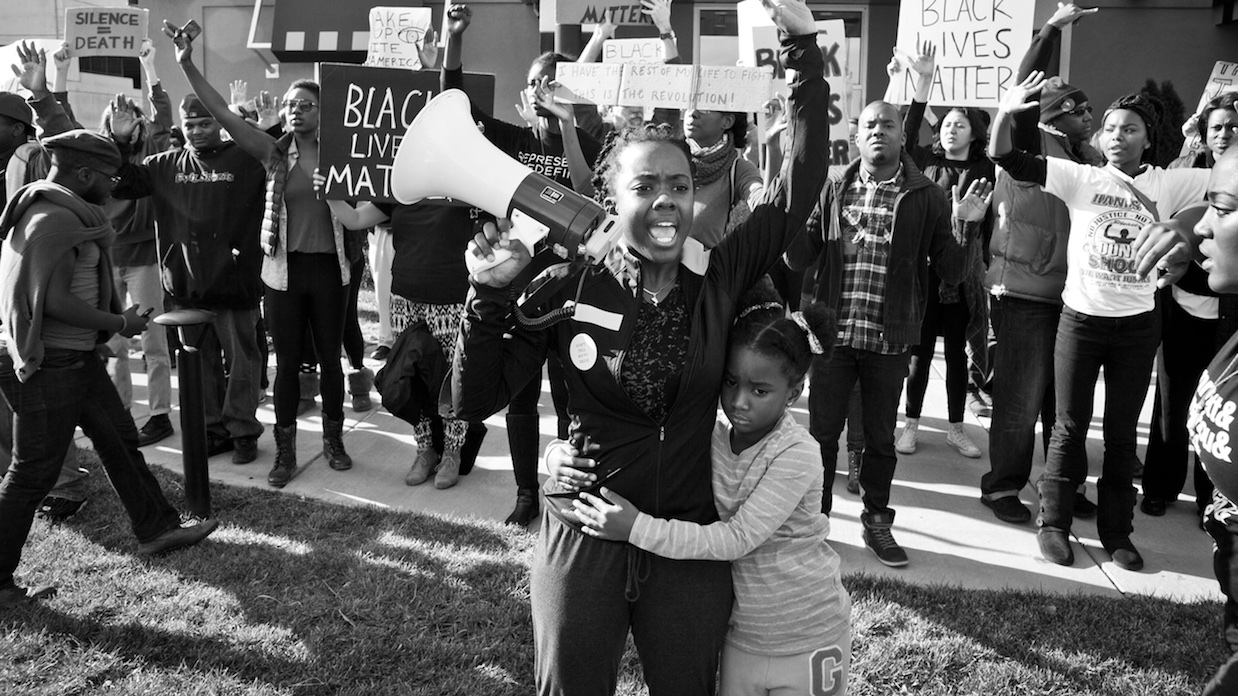 Whose Streets
Opening today in theaters is Sabaah Folayan's Whose Streets?, co-directed by Damon Davis. Both visceral and thoughtful, it looks back at the killing of Michael Brown in Ferguson, MO in September, 2014, capturing all the turbulence and outcry of the moment before moving forward and following the activist energies ignited by the event. There's archival and citizen-shot material, most only on cell phones, in the movie, but also expertly-captured footage of the original protests and following actions shot by the film's DP, Lucas Alvarado-Farrar. Here, in an interview conducted just prior to the film's premiere at the 2017 Sundance Film Festival, the DP discusses his approach to the project.
Filmmaker: How and why did you wind up being the cinematographer of your film? What were the factors and attributes that led to your being hired for this job?
Alvarado-Farrar: The director, Sabaah Folayan, and I went to Ferguson originally to find the truth behind the images we were seeing on TV. We realized very quickly that the stories we were hearing in person were different than those we had witnessed in the media. There became an urgency to tell this truth in a way that reflected what we were experiencing. Initially, I would photograph the nightly protests and Sabaah would write about them. Photographs and text alone did not convey the range of emotions or the depth of the narrative that was unfolding. We began filming as a result and didn't stop shooting for the next 18 months.
Filmmaker: What were your artistic goals on this film, and how did you realize them? How did you want your cinematography to enhance the film's storytelling and treatment of its characters?
Alvarado-Farrar: The goal of the film style was two-fold. In one respect it was to capture the chaos and violence caused by police at the protests and the resolution and grace in which ordinary people stood up and voiced their grievances. On the other hand, it was also to contextualize these tense stand-offs between citizens and the government within a local history as well as within a larger historical narrative. These two goals led to respective shooting styles. The streets are often shot at night, handheld and with a lot of movement as filming the scenes required avoiding being arrested just for filming. We wanted people to feel what it was like to stand against riot police with guns, batons and tear gas, to feel the courage of having to face these officers night after night with nothing more than your voice. The contextual scenes show people in their spaces, doing the work behind the protest actions; it is steadier, sometimes on sticks and often with a longer lens.
Filmmaker: Were there any specific influences on your cinematography, whether they be other films, visual art, photography or something else?
Alvarado-Farrar: When we started working on this film I was looking at the world primarily through the lens of photography — Susan Meiselas, Sebastião Salgado, Gordon Parks were the people whose work I admired. Their use of light and image, their emphasis on the life of the people, reminded me of the works of painters like Goya or Siquieros that I had grown up on. When it came to imagining what this film would look like, When the Levees Broke, Glenn Ligon's masterful portfolio, La Haine and the photo exhibit A Different Kind of Order at ICP impacted how I thought about visualizing the connectedness of a community in struggle through montage. As a team we spent time looking at the contemporary landscape for resistance films. These included Cartel Land, The Russian Woodpecker, Winter on Fire and The Square — they showed us how other freedom stories were being visualized.
Filmmaker: What were the biggest challenges posed by production to those goals?
Alvarado-Farrar: Production happened in real time. There were few ways to predict one day from the next, especially at the beginning. We were witnessing an order imploding under the weight of its own severity and, in the process of that implosion, revealing the connections of oppression that had previously created a seemingly insurmountable shield. In a way, that made everything relevant to the story. The biggest challenge was creating a string that tied all those pieces together.
Filmmaker: What camera did you shoot on? Why did you choose the camera that you did? What lenses did you use?
Alvarado-Farrar: We shot on a variety of cameras. At the beginning, we were using my personal DSLR a 5D Mark II — this was 2014. Originally I was photographing as well as filming, so this was a practical tool that could do both. As we transitioned to shooting exclusively film we used the C300 Mark I and Mark II, an amazing documentary camera that allowed us to navigate spaces nimbly, with a low profile and still shooting 10- and 12-bit color depth respectively. In the final phase of production we shot interviews and vérité home scenes on the ALEXA Mini, which allowed us to shoot with a much wider dynamic range, bit-depth and speeds. Most of the time the Canon EF-mount cameras were equipped with a Canon 24-70mm v II lens, sometimes employing the 24-105 during the day and Duclos-Zeiss series primes for specialty or gimbal shots. The ALEXA was paired exclusively with the Fujinon 19-90mm which gave us range, shallow DoF and beautiful color.
Filmmaker: Describe your approach to lighting.
Alvarado-Farrar: This film was designed around available natural light. This lent a quality to it that was as raw and unprocessed as many of the spaces we were filming. It was also practical in nature, navigating a protest space with lights is just one more thing that draws attention to your filming or will get in the way when moving through a crowd. Streets lights have a aesthetic beauty to them — a broad flood, high contrast — that a top-camera spotlight can ruin.
Filmmaker: What was the most difficult scene to realize and why? And how did you do it?
Alvarado-Farrar: The shutdown of I-70 at the Blanchett Bridge was one of the most demanding scenes to shoot. It is one of the cruxes of the film — following a protest from planning to action to aftermath. Not only was it a scorching August day, we had cards fail, a camera break, state troopers chasing and body slamming people, a woman try to run protesters down with her car and dozens of people arrested by a swarm of police.
Filmmaker: Finally, describe the finishing of the film. How much of your look was "baked in" versus realized in the DI?
Alvarado-Farrar: The finishing of the film was designed primarily around matching the many formats seen on screen, both our own multitude of cameras as well as restoring archival footage (mostly shot on cell phones) to have some of the tonality of the higher-end footage. The look we were going for is mostly true to image — accenting contrast, balancing color and bringing out vibrancy and depth — while some scenes have a number of passes to bring the image to life, a heavy grade would have taken away from the raw feeling of the images.
TECH BOX
Film Title: Whose Streets?
Camera: Canon 5D Mark II, c300, c300 Mark II, ALEXA Mini
Lenses: Canon 24-70mm v II, Canon 24-105mm, Duclos Zeiss ZF.2 Prime 15mm, 21mm & 35mm, Fujinon Cabrio 19-90mm
Lighting: Available Light
Processing: Digital
Color Grading: DaVinci Resolve Studio