Back to selection
Orson Welles's The Stranger and John Farrow's The Sea Chase: Jim Hemphill's Home Video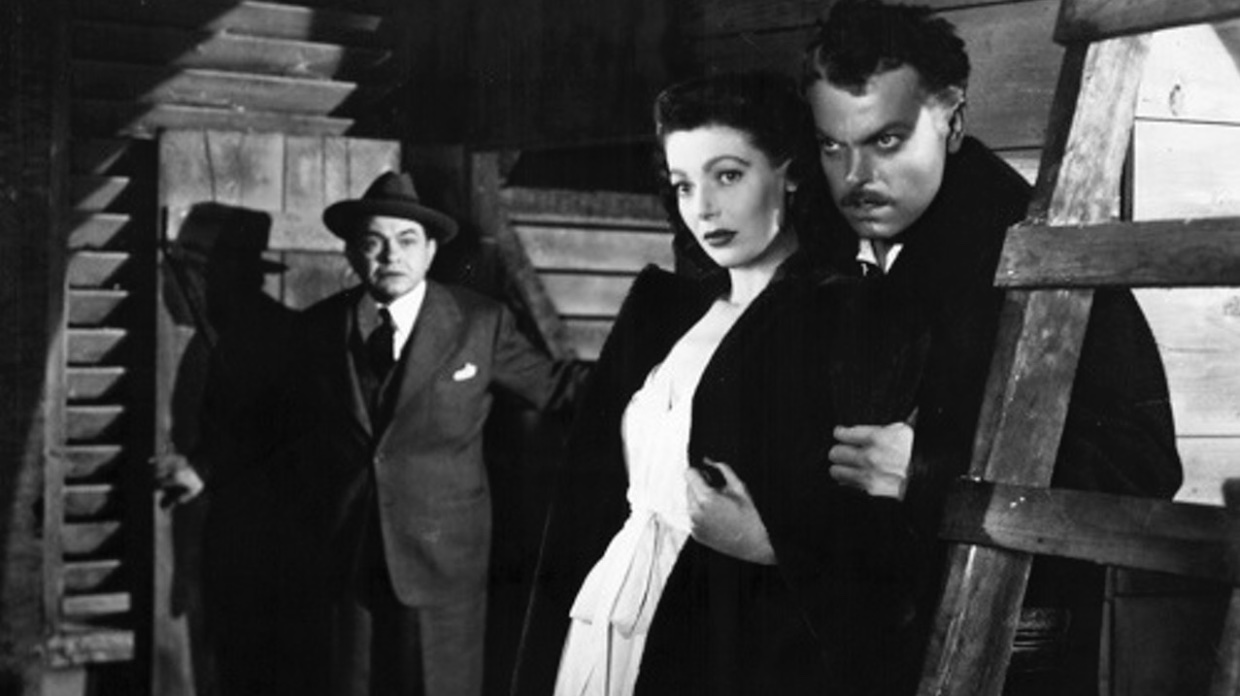 The Stranger
I've always been mystified by the relative lack of attention and acclaim Orson Welles' 1946 thriller The Stranger has received compared with the director's better known efforts, since on just about every level it's top-tier Welles. Perhaps Welles' own denigration of the picture, which he saw as an impersonal assignment designed to restore his box-office credibility after The Magnificent Ambersons, is to blame. It's a genre film, sure, but then so is Touch of Evil, which many Welles enthusiasts (myself included) consider to be every bit as important in the director's oeuvre as Citizen Kane. The Stranger is actually a worthy companion piece to both of those films as another of the director's masterpieces examining the threat, sources and insidious appeal of fascism. Edward G. Robinson plays a war-crimes investigator who tracks high-ranking Nazi Franz Kindler (played by Welles) to a small New England town where he's hiding in plain sight as a mild-mannered teacher. The two men engage in a cat-and-mouse game with the Nazi's new bride (Loretta Young) caught in the middle; as the metaphorical noose tightens around Kindler, Welles deftly draws parallels between issues of control and manipulation in a marriage and the potential for fascism to permeate society at large.
Superficially an extended chase picture, The Stranger ends up using its post-war milieu as a backdrop for a profound meditation on the depths of evil of which men are capable. One of the most striking sequences in this regard includes actual footage of the concentration camps shot by Welles' colleague George Stevens; The Stranger was the first mainstream Hollywood movie to use such material or to address the Holocaust so unflinchingly, and it's a testament to Welles' talent that the sequence feels of a piece with his popcorn-movie framework and not like an ill-advised interruption. The Stranger represents an ambitious and thoughtful attempt to wrestle with all kinds of ramifications of World War II — not just the horrors of the Holocaust but the domestic tensions between American women and the men returning home from the war in a different psychological state than they were when they left, and the subtle parallels between America's internal tensions and those of the cultures American soldiers had just finished fighting. I can't think of a single other escapist Hollywood entertainment that's so serious at its core (aside, perhaps, from Welles' own Touch of Evil), and in terms of technique the movie boasts a wealth of Wellesian long takes and deep-focus compositions as impressive as any he did before or after. Olive Films' new Blu-ray edition of the film is cause for celebration for many reasons, starting with the fact that it's the best transfer to date of a movie that has looked and sounded rather shoddy up until now. (If you have the flawed Library of Congress edition that came out a few years back, toss it out.) What really makes the disc a must-own is the commentary track by film historian Nora Fiore, who breaks down Welles' style and themes with concision, clarity, and depth. Fiore, who blogs as the "Nitrate Diva," knows more about classic Hollywood than just about anyone on the planet, and her love for the subject matter is infectious — this insightful, articulate and entertaining audio track is one of the best I've ever heard in 30 years of listening to Laserdisc and DVD commentaries. Let's hope Olive and other labels continue to take advantage of her expertise.
An even more idiosyncratic film about Nazis, John Farrow's 1955 adventure The Sea Chase, is also now available in a pristine Blu-ray edition. Loosely based on a true story, The Sea Chase takes place in the early days of World War II and follows an anti-Hitler German naval officer (John Wayne!) fleeing a British commander as he tries to make his way from Australia home to Germany. Along for the ride is a Nazi spy (Lana Turner!) with whom the British sailor has fallen in love and who is now stowing away on Wayne's ship. The casting alone makes The Sea Chase a weird, and at times downright confusing, viewing experience; Wayne is ridiculously miscast as a German, but then again no one on his ship speaks with any kind of German accent — and neither does the German secret agent played by Turner. The movie isn't convincing in any realistic sense, yet as a sort of elegant abstraction it works beautifully; Farrow's early CinemaScope direction is an extraordinary example of staging in both width and depth, and if one ignores the wonky historical details the film is a spectacular exercise in action style — with Wayne, miscast as a German but perfectly cast as an obsessive patriot leading a dangerous mission, proving why he was the world's biggest movie star for decades. The cinematography by Wayne stalwart William Clothier (The Man Who Shot Liberty Valance) is handsomely showcased on the new transfer from Warner Archive, which preserves the film's vivid palette with vibrancy and nuance. The same year as The Sea Chase, Clothier and Wayne collaborated on William Wellman's Blood Alley, an even better nautical adventure that's also newly available from Warner Archive. Richly atmospheric and expertly paced — though admittedly painfully dated in terms of its politics — Blood Alley is another great example of a director pushing the CinemaScope frame to its limits, as Wellman jams every inch of the screen with detail and color. The story, in which Wayne's apolitical seaman helps Chinese villagers flee communist oppressors in a ferry boat with the help of love interest Lauren Bacall, isn't anything to write home about, but the movie as a whole is a sumptuous testament to the glory of the classical Hollywood studio system. It demonstrates how even the mid-range pictures of that era exhibited craft and production value sorely lacking in most contemporary films, a point also clearly made by another excellent new Warner Archive release, a stunning Blu-ray edition of the gorgeous, silly guilty pleasure Where the Boys Are (1960). Of all the major studios, Warner Bros. seems the most attentive to its legacy and its library titles, and this summer they've been on a roll with around two dozen outstanding new DVDs and Blu-rays under the MOD Warner Archive label = the Wayne titles and Where the Boys Are are just the tip of an iceberg that also includes Richard Rush's spectacularly entertaining buddy comedy Freebie and the Bean (1974), John Patrick Shanley's eccentric and stunningly photographed fairy tale Joe Versus the Volcano (1990), and John McNaughton's unsettling 1996 crime film Normal Life. I recommend them all without reservation.
Jim Hemphill is the writer and director of the award-winning film The Trouble with the Truth, which is currently available on DVD, iTunes, and Amazon Prime. His website is www.jimhemphillfilms.com.