Back to selection
25 Films We're Looking Forward to at the 2017 Toronto International Film Festival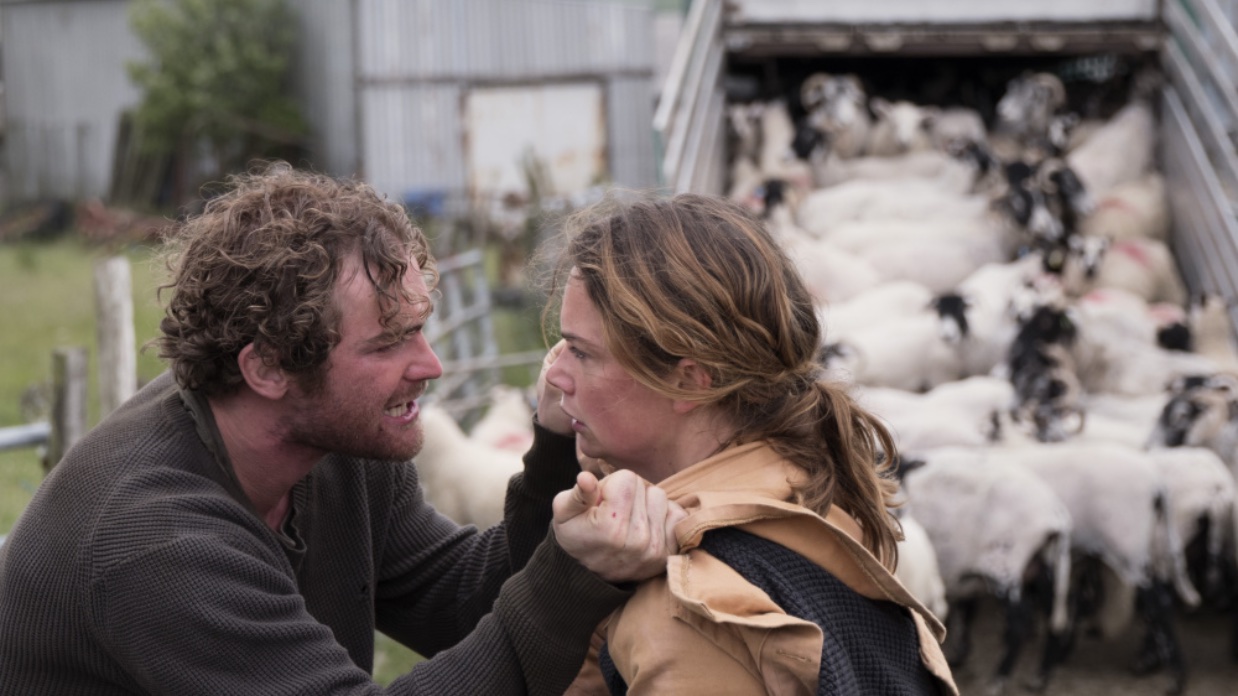 Dark River
The Toronto International Film Festival got underway today with Janus Metz's Borg/McEnroe as Opening Night and a number of heavily anticipated Fall titles — including mother!, Battle of the Sexes, Downsizing, I, Tonya — making either their world or North American premieres. Vadim Rizov will be on the ground filing his critics dispatches for Filmmaker, and we'll have select interviews and other editorial as the fest goes on.
But before diving into our preview of 25 films we're especially excited about, I want to comment on what may be TIFF's biggest news this year, which arrived a week before the festival. Piers Handling, the festival's Director and CEO, announced last week that the '17 edition will be his penultimate year with the organization. Handling has guided the Festival over nearly 25 years, steadily maintaining its vaunted position as an Oscar bellwether, an international "festival of festivals," and a place of discovery for new arthouse filmmakers. Handling directed the organization through the build and launch of its flagship home base, the Bell Lightbox, and, with Cameron Bailey as Artistic Director since 2012, the festival recently has navigated the politics of Telluride premieres and festival programming bloat (this year, TIFF has received praise for trimming its program by 20%). Mostly, though, Handling has beautifully inhabited the role of festival director, with its required fusion of erudition and diplomacy, over an admirable stretch of time that has seen seismic changes in the broader world of cinema. Next year, he will deserve the warmest of send-offs.
Below, from Rizov and myself, are some of the films we're looking forward to this year at TIFF.
Occidental: Neïl Beloufa's oddball feature debut, shot in 1.33, takes place in a Paris hotel against the background of protests outside as all kinds of psychosexual mayhem breaks out within. The striking look of the sestivalt in the trailer belies the fact that Beloufa used it for an installation after shooting was complete. — Vadim Rizov
One of Us: Jesus Camp directors Heidi Ewing and Rachel Grady (two of Filmmaker's 25 New Faces) premiere another verite doc centered around members of a religious group — in this case, a Brooklyn Orthodox community that the film's three subjects exit from. The Netflix Original doc details their adjustment to secular life and their feelings for the people they left behind. — Scott Macaulay
Prototype: After a series of shorts that have played at TIFF, NYFF and Oberhausen, among other festival, experimental filmmaker (and sometime Filmmaker contributor) Blake Williams makes his feature debut (going from his trademark anaglyph 3D to the more conventional variety) with a film that takes the cataclysmic 1900 hurricane that struck Galveston as its visual starting point. Get ready for overwhelming waves. — VR
Brawl in Cell Block 99: By all accounts, S. Craig Zahler has doubled-down on the brutality of his excellently written Western debut Bone Tomahawk in this violent prison action movie, with Vince Vaughn reinventing himself as one very scary dude who begins the film by beating up a car and takes it from there. — VR
Professor Marston and the Wonder Women: If we at Filmmaker were a little more together when it comes to self-promotion, we would have highlighted the fact that we placed Wonder Woman director Patty Jenkins on our 25 New Faces list way back in 2004. So we'll do a bit of catch-up here and notice that the "other Woman Woman" movie — Professor Marston and the Wonder Women, which delves into the origin story of the superhero character and its reflection of its own creator's romantic interests — is directed by yet another "25" veteran, Angela Robinson, who graced our pages in 1999. I liked Robinson's debut feature, D.E.B.S., and she's had a hit TV directing career since. I'm interested in how she handles the unusual and timely period drama. — SM
Love Means Zero: Making a long overdue return to the film screens is Jason Kohn, whose arresting Manda Bala was a highly original doc that used four disparate narrative strands to essay modern life in Brazil. His new picture is a portrait of Nick Bollettieri, a storied tennis instructor teased by the festival's catalog copy as "genius or a tyrant, a father figure or a huckster? — SM
The Nothing Factory: Pedro Pinho's three-hour quasi-documentary follows a group of workers who suspect their factory is about to be closed in austerity-hit Portugal. Unusually, there are musical numbers involved. — VR
I Am Not a Witch: While a film about a camp in Zambia where women deemed witches by their community are sent may sound like dutiful social realism, by all accounts Rungano Nyoni's feature debut is a confidently offbeat and disorienting experience. — VR
Let the Corpses Tan: Out of Locarno is this work by Belgian neo-giallo auteurs Helene Cattet and Bruno Forzani, who have shifted their genre affections (here, to Westerns) with an adaption of a heist novel by Jean-Patrick Manchette. Expect intoxicating visuals, a dreamlike style, and a narrative that's suggested as much as told. — SM
Boom for Real: The Late Teenage Years of Jean-Michel Basquiat. It's been more than two decades since there's a been a feature from Sara Driver, whose early features (Sleepwalk, When Pigs Fly) and work with partner Jim Jarmusch (she produced his Permanent Vacation and Stranger than Paradise) helped define New York downtown cinema. And while she's had various narrative features in development over the years, she's debuting a Toronto an artist portrait doc. The hook here is that Driver was part of Basquiat's early scene and she focuses specifically on, as the title suggests, his late teenage years. Interviewees include Carlo McCormick, Fab Five Freddy, Jarmusch and the late Glenn O'Brien. — SM
Dark River: One of cinema's most promising young auteurs, Clio Barnard, teams here with a riveting young actress (Ruth Wilson) in this world premiere about a woman returning home to deal with her late dad's family farm. Sure, it sounds a bit pro forma, but Barnard, whose previous films are the hybrid doc, The Arbor, and the arresting young drama The Selfish Giant, is sure to bring an intelligence and original slant here. — SM
Looking for Oum Kulthum: Artist Shirin Neshat reteams with her Women without Men collaborator Shoja Azari in this Venice-premiering film-within-a-film story of an exiled Iranian artist/filmmaker making a biographical film of an Arab singing star. — SM
Mrs. Fang: Coming from Locarno, where it won the Golden Leopard, frequently duration-driven Chinese documentarian Wang Bing (West of the Tracks) this time looks at the family of a woman stricken with Alzheimer's in her final days. — VR
Lady Bird: Greta Gerwig makes her directorial debut with this controlled, cooly compassionate and autobiographical-feeling post-9/11 teenage tale. Saoirse Ronan plays the titular heroine, a character who'd be a manic pixie dream girl in someone else's movie but in Gerwig's is simply a young woman full of uncertain possibility navigating sexuality, family economic distress and complicated parents in her high school senior year. — SM
Winter Brothers: Hlynur Pálmason's directorial debut is an immersive and reportedly discombulating immersion in a Danish mine, far from urban centers, where too many men crammed into one small place feel the tension rising. — VR
Three Billboards Outside Ebbing, Missouri: widely praised as soon as its Venice premiere finished, the latest from Martin McDonagh (In Bruges, Seven Psychopaths) follows a distraught mother (Frances McDormand) a year after the killing of her daughter as she grows increasingly frustrated by the lack of progress in the investigation. There will be blood. — VR
3/4: A sleeper hit from this year's Locarno, Illan Matev's low-key drama about a young girl preparing for a big piano audition has been compared to Mia Hansen-Løve's Things to Come for its low-key mastery and aversion to hyperbolic plot cliche. — VR
Thelma: One of our favorite directors, Joachim Trier (Reprise, Oslo, August 30) makes a quick return to the screen after spending years on his U.S.-set ensemble drama, Louder than Bombs. Working in his native Norway with regular screenwriting collaborator Eskil Vogt, Trier here explores genre filmmaking for the first time with a story of a young woman for whom love triggers some sort of supernatural powers. It's Norway's submission for the Best Foreign Language Academy Award. — SM
Jeannette: A long away from his miserabilist roots, Bruno Dumont doubles-down on the inspired, inexplicable lunacy of Li'l Quinquin and Slack Bay with a depiction of the youth of Joan of Arc, here rendered as a metal musical. Per Blake Williams in his Cannes coverage for us, "This screening needed a mosh pit."? — VR
Kodachrome: Mark Raso blogged about the microbudget production of his previous feature, Copenhagen, for Filmmaker. He's now at Toronto with a much bigger film starring Jason Sudeikis, Elizabeth Olsen and Ed Harris — a father-son road-trip film that structures its emotional narrative around a trek to the nation's last remaining Kodachrome lab where Sudeikis's character will develop his last rolls of film. And, yes, the movie is shot on celluloid. — SM
The Conformist: Despite interference from Chinese censors, word is strong on this new film from Cai Shangjun, whose 2011 People Mountain People Sea was well-received at TIFF in 2011. This drama looks at a police informant finding himself in over his head. — VR
Plonger: Actress Mélanie Laurent follows up on her surprisingly strong feature narrative debut Breathe with a drama about a photographer who leaves her family to find herself and takes up deep-see diving — an unpromising logline, but so was Breathe's. — VR
The Day After: the only one of Hong Sang-soo's three features to premiere this year that's playing at TIFF, this one is about (surprise!) a man who may or may not be having an affair. — VR
Grace Jones, Bloodlight and Bami: Sophie Fiennes (another, um, 25 New Face — 1999!) has made singular docs on film and philosophy (The Pervert's Guide to Cinema) as well as highly original artist portraits (her Anselm Kiefer doc, Over Your Cities Your Grass will Grow). Here she essays the iconic musician, style icon and nightlife hero, Grace Jones. — SM
Scotty and the Secret History of Hollywood: After Valentino: The Last Emperor and Citizen Jane, Matt Tyrnauer makes it a Toronto three-peat with this documentary on Scotty Bowers, who is like a real-life version of a character from a James Ellroy novel. Throughout the 1950s he was celebrated behind-closed-doors as a procurer to the stars, managing the hookups, three-ways and orgies of Cary Grant, Lana Turner, Ava Gardner and more. — SM