Back to selection
Waking Up After a Wild Ride: Z Behl Reflects on the Foggy Haze of IFP Week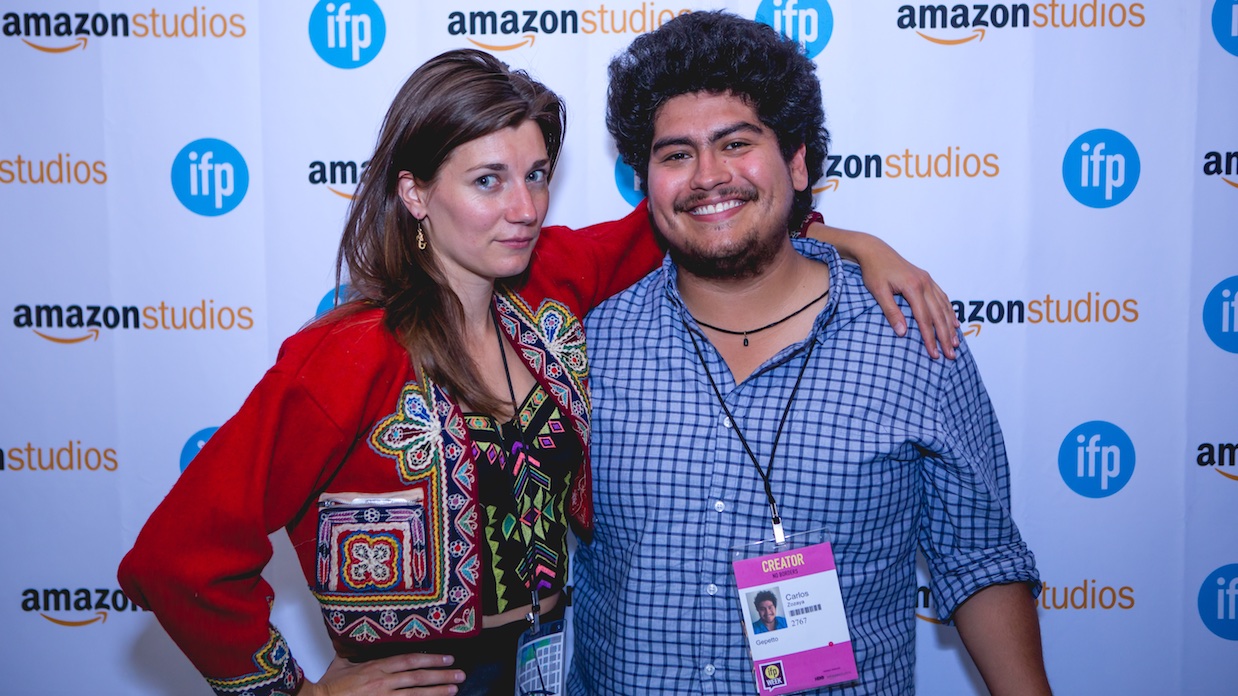 Z Behl and Carlos Zozaya at IFP Week
Awakening from a foggy haze, a wet dream of sorts, filled with opportunities more immense than I could daydream, I find myself writing follow-up emails that can only signify Film Week is over. Over 160 filmmakers, curated into a database cross-referenced by production companies, sales companies and distributors, as well as every other industry intersection imaginable, the Project Forum is a four-day event where filmmakers meet interested parties (kind of like a dating service) and parlay over films in every stage of production. A word of advice: bring your producer! Without Carlos Zozaya I would have been lost!
What was this marathon of 40 30-min meetings, that ended in a sprint or high vault of accelerated 10-minute flash-meetings with festival programmers? Who was I racing against? And where exactly was the finish line? Maybe it was the bucket of tiny cheap champagnes on ice that Daniel Laabs bought me as a reward for learning how to pitch. I pitched in Spanish! Just once, but that felt like a highlight, and contributed to the surreality of the entire occasion.
It was a reunion too, as it was the second time our Narrative Lab convened and shared footage, updates and embraces. Ten first-time feature filmmakers participated in a one-week workshop about post-production back in May and were coming together to move our projects onto the next stage here at Film Week. Mark Blane wrapped a few hours before showing up for orientation! Kudos! I felt as though IFP was the summer camp experience I never had, with peers who wanted to play hard together and learn how to grow into their very best selves.
I imagine if you attend Film Week outside of an IFP Lab program, it is even more disorienting, as every moment can define your week, every word overheard on line for the bathroom can make you feel high or low. What would it be like if you didn't have a group of people so happy to see you and congratulate you on not giving up! And yet — maybe it would be easier not to have the peer pressure of a group photo shoot on the East River Ferry, or a Screener's Showcase, where your work sample is projected on a huge screen on a fancy hotel rooftop. Or maybe a hurricane is coming, and the rooftop is closed, the screen blows away… It's hard to say. I think it would feel invaluable either way.
I just feel you only have so much of yourself to give at any moment in time, and I feel for the stellar filmmakers in my program working on hard deadlines: Ash Mayfair, Nijla Mu'min, and Cathy Yan, all of whom were rushing off to their respective studios at the end of each day to finish their beautiful films! How can Film Week stay the same but exist in a vacuum instead of New York City? Did you know it started in the '70s at the Angelika? I like that fact. New York in the '70s wasn't a vacuum by any means, but no one could check their cell phone during a meeting.
I am a visual artist, making my first film, and walking into the freshman cafeteria never felt so easy. Everyone was eager, affirmin, and totally overwhelmed. I can't imagine taking a production meeting any other way. Were those even production meetings? Thirty tables in a room, each with a white tablecloth but no place settings. A disco ball loomed overhead, not turning, not punctuated by any strobing spotlight. And every half hour, a different volunteer would draw back the white curtain, à la the Wizard of Oz, to reveal an industry exec, waiting for you to come in and sit down, like therapy, but where you have to practice self-control, of which I have virtually none.
I believe not knowing the lingo, not having a sense of how intimidated to be by anyone, was all a blessing in disguise. But I could be wrong! I took advantage of the short breaks we had in our schedule by napping in the blustery courtyard on Bridge Street in DUMBO, on a big rock in the sun. I highly recommend napping as stress relief. David Lynch promotes transcendental meditation, 20 minutes twice a day; he even meditates on set. I sleep — because I dream ideas, it's called "hypnagoguing," and nothing is more psychedelic. I think I'm just meditating while tired. It's impossible not to be tired when you have five days of back-to-back meetings and panels and cocktails. I feel lucky I was sick and bought a pizza with Euros and went home early, at least one night. I feel lucky that I both had Euros, and that this pizza place in Brooklyn accepted them, as I didn't have any other cash and the foreign bill was serving as a luck charm, marking my drive to return to Italy soon, and shoot my film.
Not that there weren't more amazing things to do or people to hang out with. I just needed a reprieve and some cheese to keep the skip in my step by day three. That night I came one step closer to being invited to John Waters's Christmas party. He is in fact, a hero. I also got to tell Tribeca how disappointed I was that they never accepted my brother Walker's stop-motion animated short which he submitted when he was 12 years old, the very first year of the festival. It was so beautiful, a seven-minute long World War II film with cotton balls serving for gunsmoke. He lit it like a noir film but in color. He used red gels and pushed stop and record alternately on a mini DV cam, all editing done in camera.
After so many meetings I felt lucky to be at the beginning of my process — a process I've been at the beginning of for a really long time! It's amazing to take your time with something and see what it can grow to become. It's what I love about film; no other medium has allowed me to grow with it, in it, quite the same way. No performance, sculpture or painting has changed so significantly, or represented so much growth for me as I learn how to write while making my movie.
In my favorite meeting, I was asked questions that I hope to be asked at the screenwriting workshop Carlos and I are about to attend in Venice, courtesy of the Venice Biennale College Cinema. They were questions about my motivation as a filmmaker and were asked by a distribution company, and while I'm using words like "künstlerroman" and "picaresque" and getting teased playfully, it turns out the questions are coming from someone who studied with the same film professor I did, and he is winking me at me knowingly, because he did his homework.
The feeling of being taken seriously by a company you respect is huge. The feeling of being taken seriously by anyone you respect is huge! Today my Italian co-producer, Jonas Carpignano, was nominated as one of the Italian candidates for best foreign language film at the Oscars, for his most recent A Ciambra. Jonas believed in me from the beginning, from the first 60 seconds he saw, from the first glimmer of an idea. And yet I would never have known what a co-producer was, or thought it was possible for me to shoot in Italy, if it wasn't for Amy Dotson, Gabriele Capolino and the rest of IFP teaching me how to handle myself and my work.
So waking up when it was all over, finally rejuvenated, finally well slept, I can only say it's a wild ride: trust in your film — and convince yourself first.