Back to selection
NYFF 2017: Mindhunter (Episodes 1-2), Good Streamable Chronological Narrative Content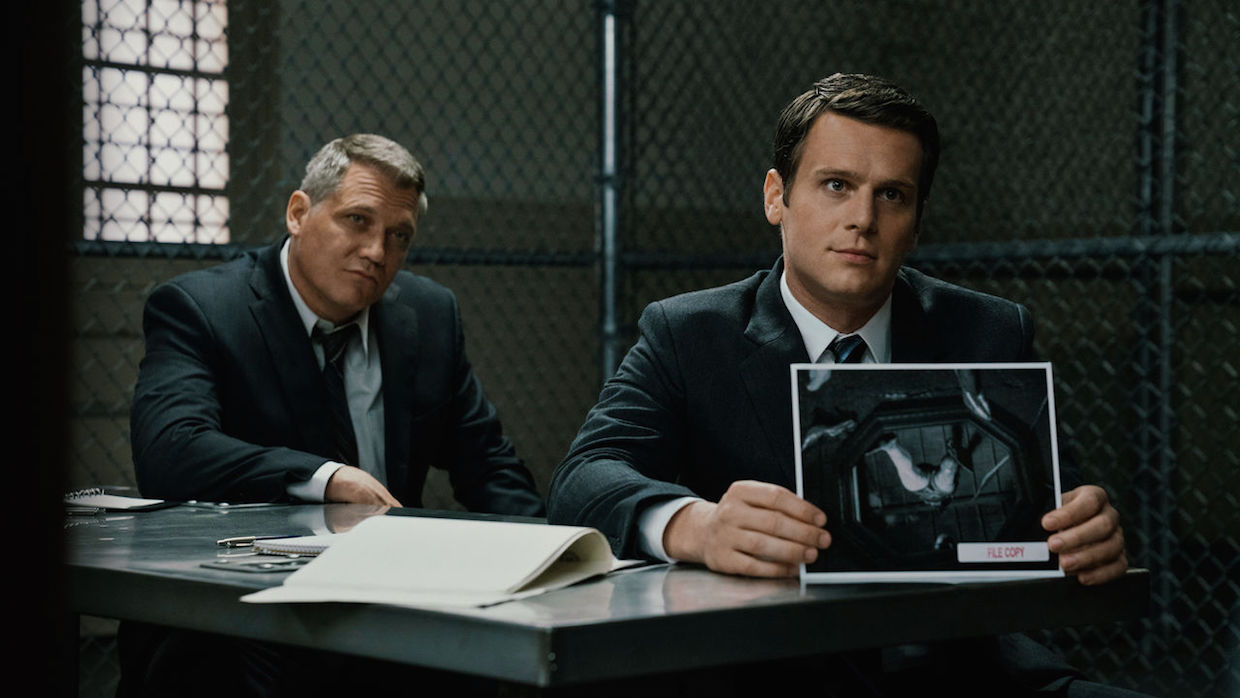 Holt McCallany and Jonathan Groff in Mindhunter
The first two episodes of Netflix's Mindhunter, directed by David Fincher, are slightly stylistically diluted but still distinctively his. Fincher also directed the last two episodes of the ten-episode first season, which has already been renewed for a second prior to dropping this Friday — whether I make it to his bookending episodes I have no idea, but fans should at least take a look at this starting point. "Peak TV," or at least the limited-run series, has increasingly accommodated one director who wants to do it all: this year has seen airings of Paolo Sorrentino's The Young Pope, Jean-Marc Vallée's Big Little Lies, and the indelible 18-hour run of Twin Peaks: The Return. (The recent whole-series sole-director examples of Louie and The Knick also come to mind.) It's a drag that Fincher hasn't chosen to direct all ten episodes himself; the first two do in fact benefit slightly from being viewed in a theater (Alice Tully Hall at this year's NYFF, in my case), magnifying his usually typically acute and precise framing and compositions. But this is definitely TV: I was willing to take David Lynch at his word that TP:TR is an 18-hour movie (one that I dearly hope someone shows all of in a NYC theater sometime soon), but would not remotely attempt to make that case here.
Mindhunter tracks the FBI starting in 1977, when profiling, psychology and other strategies to understand serial killers entered the equation, anchored by the odd couple of baby-faced 29-year-old agent Holden Ford (Jonathan Groff) and gruffer, older/old-school behavior science criminologist Bill Tench (Holt McCallany, also in Fincher's Alien3 and Fight Club). The first episode is very pilot-y in bad ways: characters are constantly reminding us what year it is and was recently by ceaselessly talking about Nixon, the Summer of Love, et al., and the effort to establish relationships can be strained. It is gorgeously, recognizably Fincher from the get-go: an opening nighttime scene has his usual sickly yellow streetlights placed just so at the top or side of the frame, flaring out in crisp lines. Dialogue scenes are blocked and cut crisply, though without quite as many of the slight reframings and changes of eyeline characterizing his films. The editing is not nearly as rapid as Gone Girl, the pace more relaxed and without the constant hanging dread of Zodiac. There are a few stylistic anomalies, notably a moderate-paced hallway walk-and-talk unusual in functional West Wing mode, but you could blind ID who made this instantly.
Events pick up and become less foundationally expositional once Ford and Tench take a road trip to lecture at police departments across the country and see what they can learn from local law enforcement. Increasingly convinced the FBI doesn't have the foundation to understand or track serial killers, Ford interviews serial killer Ed Kemper  — played by Cameron Britton, a real find and absolutely worthy heir to John Carroll Lynch's indelible turn in Zodiac. Kemper was/is a large, inevitably imposing presence (6'9″, over 250 pounds) who was extremely helpful and cooperative in his FBI interviews. Britton absolutely nails the mixture of implicit threat and unnervingly whimsical, sinisterly incongruous friendliness; I could watch these scenes all day.
Not all of this is stylistically super-distinctive, though it handily beats the pilot for House of Cards, which is probably the single least compelling hour of Fincher's career. Part of this is presumably attributable to the accelerated timetable for TV production; a cynical part of me wonders whether Fincher isn't taking it a little bit easy so as to make what follows easier for other directors to carry in a stylistically consistent manner. Two sequences stand out: the first is a scene set in a bar during a rock show. Upping the ante on The Social Network's club scene (expertly mixed so that loud dance music forces everyone in the scene to raise their voice), here it's so loud that the dialogue requires subtitles, a fun touch. The other notable sequence is an on-the-road montage, a dazzlingly assembled series of coffee cups, mini-toothpaste tubes, bleary flights and convenience store purchases of gum and cigarettes — it's not like anything Fincher's done in his features previously. [Update: forgot about the travel montages in Fight Club, so let's just say it's been a while.] If the opening credit sequence is very much in the Seven vein, intercutting the operation of a reel-to-reel recorder with flashes of autopsy shots, the tone is generally procedurally curious rather than morbid. (I'm baffled by headlines like "Netflix's Mindhunter Is More Chatter Than Splatter" and the general perception that Fincher is some kind of Grand Guignol sadist — that's a pretty small proportion of his work's total running time, and Seven is definitely an outlier.) It's not Zodiac, but that's not fair, even if I wish that Fincher could go make films without a struggle every time rather than, in his wry words, "streamable chronological narrative content."