Back to selection
DOC NYC 2017: Peter Braatz on Blue Velvet Revisited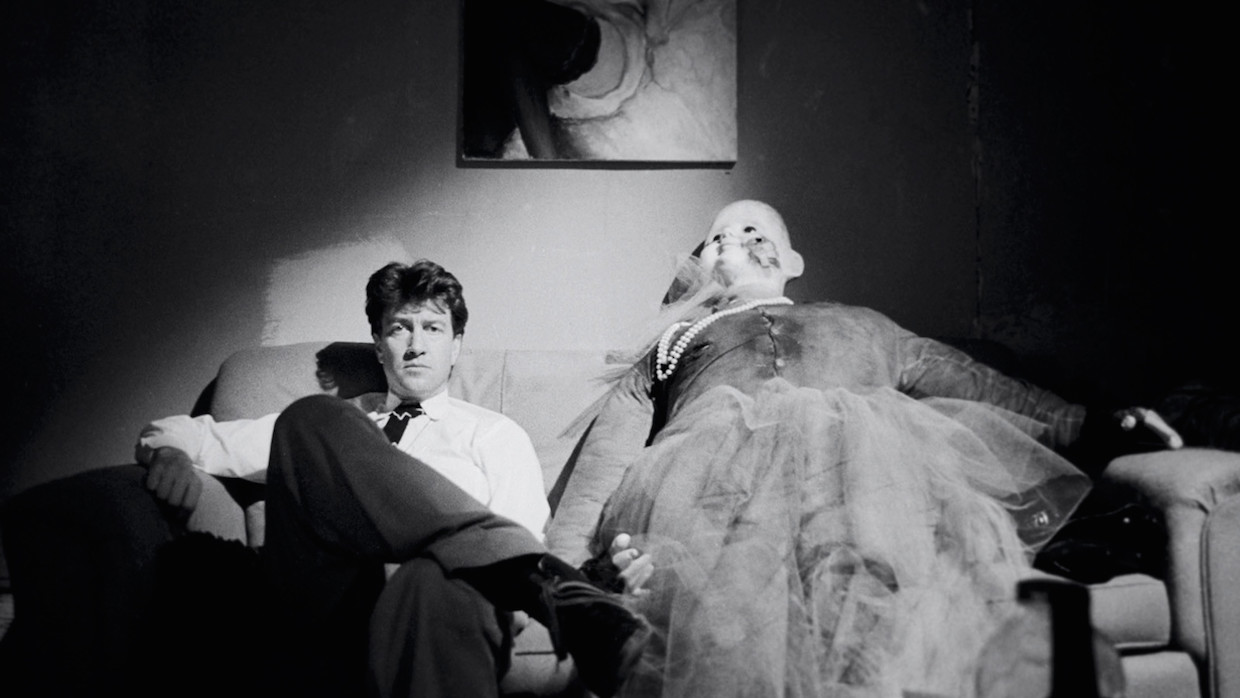 David Lynch in Blue Velvet Revisited
The past year has proven to be a uniquely rewarding time for David Lynch obsessives, with the Showtime revival of Twin Peaks being the obvious highlight, but also marked by recent Criterion Collection Blu-ray/DVD special editions of Twin Peaks: Fire Walk with Me and the new documentary, David Lynch: the Art Life, focused on Lynch's painting roots. However, one of the most fascinating Lynch-related features in recent memory has yet to receive the widespread U.S. exposure it richly deserves, and it reflects back to a more traditionally structured Lynch favorite (indeed, still the film that some cite as his key work) that those who were confounded and/or frustrated by the cryptic denouement of the Twin Peaks return might be now looking back upon with fond nostalgia.
German director Peter Braatz's Blue Velvet Revisted might initially seem like just another retrospective "making-of" documentary, but it's actually an almost unclassifiable oddity: a feature that depends wholly on the viewer's familiarity with the original material being covered, yet simultaneously a unique and haunting personal film that easily transcends the typical limitations of the average behind-the-scenes documentary to become a standalone work of art in its own right. Like such other filmmaking chronicles as Burden of Dreams and Hearts of Darkness, Braatz's film takes on a masterful shape all its own, but unlike those intense portrayals of tortured, tumultuous productions, Blue Velvet Revisited surveys a much more serene, harmonious film shoot, adopting a rhythm that captures that in appropriately hypnotic ways. While the film has enjoyed a few scattered screenings earlier this year, it has yet to receive the type of wider distribution and Criterion-styled video treatment afforded the more conventional The Art Life–despite the fact that Braatz's film is the more interesting, and indeed more cinematic, Lynch documentary portrait.
As a film student in Germany who greatly admired Eraserhead and The Elephant Man, Braatz reached out to Lynch and wound up being invited to the 1985 shoot of Blue Velvet in Wilmington, North Carolina—home of the studios of the short-lived DeLaurentiis Entertainment Group, who were bankrolling Blue Velvet as part of Lynch's arrangement with the late Dino DeLaurentiis in exchange for semi-reluctantly helming the adaptation of Dune the previous year. Shooting hours of silent Super-8 footage on the set, taking hundreds of still photographs documenting the production and conducting audio interviews with Lynch and others, Braatz had previously assembled some of this material into a more orthodox hour-long "making-of" with the little-seen 1988 endeavor No Frank in Lumberton. But the filmmaker knew that there was more there than he had uncovered in that initial project, so after letting the creative pot simmer for three decades, Braatz returned to his original Blue Velvet production material and created an entirely different animal.
More than just an 86-minute expansion of his previous documentary, Blue Velvet Revisited is a subjective meditation on the mood of the shoot in North Carolina in the autumn of 1985, an uncanny recreation of little moments in time that would have otherwise been forgotten, and a sort of non-narrative visual essay/tone poem that complements Lynch's original vision while delivering an ethereal vibe all its own. On the subject of "ethereal," much of Blue Velvet Revisited's dreamlike spell can be attributed to the score supervised by Cult With No Name's Erik Stein, augmented by contributions from Tuxedomoon and John Foxx, which offers a suitably 1980s feel without ever feeling ironically retro, helping to make the project one of the most distinctive and unusual film production documentaries ever crafted.
Filmmaker chatted with Braatz about the origins of Blue Velvet Revisited, and the director's relationship to Lynch and his work. The film has its NYC premiere tonight at DOC NYC.
Filmmaker: How old were you when you visited the North Carolina set of Blue Velvet, and how did you come to obtain Lynch's approval and arrange this?
Braatz: I actually had my 26th birthday right on the set in Wilmington. About two-and-a-half years earlier, I had written a letter to David through the production office of Mel Brooks, and nine months later he answered. From then on, we were in regular contact through letters until he finally invited me to join him in August of 1985.
Filmmaker: How long did you stay with the production, and what were your impressions of the set at the time? Did you have a sense then that the film would go on to become a masterpiece?
Braatz: I stayed through the entire production, which lasted three months–in fact, I was the very last person to leave Wilmington in November of 1985. My impressions are bundled in my film Blue Velvet Revisited, but altogether it was a fantastic and great time. Basically I felt like I was "in heaven"—to be in the US, on a film set, near a director I admired so much like David Lynch…that was simply overwhelming! During the shooting I doubted a bit that this film would be as good as Eraserhead or The Elephant Man, but the actors and the story ideas of David were so intense that I was simply wondering what would come out of this. I was very, very curious.
Filmmaker: What were your original intentions for using the material back then? What was 1988's film No Frank in Lumberton?
Braatz: On the first hand, as a film student I felt obliged to cover my trip on some sort of film, and Super-8 turned out to be the only possibility financially! I always had in mind that I would later get the material blown up to a 16mm negative in order to make a personal documentary. Then that became No Frank in Lumberton, which I got supported more than sixteen months after being in Wilmington.
Filmmaker: You've had an extensive film career since then. How did you rediscover the material you had shot decades ago, and did you immediately decide to transform it into a new feature?
Braatz: I was very happy with the result of No Frank in Lumberton, and also David and Isabella liked it! But nobody else (responded), and no festival took the film. Over the years I always had in mind to make a "remake" of my own documentary, but this time quieter and closer to the atmosphere on the set, more reflective. A film where the audience could really dive into all the stuff—the Super-8 footage, the photographs, the interviews, and several other collected items. My idea was to create "the quiet sister" of No Frank in Lumberton, as that one was like Dennis The Menace.
Filmmaker: How had your perspective on the visit to the production, and the footage you shot, changed over time?
Braatz: My perspective actually did not change at all, but I personally rediscovered a lot of details I simply had forgotten about. Somehow I really revisited those days again, and that gave me a much deeper impact than ever before. Now I believe I finally fulfilled my duty.
Filmmaker: Blue Velvet Revisited is completely unlike any other documentary on the making of a film, and it's very much its own piece with its own unique tone. Was approaching the material after all those years liberating, in that you knew you could create an original and personal work with the footage, because you could safely assume everyone was already familiar with Lynch's film?
Braatz: Approaching my material after all these years was a challenge, but yes, it was liberating. But at the same time, it was a heavy, heavy load. From the beginning, the project was heavily
under budgeted and I had nearly a year's break in order to raise some additional money with another film I got. From the beginning, I wanted to give the film a unique atmosphere. That is why I turned all the music to one hand, Erik Stein of the band Cult With No Name. So that soundtrack was finished before I started to edit. All the rest was clear for me, and I just had to make the best out of it. People don't know that they're actually watching a silent movie. 94% of my original Super-8 was MOS (without sound)!
Filmmaker: Part of the film's hypnotic rhythm is created through that score. How did you come to assemble the music, and work with not just Cult With No Name, but also Tuxedomoon and John Foxx?
Braatz: As I mentioned before, Erik Stein got involved as the musical director, so he then brought Tuxedomoon and John Foxx on board, and later even Jonathan Barnbrook, the famous designer who's also worked with David Bowie. So for a silent movie, the music, the soundtrack, is vitally important. And for me, I like to have the music before I start to edit, as my films are mostly based on music. Everything the musicians did was marvelous, unbelievably brilliant. But then, only my film had to get as good as the music was.
Filmmaker: Have you received any kind of feedback on your film from Lynch, or anyone else associated with making Blue Velvet?
Braatz: I haven't gotten any feedback from David in person yet, but he selected it for his own Festival of Disruption in October of 2016, and it was one of only two films he chose—The Elephant Man and Blue Velvet Revisited—so there can't be any better feedback than that! It was seen by a huge crowd in the Ace Hotel, and then later his personal assistant sent me an email with a very warmhearted and positive feedback message.