Back to selection
Tall Trees and Inner Lives: Kate and Laura Mulleavy on their Debut Film, Woodshock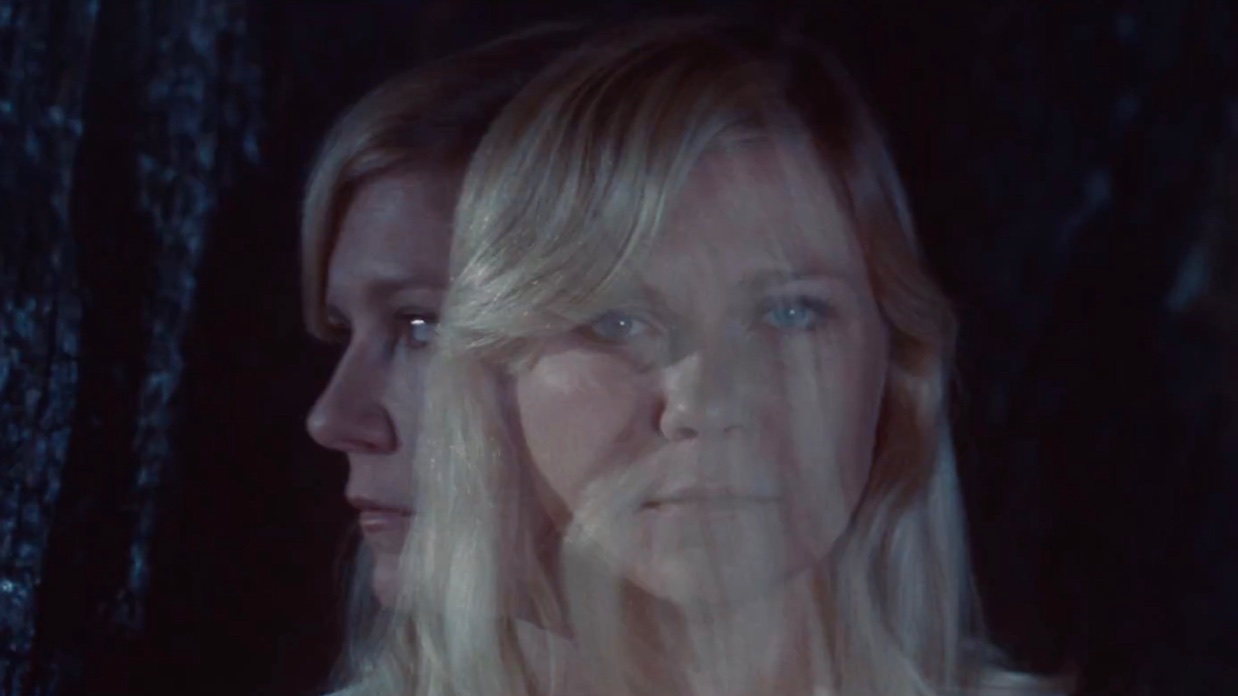 A24 is having a good year. Again. After last year ushering Moonlight to Oscar gold, they are now poised to do the same with Lady Bird, Good Time, The Disaster Artist and The Florida Project. If they were distributing Call Me By Your Name, they'd have a monopoly on hip films of the season. Indeed, the distributor has a knack for creating pop-culture phenomenon out of independent films that might have been buried by other distributors. I've really been enjoying the "Lady Bird for President" posters and seeing pink hair trending.
But what happens to the films in their packed slate that aren't Oscar bait, or are slightly more experimental? Kate and Laura Mulleavy's Woodshock is a prime example of how such films can get overlooked when released during the dense fall awards season. After premiering at Venice and Toronto, this first feature disappeared from theaters following a short run, with critics and audiences resisting a picture that plays more like a ballet or modern art exhibit than a piece of American independent cinema. (It's no coincidence that its makers — the sisters behind renowned fashion brand Rodarte — designed the costumes for Darren Aronofsky's Black Swan.) These type of art forms are created with freedom for their viewers — choose your own pathways, exercise your own demons, and the film presents itself similarly.
Now, however, Woodshock is available on digital platforms, and this reflective, escapist and visually stunning piece of work shouldn't be overlooked during your holiday R&R viewing. Focusing on Theresa (Kirsten Dunst), a woman who has just lost her mother, the film brings you into her interior life as she copes with death and discovery in the Redwoods. Dunst impressively navigates a film that starts where often others end: the loss of a loved one. In the opening scene, Theresa offers her mother a mysterious joint of cannabis, something that promises to make her go peacefully. We soon learn that Theresa has a job selling weed at a starkly lit, almost futuristic local shop. But the guilt of her decision seeps in slowly, and from there, Theresa descends into a neurosis anyone who has experienced death can relate to. She questions her boss and partner, people in the town and also her own motives for assisted suicide. The duality of her mind and body — the power and fragility — and her relation to nature become obvious once she starts smoking the same cannabis used to kill her mother. But the film isn't interested in linear structure or plot points, if you didn't already glean that from the above synopsis. Interior life during grief normally isn't either. Instead, Laura and Kate wanted to present the audience with some of the ideas and questions that have inspired them since childhood.
"95% of the Redwoods have been cut down since we started logging them," Laura explained in an interview. "…Theresa is born out of this landscape." The sisters grew up surrounded by the Redwoods in California, and currently still live together in Pasadena. Their passion for nature has been significant in their design since they started Rodarte in 2005. Their recent Spring Ready Wear collection had models cocooned by roses in a French garden adorned with florals and bloomed fabric. Woodshock also entwines disposition with nature — there's a reason the word is a double entendre. Laura asks, "What does it feel like to have this mass destruction around you?" The sisters remembered the vibrations of falling trees and how the impact resonated for miles. They wanted to take the journey of someone experiencing death and meld it with death in nature; what on-screen revelations would come from that juxtaposition?
"The interior mind subconscious is the most linked to the deepest recesses of the woods," Laura explains. "John Fowles calls it 'the green chaos,' this thing that links humanity to nature." (Fowles' story "The Tree," in fact, gives foundation to their script.) "The further we step away from that, the more disconnected and disoriented we are." It's only when Theresa begins to reconnect with the woods around her that she finds solace. "You have to be open to all the symbolism in what this place is," Kate explained, the Redwoods area essentially becoming another character in their story — a perpendicular protagonist to Theresa. It's a provocative choice, especially with so little dialogue in the film, to make a main character interact with and be propelled forward by something as intangible as "nature" — cannabis included. But the sisters wanted to find a new, fresh way of challenging their audience to connect with their female protagonist and her inner life. Indeed, such a commitment is the only way for a viewer to truly grasp the story that's unfolding on screen. Luckily, Dunst has taken on these types of roles before, with The Virgin Suicides and Melancholia coming immediately to mind. Kate points out, "We often see men go through self discovery, whether it's artistic or philosophical, but you never see it with women."
"Laura and I were fleshing out ideas that this character would undergo something that would bring about an existential crisis on screen," Kate continues. The sisters were adamant in their early meetings with potential collaborators that the purpose of the camera, score, production design and beyond was not to bring the interior life of Theresa to the audience, but in fact the reverse. They wanted the elements of filmmaking to welcome their viewers into the same mental and emotional space Theresa occupies. "You can't just burglarize the interior experience," Kate added, emphasizing that time and memory are abstract and should be approached as such when utilizing them cinematically. "We were very interested in watching a woman on screen process and think," she explained. "We're in a time period where so much is given to you. With the films that I love, stuff was taken away and I had to think about it more." (The sisters cite Ingmar Bergman as a big influence.)
Woodshock succeeds in this aspiration via its collaborative team, particularly with the work of production designer K.K. Barrett (Her, Marie Antoinette) and composer Peter Raeburn (Under the Skin). The sisters both agreed that when identifying their collaborators, being able to talk specifically about texture was important in terms of conveying the tone they were going after. They met Barrett early on in the process. "It was an artistic connection," said Kate. "You can never put that in a box." Barrett was crucial in creating the mental space of Theresa, not just her surroundings. Along with Kate and Laura, he gave attention to each prop, rug, curtain and beyond, allowing Dunst to bestow meaning to all of her exterior landscapes. This is exactly how the sisters executed their aim to communicate Theresa's internal emotional trajectory. "We played a lot with disorientation, spaces to shoot through, and reflections," Laura explained. "I wanted the viewer to be able to get lost with her, and part of that experience is bringing your own subjectivity to the film," Kate added.
In one tangible example, deep into Theresa's grief-stricken descent, she sits at her kitchen table and lifts a beautifully carved glass. Catching the sun from outside, it creates reflections, populating the screen with bright prisms and offering her, even momentarily, hope. When she sets the glass down, it possesses meaning, so when she pushes it to the edge of the table we wonder if she will let go. The scene cuts before we see her choice. It's a simple but robust moment and a prime example of how careful design and choreography can propel story. "Some people think she lets it shatter, some people think she catches it… you can choose what Theresa is doing in your own head," Kate explained. "It makes you passive to the experience, and it takes over you, rather than [you] escaping into it."
The Mulleavy's were also adamant about Kirsten doing the physical activity in the film. She builds a fence outside in the middle of the night, and even in one scene gets suspended 50 feet in the air in the middle of the Redwoods (safely, of course). "The time it would take to actually do something was very fulfilling for the character and helped Kirsten."
Another unique aspect to the film's provocation of the senses is its score. Raeburn was the one who suggested using the harp, an instrument that creates the film's melancholic aura. Laura agreed that only "this lonely, singular, delicate sound could represent the character." The score is also infused with an actual bird call they recorded in the woods along with vocals from Raeburn's wife, a soprano. "It's sharing information from her," Laura explains regarding the music used in the film. Kate adds, "The score is Theresa's innermost voice. It was a particular challenge and so eloquently done."
Given the film is so much about connectivity — between humans and between ourselves and nature — it suggests that the sisters' decision to move into filmmaking is a pursuit of this as well. After all, clothing, especially that of an expensive brand like Rodarte, can only be worn by so many people. But even working in film, which may have the potential to reach a larger landscape, Kate believes their creative intentions stay the same. "You have to stay true to your voice and that means you'll reach some people and not reach others. But you're still striving to connect with people." What's been a new experience for them is the screening process, where people have shared personal experiences about death and grief. "Artistically, I think that's why we were striving to push our work and to do something where we could use all the different senses to bring it to life."