Back to selection
Our Stories are True: Porto/Post/Doc 2017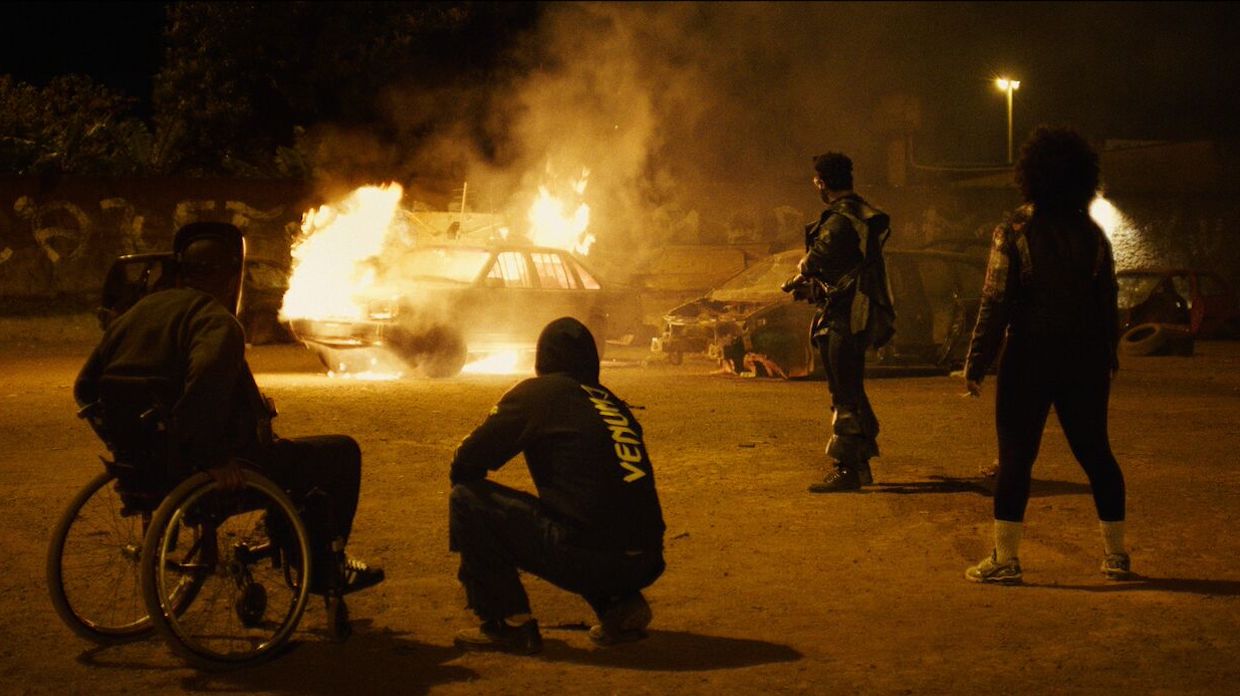 Once There Was Brasilia
"The sky above the port was the color of television, tuned to a dead channel." opens William Gibson's Neuromancer, set in Chiba, Japan (while generally accepted as a reference to the novelist's home in Vancouver). A similar pall intermittently lingered over the northern Portuguese city of Porto during the city's Porto/Post/Doc festival. The pallid grey and smoke were reminders of the devastating fires that have engulfed northern regions of the country since the summer, claiming many lives. The cinematic image of smokey cobblestone streets — with a knowledge of the real, if unseen forces behind them — provided a somber and resonant setting for a festival that has established itself as a vital site for investigations into "the real" in its broadest terms.
Part of a constellation of exhibitors and festivals (including FIDMarseille, Art of the Real, RIDM and True/False, among others) that have embraced a refreshingly agnostic approach to non-fiction filmmaking, this year's Porto/Post/Doc offered a fine survey of contemporary developments in the field, alongside vital rediscoveries. Again overlapping with the market and premiere-oriented International Documentary Film Festival Amsterdam, Porto/Post/Doc offered an alternate destination for documentary enthusiasts, driven by a mix of artistic exploration and regional demands. As part of this year's edition the festival introduced a new program of "Highlights," featuring a selection festival favorites that hadn't yet shown in the city, both narrative (Robin Campillo's BPM, John Carroll Lynch's Lucky) and documentary (Sophie Fiennes' Grace Jones: Bloodlight and Bami). While never averse to the inclusion of works that might be classified as purely fiction, one couldn't help but reflect on the distance not only from documentary, but from history itself, in Sofia Coppola's white-washed The Beguiled, the section's opening screening which packed the festival's Manuel de Olivera auditorium.
2017 marked the festival's fourth edition, as it grows into an increasingly confident and vital venue for experimental (non-)fiction, with identifiable if still-unpredictable predilections. Arts remain a key focus of the festival, with sections dedicated to fashion and music, and the festival offers a generous amount of space to Spanish film, recent Portuguese productions and student work.
Science fiction played an unusually prominent role in this year's competition, with two of the most striking entries dabbling liberally in its codes and conventions. In Era Uma Vez Brasilia (It Was Once Brasilia), director Adirley Queirós follows his approach to science-fiction-informed documentary in the earlier White In, Black Out (2014) with an even more wholehearted embrace of the genre (alongside more specific shades of Afro-futurism and Gibsonian cyber-punk).  As in his previous film, Queirós utilizes a figure who arrives from afar and a different era to better situate the chosen place and time, here an intergalactic traveller named WA4 who arrives outside Brasilia. Destined for the city on its inauguration day in 1959, and tasked with assassinating president Juscelino Kubitschek, he instead lands in a dystopian 2016, meeting locals Andréia and Marquim do Trop.
Set in part in the utopian Brazilian capital, designed and built in the 1960s, the film more often moves through the adjacent municipality Ceilândia, established on the capital's outskirts in 1971. The forced movement of Queirós's parents to Ceilândia in the initial displacements of Brasilia residents, and the tensions between the two spaces, is evident throughout the film, as Andréia convinces WA4 to instead assassinate the now-former president Renan Calheiros. Extremely loose in terms of narrative, Era Uma Vez Brasilia is a film more interested in the atmosphere of the gaps between spaces and times, as evidenced through the film's extended (and excessive, in this estimation) sequences of space travel and the repeated meeting point of a chained overpass. Further, the film is buttressed by citations from Stefan Zweig's Brazil: Land of the Future, a text from another foreigner who arrived in Brazil and was forced to reconcile with his surroundings, including and what he projections to be "a bridge towards the future."
Shot by filmmaker and cinematographer Joana Pimenta, the film is entirely nocturnal, with inky black skies, or contained, smokey, shadowy interiors. Largely produced with the clever efficiency of a film like Alphaville (1965) or other sci-fi works shot in a mostly unadulterated urban landscape, the film needs only add figures to an empty subway car to reimagine it as a prisoner transport vehicle. Elsewhere the film incorporates sets, however DIY, including a final showdown stage and the cramped interior of the traveller's rickety space shuttle. The film's shagginess can serve both as its strength and its weakness; at its best moments the film recalls the spirit of Escape from New York-era John Carpenter, with an even more pronounced political force. More often, frustratingly, the film can drag, as extended, unfocused sequences forfeit the exciting, propulsive force of the real highlights and a satisfying narrative development. That the ambition behind it all is able to win out is proof of Queirós's talent and leaves one excited for his next project, a collaborative short with Pimenta. 
Another unique take on contemporary (geo-)politics was Meteors (Meteorlar), the feature debut of Turkish filmmaker Gürcan Keltek and winner of this year's top competition prize. Separated into six chapters, the film is book-ended by two sequences that render the Turkish landscape eerie and otherworldly. Ending with a flashy meteor shower, the film's first chapter ("HUNTERS") introduces footage of the rocky Mount Nemrut in the country's south-east. Heavily armed figures decked out in camouflage enter the rocky landscape, and we see footage of them alongside wild mountain goats; Keltek produces a slow, tense burn as the humans and animals move through the space with varying degrees of precision, ultimately leading to a montage of the goats' violent deaths. In the fragmentary, oblique segment that introduces the film's play with proximity and perspective, Keltek cuts between wide compositions to jittery, roaming images shots from telephoto lens, with bodies flattened against the landscape. The result is eerie and unsettlingly, a effective (if arguably pat) metaphor for the ongoing conflicts within and addicts to those hills, in Turkey's traditional Kurdish region. 
Meteors is localized around a series of episodes in 2015 where the Turkish government violently cracked down on Kurdish uprisings. Dates punctuate the middle chapters of the film, as military personally bombed the cityscape, here often reduced to rubble. Keltek incorporates the voices of individuals, including collaborator Ebru Ojen, but elides an overarching voice-over, instead emphasizing a sense of disorientation and claustrophobia. The conceptual move is grounded in the film's aesthetics, consisting of high-contrast black-and-white images, a mix of grainy celluloid and pixelated digital often captured using hand-held cameras. Frequently the fluidity and immediacy of the camera work tilts towards abstraction, and despite specific temporal signposts Meteors is designed and executed less as a record of the events than a subjective impression (or, in Keltek's words, a "distorted cultural memory"), one that refutes simple parsing of the borders between fact and fiction while retaining a stark political commitment. As such the assembly, in part aided by the chapter headings, is heterogeneous by design: in addition to found footage of CCTV and news reports of bombings. fireworks, and meteors (the aesthetic similarities of those three, despite their disparity of meaning, is another of Keltek's continued plays with perspective) we see and footage of Kurdish insurgent groups around an immense fire, as well as footage of interviews with locals on the streets and other more traditional documentary material. Throughout, Keltek incorporates footage of actress and writer Ojenas she recites excerpts from her work, moves through the ravaged city-space of Cizre and speaks with citizens of the area about their experiences. By turns claustrophobic and celestial, the film is an impressive and frequently striking work, particularly with its use sourced material alongside original footage. 
Archival footage was found elsewhere in the competition, less successfully, in Tiziana Panizza's Tierra Sola (Solitary Land). Assembled primarily out of footage shot on Easter Island in the mid-to-early 20th century the film attempts to produce a portrait of colonialism, with questions of erasure and visibility, through Super 8, 35mm and video sourced from home movies and international documentaries (from Chile, France, Canada, Sweden and more). As the film begins we see little more than the immense sculptures that have long fueled interest in the remote Pacific island, eventually incorporating footage of the indigenous Rapunai people who have lived under Chilean rule since its 1888 annexation. 
Sequences of original footage shot by the filmmaker introduce a loose arc about contemporary concerns on the island and the proposed development of a new prison complex. Given the Rapunai people's inability to move freely on the island under Chilean control, the thematic connection to ideas of colonial oppression are potentially rich, but — like much of the film — remains unfortunately underdeveloped. Unlike films like Spell Reel which incorporated archival footage with a precise, considered methodology, watching Tierra Sola is a frustrating experience; the film has no shortage of rich ideas woven throughout, often inspired by specific archival footage, yet never manages to coalesce and culminate in any meaningful way. Thoughts on ethnography, feminism, psycho-geography and meta-reflections about the film's production and source material all emerge at various points, but are swept along just as quickly. What remains is an unfortunately diffuse smattering of contemporary non-fiction tropes and clips, whose inherent aesthetic value are unable to support the project as a whole.
"As nossas historias sao reais," translated as "our histories are true," serves as the festival's slogan, with an assumed and invited ambiguity in the word "histories," equally translatable as "stories." The phrase, and the ambiguities between fiction and non-fiction, run through the program "The Archive and Post-Memory," a day of panel discussions ("The Forum of the Real") and a selection of recent works born out of archives and their ghosts. One clear highlight was Filipa César's Spell Reel, the culmination of an extended project exhuming the history of revolutionary film produced during and after the anti-colonial struggle in Guinea-Bissau. Actual archival footage is less utilized in Paz Encina's Memory Exercises (Ejercicios De Memoria), but the meticulous Paraguayan "Archives of Terror" inform her somber portrait of the family of Agustín Goiburú, who disappeared in 1979 amidst his opposition to the Stroessner dictatorship.
Alongside dedicated tributes to Jean Rouch's centenary and the work of Canadian-Swiss filmmaker Peter Mettler — present with his recently restored Pictures of Light among other works — the festival's most exciting tribute was a pair of works by Czech director Miroslav Janek produced for Czech television in the late '90s. Most impressive was The Unseen. Arguably facile or even gimmicky in conceit, profound in execution, Janek visits Prague's Jaroslav Ježek School, an academy for blind children, where he joined and observed a project already initiated by photographer Daniela Horníčková that gave the children cameras and photographic equipment. Throughout the film Janek fades the children's photographs in and out: each shot in black and white, the pictures range from idiosyncratic portraits to more abstract moments, with streaked lights and fragmented body parts that call to mind the urgent, early work of Shomei Tomatsu. 
The children spend time reflecting on their interests and future goals, while also expanding upon their relationship with the realm of the visual in sequences in which they describe their dreams in vivid detail. The Unseen offers a startlingly fresh take on the creative process, and throughout the film we watch the children pursue their studies amidst other creative concerns (working with clay, playing music and so on), and hear them speak about producing photographs that they will never see. Some express a desire to translate an object with pleasant tactile qualities into a photograph, while others speak to the desire of accomplishing a task others would have deemed impossible or for naught. "I took pictures for my parents," says one, while another speaks to the idea of posterity by declaring "I liked the fact that whatever I shot would be saved." 
The evocative relationship between seen and unseen in the film is one that can be expanded effortlessly to consider Janek's body of work — ripe for further discovery — and the festival itself. Whether the unearthed archival material that informed the theme, the historical rediscoveries throughout the dedicated tributes and carte-blanches, the tales of undocumented refugees and workers that emerged in other strong competition titles (Stranger in Paradise, Taste of Cement and City of Ghosts) or the unseen fires beyond the cities borders, at Porto/Post/Doc the revelations of the real were rarely tidy and not always pleasant, but ever exigent.