Back to selection
"I Had Never Done a Movie Like this Before, But Who Really Has?" DP Juan Sebastian Baron on Search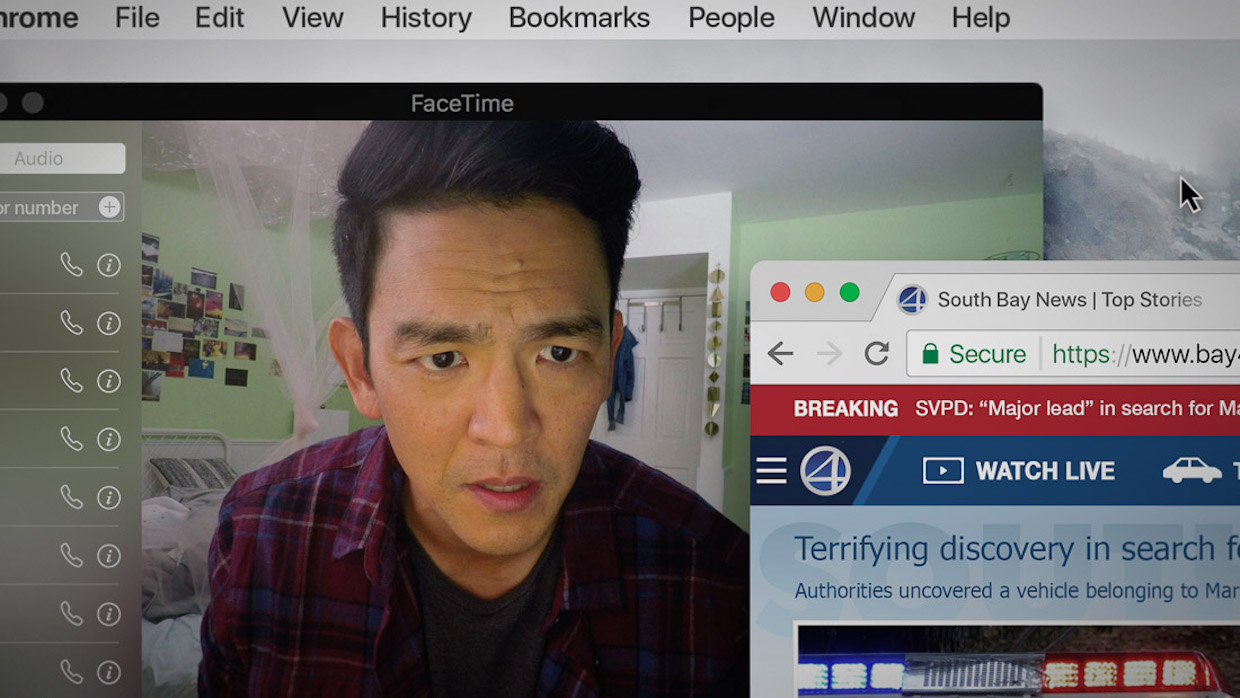 Search
How do you film a movie like Search? Taking place entirely on computer screens, the film follows in the footsteps of the 2014 horror film Unfriended, which similarly placed viewers in front of a computer and left them there for 90 minutes. Director Aneesh Chaganty hired his fellow USC alum Juan Sebastian Baron to shoot the project. To mimic the many video formats one encounters in modern digital life, Sebastian Baron shot the film using GoPros, iPhones, MiniDV cameras and the Canon 6D, to name a few of the cameras required to pull off this project. Search premieres in the NEXT lineup of the 2018 Sundance Film Festival and stars John Cho and Debra Messing. Below, Sebastian Baron breaks down how the look of the film was achieved.
Filmmaker: How and why did you wind up being the cinematographer of your film? What were the factors and attributes that led to your being hired for this job?
Sebastian Baron: I had never done a movie like this before, but who really has? Aneesh and I met at USC when we were partnered up to do an intermediate project. We clicked immediately. I have always appreciated his passion for storytelling as well as his values and ethic. I'm drawn to directors with strong visions, and I'm all about supporting them on their crazy adventures. I think Aneesh trusted the process that we've continued to develop together. The bulk of the team came from USC and that gave us the fundamentals and shared experience to tackle the challenges on this project, on something as out there as this it really anchored us.
Filmmaker: What were your artistic goals on this film, and how did you realize them? How did you want your cinematography to enhance the film's storytelling and treatment of its characters?
Sebastian Baron: From day one, Aneesh pushed relatability. We didn't want to shoot it with an Alexa and try to "fake the look." If anything he wanted to push things to be ugly and real when they needed to be. The script he wrote with our producer Sev Ohanian was very inventive, yet honest. They crafted the narrative around real application UI, and I wanted the live action content to fit in seamlessly. We did treat this film like we would any other narrative project, and there were specific beats and character arcs we wanted to enhance with the cinematography. I knew I could use the lighting to push the vulnerability of a scene or link moments across the narrative. As a personal goal I wanted the film to feel crafted and have a sense of direction, and I didn't want the technology to get in the way of that.
Filmmaker: Were there any specific influences on your cinematography, whether they be other films, or visual art, of photography, or something else?
Sebastian Baron: We studied "real world" examples of the types of looks we were trying to achieve. For example, we looked at news helicopter footage and paid attention to how the pilots and operators react to situations unfolding live. We binged video blogger material. The aim was to understand the grammar viewers are familiar with so we could lure them into that suspension of disbelief and manipulate their emotions. I pored over coverage of big events, reaction videos online, the general zeitgeist of content. When you view all of it through the lens of narrative cinematography there's endless inspiration for techniques.
Filmmaker: What were the biggest challenges posed by production to those goals?
Sebastian Baron: We had to wrangle prosumer and consumer tools in the context of a demanding schedule and pressure of a film production. That's always a recipe for trouble. How do we watch playback during a FaceTime sequence? Where do the actors look on screen? Are the actors the camera operators? I'm sure it looked like we had no idea what we were doing because we were inventing it as we went along. The tricks you fall back on in a regular movie didn't apply here. In some ways it felt like going back to film school because every department was relearning and finding new ways to do their jobs. We had an intimate collaborative set and the full support of our actors, who were extremely brave to put themselves out there in such an unconventional way. So much credit goes to our producers for setting the project up for success.
Filmmaker: What camera did you shoot on? Why did you choose the camera that you did? What lenses did you use?
Sebastian Baron: We had to create every asset of content in this film. When I did a breakdown I realized we would need well over a dozen different cameras to pull off all the looks. Not possible with the size of our team. I had to reduce it so we wouldn't be drowning in tech. The bulk of the movie was shot on GoPros rigged to laptops. We had a legacy stills camera and MiniDV camera to recreate older formats. A lot of the video and photography we did on the iPhone because I knew I could hand it over to Aneesh or one of the actors and they could get exactly what was right for the story without a lot of artifice. I found a Sony HD camcorder (the Z100) that matched the sensor size of news cameras but shot 4K so we could get the push ins that were critical to the storytelling. Chris Marius Jones, probably one of the few "screen movie" veteran ACs in the business, made this all possible, but it was still a major headache working with technology that was never designed to make a movie.
Filmmaker: Describe your approach to lighting.
Sebastian Baron: The lighting style followed the philosophy of staying grounded while supporting the storytelling. I'm big in the "enhanced naturalism" school of thought so unless Aneesh had a specific request, I focused on opportunities where "real world" sources, like the screen from the computer, could help us convey different feelings and emotions. We had a small and versatile package (mostly LED); I'm pretty amazed at all the different looks we were able to get out of it. I was very lucky to have the support of my gaffer, Eitan Almagor, who is an excellent cinematographer on his own right, while I was often running around putting out fires with some of our cameras and tools.
Filmmaker: What was the most difficult scene to realize and why? And how did you do it?
Sebastian Baron: More than just one specific scene, the FaceTime sequences in this movie were extremely difficult to shoot. We had to have two actors, in different spaces, interacting with each other live, while Aneesh and his team monitored the performances. Luckily Adam Sidman developed a proprietary system at Bazelevs using GoPros and laptops running off a CCTV switching system. It's a bit of a frankenstein rig but a brilliant solution to the problem. Unfortunately shooting with GoPros in darkly lit environments with practical lights and other elements is a nightmare because they are autofocus/auto exposure cameras with a mind of their own. So lighting, managing continuity, dealing with battery issues and noise level became many times more difficult than simply shooting single camera dialogue in a regular movie.
Filmmaker: Finally, describe the finishing of the film. How much of your look was "baked in" versus realized in the DI?
Sebastian Baron: A lot of the look was baked in because of the formats native to our cameras, but all of the GoPro footage was captured in a Log format and was colored by Zach Medow in Resolve. We had to overcome the exposure inconsistencies from the GoPro and fight continuity throughout the film. From there the look of the film evolved as Aneesh and the editorial team found different creative opportunities and pushed different looks. There really are two layers of cinematography in this film, the live action footage, and the work editors Nick Johnson and Will Merrick did creating the "screen" experience for the audience. In the post production role, their creative contribution definitely added many more storytelling layers that completed the experience of the film.
TECH BOX:
Camera: GoPro Hero 4, iPhone 7, Sony Z100, DJI Z3, Canon 6D, Sony Mini DV, Canon PowerShot
Lenses: Camera fixed lenses
Lighting: LiteGear LiteMats, Kino Flo, Joker 800s
Processing: Digital
Color Grading: DaVinci Resolve, Adobe After Effects