Back to selection
"My Goal Was to Make More than Just Pretty Pictures or Just Cover Scenes": DP Denson Baker on Ophelia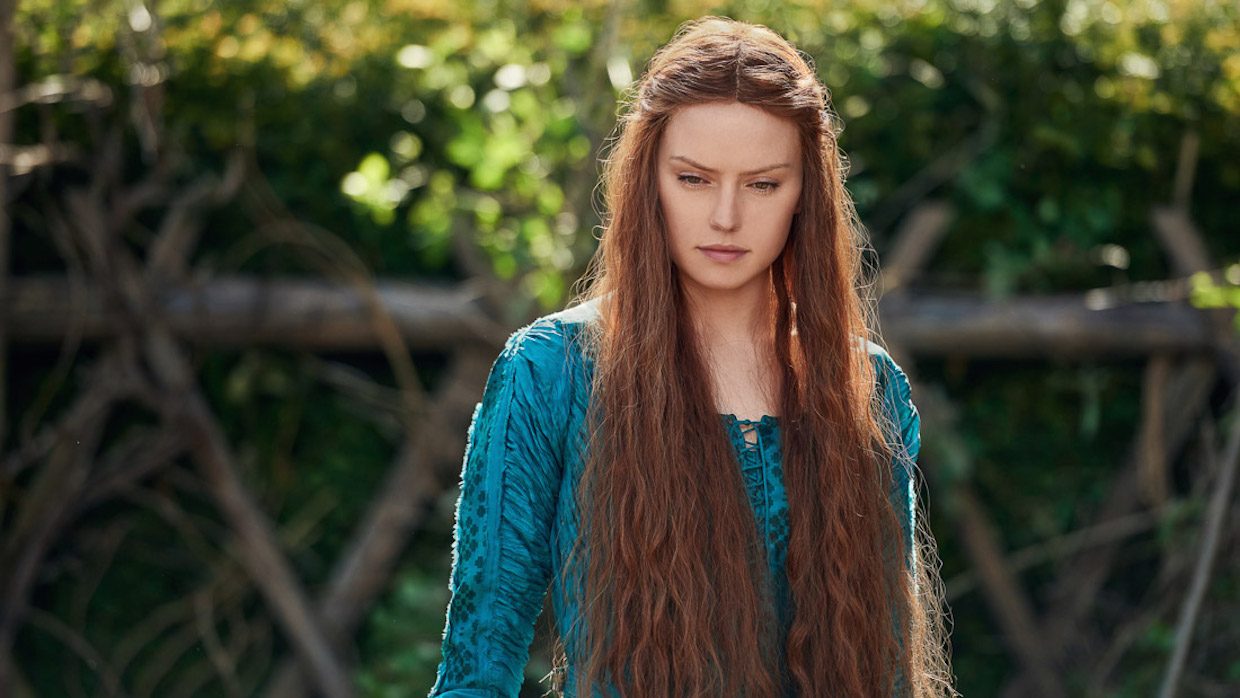 Ophelia
Cinematographer Denson Baker's recent projects have included the award-winning New Zealand drama The Dark Horse, the Oliver Stone-produced documentary Ukraine on Fire and the 2009 India-set romance The Waiting City. That last film was directed by Claire McCarthy, Baker's wife and the director of Ophelia. Ophelia, which screens at the 2018 Sundance Film Festival, casts Daisy Ridley, Naomi Watts and Clive Owen to reframe Shakespeare's Hamlet from the perspective of the ill-fated Ophelia. Baker speaks with Filmmaker below about the key paintings that influenced the film, collaborating with his wife and capturing the film's tricky opening shot.
Filmmaker: How and why did you wind up being the cinematographer of your film? What were the factors and attributes that led to your being hired for this job?
Baker: I have shot several projects with the director, Claire McCarthy, over the past nine years or so. We have developed a visual style and rapport that meant that I was a natural choice for her as cinematographer, not to mention that she is also my wife. However, that didn't mean that I automatically got the gig! I still had to prove myself to our producers; they had seen much of my previous work and thankfully liked my style. I have been involved with the project for quite some time and produced look books and mood reels in collaboration with Claire, which were used as pitching material to get the film off the ground; this material became the launching point for discussions about the visual style of the film.
Filmmaker: What were your artistic goals on this film, and how did you realize them? How did you want your cinematography to enhance the film's storytelling and treatment of its characters?
Baker: My artistic goals on the film were to create a world that the characters inhabit, an atmospheric and textured world that is both poetic, naturalistic but also stylistically heightened. I see the cinematography as a vital storytelling function and my goal was to make more than just pretty pictures or just cover scenes. My goal was to be at times up close and personal with the characters. Claire and I wanted the visual construction of the film to be inside the emotional experience of these characters and their story, particularly Ophelia. There is a lot of fluid camera work and really intimate and intense exchanges between the characters, and we worked very hard to find the best way to tell this in an epic but accessible way. I have such respect for actors and their craft. I think a part of a cinematographer's job is to help create an environment on set that the cast can feel that they are in safe hands; they are not only going to look good but that they are going to be respected while they do their job.
Filmmaker: Were there any specific influences on your cinematography, whether they be other films, or visual art, of photography, or something else?
Baker: I am a lover of the great masters of painting, and this film was an opportunity to study and allow ourselves to be influenced by some great paintings from history. Claire, Dave Warren (production designer) and I looked at a lot of paintings, particularly those by the Pre-Raphaelites, whom Ophelia has been the subject of some of the movement's most famous artworks. We loosely referenced many paintings throughout the film and can probably be spotted by keen observers and art lovers. I also feel that I was channelling cinematographer Douglas Slocombe for Ophelia – there is a touch of Indiana Jones in the film.
Filmmaker: What were the biggest challenges posed by production to those goals?
Baker: There where many challenges on this film – it was always a very ambitious project and we were all aiming very high. But to achieve high we had to work very hard and also be very clever. We needed to shoot fast, but didn't want to shoot sloppy, so we made sure we where very prepared – we storyboarded most of the film, we did photographic storyboards that I shot on my DSLR using our assistants and various other people from the production office as models. Then we had a storyboard artist who drew some sequence that we just couldn't photograph. Then as we honed in on principal photography we started shooting frames using Artemis Prime and a full set of our Hawk Anamorphic lenses from Vantage, Prague. This allowed us to be very specific with our shot construction and coverage, this meant that we where very prepared with how we where going to shoot and light the film, which meant we could focus more creative energy on set into other things.
Filmmaker: What camera did you shoot on? Why did you choose the camera that you did? What lenses did you use?
Baker: We had two cameras for the bulk of the shoot and then three cameras for some of the bigger scenes. We had an Arri Alexa XT Plus and Alexa Mini, which we used on Steadicam, MoVI and Cable Cam rigs. Our A Camera/Steadicam operator was Jaromir (Jarda) Sedina; I operated B Camera. Claire and I had our heart set on shooting anamorphic right from the start for this movie, it just felt like the natural choice for a big screen cinematic epic. We shot on Hawk Anamorphic V-Plus, V-Lite and C-series lenses. We had the vintage C-series lenses which we used for specific scenes and referred to them as our "art lenses." We also had a Hawk 10-24mm spherical zoom which we used for the occasional wide shot. It was very useful when shooting wide shots of castles or large interior architecture because it is nice and wide but has minimal distortion, which is important when you are shooting locations with a lot of columns and other straight lines. I actually really like that lens a lot.
Filmmaker: Describe your approach to lighting.
Baker: We wanted atmospheric, soft lighting, predominantly back lit. The film is set during the medieval period as the world shifts into the renaissance, which meant that the only light sources are daylight, moonlight and flame. We shot a lot with actual flame, ranging from candles, oil lamps, flame torches and "off screen" flame bars. We also worked on a sound stage for several of our bigger set pieces and pushed big light sources through windows and hung space lights. We used Arri Skypanels that were all DMX controlled and could make quite quick changes to re-light the sets between day mode, night mode, dawn mode, etc. We had an incredible team from Prague.
Filmmaker: What was the most difficult scene to realize and why? And how did you do it?
Baker: We had many difficult scenes, some rather big scale scenes and some very technically challenging scenes. However, one particular scene worth mentioning would be our opening shot, where we referenced the famous Pre-Raphaelite Ophelia drowning painting by Sir John Everett Millais. We had Daisy Ridley playing Ophelia, who was positioned floating on the surface of the water as the camera on a 50-foot Supertechno crane skims across the water, over lily pads, revealing Ophelia then raising up over her, then slowly descending towards her face as she submerges into the water. We shot at 48fps to give a slightly dreamy quality, which meant that the grips had to move the crane at 2x the speed and hit some very precise marks with very precise timings. We had to lower Daisy into the water by having her attached to a submerged descender rig that was operated from the shore and would have her sink on cue. The shot was made difficult by the fact that we had to build a platform in the water weeks in advance. Greens had to do a whole lot of work on the location and, between choosing the location in winter and then shooting in spring, the snow melted in the mountains, which affected the level of the water that we were shooting in. Not to mention it was ice cold for Daisy, so there was a team of people striving to keep her warm in the water, and we had to dry her after each take. And to top it all off, we had a rather short window of time to shoot it in; we had to wait for the sun to come over the huge rock formation right next to the location, and then we only had an hour or so before the sun would be too high and would eventually cast a great big crane shadow over Daisy. We got it in three takes and the shot is beautiful.
Filmmaker: Finally, describe the finishing of the film. How much of your look was "baked in" versus realized in the DI?
Baker: In prep we shot some rather specific camera tests, and from those we created four different LUTs that I used on set and for our dailies. I also shifted the color temperature and color correction on set too so the look we were after was already halfway there. Then in the DI we finessed it and polished it further. Because we shot in Arriraw, the look was not really "baked in," so we had a lot of latitude to work with in the DI. I was fortunate to work with the fabulous colorist Max Horton at Halo Post Production in Soho, London
TECH BOX:
Cameras: Arri Alexa XT Plus and Alexa Mini from Vantage, Prague
Lenses: Hawk anamorphic V-Plus, V-Lite & C series. Angenieux Optimo anamorphic zoom lenses
Lighting: Everything from 20k Tungstens, 18k HMIs, Arri Skypanels, Spring Balls, Rifas, flame bars, lots of diffusion frames and available light while shooting on location
Processing: Codex ARRIRAW (3.4K), 2K Digital Intermediate
Color Grading: Halo Postproduction, Soho, London. Colorist Max Horton, working on a Nucoda system.