Back to selection
DP Matías Mesa on Shooting Sundance Drama The Queen of Fear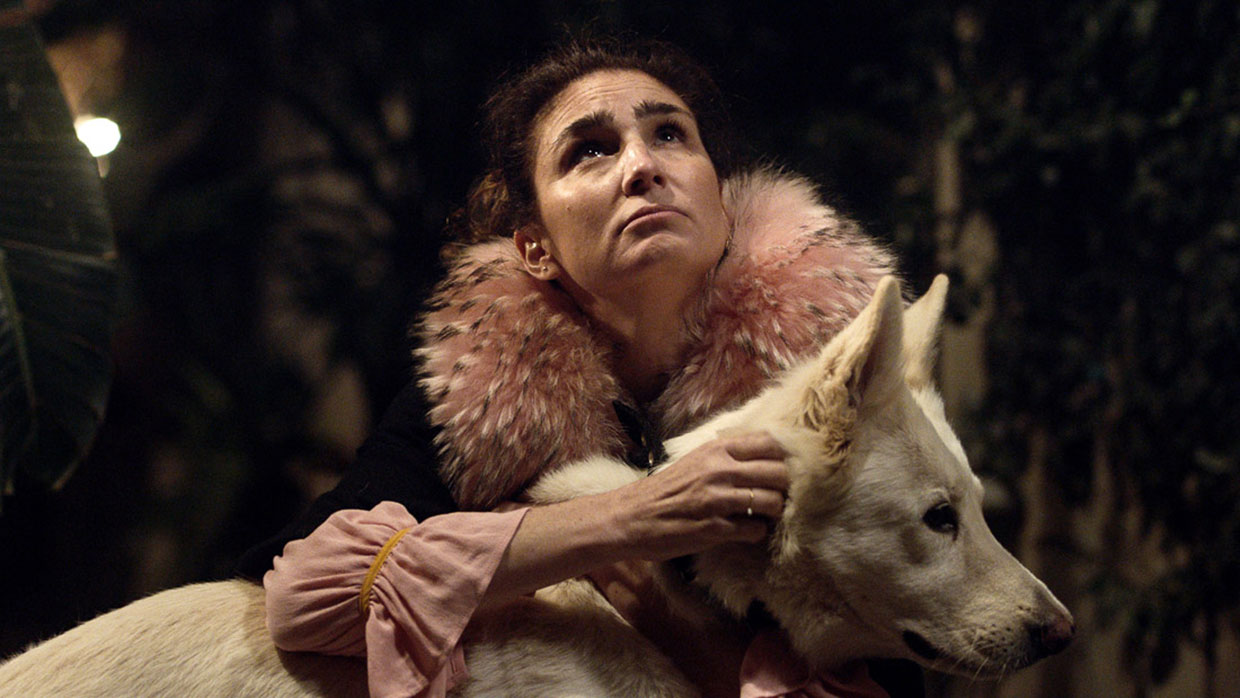 The Queen of Fear
The directorial debut of Argentine actress Valeria Bertuccelli, The Queen of Fear holds its world premiere at Sundance 2018 as part of the World Cinema Dramatic Competition. The film was co-directed by Fabiana Tiscornia and stars Bertuccelli as an actress set to open a one-woman show. Matías Mesa, the film's cinematographer, has DP'd a number of Spanish-language shorts and features in addition to his camera operator work on Okja, Triple 9 and The Road. Below, Mesa speaks with Filmmaker about lighting a blackout sequence and the visual influences on The Queen of Fear.
Filmmaker: How and why did you wind up being the cinematographer of your film? What were the factors and attributes that led to your being hired for this job?
Mesa: Besides being very excited to take part on Valeria Bertuccelli's first feature film, I knew Fabiana Tiscornia from her days as a 1st AD, We have worked together several times in the past as a Steadicam operator. This film's initial idea was to move the camera a lot, and with a very short time on the schedule it had to be accomplished in some very agile way without sacrificing movement smoothness. We agreed that doing hand held was not the best option for the mood of this story so we decided to go with Steadicam as our main camera moving platform. Having said that, the directors found that our vision of the story matched and the visual approach was appealing to the way they envisioned this story. I think that it was a very good match from the start.
Filmmaker: What were your artistic goals on this film, and how did you realize them? How did you want your cinematography to enhance the film's storytelling and treatment of its characters?
Mesa: The main challenge was to achieve darkness and at the same time be able to see faces and expressions. Robertina's character is a woman full of fears and trapped in her own circle of confusion. What brought me to the need to create a lighting atmosphere that makes you feel a little bit trapped; there is a progression in that matter as Robertina frees herself from her fears, the film starts to show more color and more saturation.
Filmmaker: Were there any specific influences on your cinematography, whether they be other films, or visual art, of photography, or something else?
Mesa: Todd Hiddo photographs were a big influence in this film, as well as Todd Haynes' Carol and Bertolucci's The Dreamers. We also had a look at her in terms of colors and palette.
Filmmaker: What were the biggest challenges posed by production to those goals?
Mesa: What I found more challenging on this film was the concept of creating a threatening darkness in a full blackout, while still being able to capture and relate to the actors' faces and expressions.
Filmmaker: What camera did you shoot on? Why did you choose the camera that you did? What lenses did you use?
Mesa: We shot on Alexa Mini because we needed a camera that was small enough to fit inside cars without having to remove seats or glasses or create big contraptions. We needed to solo drive as much as we could. Alexa is usually my first choice because of tone reproduction and noise ratio. It's a great camera and very versatile for us filmmakers and crew in general.
Filmmaker: Describe your approach to lighting.
Mesa: The main location is a house that provided us with a lot of options as far as shooting angles go, but was more limited in terms of lighting placement possibilities. Unfortunately scissor lifts and gripping gear like that were out of our budget, so our solution was based on elevated gripped sources in order to recreate a warm and even night. Also our days were short since we shot in mid-winter and that asked for a very fast pace on the schedule. We had to be fast and very flexible in our light sources so we decided to use mostly Skypanels.
Filmmaker: What was the most difficult scene to realize and why? And how did you do it?
Mesa: I would think that the most difficult scenes where the black-out scenes because we had to keep everything really dark but bright enough so we could se the faces. We achieved this with extreme low levels of light while bouncing lights to the faces. We also used some cool light flashlights used by the police officers that arrive to the house in order to show us the faces.
Filmmaker: Finally, describe the finishing of the film. How much of your look was "baked in" versus realized in the DI?
Mesa: In an attempt to remain compact, flexible and fast, we didn't do grading on set and worked with some pre-sets LUTs that helped us preview the scene. Anyway, trust was crucial since many scenes had to go into the editing suite with an imprecise, temporal look. Such as the night scenes, which were shot significantly brighter in order to keep a record of everything. But we all knew how healthy was the footage and where we could go with what we had in the can. Both directors were positive that we would land where we wanted.
TECH BOX
Camera: Alexa Mini
Lenses: Cooke S4
Lighting: Mostly Skypanels
Processing: Digital
Color Grading: DaVinci Resolve