Back to selection
"We Wanted the Film to Feel French": DP Giles Nuttgens on Colette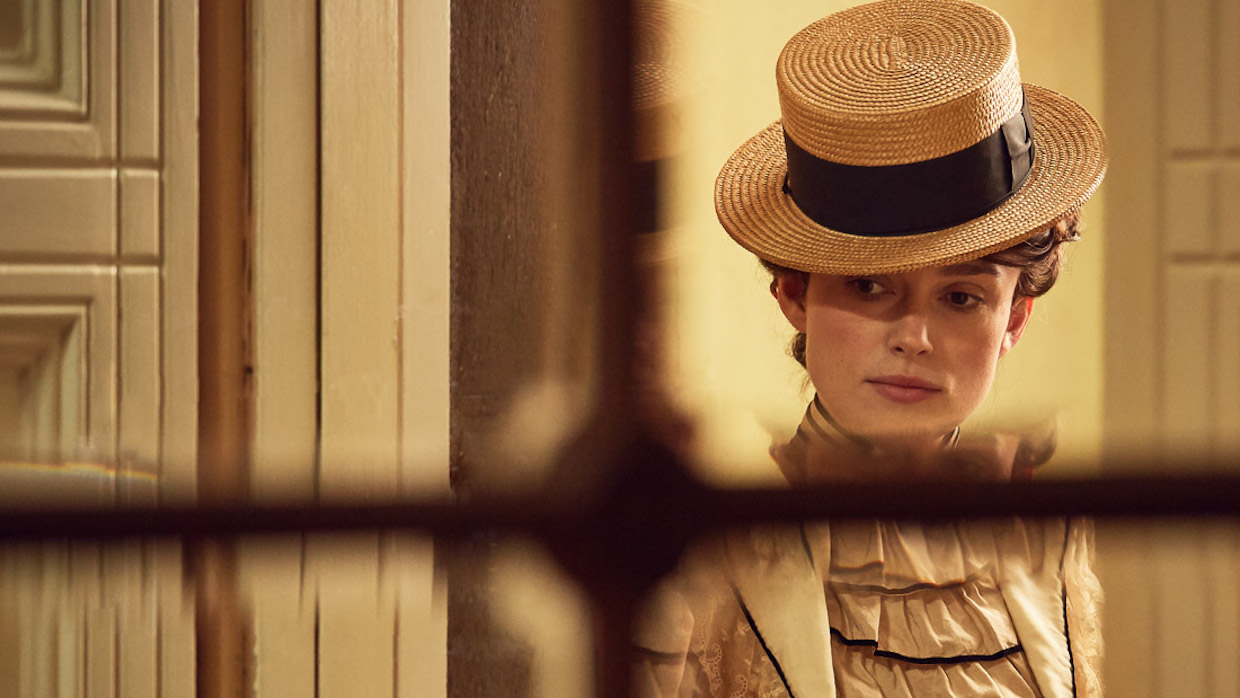 Colette
Giles Nuttgens received a BAFTA nomination last year for his work on David Mackenzie's Hell or High Water. The DP's other recent credits include Sundance premieres God Help the Girl (2014), The D Train (2015), The Fundamentals of Caring (2016). He returns to the festival this year with Colette, a UK drama starring Keira Knightley and Dominic West. Below, he discusses working with director Wash Westmoreland, the inspiration of Max Ophuls and avoiding the "'chocolate box' type of imagery that one often sees on period films."
Filmmaker: How and why did you wind up being the cinematographer of your film? What were the factors and attributes that led to your being hired for this job?
Nuttgens: I had met Wash some time ago when he and Richard were going to direct a film with Julie Christie about a working-class vampire. The film never happened but we kept in touch. I had an interview with Wash and Richard for Still Alice but they decided to use Denis Lenoir, but my name came up again for Colette. We have many connections in common through New York filmmakers and this time it worked out.
Filmmaker: What were your artistic goals on this film, and how did you realize them? How did you want your cinematography to enhance the film's storytelling and treatment of its characters?
Nuttgens: Wash had very precise ideas about giving the feeling of flowing through both the period and the relationship between Colette and Willie, which was referenced to the work of Max Ophuls, who was very inventive with his camerawork for the period he was working in. His films still feel modern today. We wanted to be able to keep things moving particularly in their apartment, to a certain extent indicating that their relationship was never static, a constant turbulence of emotions. Wash, myself and designer Michael Carlin watched many films together, and Wash stuck to the style he had decided on during the shoot. My hope was to make sure that we kept that feeling going even when the characters were locked into static positions, but the reference was already there and Wash is one of the most prepared directors I have ever worked with. There is no doubt in the final cut that he had managed to adhere to his goals.
Filmmaker: Were there any specific influences on your cinematography, whether they be other films, or visual art, of photography, or something else?
Nuttgens: We wanted the film to feel French, both in modern terms of lighting and respecting rigidly the sources, be it candle light, electric light or daylight. We wanted to take the images darker than they eventually ended up but the limitations of not having solid blacks on digital projection made us keep our key lights brighter than originally intended. We avoided as much as possible the "chocolate box" type of imagery that one often sees on period films. It is not that we wanted it gritty, but certainly more real than we are used to seeing. In the end, I think we found a good balance between these two things.
Filmmaker: What camera did you shoot on? Why did you choose the camera that you did? What lenses did you use?
Nuttgens: We shot on an Alexa Studio on Master Prime Anamorphic lenses with just a slight amount of diffusion. They are very sharp for a period film but I wanted to shoot right to the edges of the frame even close to wide open. They don't suffer from the usual aberrations of other anamorphic lenses. Using hard lenses meant we had to be very careful about softening the light sufficiently as, of course, we wanted Keira to look good as she could but maintaining this direct, real feeling.
Filmmaker: What was the most difficult scene to realize and why? And how did you do it?
Nuttgens: Probably the Moulin Rouge sequence as we had a lot to do in one day and all the lighting had to be above the frame, but we had no way to rig into the ceiling as it was made of very elaborate stucco work and couldn't be touched for risk of damage. This was a repeated complication. We were in extremely beautiful period locations and they had to be protected, but I couldn't put lights on the floor as many of our shots were long developing moves on Steadicam. At the end of the Moulin Rouge scene the whole fight was shot in one hour on three cameras, which was challenging as everyone was wearing black, represented about 70 percent of each frame.
Filmmaker: Finally, describe the finishing of the film. How much of your look was "baked in" versus realized in the DI?
Nuttgens: We worked extensively in the DI but mainly to give a little more shape and contrast to the faces, evening out the black levels and balancing the two cameras, but the overall look hardly changed from the dailies to the final result.
TECH BOX:
Camera: Alexa Studio
Lenses: Master prime Anamorphics
Processing: Digital
Color Grading: Baselight