Back to selection
"We Were Using Dolly, Crane and Steadicam Under Real and Artificial Rain": DP Federico Cesca on Dead Pigs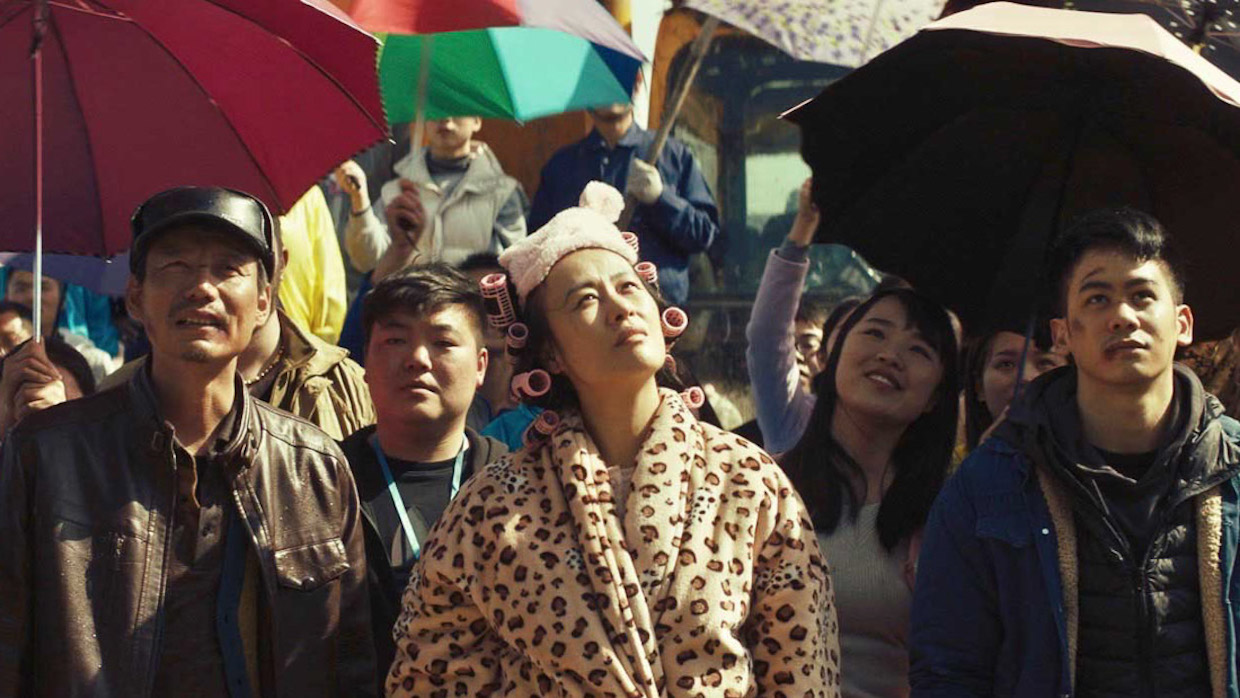 Dead Pigs
Dead Pigs marks the feature film debut from writer/director Cathy Yan. Born in China with an MFA from NYU's Tisch, Yan directed three shorts (According to My Mother, Down River, Last Night) prior to her first feature. She hired Federico Cesca, a fellow Tisch alum and the DP on last year's Patti Cake$, to shoot Dead Pigs in Shanghai. Cesca spoke with Filmmaker ahead of Dead Pigs' premiere at Sundance about the challenges and rewards of shooting this project.
Filmmaker: How and why did you wind up being the cinematographer of your film? What were the factors and attributes that led to your being hired for this job?
Cesca: Cathy and I met while we were both at Tisch. We worked on a few sets together and really got along. So as soon as she mentioned the idea I was intrigued by it, and since we already had a great rapport I immediately knew it would be a good project. By this time I had already shot a few features and really understood the dynamics of working on projects of this scale. But I would say the main reason for me getting the job was that Cathy felt my aesthetic and work style were a good fit for the film.
Filmmaker: What were your artistic goals on this film, and how did you realize them? How did you want your cinematography to enhance the film's storytelling and treatment of its characters?
Cesca: The film takes place in this wonderful and surreal place that is nowadays China. The energy and pace at which things are happening there are extreme and somehow made me think of the gold rush in America. Lots of virgin grounds to explore and therefore many gray areas. I'm speaking both creatively and contextually. The contrast between the modern and traditional China was a big visual element. This was quite evidently expressed by the opposites of day vs. night, natural vs. artificial light, city vs. countryside. So we embraced these extremes, allowing the film to go from very naturalistic day scenarios to rather stylized and colorful night settings.
Filmmaker: Were there any specific influences on your cinematography, whether they be other films, or visual art, of photography, or something else?
Cesca: We wanted the film to have a sort of timeless quality, with the color and feel of an '80s-'90s film, but with a way of lighting that's more contemporary. The ever-expanding use of LED lights and all sorts of neon-like colors certainly give the world a modern vibe. A couple films we kept talking about were PT Anderson's Punch-Drunk Love and Magnolia, mostly from a mise-en-scène perspective but also because of color and texture. The fantastic photography book Shanghai Living by Hu Yang was also a nice departure point. Then it was just about letting each place speak to us and trying to bring out the surreal elements out of the ordinary.
Filmmaker: What were the biggest challenges posed by production to those goals?
Cesca: Traffic was the biggest challenge. We were shooting in Shanghai and within a two-hour radius from our base, so a lot of time was spent on the road. The other big challenges were mostly dealing with unpredictable weather and trying to make the best out of our resources and time.
Filmmaker: What camera did you shoot on? Why did you choose the camera that you did? What lenses did you use?
Cesca: Since the option of shooting on film was not possible we shot on the Arri Alexa Mini. I'm very comfortable with that camera, and since I knew we would be working under a lot of diverse and extreme lighting circumstances, it was quite an easy choice. I love the way it renders skin tones and the organic feel it has when pushed the right amount. We shot with the Master Anamorphic lenses.
Filmmaker: Describe your approach to lighting.
Cesca: I like to keep lighting simple and, whenever possible, light for space and let the characters move around freely. I would say it's some kind of enhanced natural lighting. Once we already knew the locations Cathy and I would discuss each scene with floor plans and based on this I would come up with a lighting scheme. But on the day I would always let her rehearse and block the scenes, and adjust our initial plans accordingly in order to avoid things becoming contrived.
Filmmaker: What was the most difficult scene to realize and why? And how did you do it?
Cesca: There's a scene where it rains and one of the characters is up on the roof of a house, and a lot of people gather around. It is a long scene, with many layers, and where all the main characters converge. The location was difficult, the ground was muddy, with debris everywhere, and we were using dolly, crane and Steadicam under real and artificial rain. It was very hard to keep track of all these elements.
Filmmaker: Finally, describe the finishing of the film. How much of your look was "baked in" versus realized in the DI?
Cesca: I would say 95 percent of the look is achieved on set. Our colorist Andrew Francis and I worked on a LUT based on some footage shot on location, and I used it throughout the film. Ultimately, we did tweak it a bit, but it was mostly baked in.
TECH BOX:
Camera: Alexa Mini
Lenses: Master Anamorphic
Lighting: Enhanced natural light
Processing: Digital (ProRes 4444 2K Ana)
Color Grading: Blackmagic Resolve, colorist Andrew Francis