Back to selection
"Like a Long Mosaic Music Video that I Didn't Want to End": Editor Jason Gourson on Blaze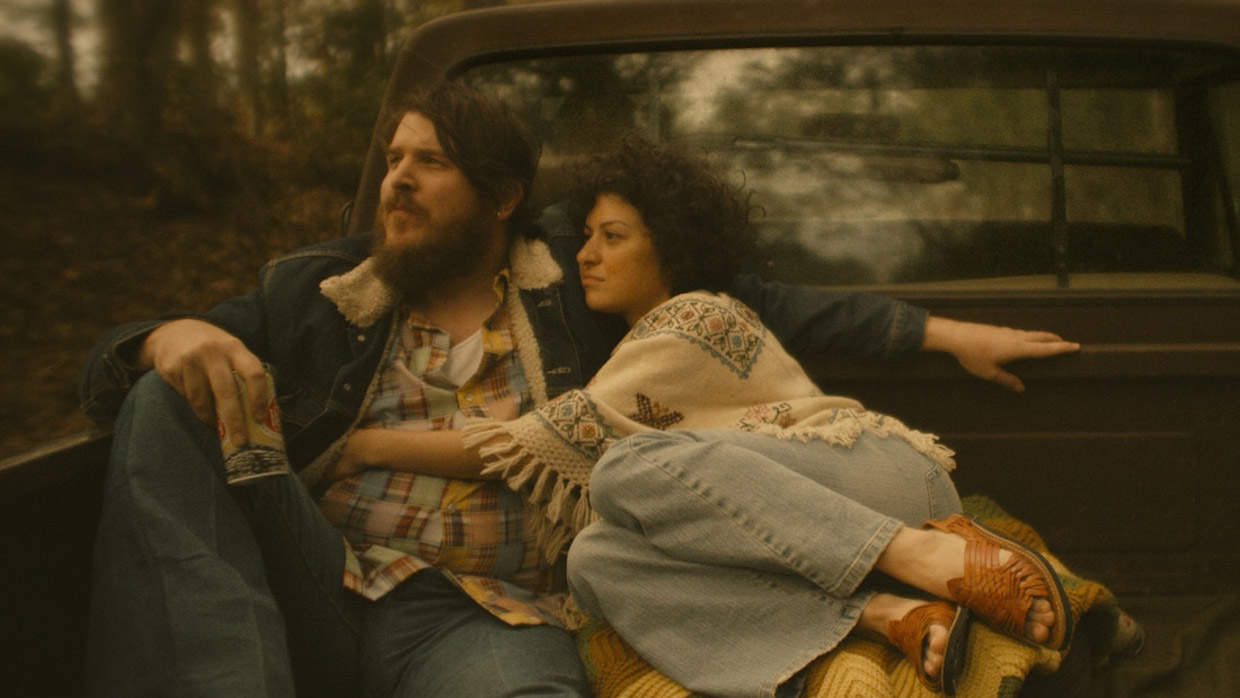 BLAZE
The first fiction feature film from actor Ethan Hawke since 2006's The Hottest State, Blaze tells the story of the relatively unsung country musician Blaze Foley. The film's star, Benjamin Dickey, won the Special Jury Award for Achievement in Acting at the Sundance Film Festival last week. Hawke hired editor Jason Gourson (The Magicians, Glee) to cut his impressionistic biopic. Below, Gourson speaks with Filmmaker about collaborating with Hawke and growing up as the son of a film editor.
Filmmaker: How and why did you wind up being the editor of your film? What were the factors and attributes that led to your being hired for this job?
Gourson: I had worked with the producer, Jake Seal, on a prior movie. He flew me out to the set in Louisiana, so I could meet the director Ethan Hawke. We discussed the film and his vision, and here I am. I've always wanted to do an independent film, and the timing of this project seemed perfect.
Filmmaker: In terms of advancing your film from its earliest assembly to your final cut, what were goals as an editor?
Gourson: My goal was to convey Ethan's vision. From the first day of dailies, I knew this movie was something special. We didn't have a script supervisor, so during the editor's cut I just really absorbed everything Ethan said, all of his notes. I did the assembly in L.A. while Ethan was shooting another movie in New York, so we communicated via email a lot. In the beginning I would send him scenes as I cut them, to get his feedback, and I think that helped tremendously in staying on the same page. For the director's cut, I flew out to Brooklyn and stayed for three months; we met in the editing room every day. I think this was an important part of the collaboration process because it helped me to understand how Ethan worked and more importantly the passion for the vision of this film. All those wordless expressions were so important with our collaborating.
Filmmaker: What elements of the film did you want to enhance, or preserve, or tease out or totally reshape?
Gourson: I would have to say it was a fine balance of keeping the audience on track with the three different time periods as well as preserving the love story.
Filmmaker: How did you achieve these goals?
Gourson: It was a lot of fun, at the same time a giant puzzle. When every scene is shot so beautifully it's hard to let anything hit the cutting room floor. So we were constantly moving scenes around to balance out the different time periods, as well as balancing out the relationships. Along with telling the story through Blaze Foley's music.
Filmmaker: What types of editing techniques, or processes, or feedback screenings allowed this work to occur?
Gourson: Screenings were everything. We had lots of small screenings in the editing room. We always wanted to get at least one or two extra persons in there so we could gauge from them, where the energy of the movie would slow down, or if anything confused the audience. The next morning we would go back to the editing room and start making changes.
Filmmaker: As an editor, how did you come up in the business, and what influences have affected your work?
Gourson: I grew up in the business, my dad was a film editor, so I was able to learn a lot from him. I remember as a kid going to his cutting rooms; he would set me up on a bench with film to rewind. Unfortunately those days are long gone. In my early career he used to remind me just let the story and performances tell you when to make that edit. And in Blaze it was the same, but I also got to let the music determine the edits.
Filmmaker: What editing system did you use, and why?
Gourson: We used my AVID system, and when I went to Brooklyn for the director's cut, I just brought the system with me.
Filmmaker: What was the most difficult scene to cut and why? And how did you do it?
Gourson: The most challenging scene was between Blaze and Sybil in Chicago the apartment. The balance was in letting the story play out between Blaze and Sybil, while the song "If I could Only Fly" is performed live during all three times periods.
Filmmaker: Finally, now that the process is over, what new meanings has the film taken on for you?
Gourson: I want to do another one just like this. I'm just so glad I got to be a part of a movie like Blaze. Ethan's enthusiasm and passion for Blaze Foley's story was contagious, and it rubbed off on every one of us involved, and it shows in the film.
Filmmaker: What did you discover in the footage that you might not have seen initially, and how does your final understanding of the film differ from the understanding that you began with?
Gourson: This movie turned out to be more poetic than I originally thought. It was much more than a dramatic love story. It was like a long mosaic music video that I didn't want to end.