Back to selection
"Storytelling is in Our DNA": Darren Aronofsky's Ten Rules for Independent Filmmakers at SXSW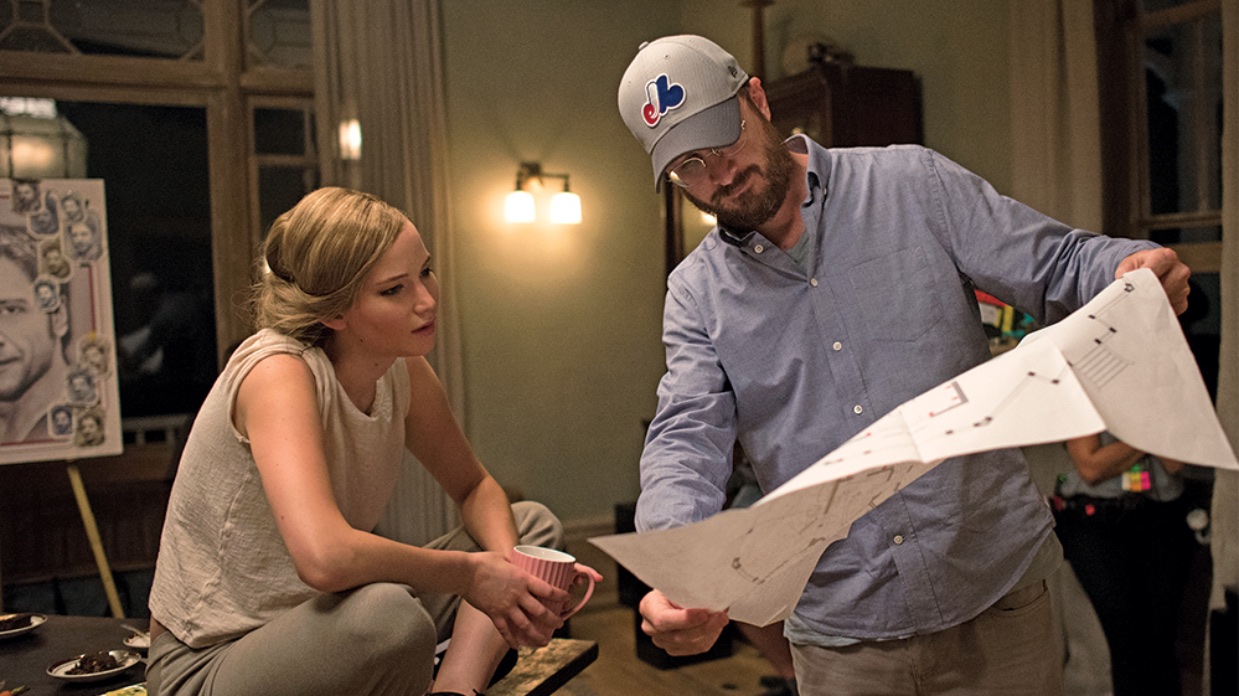 Jennifer Lawrence and Darren Aronofsky on the set of mother! (Credit: Lynsey Addario/Paramount Pictures)
"Storytelling makes us human, it's in our DNA," said writer-director Darren Aronofsky in a keynote panel at SXSW.
Giving Filmmaker a shout-out along the way, Aronofsky recalled his early days at Harvard and the American Film Institute and the hours spent watching the first works of Spike Lee, Jim Jarmusch, Robert Rodriguez and Richard Linklater on VHS, wondering how he'd break into directing. His research led him to the making of his feature debut Pi, an experimental psychological thriller that was "weird," was shot on high-contrast black-and-white reversal film, and opted for a non-linear form of storytelling. The film won the Directing Award at the 1998 Sundance Film Festival and was Filmmaker's Summer, 1998 cover story. Of course, Aronofsky would go on to make consistently audacious and challenging films at a variety of budget levels, including Requiem for a Dream, The Fountain, The Wrestler, Black Swan, Noah, Requiem for a Dream and most recently mother!.
.
While grumbling for a coffee during his intro, Aronofsky presented his top ten commandments for independent filmmakers.
1) Make the film only you can make.
Aronofsky gave a bit of nuance to this proscription, explaining that in his films he is the wrestler, the ballet dancer, the astronaut and even Javier Bardem and Jennifer Lawrence's characters in mother! "I am every character in every movie," he said. "And my films only exist because I am the filmmaker that made them." Citing other filmmakers he admires, like Lynne Ramsay, who push boundaries, Aronofsky said, "You must always push, your voice is your gift." He referenced a friend that told him at an early screening of Requiem For a Dream that the film was great but that he just had to get rid of "the old lady," meaning Ellen Burstyn's character, to which Aronofsky replied, "That's the point of making the movie!"
2) Persistence is 9/10 of the game.
He discussed The Fountain and how he spent six years working on the film, with challenges such as the budget being severely slashed and having to completely rewrite the script. He also referenced The Wrestler and the years he spent trying to secure financing with Mickey Rourke attached as the lead, as well as the doubts he faced when trying to convince financiers that ballet fans could also cross over into horror. "The more people tell you no, the more you know you are doing something right."
3) Work with family.
"Collaboration is key," said Aronofsky, who considers himself more of a friend to the cast and crew rather than a father. There is no place for weird power dynamics, he said, saying that his goal is to get his collaborators to push themselves to make something that everyone is proud of.
4) Do your homework.
"Time is limited on set, so preparation is key," explained the director. He gave the example of his pre-visuation process where he storyboards every shot, then imports them into iMovie where he designs, animates, and includes music over the shots. He also gave the example of mother!, where he worked with Jennifer Lawrence and Javier Bardem for three-and-a-half months of rehearsals, where they taped up the entire house and worked out how to film the film's three types of handheld shots, where a camera is constantly up close on Jennifer Lawrence's face. He also added that if you get stuck on creativity, take a break and do your groceries, cook, or go to the museum because even then your brain is working.
5) Adapt to reality.
"Know as an independent filmmaker you must deal with limitations," said Aronofsky, who gave examples such as The Wrestler that was made for $6 million and shot like a cinema verite doc and was often filmed with real people, particularly the supermarket scene, and where they filmed the wrestling scenes at live events. He also explained he only shoots with one camera as the focus has to be about each shot working towards the telling of the best stories.
6) Don't be afraid of your actors.
"All actors want to cry and scream 'Stella'," Aronofsky said, furthering that as a director you can work with this to get actors to open up and share themselves. "Create an opportunity where they feel safe, and then your job is to honor their trust," he added. "If they are going to look bad in a scene, you need to tell them."
7) Where is my audience?
"You always have to think about your audience — we are making films for mass audiences," he said, reminding that all filmmakers must be completely present whether on set or in the editing room. "You are the caretaker of the entire film, which is various bits you are collecting that add up to one big thematic idea. Then at the end you can be completely convinced what you are putting in front of people."
8) Commit to the vision.
"See it through till the end," he explained, adding that it's easy to lose your path as the forces are always changing. He recalled the hellish experience of working on Noah in which a section of the mainstream audience — evangelical Christian's — not surprisingly did not support that the Biblical epic became "a big parable turned into environmental destruction." Aronofsky added that the film ultimately was a success, but this did not come without a battle. "You have to give audiences the chance to find things. When you spend months fighting you have to try to get that vision done. That is true for every film I've done at this point."
9) Let your child go.
"You never finish a film — you abandon a film," he explained, referencing, The Fountain m where he recalls his ex-wife Rachel Weisz telling him to repeatedly "finish it" but he couldn't. He said he became caught up with the thematics. Off of that experience his advice now to directors is to move on and focus instead on new work.
10) Give a shit.
"Art is about disruption, especially today," he said, adding that his company recently made the VR experience SPHERES that was acquired at Sundance for a seven-figure deal. "It has to be honest and human. Make it — focus on human love. Don't put a gun in someone's hand."