Back to selection
Tribeca 2018: Composer Ariel Marx on Scoring To Dust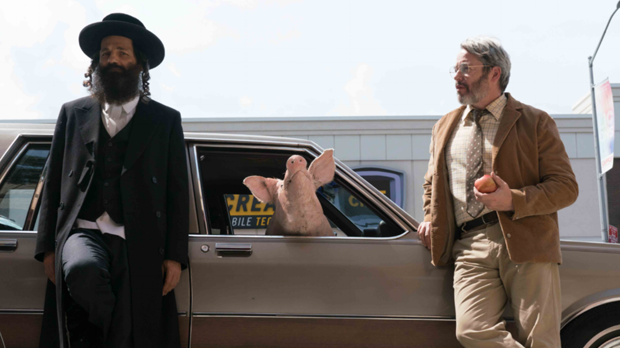 Ariel Marx is a film composer to watch. It's early in her career, but her credits already include an impressive variety of dramas and comedies on both film and television. She's assisted on projects like Wonder and Amazon's Z: The Beginning of Everything, and her own scores have been in the films West of Her, By Jingo, and The Tale, which premiered at Sundance earlier this year and runs on HBO next month. She's even worked in augmented reality with Armen Perian's The Angry River, a piece about human traffickers that changes with the direction of the viewer's gaze — an impressive challenge for a traditionally linear form like music to match.
Now Marx's newest project is To Dust, the feature debut of 2016 25 New Faces alum Shawn Snyder, which premiered at the Tribeca Film Festival on Sunday. The story is about Shmuel (Geza Rohrig), a Hasidic cantor who has just lost his wife to cancer. He channels his grief into a morbid obsession with the state of her body's decomposition, and seeking answers he seeks out a local community college science teacher played by Matthew Broderick. The duo set out on an unlikely scientific journey that intertwines rotting corpses with deep religious convictions, along with a healthy dose of dark comedy. It also provides fodder for an engaging and beautiful score, with Marx's work sounding like equal parts klezmer music from Eastern European Judaism, a contemporary horror film, and minimalist drones that might be descended from La Monte Young or Steve Reich — and all filtered through the sonic world of Tom Waits.
Filmmaker: How did you first get interested in composing for film and other media rather than for concert music?
Marx: I've always been more drawn to writing music that has a collaborative and narrative purpose. Before scoring films, I would often write music for visual art—paintings, shadowboxes, photographs. I got my Master's in Music Theory and Composition with a concentration in Scoring for Film and Multimedia from New York University. During this time, I met and collaborated with so many incredible filmmakers from NYU and Columbia, and it became more and more clear that writing music for film — in a collaborative and narrative environment — was where I felt most creatively fulfilled.
Filmmaker: How did you get involved with To Dust?
Marx: I was introduced to the co-writer and director of To Dust, Shawn Snyder, through mutual filmmakers and friends at NYU. When I met him, To Dust was still in script form — he sent it to me, I fell in love with it, and we met up for coffee. During our first meeting, it became clear that there was a kindred creative connection, and we immediately launched into ideas about the score. This was nearly a year before he shot the film. Over the next several months we met up regularly to discuss our ideas, which at first were in broad strokes and then turned into palette tests, and eventually full-fledged themes. This was such a unique and fortunate experience — we were afforded the time to mull over our ideas, develop a language, and let the music evolve alongside the film from script to final product.
Filmmaker: That starts to bring us into your technique. In general what's your process when you first sign on to a film? Before a single note is written, is there an approach that helps you find the voice for the score that you're going to write — the general themes or motifs, or the instrumentation?
Marx: It's different for every project, but To Dust is a great example of that evolution. Shawn and I had many conversations about what the tone of the score should be, and what point of view it would take. He beautifully described the film as a "dark and darkly comic genre-bending fever dream." We knew it had to wrestle with all of the emotional complexity of the script, and we had to create a palette that was flexible enough to embrace both the humor and darkness, the orthodoxy and blasphemy, the beauty and the morbidity.
Early on, Shawn mentioned his love of Tom Waits, and that a particular song "Blow Wind Blow" felt like the musical DNA from which the score should emerge. Other references were klezmer music and New Orleans funeral procession music. We found the common threads between these references and developed a palette of our own — a small (chamber) ensemble featuring strings, piano, brass, bells, percussion; stylized ornamentation, rough-around-the-edges and rubato performances, and close mic'ing techniques to capture the grittiness of the rosin on the bow, the pick on the strings, the valve clicks on the trumpet etc. Once we developed this palette, and which instrumental colors we were working with, I wrote thematic material that then grew into many variations and individual cues in the film.
Filmmaker: One thing that struck me about To Dust were the long stretches of silence in the score, particularly during dialogue scenes but in other places as well. What were the priorities in spotting where to put the cues, or was there a temp track that pre-determined a lot of that?
Marx: Because Shawn and I began our collaboration so early, there was never a temp track; my music was immediately in the film in the very first assembly. It was important to us to let the film breath — to use score sparingly and wisely, and to not be too overt in its emotional intent. There are so many profound aspects of the film — the chemistry between Shmuel and Albert, the performances, the cinematography, the production and sound design — that even in moments without dialogue we felt we didn't need score to lead the story.
Filmmaker: You were describing the instruments you used, and a lot of the music is somewhat dissonant, with what sounds like microtonal tremolos in the strings almost sounding like electronic instruments, and like you said with a lot of rubato. This mirrors Shmuel's morbid fixation really well, but then there are also some moments when a melody breaks through with something really lyrical, like the moment when he's looking at his wife's clothes. Maybe I'm not describing it very well, but how did you land on this type of sonic structure that allowed for that level of dissonance and consonance, sometimes within a single cue?
Marx: There was a particular Tom Waits quote that Shawn brought to me and that I came to adore: "I like beautiful melodies telling me terrible things." This became the central ethos of our score. Part of our creative kinship was in that we both found seemingly "ugly" things quite beautiful. We knew that the score had to be full of nuance and "imperfection" — it had to be unapologetically raw and vulnerable just like Shmuel, and just like the script. After finding the outermost edges of our dark, textural, macabre palettes, and our playful, jocular palettes, one of the most interesting challenges was to then explore how to create beauty and lyricism within the same nuanced musical language; how to create cinematic grandeur with our intimate aesthetic and ensemble. It's great that you picked up on this because it illustrates the importance of defining the sonic palette before one gets started. If your palette is endemic to the film — inextricably tied to its tonal DNA — then it can stretch and grow as needed; it can transform and mold to the narrative without contradiction.
Filmmaker: Can you talk about Jewish music a little bit? There are a few moments of diegetic music in synagogue and other instances, but by and large the story is about this Hasidic cantor who's lost his voice, so the thought of traditional Jewish music is never very far. How deep did you delve into Jewish or Eastern European traditions in developing the score?
Marx: In our initial conversations, Shawn and I wrestled with the question of to what degree we wanted Jewish and klezmer music traditions to influence the score. We ultimately decided that the spirit of these traditions would be mainly in the instrumentation, articulations and techniques, and less so in the harmonic language of the themes. However, there is a lullaby sung at two pivotal points in the film — this melody became the backbone of one of our themes, though quite transformed. Ultimately, these aesthetic choices mirror Shmuel's own complex relationship with his religion and traditions.
Filmmaker: Do you have any thoughts for directors, editors, or sound designers for working with composers?
Marx: Developing successful techniques of communication is key. It's extremely important to get on the same page aesthetically through detailed discussions and by watching movies and listening to music together. You begin to develop a common language that helps you get right to the heart of the music and the narrative. Through many long discussions of the film and music, Shawn and I developed a shorthand that helped us to work efficiently and creatively to explore the outermost boundaries of our palette.
Filmmaker: Do you know what you're going to be working on next?
Marx: I'm currently finishing up Sarah Pirozek's thriller #LIKE, and I have a few exciting projects in the coming months that I'm just starting to dig into.