Back to selection
Play It to the Bone, New Titles from Warner Archive and More: Jim Hemphill's Weekend Viewing Recommendations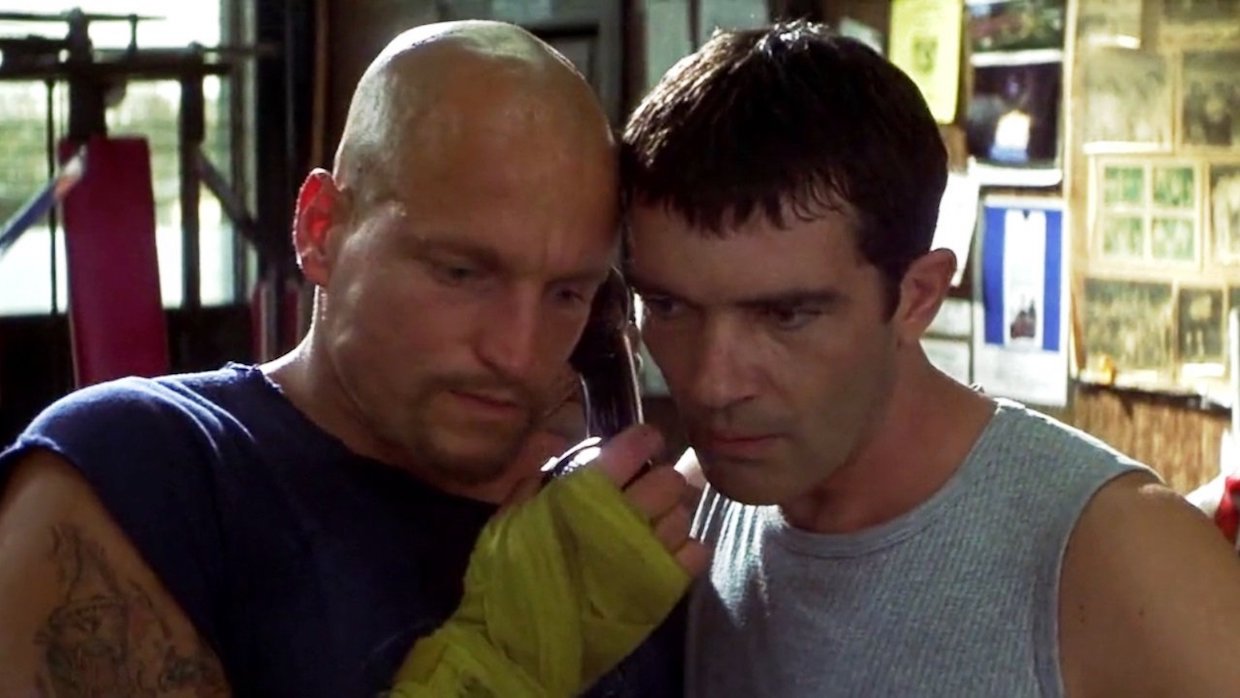 Woody Harrelson and Antonio Banderas in Play It to the Bone
Back in October 2015, I interviewed writer-director Ron Shelton for this site about the making of his immensely entertaining Play It to the Bone, a 1999 boxing picture that subverted sports movie clichés to its commercial detriment but artistic triumph. A deftly balanced work that is as smart and violent as it is sweet and funny, Bone is one of Shelton's best films, and certainly his most underrated – something I've always found mysterious given how obvious and pleasurable its virtues are. It's now available in a new Blu-ray edition along with Shelton's Bull Durham follow-up Blaze (1989), which finds the director in full-on Preston Sturges mode as he tells the hilarious and ultimately touching story of Louisiana governor Earl Long (Paul Newman), a man who – like most Shelton protagonists – is noble and ridiculous in equal measures. The crux of the film is Long's relationship with burlesque performer Blaze Starr, played by Lolita Davidovich in one of the all-time great screen performances; she brilliantly conveys the character's depth of feeling even when the character herself is hiding it, and brings such gusto to her scenes with Newman that she practically blows him off the screen even though he's giving one of the loosest performances of his distinguished career. Davidovich is also terrific in Play It to the Bone as the woman who loves both of the movie's competing boxers (Woody Harrelson and Antonio Banderas) equally, just as the audience does. When viewed back to back the new Kino Lorber releases of Bone and Blaze serve as reminders that Davidovich is one of our wittiest and warmest actresses, and that Shelton is a far more sophisticated filmmaker than the lightly comic flavor of many of his films would suggest – in both his and Davidovich's cases, it takes a lot of effort to make work look this effortless. 
Another fine new Blu-ray release from Kino is Allan Dwan's silent Western The Half-Breed (1916), which has been beautifully restored by the Cinematheque franchise and the San Francisco Silent Film Festival. A Douglas Fairbanks vehicle that was designed to rebrand the adventure star as a serious actor, it's an impressively progressive (for its time, anyway) tale of interlocking interracial love triangles that combines intimate melodrama and epic grandeur to striking effect. The film's visual elegance is awe-inspiring, particularly in the many deep-focus compositions with intricately choreographed interplay between background and foreground action, and its cinematic pedigree is tough to beat: the screenplay is by legendary scribe Anita Loos, the cinematographer is future Gone With the Wind director Victor Fleming, and Dwan directs with his usual poetry and vigor. The Blu-ray of The Half-Breed is essential viewing for silent film fans, not only for the movie itself but for the immensely informative commentary track by Tracey Goessel and Robert Byrne, scholars who thoughtfully and entertainingly impart a wealth of knowledge about Fairbanks and other key participants. The disc also contains a second Fairbanks-Dwan feature that was released the same year as The Half-Breed, the 50-minute The Good Bad Man, and it too features an indispensable audio commentary by Goessel and Byrne. 
An even more significant historical artifact arrives this week courtesy of the Warner Archive label, which has released the 1928 crime drama Lights of New York on DVD. The first "all talking" feature film following the release of The Jazz Singer (which was essentially a silent film with intermittent synchronized sound sequences), Lights of New York probably did more to hasten the demise of silent cinema than any other individual film. Although the plot is standard stuff — a small town yokel comes to the big city and gets mixed up with the wrong crowd — the technological novelty of the movie made it a massive success; it grossed over a million dollars on a budget of $23,000 and proved to the Warner brothers that their investment in the Vitaphone sound system was more prescient than anyone could have possibly imagined. Ironically, Lights of New York wasn't greenlit as a feature – it was supposed to be a two-reel short, but the filmmakers took advantage of the executives' absence (Jack and Harry Warner were preoccupied with the European launch of The Jazz Singer) to expand the material while no one was looking, making history for the studio in the process.
Warner Archive's new disc is a gift to those (like me) who are obsessed with the early days of sound; it includes not only Lights of New York but several delightful Vitaphone shorts. It's one of two highly recommended early sound era releases from the company this week; the other is the 1932 comedy Manhattan Parade, directed by the always reliable—- and, like Dwan, perennially underrated — Lloyd Bacon. With its colorful show business setting and slyly suggestive pre-code dialogue, Manhattan Parade looks forward to Bacon's best films, the classic musicals Footlight Parade and 42nd Street; like those pictures, Manhattan Parade is a marvel of inventive, kinetic camerawork and propulsive narrative energy.
Speaking of propulsive energy, this week's "Therefore She Is" episode of The Flash, which is currently streaming on the CW app and various on demand platforms, provides a great opportunity to discover the work of one of the most dynamic directors in network television, Rob J. Greenlea. Greenlea, who previously helmed two of the best episodes of another DC series, Supergirl, has a clear affinity for comic book material that goes beyond the superficial – he strikes the perfect tonal balance between the mythic and the relatable and knows exactly how to calibrate comedy and tension without sacrificing either. His action direction is exhilarating, not exhausting, and his framing and lens selection are bold without being overly self-conscious. I'd love to see Greenlea get behind the camera on a big-screen DC theatrical franchise — his reverence for the DC tradition and visual dexterity, combined with his light touch and sense of humor, could be exactly what breathes new life into the genre. Just a few weeks ago Greenlea directed an episode of S.W.A.T. that served as a clinic in how to stage confined action, and his work on the best political drama on television, Madam Secretary, has proven him to be a fine old-school craftsman in the Sydney Pollack tradition. Directing episodic television is a tricky business, but Greenlea has somehow mastered the art of merging personal style with the overarching demands of the series he works on; in a medium where versatility is a necessity, Greenlea is as wide-ranging in his talent as they come.        
Jim Hemphill is the writer and director of the award-winning film The Trouble with the Truth, which is currently available on DVD, iTunes, and Amazon Prime. His website is www.jimhemphillfilms.com.