Back to selection
"It Went from 'He Can't Breathe' to 'He is Really Cold'": Director Joe Penna on his Cannes Survival Drama, Arctic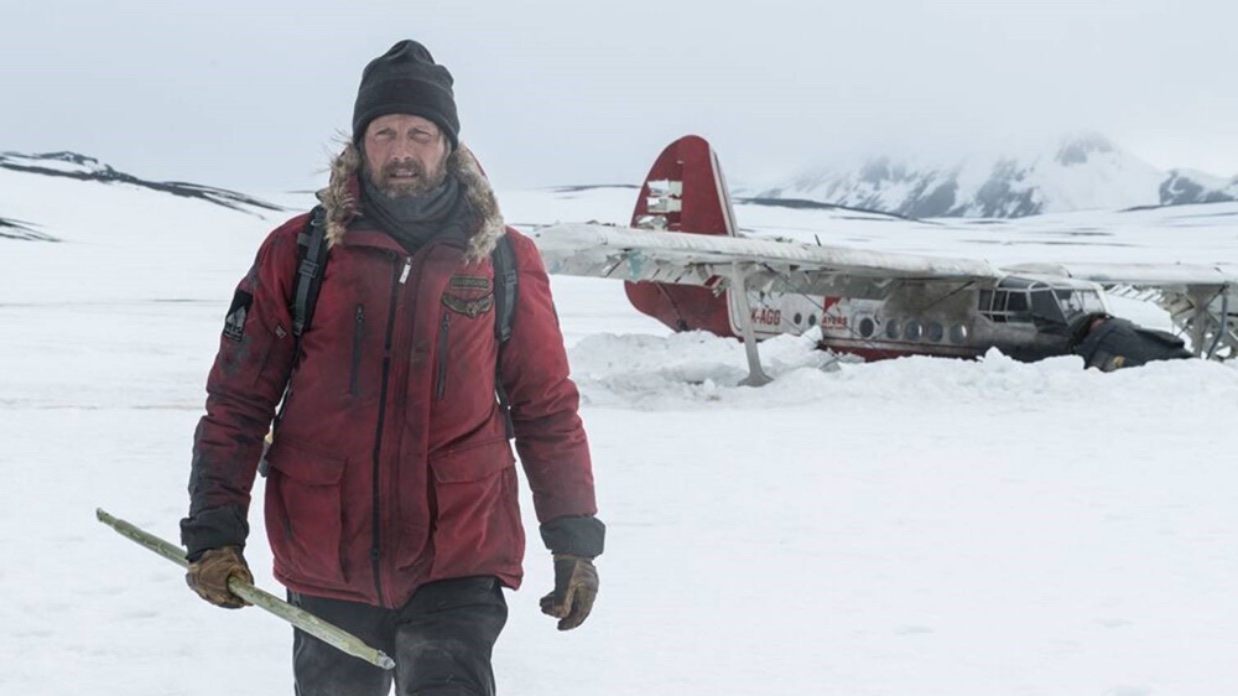 Arctic
Los Angeles-based writer/director Joe Penna has made a name for himself in the YouTube world with his popular channel MysteryGuitarMan. Combining his passion for music and stop-motion animation, the channel, now over ten years old, boasts 2.8 million subscribers and over 400 million views. Videos such as "Guitar Impossible" have screened at the Guggenheim Museum.
In addition to his many commercials for top brands, the native Brazilian gained further attention for his short films, including Instant Getaway, that was produced by Ron Howard and Brian Grazer and Turning Point and was selected to play at the 2016 Tribeca Film Festival. Penna is also known for directing the video "You Make Me" for the recently deceased Swedish artist Avicii — something he credits with providing him the opportunity to make his first feature, Arctic, which had its world premiere out of competition in the Midnight section on Thursday at the Cannes Film Festival. Starring Danish actor Mads Mikkelsen, the dialogue-light film is receiving praise for its stark depiction of a man attempting to stay alive in the Arctic's relentless terrain and the powerfully emotive performance from Mikkelsen. Co-written by his YouTube producing partner Ryan Morrison, Arctic was picked up during Cannes by Bleeker Street Films, who will release in U.S. theaters.
Not bad for someone who dropped out of a pre-med Master's program with not a penny to his name. But the assured Penna chalks up his success to determination and his sheer desire to make films. The prolific director spoke to Filmmaker in Cannes, discussing both the challenges and rewards of making a man-against-the elements survival drama, indie style.
Filmmaker: How did the concept of this film come about, particularly when it is such a departure from the content on your YouTube channel?
Penna: The original idea came from this picture that I saw on the internet — a terraforming Mars with some plants and trees. I thought, what an interesting, horrible place for humans to survive. I went to my co-writer [Ryan Morrison, his producing partner for MysteryGuitarMan], and told him I could visualize a city in ruins, and we both landed on the idea of someone trying to survive in this place alone. We wrote a script called On Mars and sent it to our agents. They said, "This is wonderful. But have you heard about this Ridley Scott film coming out soon called The Martian?" That was it. We had written a full script in around two to three weeks, and we had to change it.
So Ryan and I moved it to the Arctic. It went from, "He can't breathe," to "He is really cold." That took around maybe a month, and then it took me weeks and weeks to refine the script. For example, I added some haikus. There was one page where we go from a long sentence, to a shorter one, to just one word. That created a bit of a triangle, I wanted to do something that was visual and interesting with very little dialogue. I broke every screenwriting rule I could.
Filmmaker: Some people are comparing this to All Is Lost. Did you gain inspiration from that film, which also has little dialogue?
Penna: People are calling this All is Frost — I'll take it. I watched every film I could to gain inspiration: All is Lost, The Grey, Castaway, The Red Turtle. In particular, we studied The Red Turtle inside out — we dubbed it "Little Mysteries" because there are many shots where you see the survivor looking at something, he has a reaction, but then you have no idea what he is looking at. You, the filmmaker, are withholding that information as long as you can to build suspense. We did that in Arctic when you see Overgård [Mikkelsen] building a pyramid of stones, and you, the viewer, have no idea what he is doing, until we zoom out and you can see a large SOS sign built in the snow. We withheld as much as we could — even his background. He has no wedding ring, no pictures, no backstory. The plane is already down when the film starts, he already has a routine. It's like starting Castaway about halfway through.
Filmmaker: When did Mads come on board?
Penna: He came on board at the last possible second. We were running out of snow in Iceland because we were trying to get the right financiers, and we didn't want to change the script. We had some people saying, "If you give him [Overgård] some flashbacks, we'll do it." And we said, "No". When our executive producer Martha De Laurentiis suggested Mads move Arctic to the front of his pile, he loved it, and we were shooting weeks later.
Filmmaker: Because of your YouTube Channel, you must be used to having full control over the production. Did that have an influence on how you made this film?
Penna: Absolutely. I also wanted to keep the story as universal as possible. It doesn't matter if you are from China or from France, you can understand this story. That is what I do with my YouTube channel; there are a lot of musical and visual elements, and everyone can understand that. I wanted to make a film that way as well.
Filmmaker: Let's talk about the look and feel of the film. A lot of the film is very still, with restrained camerawork. How did you land on your shooting style in collaboration with your DP, Tómas Örn Tómasson?
Penna: Yes, we kept a lot of dogmas throughout the production. For the first 20 minutes of the film, we don't touch the camera. There are no pans, no tilts, absolutely no handheld shots. After the audience discovers the polar bear, we start panning and tilting which gives an eerie feeling. Is something watching him? And when the human presence is added, then we work with handheld.
Filmmaker: What cameras did you use?
Penna: We used the [ARRI] ALEXA Mini, for the ease of the cinematographer when shooting inside the plane, and then the ALEXA XT.
Filmmaker: And how did you keep the cameras protected from the snow?
Penna: That was not easy. We had a rain deflector on the cameras because it was snowing constantly. And yet, the snow kept getting inside the camera, keeping our cameras down for a long time, sometimes both cameras because we were shooting with A and B cameras. The vast amount of money we spent was for elements needed behind the camera. We had to have giant trucks with wheels as big as people to carry our gear, and we needed safety guides. Fortunately, it wasn't too tricky with elements required in front of the camera — we needed a plane, a helicopter and a couple sleds.
Filmmaker: What kind of lenses did you use?
Penna: We shot with the Cooke Anamorphic/i Prime Lenses. They are beautiful lenses, and thankfully my cinematographer [Örn Tómasson] had a 65mm macro lens in that set. That was the only lens that could get us a really great close-up of Mads in that tight space.
Filmmaker: Mads is almost the entire focus of the film, and he is incredibly engaging, while saying very little. How did the two of you work together to prepare him for the role?
Penna: We had a week of rehearsals. About two hours into rehearsals, we thought, "What are we doing, we kind of just want to get out there." So instead, we talked about the script, it was vital for us to understand every single comma, period, and haiku. But then we started breaking it apart too much, trying to change the script. By the end of that week, we were butting heads with my co-writer [Morrison], and we ended up putting our initial script back together. That process ended up giving us a deep understanding why the script was the way it was. Sometimes as a filmmaker, you hear an interesting idea, and just because it's new, you want to try it. I think a good screenwriter/ filmmaker considers all the options before finding the best one.
Filmmaker: How many days did you shoot?
Penna: Nineteen days. It was initially 25, but we lost days due to the weather.
Filmmaker: So I presume you didn't have the opportunity to have many takes?
Penna: The vast majority of the film is one take. The only reason we would do two takes was due to focus or sound. Mads and I would be rehearsing in between takes while the crew would be setting up another shot. And often Mads would stand in for his own shots — he didn't require a double. And we used almost no lights. It's all completely natural, just a few lights to get the sun going into the plain. When we were going into the Arctic, we didn't use a bounce board nor any lights. Completely natural — kept us nimble.
Filmmaker: So were your shooting days gruelling?
Penna: Our days were long — I am from Brazil and LA, and it was cold. We had a couple days where we had to go into overtime. I think our longest day was 15 hours. And we were working outside the whole time. Thankfully we could all wear goggles, though poor Mads couldn't. You could tell the people working in the trailer, because those of us outside had this bright ring around our red, wrinkly faces. Our crew photo at the end was just so sad.
Filmmaker: Why did you choose Iceland as a location? Aside from its natural beauty, did tax incentives come into play?
Penna: There were several factors. We were lucky we were shooting in a year when they had upped their tax incentives. And then the crews in Iceland are extremely amazing. They work on big series like Game of Thrones and films like The Fast and the Furious, Interstellar and Oblivion. This was much smaller, the entire group was tight knit. When we'd be pelted by the wind, we'd all look at each other for a little while, and then say, "Are we doing okay? Okay, we're all okay, this is good." They know how to deal with these kind of weather conditions to a degree, so when they were all standing upright and Mads was standing upright because of his crazy stamina and background as a gymnast and dancer, we felt reassured. I managed to stay upright because I had a battery heated shirt on, that made me more resilient. I didn't know they were a thing until I got to Iceland, I am glad they exist!
Filmmaker: Because of Icelandic support, did you complete any of the post production in Iceland?
Penna: No, all of it was completed in Los Angeles. We edited from my editor's [Morrison] bedroom. We wanted to save money for VFX because we knew that would be a big thing.
Filmmaker: The film looks so natural, it's hard to tell there even are any VFX shots.
Penna: We had over 300 shots with VFX. It was done by a four-man team at a small company in Santa Monica called Post Mango. And our colorist Yvan Lucas was just amazing, incredible, as was the sound team at Formosa. During our mix session, Mark Mangini heard he had been nominated for an Oscar — you have to trust guys like that.
Filmmaker: So from start to finish, how long did this film consume your time?
Penna: The initial spark of an idea to when the film was done was just about a year and a half.
Filmmaker: Many people here at the festival are talking about the ending. Is it open to interpretation?
Penna: I believe in death of the author, so what I think is just as important as you think. The audience doesn't know a thing about Overgård's past, how long he has been there, so it felt wrong to have a definitive answer. A lot of the film asks the audience to make up their own story, so I thought this was fitting for the ending as well. Hopefully I've led you in a way that you can create your own ending.
Filmmaker: And what is next on the horizon for you. More from MysteryGuitarMan?
Penna: I definitely want to keep going with the channel. I just haven't had time since I've been working on the film. And we are working on a spiritual sequel to Arctic called Stowaway. In total, this is meant to be a trilogy, beginning with the last days of some people on Earth, then a trip to Mars, and then on Mars we switch to the Arctic.