Back to selection
"Don't Sell Out, Don't Give Your Art to a Corporation": Secrets of DIY Doc Distribution at DOC NYC PRO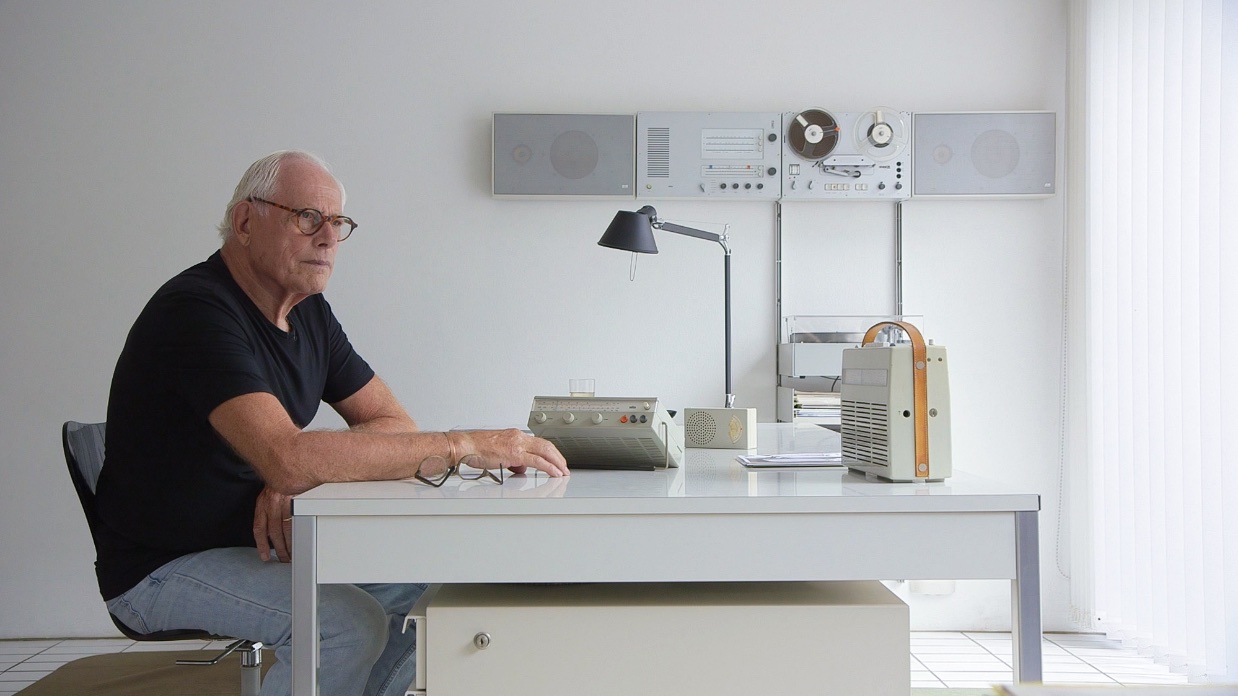 RAMS
There are many reasons filmmakers might choose to self-distribute their documentaries: they may want residuals to come in throughout their careers, as opposed to what might be just a single upfront payment in an all-rights deal; they may feel a responsibility to their audience or subject matter to shepherd the project and not sell it off to a distributor focused on the bottom line; or maybe no one is knocking down their doors to buy your movie.
At the recent DOC NYC PRO Distribution Book Camp, four filmmakers who have self-distributed projects (which can mean they are still self-distributing those same projects years later) offer candid thoughts on the how, why, and where of self-distributing.
Who Gave Us Ideas
Gary Hustwit has been in the indie distribution game for years. He has produced over a dozen films, and made he his directorial debut in 2007 with Helvetica.  RAMS, about the German designer Dieter Rams, is his current project. Hustwit attributes his commitment to self-distribution as a by-product of his punk rock DIY days.
Jessica Edwards is a producer on Design Canada, a film tackling questions of national identity while celebrating the golden age of Canadian graphic design. Edwards has made use of traditional distribution deals in the past; Design Canada is directed by Greg Durrell, self-distributed, and executive produced by Hustwit.
Rachel Falcone is a producer on Water Warriors, a short film by Michael Premo focused around a natural gas company's entry into New Brunswick, Canada and the indigenous and non-indigenous locals who united to drive the company out. The filmmakers have been speaking at colleges, film festivals and environmental summits, and present the film as a "participatory documentary": a jumping-off point for community discussions and trainings.
Jonathan Bogarin's 306 Hollywood, which he directed, produced, and shot alongside his sister Elan Bogarin, is a magical realist documentary inspired by turning the house inherited from their grandmother into an archeological dig. The film premiered at Sundance and is currently on its way to distribution.
…So Why Self-Distribute?
"On different days I alternatively think I'm doing this the best way possible and the worst way possible," Hustwit says. "I've always seen distribution and creation as being the same thing. It's all about the conversation with your audience, the creators and people in other parts of the world… Don't sell out, don't give up your art to a corporation; who knows what they'll do with it."
While Hustwit will license to companies such as Netflix, he isn't interested in selling all the rights and not really knowing what effort will then be put into the project by a distributor…and only receiving a fraction of the profits.
"You make films because you are passionate," Edwards reflects, "and because you want to get married to the character. You know the audience, and it is your responsibility to be a parent. [Taking an all rights deal is] like giving your newborn kid away and saying 'You'll take care of this very well, right?'"
"You want to have a steady flow of income from your work so you can continue to make work," Hustwit reflects. "Having a catalog of four or five or 10 films that I have all the rights to? Every day the films are still selling on iTunes or streaming. Every time a new technology or platform comes about I have the rights to my films: you have to make a good film, but if you do there will be a platform…" 
Netflix may have 100 million subscribers, but roughly half of the world's population is on the internet, so don't feel there is only one route to take."
When To Go It Alone
Self-distributing can, of course, be a lot of work. Hustwit has built up followers throughout his career and he has pre-existing relationships with indie theaters. Starting the process fresh can be daunting.
"If you are the filmmaker who only wants to be in the field and shooting and not booking theaters," Edwards says, "then the trade off is you take all rights deal and you are happy with $15,000 upfront and you move on."
How much work do you put in yourself, vs. how much do you delegate? "We're working with a booker, a social impact producer, and a sales agent," Bogarin shares. "We had to find funds and grants to pay these people, but a booker is better at booking than I am. Otherwise I'm learning everything from scratch."
So… How?
The landing page of Water Warrior's website offers ways multiple options that make them money and build audience engagement: one can select to receive a DVD, a screening guide, a Skype or an in-person Q&A with the filmmaker, or an exhibition featuring photographs, video projection and an audio soundscape.
"We market to libraries, to community screenings," Falcone says. "We are ideally looking for [paid] speaking engagements that will support the next project… the idea is passive revenue over years. This is a short film, so the educational and community market is where we want to be, from small film festivals that contribute licensing fees, to the educational market."
"If we can make double the total budget, I'm happy," Hustwit says. "DVDs, merch, posters, T-shirts, home video, broadcast deals… and sometimes the movie breaks out like Helvetica, which is still going strong." Hustwit's site features links to stream his other films at $3.99 a rental.
Hustwit personally books theaters and juggles dates. "I'll have one night special screenings for 25 bucks with 1,000 tickets, and I'll do that times 50 through September.  After that it will be streamlined."
If one's films have a built-in audience, such as Edwards's Design Canada, which is geared towards the design community, then filmmakers have a huge advantage in self-distribution. Design Canada, for example, raised $100,000 through crowdfunding to get through an edit and then relied on bookings and ticket sales. RAMS followed a similar strategy, bringing in $300,000 from 5,000 people interested in designer Dieter Rams.
Edwards also downplays the importance of festivals. Design Canada wasn't accepted into Toronto's Hot Docs Festival, but it world premiered at the actual Hot Docs Theater. The $10,000 that movie made would have gone to Hot Docs had the film been a part of the festival.
"You can incorporate one or two festivals into your strategy if they are good for your career," Edwards believes, "but from a financial point of view it's not always the best way." Flying, accommodating and feeding cast and crew at a festival adds up. "B- or C-level festivals need you so they will pay screening fees and bring you," Edwards says, "but [dealing with them] is also taking away time from getting the work done."
"For me, festivals are about timing," Hustwit says. "The month I'm done, I'm going to book tours and screenings, so I'll do that anyway; I'm not banking on getting a distributor at a festival."
Bogarin ruminates on partnerships and turning screenings into events. "Our basic ask of partners is, would you like to co-sponsor or co-host a screening as part of theatrical?" This may not be a financial relationship but a cultural or common interest or cause-oriented relationship. As an example, Bogarin partnered with RE-IMAGINE, an end-of-life organization, to help find moderators and panelists to tap into the audience.
Partnering with different organizations might look different in various arrangements, especially when it comes to revenue sharing. Falcone stresses the positive impact of an organizational partner seeing your film as a tool to do their work. "There's a symbiosis," she says. "You are getting an audience and revenue; they are getting a tool to facilitate what they want to talk about."
"A big part of our plan was partnering," Bogarin shares. "It was hard to define the social issue of the film: death, grief, fashion, love… we are going to eventize every one of our screenings." The filmmakers are looking to connect with end-of-life organizations, Jewish groups, Latino groups, fashion designers and artists. "It's a call to conversation rather than a call to action."
…Where To Screen?
Ultimately, each film will have its own special sauce. If a filmmaker doesn't have established relationships with indie theaters, a look at other self-distributed films' screenings can help identify options. The possibilities are broad, and can be custom fitted to each project's audience, goals, and sensibilities. Japanese television? A limited run with HBO, before selling separately in 20 countries? iTunes? Educational distribution? A filmmaker can get really creative when finding a niche. If a film focuses on a particular musical artist, a distribution plan could be screenings that coincide with the artist's musical tour.
"Access to audience is actually the easy part if you know who you are making the film for," Edwards reflects.
"For me, it's not Plan B to self-distribute," Hustwit says. "It is Plan A."
Sustainable Careers
When conceiving of sustainable careers, the filmmakers here look to passive income that can come through online audiences paying to watch the film, or educational and community outlets using the movie as a tool.
Building a following is certainly helpful when it comes to both fund-raising and accessing an audience.  When Bogarin thinks about career sustainability, he thinks about making videos for institutions and finding more clients and funders for more movies.
"I think about how to continue to be an artist," Bogarin says, "and also an entrepreneur that's getting paid to do this crazy stuff, and how to get it into the world."
"I just want to make the next movie," Hustwit says. "I want to pay for the movie I made and just start the process on the next one."