Back to selection
This is 40: IFP Celebrates IFP Week's 40th Anniversary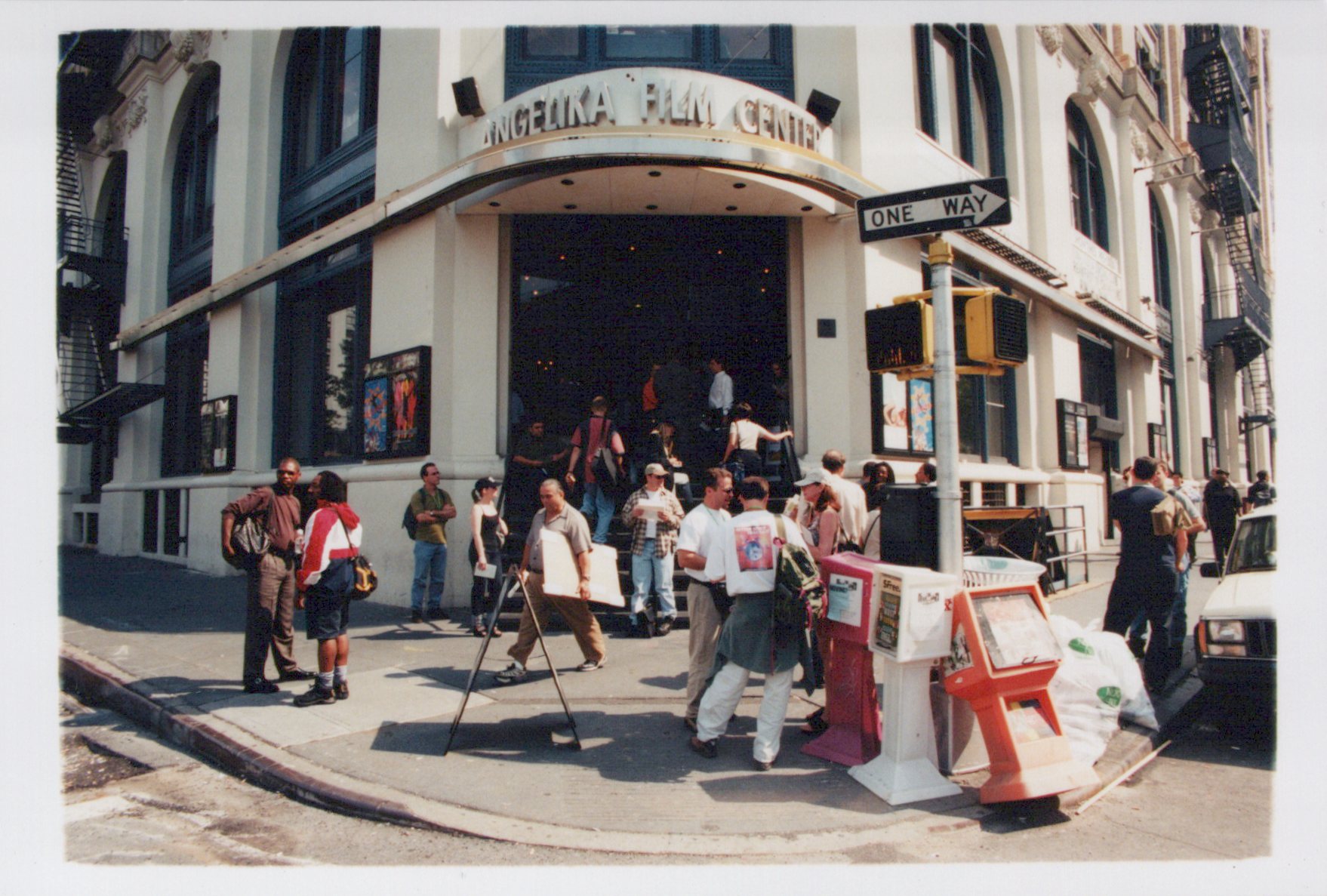 An early IFP Week at the Angelika Film Center.
With tomorrow's kickoff, IFP, Filmmaker's publisher, celebrates the 40th anniversary of its IFP Week and its own 40th anniversary year. The Fall print edition of Filmmaker includes a commemorative supplement, produced by IFP, which contains, in addition to many fantastic archival photos, this article by Paula Bernstein on the event's history. Tickets to some of the public events at IFP Week are still available and can be purchased here at the link. — Editor
"Only one year out of film school, I soaked it all up like a sponge," says Oscar-winning producer Adele Romanski, recalling her first time attending IFP Week in 2006.
"I was one of three rogue film school classmates who elected for New York over LA after graduation, and I remember struggling to find a crack in the door of the New York City film world through which I might enter," says Romanski. "Film Week was my first glimpse through that door, and the first time I realized the possibility of community and place."
Now celebrating its 40th anniversary, IFP Week through its various incarnations has served as an unofficial rite of passage for filmmakers, helping to launch the careers of some of the most original and acclaimed voices in independent film and television, including Romanski, who went on to produce Barry Jenkins' IFP-supported Moonlight, which won an Academy Award and was included in the Project Forum section of Film Week in 2014.
Director Roger Ross Williams (Life, Animated) specifically credits IFP Film Week with launching his film career. "That journey really started with IFP," says Williams, who was working in television when he decided to make his first independent film in 2008. "I'd heard about IFP, and I was like, 'They help independent filmmakers, and I want to become an independent filmmaker!'" With encouragement from then-Executive Director Michelle Byrd, Williams applied for and was accepted into Film Week with his nonfiction film, Music by Prudence. After showing a work-in-progress clip, Williams had one-on-one meetings with funders. It was there that he met Sara Bernstein from HBO, who told him, "We think this is an Oscar short." He was so green, he says he didn't know what she was talking about. "I was like, 'What's an Oscar short? Who's an Oscar short?"
That meeting led to a deal with HBO, which led him to the stage of the Academy Awards, where, yes, he won Best Documentary Short.
Of course, not everyone who attends IFP Week goes on to win an Oscar, but it's proven to be a fertile ground for making important connections. "IFP Film Week is often the point of entry into the marketplace for a filmmaker. It was for me," says Williams. "I think they nurture and help your project on so many levels, connecting filmmakers to funders and other people who can make their project happen. They can feel part of something bigger."
Like most 40-year-olds, IFP Week has undergone a number of significant transformations over the years. As the independent film world has evolved, technology has changed the way films are produced and distributed, and creators have embraced new modes of storytelling, IFP Week has shifted from an emphasis on finished works to a focus on works-in-progress, scripts and early-stage projects. It's also broadened its scope to include series, digital and, beginning this year, audio projects.
Though its name has changed over 
the years from the Independent Feature Film Market (IFFM) to IFP Market to Independent Film Week, and most recently, IFP Week, its mission of discovering new voices and championing original and powerful storytelling has remained remarkably consistent—and that's as the film world has changed dramatically. It was 1979 when IFP Founding Director Sandra Schulberg lobbied the Film Society of Lincoln Center to add an official sidebar event dedicated to "American Independents" at that year's New York Film Festival. It was only the previous year that Sterling Van Wagenen and Charles Gary Allison, with Chairperson Robert Redford, had founded the Utah/US Film Festival, and it would be years before the showcase would become the Sundance Film Festival that we know today. And while Harvey and Bob Weinstein had just founded Miramax, it would still be a decade before the ensuing boom in the studio specialty divisions of so-called Indiewood.
Schulberg recalls heading back from the Rotterdam Film Festival in 1978 with fellow filmmaker Maxi Cohen (Joe and Maxi) and seeing a Time magazine cover story about the "new German cinema," featuring filmmakers such as Wim Wenders, Werner Herzog and Rainer Werner Fassbinder. "They were very clever because they decided to brand themselves as 'New German Cinema,' and that's when I realized that we needed to brand ourselves, too," says Schulberg, who also drew inspiration from filmmaking collectives such as Cine Manifest and Jonas Mekas' Film-Makers' Cinematheque.
"There was a lot of exciting avant-garde work being done at the time," says Schulberg. "but we were really trying to represent films created outside of cultural hubs like New York."
That initial 1979 sidebar at Lincoln Center featured a diverse lineup of American indie fare, including Robert M. Young's Alambrista!, Mark Rappaport's The Scenic Route, John Hanson & Rob Nilsson's Northern Lights (which Schulberg produced) and Victor Nuñez's Gal Young 'Un.
"The films in this special program are part of a growing independent American film movement, linked together not by a single artistic or political point of view, but by a common insistence on the freedom to explore a wider range of feelings and ideas than is normally possible in the commercial film industry," Schulberg and Miles Mogulescu of The Film Fund explained in their program notes.
Alongside the screenings at the New York Film Festival, the IFP hosted a market for international buyers and exhibitors. In that first year, the market showcased 20 completed feature films, including Martha Coolidge's Not a Pretty Picture and Warrington Hudlin's Street Corner Stories.
"We strongly believed that if we 
could just get the work in front of buyers, in front of exhibitors, in front of the press, the gatekeepers would actually respond," says Schulberg. "We were trying to 
break down the doors of the fortress, 
the fortress being movie theaters."
Schulberg and her peers were clearly on to something. The IFP market quickly established itself as a place to discover new talent outside Hollywood. By the 1980s, the independent film scene in New York was in full swing, and films like Louis Malle's My Dinner with Andre, Joel and Ethan Coen's Blood Simple, Hal Hartley's The Unbelievable Truth and Jim Jarmusch's Down by Law all gained traction at the market.
After years of bouncing around a variety of screening rooms and venues mostly in midtown Manhattan, the IFP market, then known as the Independent Feature Film Market (IFFM), found a long-time home at the newly opened Angelika Film Center, near Soho, in 1989. That same year, Miramax struck gold with its first of many successes, Steven Soderbergh's sex, lies, and videotape.
For the next 19 years, the Angelika would serve as the market's hub. For 10 days each fall, as the IFFM got underway, aspiring filmmakers descended on the Angelika with dreams of fame and fortune, or at least critical acclaim. Meanwhile, a new slew of independent distributors, such as October Films, and studio specialty divisions like Fine Line Features, Orion Classics, Sony Pictures Classics and others were on the hunt for the next indie hit.
Orion Classics found what they were looking for with Slacker, which screened at the IFFM in 1991. Inspired by Richard Linklater's success, Kevin Smith made Clerks, which he brought to the IFFM in 1993. At that film's first market screening, only 12 people were in the theater — and 10 of them were part of the cast and crew. Luckily, for Smith, indie film guru Bob Hawk, who was on the advisory board of the Sundance Film Festival, was one of the other people in attendance. He spread the word about Clerks, and the film landed a spot at Sundance, where Miramax snatched it up, further cementing the IFFM's place in the indie film universe. In 1995, Hawk went on to champion Edward Burns' The Brothers McMullen at the IFFM, and that film also made it to Sundance, where it won the Grand Prize and was picked up for distribution by 20th Century Fox.
"It was extraordinarily exciting to meet people like Richard Linklater and Todd Haynes and to see films like Poison, Slacker, Longtime Companion and on and on," says Hawk, who recalls the "circuslike" atmosphere at the IFFM during that period. Some filmmakers went to extraordinary efforts to lure buyers into screenings, offering posters, candy, T-shirts and more. "There were people who were trying to outdo each other with sundry promotional gimmicks," says Hawk. "I remember one film that had a hunky lifeguard in a lifeguard station outside the Angelika in his Speedo handing out condoms."
Todd Haynes's Poison and Todd Solondz's Welcome to the Dollhouse were two of the films of that era that used the market as a stepping stone to festivals and then distribution.
The success stories coming out of the market led to a glut of aspiring filmmakers intent on sealing a $1 million deal with Miramax or at least a spot in the Sundance lineup. But for every Linklater or Haynes, there were 10 filmmakers who had maxed out their credit cards or borrowed from friends in hopes of becoming the next overnight market success. (One filmmaker, Doug Block, even made a film about such credit-card warriors, The Heck with Hollywood!, and screened it, naturally, at the IFFM.)
In 1997, submissions to the IFFM rose to an all-time high of 600. Distributors began to complain that it was too difficult to find the gems. Buyers took to hiding their color-coded badges so they could avoid filmmakers hounding them to come to their screenings. Meanwhile, the industry was starting to shift as more film festivals were established and filmmakers had more options for discovery besides an IFFM screening. The IFFM had been a gateway to festivals, but filmmakers were starting to realize they could bypass it.
When Byrd became executive director of IFP in 1997, she set out to improve the overall quality of the selections at the market by trimming the market's size and adding an element of curation. With finished films increasingly heading to festivals, the IFP felt it made sense to shift the focus to works-in-progress and projects in development. Narrative features were eventually discontinued in 2002. That same year, the name changed from IFFM to IFP Market.
Films that were nurtured by IFP Market during that period include narrative projects such as Joshua Marston's Maria Full of Grace, Miranda July's Me and You and Everyone We Know, Ryan Fleck and Anna Boden's Half Nelson and Courtney Hunt's Frozen River. On the documentary side, IFP Week was an early supporter of Born into Brothels, which went on to win an Academy Award for Best Documentary.
In 2008, on the occasion of the 
market's 30th anniversary—which coincided with the financial crisis of 2008— Byrd decided to eliminate "market" from the name of the week. IFP Market was rebranded as Independent Film Week. Nonfiction features were discontinued, too, as the week became more of a 
forum for projects in development and production.
By the time producer and IFP board member Joana Vicente became executive director in 2010, Independent Film Week needed to reassess its purpose in the Internet age. In the early days, the market had been a place for filmmakers to share information, but the Internet had made it easier to connect outside a market. "We thought, 'Should we still have this program? Is it still needed? What makes it unique?'" says Vicente.
Vicente says the organization did a lot of "soul-searching and looking at what other organizations were doing to see what was needed." IFP concluded that Independent Film Week "still provided something unique. We're really a place for discovery. People still need that moment to take stock of their work, feel validated by being selected and to have the opportunity to meet people who can advance their project," says Vicente.
But some changes were deemed necessary, including partnering with the Film Society of Lincoln Center and moving 
the event from the Fashion Institute of Technology, where it had languished for 
a couple of years, to the Film Society 
of Lincoln Center's newly opened Elinor Bunin Munroe Film Center. "It made 
sense to be there, where it had all 
started," says Vicente.
In late 2013, the Made in NY Media Center by IFP was founded as a result of a partnership between the IFP, the Mayor's Office of Media and Entertainment and the New York City Economic Development Corporation. Around that time, IFP expanded its mission to focus on supporting storytellers working across multiple mediums. "With the Made in NY Media Center, it was no longer just about film. It was about being more platform agnostic," says Vicente.
In 2016, IFP Film Week moved from Manhattan to its new home at the Media Center in Brooklyn's DUMBO neighborhood. "It felt like Brooklyn and DUMBO is not only our home, but it also represents the spirit of IFP Week. That's where all the creators are," says Vicente.
As part of the shift, the week expanded its scope to include public as well as industry offerings, with an increased attention to TV, web-based and VR content. This year, for the first time, IFP will include audio storytelling in the Project Forum. "My goal is that every year that we are doing IFP Week, we are innovating and asking questions," says Vicente. "IFP Week now is less transactional—it's about buying into the possibility of the projects."
"Film Week has obviously evolved, but at the heart of it, the mission of discovering new talent and connecting new talent to resources continues to be the same," continues Vicente. Under the curatorial leadership of Amy Dotson, the deputy director and head of programming at IFP, and Milton Tabbot, senior director of programming at IFP, this year's 40th annual IFP Project Forum slate features 150 films, series, digital and audio projects in development from more than 16 countries.
Romanski, who has returned to Film Week several times in the decade since she first attended, will be at this year's IFP Week with Lamb on the Throne, a film she is executive producing. And Tom Quinn, whose directorial debut The New Year Parade was selected for the IFP Narrative Rough Cut Labs in 2007, will return to the Project Forum with his latest project, Colewell.
"When you're a small film or an unknown filmmaker, IFP's support made such a world of difference," says Quinn. 
"I think from that point on, you're just part of that IFP family. Their slogan 
at one point was, 'It all begins here.' 
For me, that really held true."