Back to selection
Keep Calm and Doc On: The 8th Open City Documentary Festival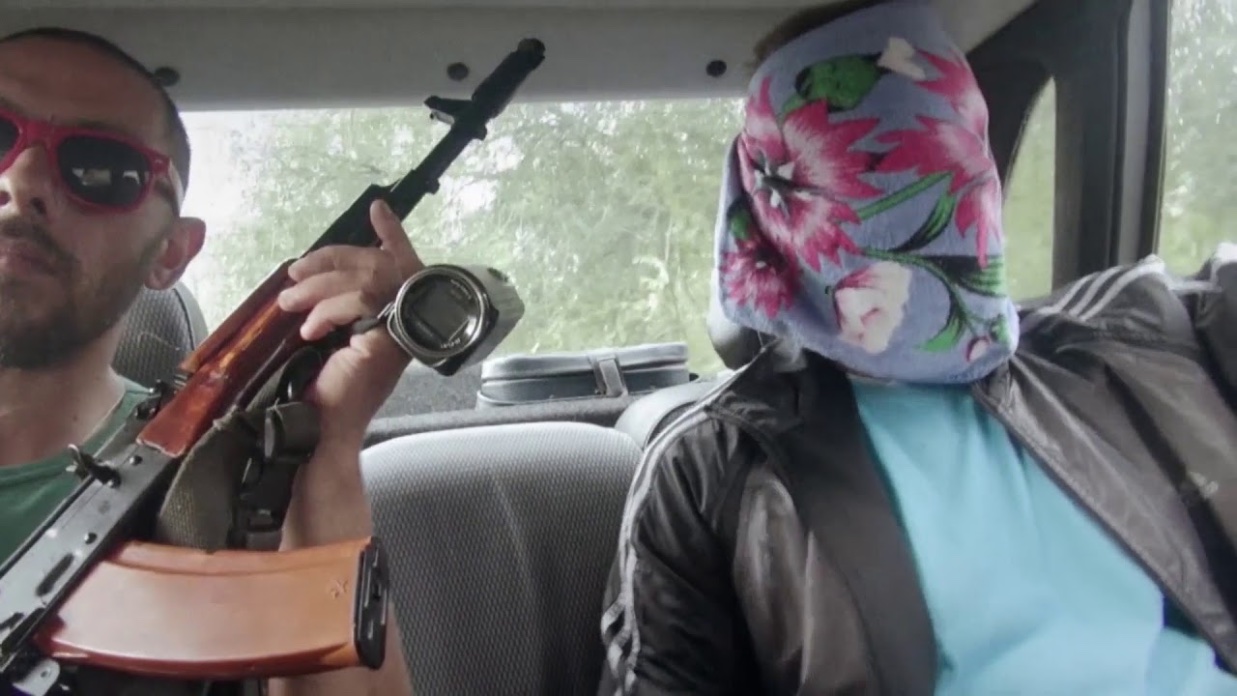 Flight of a Bullet
As a longtime docuphile who prides myself on keeping up with the latest developments in cinematic nonfiction both at home and abroad, I'm embarrassed to admit I'd never heard of the Open City Documentary Festival before an invite to the eight-year-old London fest landed in my inbox. But between OCDF's touted focus on documentary first and foremost as an art form, and my morbid curiosity about/solidarity with any film festival functioning amidst the chaos of Brexit, I was immediately sold.
And, fortunately, this year's OCDF did not disappoint when it came to showcasing a nonfiction lineup filled with under-the-radar artistry and long lost gems. (Though it did disappoint when it came to any chaos, as OCDF is both easily navigable and well-organized — a shining reflection of its home city. Government dysfunction be damned!) Founded at UCL (University College London) and still under its auspices, the fest is actually just one branch of Open City Docs, an organization that boasts year-round screening programs and classes for nonfiction storytellers working not just in film but also in the growing market of audio docs as well as in VR. And OCDF certainly feels like a genuine extension of this educational mission, with its five full days jam-packed with pitches, panels and master classes specifically suited to navigating tomorrow's nonfiction industry. (In addition to the usual networking happy hours and parties one would especially expect at a college-affiliated fest. And the complimentary breakfasts one might not.)
Conveniently, most of these sessions took place back-to-back at the Festival Hub at China Exchange (naturally, in the heart of London's surprisingly small Chinatown), a mere ten-minute walk from guests' Citadines Trafalgar Square accommodations (an apartment-style hotel with room amenities that even included surprisingly small dishwashers). In between screenings an eclectic array of knowledge could be garnered, from talks on cinematography, editing and sound to discussions on working with archival footage and in the short form. Nuts-and-bolts panels ("Surviving as a Freelance Filmmaker") were juxtaposed with the niche — including "Putting Principles Into Practice: Audio Ethics," focused on podcast docs, and "Border Crossings: Bringing Research to the Screen." (The latter was accompanied by a live pitch, with 5000 and 2500 pounds awarded to two projects tackling academic research-based stories).
The Festival Hub also hosted the always-busy cross-media exhibition (divided into themes of A New Lens, Sonic and Motion), which was free to attend but required an investment in patience, with onsite reservations for time slots inevitably filling up fast. (That said, I did luck out and manage to experience the 360 Cinema as a walk-in.) OCDF also partnered with Digital Catapult for a full day Expanded Realities symposium, which took place at that local tech company's Kings Cross space — one of a whopping ten venues OCDF commandeered across the culturally vibrant city.
Indeed, one of the highlights of attending a festival within walking distance of Buckingham Palace is the easy access to the world-renowned (and all admission-free) museums. I was able to pop into the cavernous National Gallery, just up the block from the hotel, on my way to and from fest headquarters, and even over to the mind-blowing Tate Modern before a screening of Penny Lane's The Pain of Others at BFI Southbank, formerly the National Film Theatre. (Coincidentally, the deftly curated Tate — with its canvases placed in conversation, like the room filled with Rothko's infamous Seagram murals set adjacent to the Monet waterlillies the abstract expressionist took as inspiration — posted a list of upcoming cinema events that included a showing of the work of another 25 New Face alum, James N. Kienitz Wilkins.)
Lane herself was one of two convention-defying directors chosen for this year's "In Focus" program at OCDF, which meant the filmmaker was on hand to present screenings of two of her features (the other being Our Nixon) and eight of her shorts. I had the good fortune to moderate The Pain of Others Q&A at the British Film Institute's stunning arthouse on the River Thames, which also houses a gift shop, gallery space, bar and restaurant. (Think a smaller version of the TIFF Bell Lightbox.) Thus I was able to pick up from where our site-crashing interview left off. And happily, Lane's "body horror doc" provoked both strong reactions and deep-diving questions from the highly-engaged Euro crowd.
The other "In Focus" selectee in person for screenings (as well as a master class) was Kazuo Hara. As I type this I'm simultaneously kicking myself for having been unfamiliar with the Japanese auteur's oeuvre until now. The renegade filmmaker has spent the past four decades refining what he refers to as the "action documentary," an attempt to "imitate the shocking effect of the action film, following gestures and staying in the moment," while seeing the director's role as "an accomplice and collaborator." For me, all it took was one festival viewing of 1987's riveting The Emperor's Naked Army Marches On (which, unsurprisingly, made Errol Morris's top five for Rotten Tomatoes) and I was immediately overcome with the desire to watch everything this guy has ever shot. (Including his latest Sennan Asbestos Disaster, which took eight years to complete and arrives 17 years after his last doc. And which I missed at both OCDF and at the Japan Society's Japan Cuts fest in NYC, where it recently made its North American debut.)
With its title a sly nod to The Emperor's New Clothes, Hara's deceptively subtle doc follows a sexagenarian political agitator named Kenzo Okuzaki, a suit-and-tie-wearing WWII vet who goes on what can only be described as a spiritual quest throughout Japan. Zealous and unafraid of confrontation, Okuzaki is on a mission to solve the mystery surrounding the deaths of two fellow soldiers during the Empire's New Guinea campaign — 37 years after the war's end. It's a rabbit hole of an odyssey, in which the protagonist is a pillar of morality — vocally taking responsibility for the heinous acts he himself committed during the war. And yet Okuzaki often uses deception to unmask the truth — and hold his fellow soldiers to account. (No wonder Morris is a fan.)
And Okuzaki's obsession with facts and his intolerance for excuses and playing the victim makes this a timely film as well. There are not two sides to the story when it comes to life and death. Knocking on doors and methodically facing down the now elderly and sometimes sickly vets, the former soldier forces confessions through his dogged persistence, holding firm to the belief that silence breeds the repetition of mistakes. By demystifying the act of war as noble, Okuzaki hopes to prevent it from ever happening again.
But this pacifist is also a violent man, who even physically attacks the old soldiers who refuse to talk. (Though he'll then call the police on himself to take responsibility!) All the while Hara's lens stays flawlessly clear and intently focused, implicating the viewer even as he makes us squirm. As punches are thrown and the minutes drag by without a cut, we start to wonder if the director (or rather the "accomplice and collaborator") will intervene. Or will end up having blood on his hands.
"If I speak of one I have to tell all," one vet protests, as way of explaining why he won't reveal whether or not he committed a murder. Can the search for truth ever stop? Only towards the end does Okuzaki reveal the personal event that served as the catalyst for his quixotic pursuit. "Violence is justified if the end result is good," our action hero offers to the camera as his mantra, which serves as an omen to a chillingly shocking finale.
My other big find of the fest was also a war film — this one contemporary and still being fought. Well-deserving of this year's Open City Award, Beata Bubenec's tour de force doc Flight of a Bullet is a stunning single-take feature (which admittedly, puts my opinion at odds with Vadim Rizov's True/False assessment). In 2014 Bubenec — a Russian female filmmaker — embedded with Aidar, Ukraine's macho, all-volunteer military unit fighting the Russia-backed separatists in Donbass. Though she ultimately amassed hundreds of hours of footage, this 80-minute excerpt is a battle-less, edge-of-your seat thriller, unvarnished and unrelenting. (And, some would say, unethical. Screenings at Artdocfest in Moscow were marred by death threats, protests and even an evacuation after a gas attack by ultra-nationalists). Love it or hate it, Flight of a Bullet is inarguably gutsy filmmaking — Hara's "action documentary" helmed by one kick-ass chick.