Back to selection
TIFF 2018 Critic's Notebook 8: In My Room, Wavelengths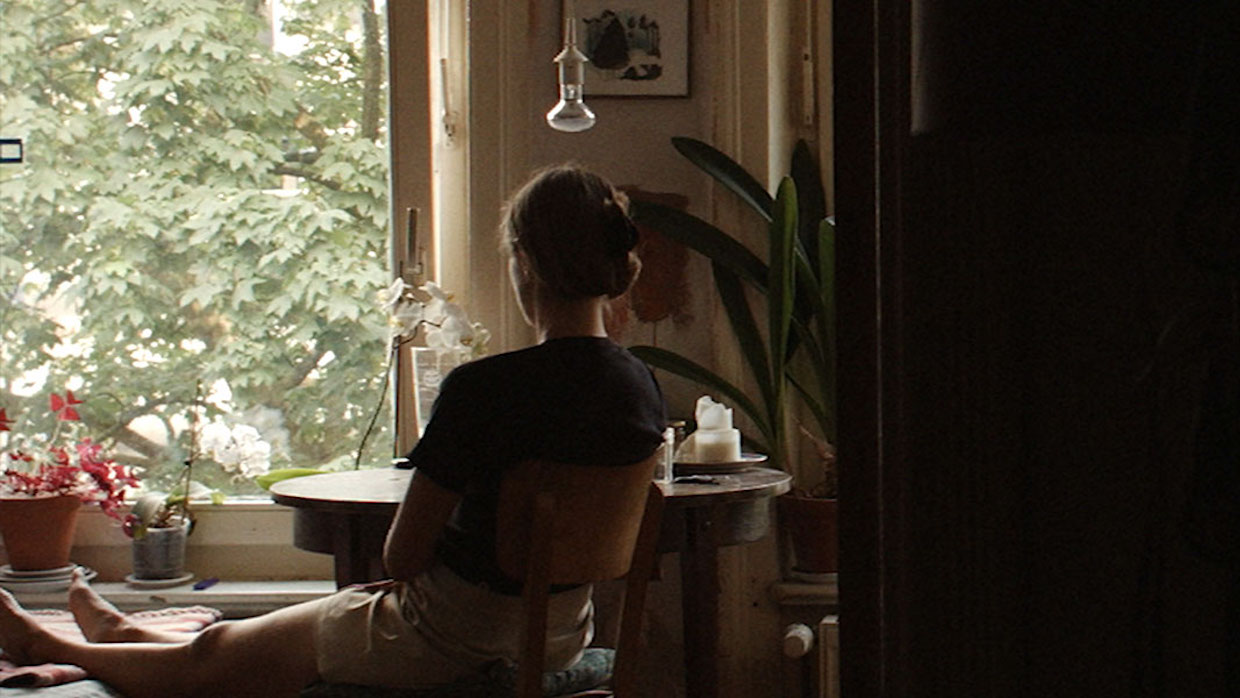 Ada Kaleh
Here's what I did not expect to see last Monday: Béla Tarr, hunched by a door before the fourth and final screening of the experimental Wavelengths shorts programs so crucial to my annual TIFF experience. I'd missed a trick–news that he'd be with us had been tweeted out that morning, but I'm glad I didn't know. Dropping in one of the crucial film figures of the last 30 years was a shock to the system; the red-carpet clutter unavoidably inseparable from nearly any festival faded away, and for a few minutes there was just Tarr, as stringent as expected, talking about the young director he'd mentored, Hu Bo, whose film would close the program, and who couldn't be here today because he'd committed suicide. "Fuck off," Tarr concluded (to whom precisely I don't know; I imagine Death as a whole), and strode off. I may never get over it.
If I'm risking (fine, actively courting) hyperbole, the surprise factor of Tarr IRL is not far off from how I feel in general about the annual experience of blocking off slots on four consecutive days to watch unapologetically experimental shorts–surrounded by anomalously quiet and respectful viewers, many of them filmmakers supporting filmmakers, uncertain what exactly I'm about to see. There's not a single person in the house there for opportunistic reasons, no buyers or critics giving it 10 minutes before bouncing. Everyone's there, committed to the bitter end, simply because they care. TIFF certainly isn't the only festival to make room for experimental film, but in context of how much money is visibly whirling around, it feels thrillingly like getting away with something to allow 150 people to fill a space to maximum capacity for non-commercial purposes.
I'll get back to the shorts, but let's pull back for a second. At the fest's opening night screening of Outlaw King, outgoing TIFF director/CEO Piers Handling announced to the crowd that "This year, we have one of the strongest lineups we've ever had." As my colleague A.A. Dowd noted, that's "the kind of thing you're supposed to say when you run a major film festival–the equivalent of a rock band perfunctorily insisting that tonight's crowd in [insert hometown] is the best they've seen all tour." But it was a pretty good year: I got nearly all my bummers out of the way at pre-screenings in NYC, went to 24 screenings on the ground (starting with my fest best, Ryûsuke Hamaguchi's Asako I & II, the only time watching a movie at 9 am to kick off marathon viewing hasn't felt like a chore–I'll try to write more about it another time) and spent very little time being actively disappointed. That's, granted, partly due to the luxury of setting my own schedule with a remarkable amount of flexibility–publishing pragmatics don't generally allow writers to, say, slot aside four valuable timeslots for experimental film and even more for some lower-key world premieres. I'll co-sign Dan Sallitt's review of The Chambermaid, to which attention should be paid and I'll briefly describe Federico Veiroj's Belmonte as a (predictably, if you know his work) lower-key but still strange version of Martin Scorsese's Life Lessons. Conclusion: the overstuffed TIFF lineup is as full of dross as ever, but with a little digging it still has more to offer than just a Festival of Festivals overview of the year.
I am in awe of colleagues who can watch four to five movies daily, five to ten days straight, then head back to the Airbnb and write them up every night and just not completely lose it; I just tossed off two films I admire in one sentence because I got tapped out last week. The final film I saw at the fest was Ulrich Köhler's In My Room; halfway-ish through, I heard the timpani concert sequence from Our Time bleeding in from next auditorium, followed shortly thereafter by Carlos Reygadas's Genesis needle drop. My fest was coming full circle, and that seemed a good indication this was a good time to cut it and move on to decompression. A three-part shapeshifter, In My Room is immediately structurally playful, taking on the POV of a TV camera wielded by Armin (Hans Löw); he's at a press conference with his assigned reporter, but every time they go in to get a quote, he turns the apparatus off rather than on. You see all of the filler and none of the money quotes; by the third time it happens (operator error that botches the assignment while productively getting the audience's attention), it's clear this film is willing to wrongfoot viewers. A series of scenes demonstrating on multiple planes how dispiriting Armin's daily existence are (his mishap does not go over well at the station); I was glad that the catalogue copy let me know that within half-an-hour or so, we'd be watching a zestier Last Man on Earth movie, which emerges from nothing planted in the plot (and, of course, the Last Man on Earth is never actually the Last Man on Earth). In My Room is playful and fun (which I can't say of the other two films by Köhler I've seen, the purposefully-but-still drab Bungalow and Sleeping Sickness), full of surprise song cues, its deceptively drab opening segment full of information unexpectedly crucial to what's about to follow, the whole appropriately despairing about heterosexual relationships. It struck a chord and proved an excellent place to stop; I hope to write more about it at another time.
Back to Wavelengths shorts (the section includes features as well, of which In My Room was one): hats off to programmer Andréa Picard and programming associate Jesse Cumming for pulling this off once again. For a comprehensive overview, turn to Michael Sicinski. As for me, here are some quick highlights:
Not personally a highlight, certainly of note: Apichatpong Weerasethakul's Blue, which alternates views of rising/falling painted backdrops of Shangri-La-esque pavilions and lush greenery somewhere or other with views of his regular Jenjira Pongpas Widner asleep. Few directors have been more consistent obsessive about depicting sleep, the most passive activity to actively study. Let your pulse rest and wait until flames burst from Jenjira's chest; it's an overlay of a campfire, but the effect takes a while to suss out and is compelling in a low-fi magic way all the same (cheerfully crude but still spellbinding effects are where Weerasethakul and David Lynch meet). Weerasethakul's dedication to slowing viewer breathing seems productively soothing, even if it's hard for me to sink in the recumbency sometimes.
I can't unpack Sky Hopinka's Fainting Spells, which is elusive in a way that's satisfying rather than frustrating, but its final image–a CG rendering of what looks like souls getting sucked from a moving sidewalk into the sky–is completely unexpected, a final visual flourish in a film that never settles in one place.
There's not much to Brittany Gravely and Ken Linehan Prologue to the Tarot: Glenna, really: it's 16mm-based, shots of its titular subject on very artificial sets, all cast in strong, florid colors. It looks (and sounds like) art that would come with a reissue of some long forgotten '80s New Age album, and I mean that in a good way.
An absolute best of fest, Malena Szlam's ALTIPLANO is a landscape study, though that term feels inadequate. Often surimposing one shot over another, Szalam's footage of Andean mountain ranges in Argentina and Chile heightens or creates colors that startle without seeming like the product of a quick Instagram-type filter (or systematic LUT application, I suppose). Blowing up 16mm footage to 35 for projection, Szlam showed colors I'd forgotten existed (ones that got lost in the digital shuffle), and the superimpositions keep the eye moving: sometimes the layering of one image over another uses canyon lines that move up and down, overlapping with other geographical shapes, as if nature were a TV setting its V-roll to scroll up and down.
I'll admit Helena Wittmann's Ada Kaleh almost lost me completely together with its beginning, a Chinese-language voiceover about some lost society of young skeptics or other over close-ups of a dilapidated interior wall, whose ragged shapes vaguely resemble a global map–you can make the two elements mesh without too much intellectual strain, but not in any particularly productive way for me. But the majority of the film is a series of slow 360 pans–some completed, many not–anchored at various logical points in an apartment. These languorous interior surveys are pleasurable in ways such that all the joy would drain out if described in detail: the changing distances within (walls slope away, opening up to hallways, then return back as the camera moves on) and without (streets that similarly approach and recede from center screen) collapse and expand space in ways that keep the eye moving. The apartment appealed to my rarely-seen Wouldn't It Be Nice To Have Nice Things side; it just looks like a very pleasant place to be, occupied with plenty of well-maintained kitchenware and spacious rooms for low-key hanging out. Eventually the wind rises, the windows opened, the outside no longer unignorable; it's a loud but hardly threatening climax.
There were more highlights, which I'd have even more trouble articulating. The net result was the same as each year: regardless of how each program peaked or dragged, as a buffer against the act of mass consumption of narrative films, this is an invaluable component of TIFF. My thanks, as ever; onwards to the NYFF catch-up scrum.