Back to selection
"Audio Is A Very Visual Medium": The Makers Of ESPN's 30 For 30 Podcast On Working Without Images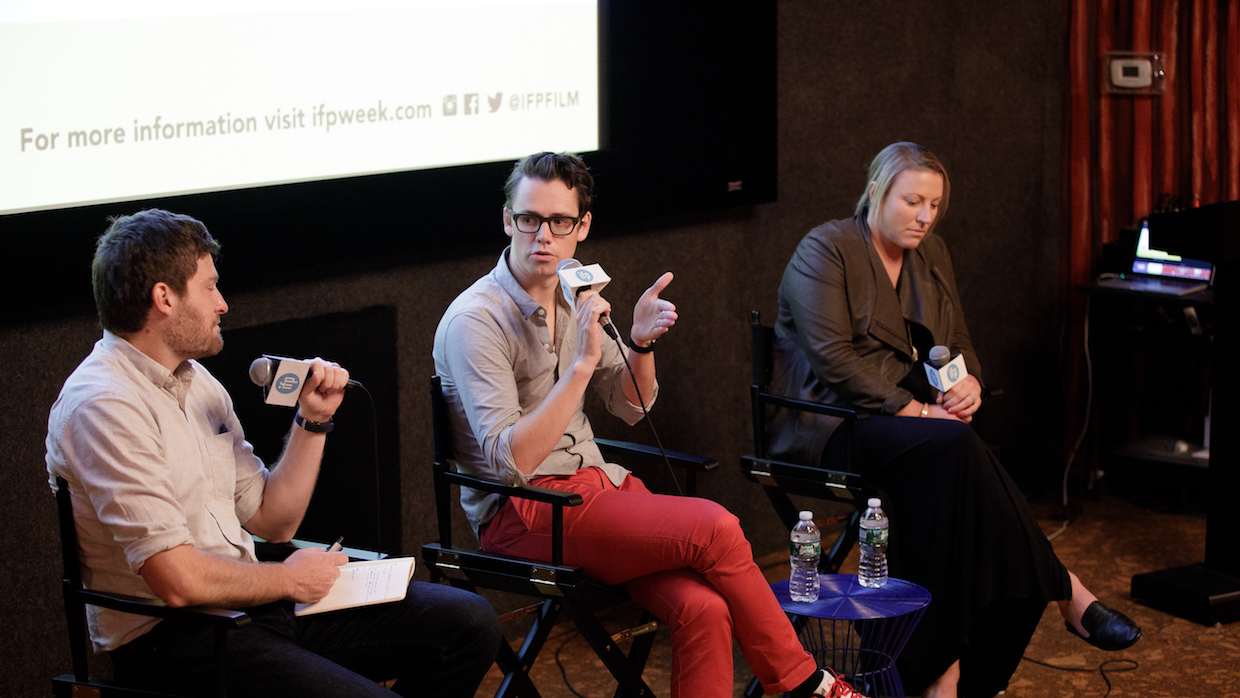 The 30 For 30 panelists
The team behind the ESPN podcast 30 for 30 hate the word "podcast." They think "audio documentaries" is a better fit. "The word podcast is just so unhelpful," said Jody Avirgan, the show's host and executive producer. "A lot of people hear 'podcast' and think two people in a room talking. I like those podcasts. But we're trying to do stuff that's much more akin to a short film than to that kind of podcast."
Of course, the 30 for 30 audio documentary series only exists because of film. They're a spin-off of the 30 for 30 films, which began airing on the station in 2011, with documentaries by big names like Albert Maysles, Brett Morgen, Barbara Kopple and Steve James. The audio equivalent began last year and, among other things, it serves as an exploration of how evocative audio can be, even, or maybe even especially, when there's no images to go with it.
The show was the focus of an IFP Week 2018 panel, attended by Avirgan and his colleagues Deirdre Fenton and Ryan Nantell, both producers. Fenton handles film exclusively; Nantell has feet in both. Sometimes the film and audio teams have the same general conversations, though they come at them from very different angles. Example: How do you handle basic exposition? What do you put on-screen when you need to, say, show the inside of an exclusive casino that won't grant you access, as in one episode?
"Before you greenlight a film, one thing you have to do is see what's in the archive," Fenton said. "One of the things about a documentary is you show people what things look like. You take them inside this world. If you can't do that, we need to discuss it. Maybe you just show the exterior. Or you show an empty poker room."
But what do you do when you only have audio? You have to think outside the box. But what you find might be more immersive and evocative. "Audio is a very visual medium," Avirgan said. "It's a transaction between the person who's telling it and the person who's listening. The person who's listening has to paint a picture in their head to complete that transaction. We can play to that strength. It's not about compensating for the fact that we might not have the footage."
"Footage can be a bit of a crutch and a bit distracting," Felton said. She talks about the debut episode of the podcast, about Dan O'Brien, an athlete who failed to make the 1992 Summer Olympics. When the episode gets to the part where O'Brien fails, the audio swells with not only crowd noise but his own words, describing not so much what he was feeling but all that was going on around him. "The description coming from him without the footage was stronger."
O'Brien is an interesting example, because he's one of many subjects that required a lot of work. Generally, getting people to open up over audio requires more work than in film. "They have to tell us about their experience and how they lived it, but they also have to paint a picture for us, because we can't add the footage in," said Avirgan. At first they were having trouble getting material they could use from O'Brien.
But audio folks have a trick: If you really want someone to open up about, say, an event, you show them footage and then have them describe it. That's what they did with O'Brien. "It got him to talk in descriptive terms," Avirgan said. "One of our producers says, 'There's access and there's emotional access. We need both,'" Avirgan explained. "We need three hours of your time, but we also need you to be willing to go there. Sometimes you don't get that emotional access until the third chunk of your three hours."
The 30 for 30 team runs into their own specific problems. Some of the time they're dealing with big time athletes. That's not always true; their stories are usually historical, the subjects no longer in the spotlight. If they are, though, that can gum up the works. "They can be challenging to pin down, or challenging to get them to commit," Nantell said. "We're reluctant to greenlight stories like that if we're not sure they're going to be onboard."
Another issue when they interview name athletes is getting them to relax. Avirgan points out that they're used to cameras, bright lights, impersonal journalists asking the same questions, to which they give the same answers. He says when he shows up with nothing but a recorder, that trips them up, in a good way.
"It sends a nice little counter-signal and hopefully pushes the athlete, who used to giving the same stories and the same platitudes. It can push them into a different mode, which is where we always want to go," Avirgan explained. "In terms of demeanor, I try to send every signal that this is intimate, this is casual, this is different."
Audio is generally more relaxing to subjects than a big video interview. "That's just an intimidating space," said Nantall. "You're generally seated several feet away from the person who's interviewing you. You often can't really see them because the lights are in your face. It feels very much like a spotlight on a stage. You don't have that problem with audio. You can just carry a recorder in your bag. You can even spend more time with them, getting to know them, in order to build trust. Suddenly, when they decide they want to talk about this thing, you can just pop out your recorder and start getting tape with them."
A great example is the season-long exploration they did on Bikram Choudhury, the yoga teacher who created the empire that bears his name and has been accused by many of sexual misconduct. Journalist Julia Lowrie Henderson spoke to some of his accusers, and was able to gain their trust, partly because she never made them sit down for a camera interview. Their talks were just people talking, with a small recorder next to them.
"She was able to get his victims to open up in a way that no one else had been able to before," Felton explained. In one exchange, as one person details what Choudhury did, you can hear Henderson trying to comfort her, saying, "That's awful."
"That's something you're never going to get with on-camera stuff," Nantell said. "It doesn't even sound like an interview. It sounds like a conversation between two friends who care about each other."