Back to selection
A MAGA Nightmare Scene, Marketing to Incels and Reacting Against "Performative Wokeness": Eugene Kotlyarenko and Dasha Nekrasova on Their Reverse Romantic Comedy, Wobble Palace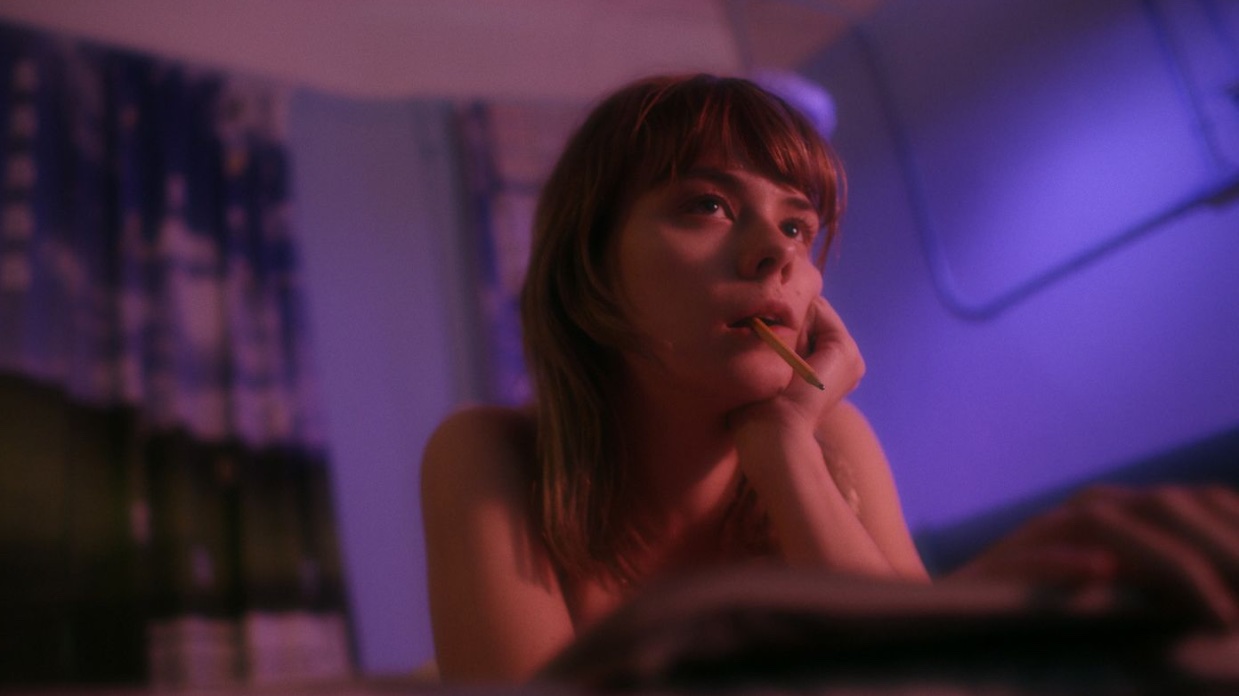 Dasha Nekrasova in Wobble Palace
Wobble Palace is a reverse romantic comedy set in relationship hell tinged by the toxicity of Tinder hookups and Trump's political rise. "One of the early ideas was to make a movie about a happy break up," explains director Eugene Kotlyarenko. "The formula for a rom com is whatever happens for the first 90 minutes, by the end, the couple gets together." Flipping this arc, the film climaxes (spoiler alert!) in the couple splitting up instead. "In a relationship that's really toxic, staying together is really horrible and breaking up is really liberating," Kotlyarenko continues.
The film follows a millennial couple in an open relationship, cohabitating in Los Angeles — the boyfriend character Eugene is played by Kotlyarenko and the girlfriend character Jane is played by Dasha Nekrasova, who also co-wrote the film. The basic premise is that Eugene and Jane have agreed to timeshare their house for the weekend so they can both pursue other people. While the film rarely finds the two main characters sharing a scene, they have in common a deep unhappiness, though Eugene's brand of misery is goofy desperation and Jane's is biting angst.
"I remember texting you when you were trying to finance the film," Nekrasova says to Kotlyarenko. "I was like, 'I feel so hopeless. I hate myself.' And you were like, 'Good. Put that in your performance. This is exactly where you need to be to make this movie.'"
From its genesis, the film was based around the idea of having a fractured narrative. About half of the time, the audience follows Eugene's character, whose horny pursuit of sex via dating apps gets him blasted online as a "cuck," and about half the time we follow Jane, for whom getting laid is less of a challenge though she finds herself plagued by the anxiety she might be "basic." Kotlyarenko explains that this structure was partly inspired by a cultural moment he was noticing "when identity politics and gender politics were bubbling up." He adds, "I felt a lot of enmity in the air. I felt like there was a lot of negative energy between men and women." He thought it might be interesting to create a character in Eugene that men would relate to yet women would revile, and in turn, with Jane, create a character that women would understand but men would find baffling.
One of the influences on this fractured narrative was the 1956 Japanese novel The Key, by Jun'ichiro Tanizaki. "It's a book where a couple each keep different diaries and the chapters go back and forth between their diaries," explains Kotlyarenko. "At a certain point, they realize that the other person is breaking into their drawer and reading their diary so they start writing performatively for the other person and it starts destabilizing what is reliable narrative." Kotlyarenko and Nekrasova mention a few other works that offered some inspiration — La Bon Année (1973) by Claude LeLouch, they say, influenced their film's ending and Immoral Tales (1973) influenced a masturbation scene.
Said masurbation scene featuring Nekrasova elicited at least one complaint of misogyny. "This one writer critiqued the film for objectifying me — they were like, 'We're supposed to believe this woman sucks her thumb when she masturbates,'" recounts the actress and co-writer. "But I loved the part when [cinematographer] Sean [Price Williams] filmed me masturbating. And sucking my thumb was a creative choice that I made. No one was forcing me to suck my thumb," she affirms.
In a way, this review which erased Nekrasova's agency in the scene is an example of the sort of "performative wokeness" Wobble Palace was conceived in reaction to. Nekrasova explains that "Eugene's character very much postures as this feminist ally; Kotlyarenko adds, "but all the women he's going on dates with completely see through it." The character is also a total Bernie Bro. "I even made a fake Bernie sticker in the mirror at the beginning," says Kotlyarenko. "I made up this fake tagline 'Unbuyable 2016.'"
The film, which made its festival premiered at SXSW in 2018 and is now out on video-on-demand, takes place Halloween weekend 2016, a week before the most recent presidential election (and it was filmed then too). There's a Halloween party and a nightmarish dream sequence with Trump supporters in MAGA hats. "We thought we would capture this moment when Trump was in the air, and then by the time the movie came out, everyone would have forgotten that guy," recalls Kotlyarenko. "But then when he won, I was like, 'Wow, there is something subtextual about his horrible energy in this movie.'"
Nekrasova adds, "There's also a lot in this movie that in retrospect feels very anticipatory of the #Metoo movement." Jane's character has a sexual encounter with Ravi (Vishwam Velandy), a South-Asian Trump-supporting tech bro who cums in her without her consent.
With their long-term relationship coming to a close, both Eugene and Jane find themselves facing some ugly realities as they search for new routes of love, affection and intimacy. "People are desperate for sex," resolves Kotlyarenko. "I think that's when people are their most vulnerable, most sad, and most human. We are inundated with the idea that our sexual desirability is a referendum on our value. And hookup apps are a conduit for that. It's a game to constantly figure out if you are worth anything."
Nekrasova chimes in, "I think we were both pretty sexually desperate when we were making this film," before adding, "We should market it to incels!"
While the film captures both intersectional complexities of our cultural moment as well as some grim realities of the human condition, Wobble Palace is also radiant in its colorful glow and shining sense of humor. A big part of that comes from the fact that Kotlyarenko and Nekrasova are effortlessly hilarious. "We both really enjoy improvising," says Nekrasova.
Released by Breaking Glass Pictures, Wobble Palace is available on iTunes and other digital platforms today.