Back to selection
"'We're Seeing Fire Behavior We've Never Seen Before'": Five Questions for Wildland Director Alex Jablonski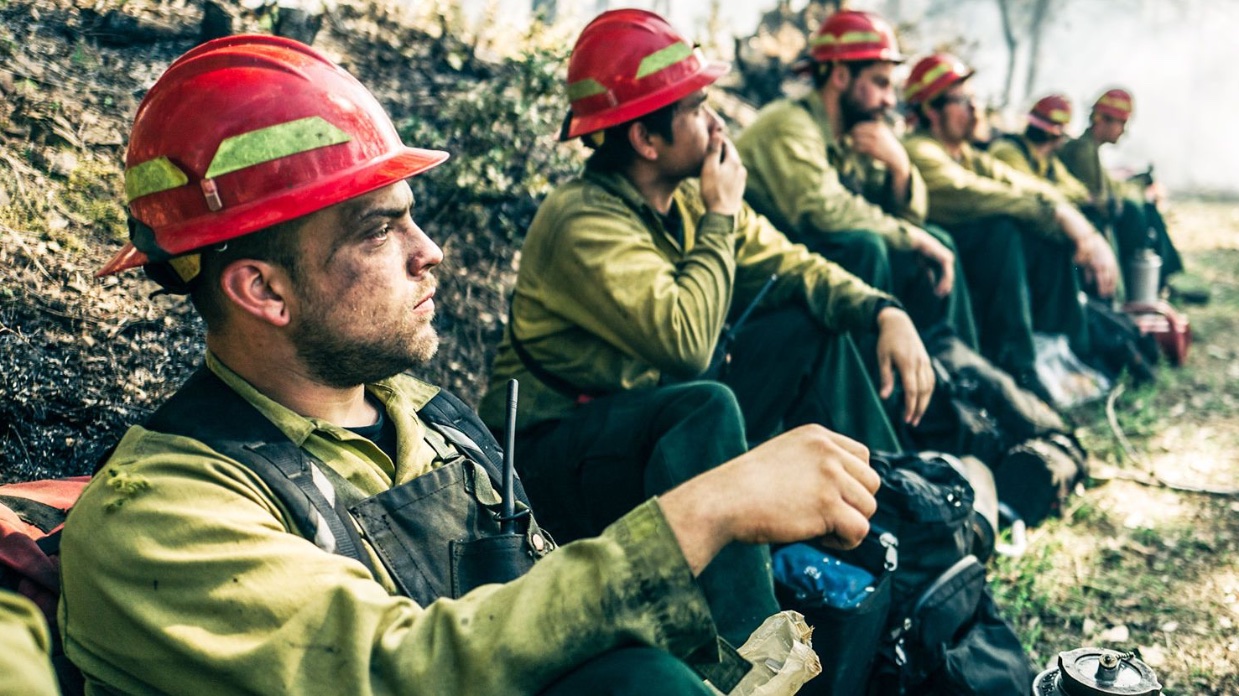 Wildland
A world premiere at this year's Camden International Film Festival, Khalil Hudson and Alex Jablonski's Wildland (formerly titled Young Men and Fire) is a movie for this moment. As wildfires race with wearying regularity through our nation's wooded areas, and as climate change exacerbates the triggering factors for these fires, Khalil Hudson and Alex Jablonski take us to the frontlines of the current battle. Following one particular squad over two years, the two directors, who previously collaborated on Hudson's Low & Clear, manage to tell a story that's both expansive in subject matter while being intimate in focus, finding in the trials of these young firefighters, mostly rookies or second-year, classic narrative elements to which the filmmakers bring their own ability to craft astonishing visuals.
The season opener for this Fall's Independent Lens, Wildland premieres on PBS stations tonight. Just before the film's Camden premiere, one of the film's directors, Alex Jablonski (a Filmmaker 25 New Face) answered questions about the film's origins, it relevance in an era of climate change, and the challenge of shooting against walls of searing heat.
Filmmaker: Alex, your collaboration with Khalil goes back to 2012, when you produced his feature Low and Clear. Can you tell us about how the two of you decided to collaborate on this film, and how that collaboration progressed over the six years until today? Were your roles clearly defined, or did they evolve and change during that time?
Jablonski: On Low & Clear I came on only after the film was shot. I first began as the editor and then as my role expanded came on as a producer. With this film we were working on it and shaping it together from the start. Low & Clear is a film that on its surface is about a fly-fishing trip, but is ultimately about how men and their friendships grow and change over time and how those changes shift the way you think of yourself. While making it Kahlil and I learned that we're both excited and interested in the same things in documentary film — cinematic visuals that depict the exterior lives of our characters while also revealing their interior lives. When we began looking for the next film to make, the world of wildland firefighting held a lot of possibility just in terms of the visuals that would be available, and then we began thinking of the film about being centered around a central question of "how do young men grow up?" We're always working to tell stories that are both epic and intimate — often in the same moment — and this seemed like a chance to do that.
Since Low & Clear we got into doing a lot of branded content and commercials, and it enabled us to hone our approach and to develop a common understanding of what it is we're after. On this the roles were pretty mixed. Kahlil has always been the chief visual architect of anything we're doing, and he came up with the visual approach. It was actually through a conversation at Sundance with Omar Mullick (These Birds Walk) that Kahlil developed the idea of shooting the entire film on a single prime lens and really committing to that.
For me, I dealt with a lot of the producing responsibilities and was more hands-on in post, actually cutting much of the film. But, during production we were often each shooting solo so that we could cover long stretches of time. We would rotate in-and-out shooting individually but building off of what the last person shot. All in all we shot a total of 93 days, and I think we were shooting together for only about 30 of those.
Filmmaker: How did you meet the firefighter subjects of your film? Did you canvass multiple fire squads before landing on this one? And what were some of the pre-production challenges of convincing them to let you embed yourself with them? 
Jablonski: We knew that we wanted a crew where there would be multiple people in their first year in fire, rookies and young guys, so that eliminated the more elite wildland firefighting units like hotshots and smokejumpers. We found Grayback Forestry — a private contractor — through speaking with people in fire and getting recommendations. Then it took multiple trips to Oregon and a lot of meetings and just time hanging out to earn the trust first of the base manager, then the owner of the company, and then with the guys on the crew themselves. Our film is really focused on the personal stories of the men on the crew and the way they relate to each other, so building a rapport and being comfortable each other is an emotional experience that can dramatically change what winds up in the film. In my experience earning that level of trust just comes from a lot of time together.
Filmmaker: What was the most challenging part of shooting in the proximity to fire?
Jablonski: To make this film, and to make it the right way we actually became firefighters ourselves. So we went through the training and did the pack test and then joined the crew. While out there we were really only shooting about 10% of the time and the rest of the time we were working. But what that means is that we had all of the regular gear — the line pack, fire shelter, water, food, etc – plus a stripped down camera package. All together our packs weighed 55 lbs. You're carrying that all day, often hiking in just to get to the place where you're going to work. The physical demands of being out there and of being exhausted were easily some of the biggest challenges just because of what it does to you mentally, it's hard to stay sharp and stay creative. Even under the best circumstances you can lose sight of the film you're making. When you get tunnel vision and your mind becomes fixated on something like eating a roast beef sandwich it's that much harder. Then at the end of the day everyone else goes into their tents and crashes and you need to find a place to download footage and recharge batteries and all that. Keeping gear clean and cool in that environment is also a big issue. In terms of fire, we'd been with the crew when they did a bunch of prescribed burns during the spring, so being around fire and walking along a fire loses its charge a little and that's a good thing because then you can focus and stay clear-headed. But it's still hot, it's still exciting and you need to be able to stay settled.
Filmmaker: You shot over two seasons. Did you go into this film imagining a certain kind of narrative arc, or did you construct one after you completed shooting? Could you discuss the challenges you faced in editing?
Jablonski: When we began we had a pretty clear idea of a narrative arc in place. We wanted the film to begin in spring and end after fire season, and like a film about a football season it would have all of the usual markers — pre-season, a crew coming together, the big challenges, and then the crew being spread back out to their regular lives.
Even with that structure in place editing was far and away the most difficult phase of this film and we spent a solid year cutting this. The film is predominantly verité with almost no onscreen interviews, so you're building the film the way you would a narrative film, but with only a loose script, dialogue you had no control of and only a single take of anything that happened. It's like you want to build your dream home only using the material that you can steal from a construction site. On the micro-level we'd feel like we had completely nailed a scene, and it would work on its own, or in the context of a short sequence, but when put all together the film wouldn't hold. Even with an idea of an arc, there are almost endless permutations of how it can be built and we found that even a small look from one character at the end of a scene would change the way you read what came before and after.
Add to that that we also have what's essentially a 12-minute long action scene toward the end of the film. That sequence alone took 30 to 40 different versions to get right.
But even when it gets really dark and you feel like you'll never make it work you have to just have faith and keep plugging away. One of the lessons I've learned through editing a bunch of films is that the more you work the material the more it'll give. Ultimately it was while watching Chloe Zhao's The Rider that I had a revelation. That film is just gin-clear in what it is about and what it's dealing with. Seeing that gave me the push to just distill every scene down to the moments that would build and speak to the larger theme of the film. Once we did that it was a matter of laying out a clear structure, then making sure that each transition was meaningful and resonant.
Filmmaker: Finally, in a time in which wildfires are threatening portions of America, and climate change is exacerbating their ferocity, what lessons about our future — whether that's the future of wild fire, or the future of how we need to fight these fires — were revealed to you by the making of your film?
Jablonski: Less from personal experience and more from just spending time around people who have a lot of years in fire it's really clear that things are changing extremely quickly. Over and over we'd hear people say something like 'We're seeing fire behavior we've never seen before' and this was coming from people with 20-plus seasons in wildland fire. I don't know that there are any easy answers for what the future holds, but as fire season gets longer each year, it's clear that we're going to be more and more dependent on the men and women who are willing to fight them.