Back to selection
"What We Really Seem To Be Documenting…Is A Concerted Shift Away From An America That Sees Itself As A Land Of Immigrants Towards Something Else": Andrés Caballero And Sofian Khan On Their DOC NYC Premiering The Interpreters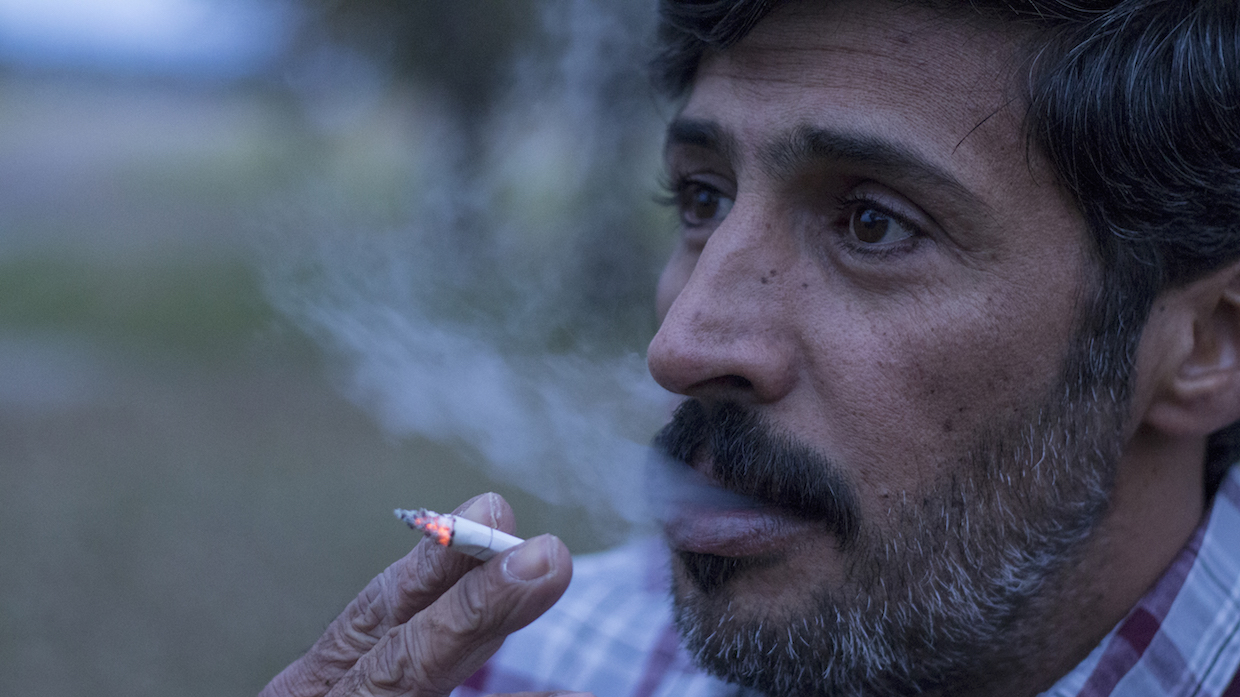 The Interpreters
With anti-immigrant sentiment on the rise globally, and with a U.S. president who champions a ban on all Muslims to this country, Andrés Caballero and Sofian Khan's (IFP-supported) The Interpreters serves as a timely corrective, to say the least. Their up-close-and-personal doc follows three men from Iraq and Afghanistan (and one American sergeant fighting the byzantine U.S. bureaucracy on behalf of his Baghdadi friend) who served U.S. troops as interpreters — not "translators," since their role as intermediaries went well beyond mere language — as they struggle to keep the faith and avoid death while waiting to gain asylum in the land they risked their lives for.
Filmmaker was fortunate enough to chat with the clear-eyed co-directors prior to the film's Veteran's Day premiere at DOC NYC.
Filmmaker: Your last film, 2015's Gaucho del Norte, follows a Chilean sheepherder recruited to work in Idaho. Your latest deals with Iraqi and Afghani interpreters who worked with the American troops in their respective countries, and who are now seeking refuge in the U.S. The subject of global displacement — of "involuntary" immigration be it the result of economic or political forces — seems to be a running theme for you two. Can you discuss this?
Caballero and Khan: Our films have focused on issues pertaining to immigration, often taking a look at the less talked-about avenues through which people come to the U.S. This probably has something to do with our own immigrant backgrounds, but it's also a fascinating space for stories that raise questions about identity, our collective history and what it means to be American in this moment. Of course it's become a deeply divisive issue. There's so much rhetoric being brought to bear against immigrants and refugees. But in both cases our films have looked at what would be classified by all observers as "legal" immigration.
In the case of Gaucho del Norte, our protagonists were sheepherders from South America who are brought to Idaho on three-year agricultural worker visas to do a difficult, dangerous and lonely job — but one that's crucial to keeping an American industry (and tradition) alive. And in The Interpreters, we followed Afghan and Iraqi military interpreters who, as you mentioned, are now seeking refuge because their affiliation with U.S. forces has put them and their families in danger. The Special Immigrant Visa offered to them as a way out is a noble idea in theory, which originated through a bipartisan effort led by Senator Ted Kennedy during the George W. Bush years. It's a recognition of their sacrifice on behalf of our country, and of their untenable position due to the worsening security situation in their homes. But what we've been seeing — and this holds true in both films, actually — is that there's increasingly been a push to limit or completely curtail any kind of immigration whatsoever. And the sheepherders and the interpreters alike get swept up in this in different ways.
What we really seem to be documenting with these films, at least as a common thread in the backdrop of the human stories that we're focusing on, is a concerted shift away from an America that sees itself as a land of immigrants towards something else. It's a shift that may continue to follow a hard line, or to find some sort of compromise moving forward, but we intend to keep following it closely.
Filmmaker: I read that meeting the interpreter known as "Phillip Morris" was the starting point for this doc. But how did you meet him? And how did you find your other two main subjects, Malik and Mujtaba? Why profile these three interpreters (out of literally thousands) in particular?
Caballero and Khan: Andrés produced a radio piece for StoryCorps featuring a chain-smoking Iraqi interpreter codenamed "Phillip Morris" and Paul Braun, an American soldier who he worked with. The piece focused on their friendship, and on Phillip's struggle to bring his family to the U.S. We thought it would also make for a good visual story, especially because it was still unfolding, so we did some initial filming with them to develop the project and create a fundraising clip.
But we also realized that the story of interpreters who worked with U.S. forces in Iraq and Afghanistan was much bigger, and was not fully reflected by Phillip's journey. In reality, most of the nearly 50,000 interpreters who worked with U.S. forces are still out there, in hiding, waiting for their visas, and very few of them had an American friend like Paul to advocate for them.
No One Left Behind, a veteran-run organization that advocates for interpreters and assists them once they arrive to the U.S., put us in touch with "Malik," an Afghan interpreter who was still actively working at the U.S. Air Force base in Kabul. Malik is a hard-working, optimistic family man who had been waiting almost five years for his visa when we met him. For his safety, he had to change houses with his family every week, moving across the city to stay with different family members. So for us Malik embodied the lifestyle of an interpreter in hiding. But was also still hopeful about his case. We began to develop trust after several phone conversations, and he invited us to meet him in Kabul.
Sometime after that, with the help of volunteers who were working with the refugee community in Europe, we heard about Mujtaba, a former interpreter who had recently lost his family at sea after attempting to cross the Aegean from Turkey. We spoke with him by phone a couple of times and met him in Istanbul two more times before we filmed with him. His tragic journey reflects that of many other interpreters who have decided to leave after years of waiting for their visas, and it's another important part of the broader interpreter experience of being left to fend for yourself. Taken together, these three storylines build a fuller picture of what these guys are facing out there, and the struggle they have to go through to get the visas promised to them.
Filmmaker: Your film really highlights this difficulty in obtaining a Special Immigrant Visa (SIV), mostly due to bureaucratic backlog. A process that's supposed to take months in reality takes years, resulting in either nonstop death threats or the actual deaths of these men now considered traitors in their home countries. This certainly has been an intractable problem since the Obama years, but did you try to speak with anyone in the current administration about how it's addressing the issue — especially in light of Trump's "extreme vetting" stance on immigration?
Caballero and Khan: The Special Immigrant Visa, or SIV, was created with the best of intentions. But it's been plagued by bureaucracy and backlogs, and it's often slowed to a crawl by a vetting process that is essentially "extreme vetting" before that term was ever introduced into popular usage. The problem is that the whole process lacks transparency, so it can be difficult on a case-by-case basis to understand where a given application may have gone wrong. How, one wonders, could someone like Malik in Afghanistan, who's working alongside Americans every day, be left waiting in "administrative processing" for so long? Did his last name match a Taliban operative, or did he just check the wrong box somewhere in the application? There's no way to know.
There has also been an ongoing issue with a shortage of visas. Only a certain amount are allowed for in each year's defense authorization bill, and the backlog of waiting applicants is always far greater than the supply of visas. Even with bipartisan support from the likes of the late John McCain and Jeanne Shaheen, these problems persisted throughout the Bush and Obama administrations. Most of our research and interviews with experts took place in the latter part of Obama's second term, so our contact was with State Department officials who were in government at that time. Since then, many of them have left or been let go of in the transition to Trump's State Department, so we haven't had much interface with the new administration on this issue. We did reach out to the office of Jeff Sessions before he was tapped to become Attorney General, requesting an interview with him since he, along with other Republican senators at the time, had begun to criticize the SIV program — making unprecedented calls for its termination on the grounds that it was too lax, despite the fact that interpreters are vetted in the extreme. But his office did not ultimately grant us that interview, and he was off to the Justice Department soon after that.
It is interesting, though, that when he first came in as the new Secretary of State, Rex Tillerson said publicly that his State Department would do better for interpreters. But this promise seems to have been lost in the shuffle, and certainly since his departure from the role of secretary there has been no improvement to speak of. In fact, we're seeing a drop in visas being issued from month to month. And now, with McCain's passing, there are no significant Republican voices speaking out in support of interpreters, so we don't expect to see the trend reverse.
Filmmaker: You two are Americans but you also hail from immigrant backgrounds, which makes me wonder if this made it easier to gain the trust of your subjects.
Caballero and Khan: Andrés is Argentinean/Bolivian, but grew up in the U.S. for more than half of his life. Sofian is a New Yorker, of Pakistani and British parentage. We are first and second generation immigrants. We're not sure that our background made it easier to gain trust with the interpreters in the film, but it may have helped with easing their concern that we would stand out while together in Kabul. Both of us were able to pass as locals, so long as we didn't open our mouths. Sofian actually has Afghan ancestry through one of his great grandfathers, and Andrés looks like he could be a member of the Tajik ethnic group. So several of the interpreters we met said they felt a lot less nervous when they realized we weren't easily recognizable as foreigners. Given the security situation in the country and the threats many had received, it's understandable why they didn't want to stick out in any way.
Filmmaker: In the current, global, anti-immigrant climate do you feel even more of a personal responsibility to tell these immigrant stories? What future plans do you have to perhaps change hearts and minds with your work?
Caballero and Khan: We went into this project knowing that the issuing of visas to interpreters had been a problem since the program's inception. But we didn't imagine that two years into the making of the film, toward the end of production, an issue that had been bipartisan in the past was now a divisive conversation about national security. The extreme vetting system and disorganized policies linked to the Muslim travel ban had an impact on interpreters trying to get to safety. And, since the Trump administration has been in power, the granting of Special Immigrant Visas has decreased dramatically.
Today immigrants are being criminalized by the president, the media, and a government that discourages them from coming or staying in the U.S. We felt it was important to highlight the stories of these interpreters in particular, but the reality is that they're only a fraction of the Afghan and Iraqi civilians whose lives have been altered because of the decision to invade their countries. The situation has become more pressing in the past two years, and in the meantime interpreters are being targeted while waiting for their visas as the security situation around them continues to devolve. Meanwhile, the countries that can make the most difference seem to be turning away and closing their doors.
We have been looking into other stories involving immigrant communities. But at the moment we're mainly focused on getting The Interpreters in front of as many people as possible.