Back to selection
Sundance Hits and Misses: How MoviePass, Politics and Streaming Boosted the Indie Theatrical Box Office of 2018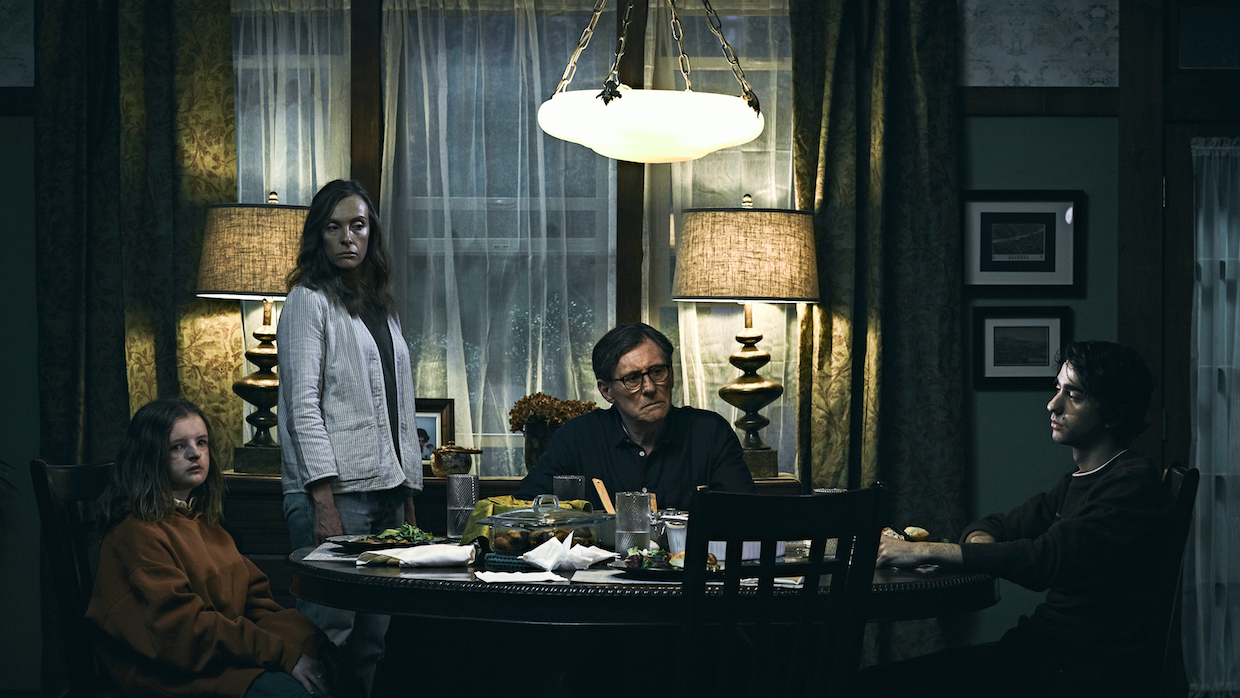 Milly Shapiro, Toni Collette, Gabriel Byrne and Alex Wolff in Hereditary (Photo by James Minchin, courtesy of A24)
It wasn't supposed to happen this way.
After theatrical box office numbers for indies looked hopeless last year, 2018 proved all the doomsayers wrong. That's thanks to such non-Hollywood hits as Hereditary, a Sundance Midnight entry partially financed and released by A24, which grossed more than $44 million in the United States and $35 million internationally. And it's thanks to Searching, a Screen Gems acquisition out of the NEXT section, which grossed $26 million domestically and another $42 million abroad.
Even Sundance's 16-film Dramatic Competition — which offers a decent test sample of the overall truly indie marketplace — saw stellar results. If 2017's Sundance competition produced just two modest hits (The Hero, Ingrid Goes West), 2018's collection produced several significant crossovers, including Sorry to Bother You ($17.5 million), Eighth Grade ($13.5 million), Blindspotting ($4.3 million) and American Animals ($2.9 million). Additionally, Sundance's most talked-about entry, The Tale, was snapped up by HBO — meaning it did not have a theatrical release — but entered the public conversation as much as any of the above titles. (To gauge its popularity, consider IMDb.com's 7,234 user ratings for the film compared with Blindspotting's 4,573 ratings.) So, when you consider that five of the 16 competition titles reached wide levels of recognition, that's a strong 31% breakout rate, the best in years.
How do we account for the upswing in theatergoing?
Many insiders cite the emergence of MoviePass as a concrete reason for the uptick in indie box office grosses. "Despite where MoviePass is today, it had a significant impact on people sampling indie films," explains Paul Davidson, The Orchard's executive vice president of film and TV. "It was a low-risk way of seeing a movie that they weren't sure about."
Ironically, Netflix (which backed off slightly this year, acquiring only two films out of Park City) was supposed to kill theatrical movie-going, but the streaming service also allows for more adventurous movie sampling. "When people watch all these alternative entertainment options, they want to see more," suggests Davidson. "So, if you finish True Detective or Maniac, you're going to search for more new original content, and that may be in theaters."
Especially in the case of documentaries, distribution executives say Netflix has made them more popular, building an audience and appetite for nonfiction. In fact, this year was one of the best for indie nonfiction theatrical releases in more than a decade, with Sundance documentary premieres such as RBG, Won't You Be My Neighbor? and Three Identical Strangers leading the way. Prepping for Sundance 2019, doc makers and peddlers are bracing for a seller's market.
Industry veterans also see a cultural climate — encumbered with political anguish and frustration — that favored movies like Won't You Be My Neighbor? and Leave No Trace. In search of a heartening, communal experience, "a movie that confronts real-life, contemporary issues in a positive way appeals to adult movie-goers now," says Bleecker Street marketing executive Tyler DiNapoli.
Let's also remember that big box office grosses cost money to achieve, with a number of aggressive and profligate distributors spending more on P&A to get their indies out. For example, A24 pushed out Eighth Grade to 1,084 theaters in its fourth week; Annapurna, currently experiencing management upheaval with the departure of key executives, overspent on Sorry to Bother You across 1,050 theaters; and in Sundance's biggest example of overreach, Neon and Agbo Films paid a reported $10 million for world rights to Assassination Nation, but then the film flopped across 1,403 theaters, with a final U.S. box office of $2 million and insignificant international returns.
As with previous boom-and-bust periods in the "specialized distribution" space, we've seen this bullish strategy crash many a company. Indeed, the past year has seen indie distributors such as Broad Green Entertainment and Global Road go out of business (not to mention The Weinstein Co., which closed for other reasons, of course). Neon will end up fine, with a broad slate filled with major successes averaging $4 million grosses per movie since the company was founded, but the fate of other higher-end players, such as Annapurna and STX, is uncertain. It goes to show that indie companies and filmmakers alike might have better luck staying true to their indie niches rather than overdoing it. As Peter Bevan, Umedia's EVP of production and coproducer of Mandy, says, "We've gone wrong in the past by trying to make a four-quadrant movie that satisfies everybody, but a movie like Mandy played very squarely to its audience. When you try to be commercial," he adds, "you can miss your core audience."
Below, check out some (mostly) hits from Sundance's Class of 2018, reflecting an array of differing budgets, release styles, and target audiences.
Hereditary
The Numbers
Budget: Less than $10 million
Domestic gross: $44,069,456
Opening per-screen average June 8: $4,580 average (2,964 theaters)
Widest release: 2,998 theaters
Total theatrical: 84 days
How it got made: After making several acclaimed shorts, first-time feature director Ari Aster developed his disturbing horror/family drama script with indie companies such as Danny DeVito's Jersey Films 2nd Avenue and Anthony Bregman's A Likely Story before landing with Kevin Scott Frakes's PalmStar Media (Collateral Beauty, The Catcher Was a Spy). "It was not easy to get this made," says Frakes. "Basically, we had way too high of a budget to make this work." Fortunately, there were several interested parties, including A24, that offered to take domestic rights. With interest high in the film and Aster's talent, Frakes decided to greenlight the picture and cash-flowed the entire less than $10 million budget; on the last day of shooting, PalmStar closed a deal for worldwide distribution and a 50/50 co-financing deal with A24. At the film's Sundance premiere, the buzz began with stellar reviews and the perfect tagline (courtesy of film critic Joshua Rothkopf): "a new generation's The Exorcist."
How it got released: Maverick distributor A24 pushed several marketing elements: a visionary new director in Ari Aster; an awards-worthy turn by actress Toni Collette (featured in one darkly ironic special "Mother's Day" ad spot); and the promise of being one of the scariest movies of all time. At SXSW, they kept the buzz going and sent real effigies to Austin attendees, such as Barry Jenkins, to help stoke excitement. On the eve of release, they did a special advanced livestream Q&A at Alamo Drafthouse venues across the country. They also relied on continued positive critical support to back up their claims; champions included both mainstream ("you're in for a hell of a time" — Entertainment Weekly) and niche outlets ("an astounding achievement" — Bloody Disgusting). In April, a theater in Australia accidentally played the film's chilling trailer ahead of the children's film, Peter Rabbit, which made international headlines. A24 sold the film across the world. Digital launched on Amazon Video and iTunes on August 21, and it quickly ranked at No. 8 of overall movie downloads, just below Ready Player One.
How it really did: PalmStar's Frakes admits the project was a risk, "but we won big on Hereditary," he says, citing returns in the so-called multiples. "A24 had the most effective, efficient campaign on our films. They managed to market it so well to the base, and we extracted every penny." With the film's international success, A24 also had its biggest global hit to date, surpassing Lady Bird.
Won't You Be My Neighbor?
The Numbers
Budget: Less than $2 million
Domestic box office: $22,609,437
Opening per-screen average June 8: $16,394 average (29 theaters)
Widest release: 893 theaters
Total theatrical: 98 days
How it got made: Shortly after deciding to make the film, filmmaker Morgan Neville and producer Caryn Capotosto were invited to Sundance's Catalyst film financing summit and pitch their Fred Rogers documentary to around 100 potential investors. By the third day, they had verbal commitments from 10 investors, including Impact Partners, which essentially fully funded the film (except for one additional private investor). About halfway through production, Focus Features acquired worldwide rights, announcing the deal in November 2017. Because of PBS's central role in the film's story, the filmmakers worked with Focus to maintain a television broadcast with PBS/Independent Lens.
How it got released: "When we joined the project," says Focus President of Distribution Lisa Bunnell, "We thought, 'This is a story that we all need; this is a story that the country needs.'" So, first, they put it into a lot of film festivals — at least 14 after Sundance — "and it was amazing to see the film with the public and watch people cry and cry," says Bunnell. Marketing materials focused on the film's message of caring (with the tagline "A Little Kindness Makes A World of Difference") and Mr. Rogers' harkening back to simpler times as an antidote to the barrage of negativity in the news. They also launched a #BeMyNeighbor contest, which saw a few hundred participants submit stories of people in their community who make a difference. (The winner was a retired special needs bus driver from Cedarburg, Wisconsin.)
After opening strong in 29 markets, Focus expanded aggressively, reaching 348 theaters by week three. "We knew the word of mouth was going to be good, so it was important to get out a little bit faster, and a little bit quicker," says Bunnell. Focus also attached the trailer to a range of films, big and small, from Ready Player One and Isle of Dogs to Book Club and RBG. As the movie grew, the P&A spend grew, and the distribution strategy more resembled a fiction film, with increased costs but bigger results. The film launched on Amazon Instant and iTunes in late August, and charted at No. 9 in overall downloads, right below Hereditary.
How it really did: "It was a tremendous success," says Bunnel, noting that the film played well everywhere, in blue and red states, transcending gender and politics, though skewing a bit older. Producer Capotosto says, "One of the most satisfying things has been to see audiences on both sides of the aisle embracing the film." For Capotosto, the film performed "way beyond our expectations, and we had no idea that people would connect with it in such a big way." Neville is very well on his way to a second Academy Award for Best Documentary. And, if there's any way a movie could claim to have helped the midterm election "blue wave," it's this one.
Leave No Trace
Numbers
Budget: Less than $5 million
Domestic box office: $6,046,104
Opening per-screen-average June 29: $24,349 (nine theaters)
Widest release: 361 theaters
Total theatrical: 98 days
How it got made: After her stunning two features, Down to the Bone (2004) and the Oscar-nominated Winter's Bone (2010), filmmaker Debra Granik struggled to get a third project off the ground for years — until producers Linda Reisman and Anne Harrison (The Danish Girl) approached her about adapting the book My Abandonment, the story of a teenage girl and her father who live in the Oregon woods. In early 2017, WME Global found financing with Canada-based BRON Studios and Topic (a.k.a. First Look Media), which each came in for half of the less than $5 million budget. At Sundance, critics were effusive about its craft, though skeptical of its commercial prospects; Sony Pictures Worldwide Acquisitions scooped up all international rights the day after its world premiere; Bleecker Street Media closed a deal for North American rights a few days later.
How it got released: In preparation for the film's late June release, Bleecker emphasized the story's emotional resonance, its Pacific Northwest setting (also home to Bleecker's 2016 hit Captain Fantastic), its critical acclaim (100% Fresh) and Granik's filmmaking pedigree ("From the Academy Award–Nominated Writer and Director of Winter's Bone"). As the film went wider on July 4 weekend (to 37 theaters) and July 13 (to 311 theaters), Bleecker released a "featurette" with survivalist Nicole Apelian about living off the grid (though YouTube watches are small in number); they also targeted outdoor enthusiasts with ad buys on CNN's Parts Unknown. In addition, Bleecker's marketing execs suggested that art house viewers looking for rare stories of uplift where "there are no 'bad guys'" says marketing exec Myles Bender, "generated interest in a shared, theatrical experience." The film played particularly well in the Pacific Northwest. After the film launched on iTunes in late September, it ranks No. 7 among overall movie downloads (just behind Hotel Transylvania 3).
How it really did: Domestic box office numbers were excellent, even exceeding Captain Fantastic's $5.8 million gross. Sony's international sales were also decent, generating another $1-plus million in foreign box office. According to Bleecker, "it performed well" digitally. Producer-writer Anne Rosellini says, "We are more than satisfied with the results. Bleecker gave us a wide release, at least the widest release we've ever experienced. The film was in theaters for three full months; the critics were super supportive. How can you ask for anything more?"
Three Identical Strangers
Numbers
Budget: Low seven figures
Domestic box office gross: $12,320,845
Opening per-screen-average June 29: $34,301 (five theaters)
Widest release: 433 theaters
Total theatrical: 112 days
How it got made: In development for more than four years, the stranger-than-fiction true story of triplets who only learned they were siblings later in life initially received small development support by Channel 4 and the Sundance Institute. Tim Wardle, then head of development at British production company RAW, shot a brief interview of the brothers, which got Channel 4 TV to commit further financing. After being turned down by major U.S. streamers and doc-friendly cable companies, Wardle and the RAW team were able to reach their budget with the help of CNN Films, which took broadcast rights. Going into Sundance, the documentary was one of the most buzzed-about titles. Trade reviews ("gripping, "brisk, consistently absorbing," "fascinating") only confirmed the hype. Top doc sales agency Submarine brokered a deal at Sundance with Neon for North American rights.
How it got released: Originally set for a May launch, around the same time as RBG, the film was pushed to the end of June, two weeks before Won't You Be My Neighbor? The success of RBG proved mutually beneficial, with trailers for Three Identical Strangers playing before the Ruth Bader Ginsberg doc juggernaut. "The movie itself is the greatest marketing tool," says Neon's Tom Quinn. "We screened it everywhere." Neon expanded rapidly, adding 46 screens in week two, another 115 in week three, and another 166 in week four. Neon created a mystique around the film – key art doesn't even show the characters' full faces — luring audiences with the story's "unbelievable, remarkable true story," explains Quinn. "You couldn't be part of the event unless you saw the movie." To further build on the film's extraordinary word of mouth, Neon moved the film's airline premiere on Delta earlier than planned, into the eighth week of the theatrical release. It quickly became the airline's most watched documentary ever. Universal Pictures International (UPI) took world rights: Australian box office numbers reached $365,000, with other English-speaking territories to open in late November. On October 2, the film debuted on iTunes in the top 10, ranking No. 8 overall (above The First Purge).
How it really did: According to Quinn, the film's U.S. performance is set to exceed the company's original projections by 40%. Fueled by its performance, along with the successes of other docs this year, RAW Founder and Three Identical Strangers executive producer Dimitri Doganis says, "I do think it augurs well for people with a passion in telling true stories." According to Doganis, he expects worldwide box office to reach $14 million. "If you'd say this was a possibility going into Sundance, I wouldn't believe you." To cap it all off, RAW made a deal with Film4 and Sidney Kimmel for a fiction adaptation.
Mandy
The Numbers
Budget: $6 million
Domestic box office: $1,214,525
Opening per-screen average Sept. 13: $3,010 average (75 theaters)
Widest release: 250 theaters
Total theatrical: 53 days
How it got made: Italian-Canadian director Panos Cosmatos, whose trippy debut Beyond the Black Rainbow won him some cultish fans, received support for his follow-up, Mandy, a revenge epic from Elijah Wood's SpectreVision. Wood reached out to Nicolas Cage, who joined the project, and genre sales agent XYZ Films partnered for international sales. Brussels-based Umedia fully financed, but the production had to shoot in Europe for the purposes of their funding (Belgium's Ardennes proves a credible stand-in for the Pacific Northwest.) U.K. company Piccadilly Pictures provided equity by way of loans against tax credits and pre-sales. The Sundance premiere nailed it ("Nicolas Cage's Craziest Movie Ever," "100-proof cult sensation"). Shortly after Sundance, RLJ Entertainment, known for genre titles Bone Tomahawk and Brawl in Cell Block 99, acquired all U.S. rights for around $3 million. In May, on the eve of the film's international premiere in Cannes' Directors' Fortnight program, XYZ announced the film had sold out in all international territories.
How it got released: RLJE, which releases its films simultaneously in theaters and digitally "day-and-date," kicked things off with a special "wildly phantasmagorical cinematic event" — an exclusive taped conversation with Cosmatos, Linus Roache and Nicolas Cage — on Thursday, September 13 in 250 theaters, in partnership with Alamo Drafthouse and Regal Theaters. The preview night generated only $525 per screen (gross: $131,251), but allowed for an extra shot of publicity. The invitations called the film out as "a gonzo, stylized horror fever-dream" (Variety). Because of the day-and-date release, however, mainstream theater chains would not book the film, but the independent theatrical opening remained decent. On September16, a tweet by Guillermo del Toro ("MANDY: Crazy. Good. Crazy Good. Gorgeous. See it") received 18,800 likes. Meanwhile, fan-owned Legion M, a partner on the film and soundtrack, also promoted merchandise, including limited edition pins with Nicolas Cage's bloodied face.
And then, "it just started going," says Mark Ward, chief acquisitions officer at RLJE, who credited Cage's fan base and word of mouth for the film's surprising theatrical life. "It was a very grassroots buzz that you can't just spend money on." Though they did buy ads on DirectTV and Comcast for the digital release, "People wanted to see it loud and big," Ward adds, noting that the film is booked in theaters through December, even as the digital release had also performed well (hitting No. 4 on the iTunes "Independent" chart for the week of September 23). International box office was soft.
How it really did: Mandy is RLJE's biggest box-office grosser, and is on track to become the company's biggest success overall, with "multiple millions" in digital and DVD sales, matching other top ancillary earners from the company such as Bone Tomahawk and Adam Sandler's The Cobbler. While day-and-date theatrical successes such as Mandy's are rare nowadays, Ward says, "Hopefully, it's a new benchmark for titles in this space."
American Animals
The Numbers
Budget: N/A
Domestic box office: $2,856,954
Opening per-screen average June 1: $33,698 (four theaters)
Widest release: 339 theaters
Total theatrical: 91 days
How it got made: Financed in part by Film4, where it was also developed, the British-produced hybrid doc-fiction, about four college friends who pulled off a surprising heist, had some challenges overcoming the "is this documentary or fiction?" question. Eventually, AI Film, an equity finance company (I, Tonya), supported The Imposter director Bart Layton's unique vision. At Sundance, American Animals was well received by most of the trades, offering marketable pull quotes ("riveting," "crackerjack real-life heist thriller"), while others were less laudatory (a C+ from Indiewire). During the festival, The Orchard joined forces with MoviePass to jointly acquire North American rights for a reported $3 million, along with a significant P&A commitment.
How it got released: Setting up for the film's theatrical launch on June 1, MoviePass started promotion early, messaging directly to its three million subscribers. "It was a no brainer," says The Orchard's Paul Davidson. They also positioned the film at SXSW, to build buzz among younger viewers, and kicked off a viral marketing campaign with posters taped all over Austin and additional cities that read "Are You Tired of Being Ordinary?" along with a website address, nobodywantstobeordinary.com, which lured participants into a real-life interactive game. The Orchard also screened the hell out of it, locking down 15 additional festival slots from March through May. The theatrical rollout was fairly aggressive, as it expanded to 339 theaters in week four; but the per-screen average in the broader release was a modest $1,614. "We were happy, but I would have liked to see a little more," admits Davidson. The film launched on Amazon and iTunes on August 14, and after a couple weeks, it was ranked No. 1 on the iTunes "Independent" chart.
How it really did: According to Davidson, the movie's theatrical take amounted to only 30% to 40% of its total revenue, thanks to digital downloads, DVD and Blu-Ray sales, and, significantly, a cable ancillary deal for HBO broadcast. Foreign box office totals will add another $1 million-plus in global grosses. Producer Dimitri Doganis is a bit more realistic about the film's ability to recoup for its investors. "It may take some time," he admits. "But there's a reason why we made this movie for theaters: We became obsessed with this particular type of storytelling and for better or for worse, that takes precedent over the most commercial version of it. If we make money, it's a bonus."
The Miseducation of Cameron Post
The Numbers
Budget: More than $900,000
Domestic box office gross: $904,703
Opening per-screen average Aug. 3: $24,319 (two theaters)
Widest release: 85 theaters
Total theatrical: 59 days
How it got made: With Chloe Grace Moretz on board, Desiree Akhavan's second feature (after 2014's Appropriate Behavior), about "gay conversion therapy," quickly went into production on a budget of around $900,000, fully financed by Michael B. Clark and Alex Turtletaub's Beachside Films (The Incredible Jessica James). At the Sundance premiere, trade reviews were excellent ("poignant," "crowdpleasing," "a delight") and the film won the top Grand Jury Prize. Auteur-driven French sales agency Elle Driver came on board for international sales. In March, U.S. distribution outfit FilmRise (whose biggest film to date is My Friend Dahmer) announced a North American rights deal.
How it got released: In July, the film opened first in France under the name Come as You Are, earning $104,000 in its opening weekend (eventually grossing $275,000). In early August, the U.S. release kicked off with a stellar $48,638 opening in two theaters (setting a house record at New York's Quad Cinema). According to Jess Mills, FilmRise's VP communication and distribution, the company committed a significant P&A "in the seven figures" for the platform release. They chose to distribute the film unrated to make sure younger audiences were not restricted in any way, and partnered with organizations such as BornPerfect, GLAAD and the Human Rights Campaign to help get the word out. Moretz supported the film with key interviews in the New York Times and Vice and press tours in secondary markets, such as Washington, D.C. To reach younger audiences, social media marketing was heavy on Facebook, Instagram, Twitter and Tumblr, where Akhavan appeared live. But U.S. ticket sales eventually crested over its fifth week in release at around $800,000. Other international theatrical releases followed in English-speaking territories, Scandinavia, Europe, and Asia, while U.S. digital VOD launched on November 6.
How it really did: The box office numbers don't sound so impressive, but for Beachside and FilmRise, they got what they wanted. The film reached theatrical audiences across the world, which is important, says Beachside's Clark, for the career trajectory of Akhavan, and they raised awareness for the issues involved in the film. "Our goal," says Clark, "was to find a partner who wanted to fervently support a theatrical release and helped make the film as impactful as possible. FilmRise really stepped up to the plate and delivered it." He continues, "With a movie like this, you're investing in the long tail. We've been very fortunate internationally and on airlines, and it will be a positive financial outcome at the end of the day."
Madeline's Madeline
Budget: Mid-six figures
Domestic box office gross: $185,576
Opening per-screen average Aug. 10: $18,009 (one theater)
Widest release: 33 theaters
Total theatrical: 63 days
How it got made: Known for her micro-budget visions Butter on the Latch and Thou Wast Mild and Lovely, both championed by The New Yorker's Richard Brody, Josephine Decker set out to make a slightly larger budgeted feature about an avant-garde actress played by newcomer Helena Howard. The script came out of a two-year improvisational process with Howard and more than a dozen performers, many of whom starred in the film as the troupe. With Miranda July and Molly Parker co-starring, producers Krista Parris and Elizabeth Rao got the film in the can with private equity. Forager Film Company, whose Joe Swanberg has a prior relationship with Decker, comes in for post-production funding, part of which was backed by the NY tax credit. When the film got into Sundance, GenPop-Public House Finishing Fund provided further finishing funds. Embraced at Sundance by indie critics, notably Indiewire's David Ehrlich ("one of the boldest and most invigorating American films of the 21st century"), the film became a festival it-title among discerning viewers. Oscilloscope acquired U.S. rights after Sundance. Immediately after the festival, the film scored a coveted international premiere at the Berlinale.
How it got released: From the outset, Oscilloscope embraced the film's idiosyncrasies. "The film is very nontraditional, and we felt it necessary to not pretend it was something it is not," says Oscilloscope Laboratories' Dan Berger, who points specifically to the approach they took with the much-heralded trailer, an experimental tour-de-force created by Canadian collage artist Winston Hacking. The film also played in an additional 16 film festivals around the world, including critic-heavy showcases such as Maryland and BAMcinemaFest. Marketing materials emphasized the critical plaudits, while hip magazines, from Vulture to Dazed & Confused, hailed rising star Helena Howard. "For a film of this size, it really makes a difference if the screening itself has an event aspect with Josephine or Helena in attendance," noted producer Krista Parris. Indeed, the film garnered impressive sales on a single screen at Manhattan's Quad Cinema. But in expanding to nine and then 31 theaters, it failed to catch on. Even on TVOD platforms, the film struggled to break through. "The digital performance was underwhelming," admits Berger.
How it really did: Despite the film's challenges in the marketplace, Oscilloscope is "pleased" with how the film played. "There will inherently be ceilings associated with films that break new ground," admits Berger. Forager's Eddie Linker says it did "better box office than I expected, and I think it will have a long life." International sales to Canada, Latin America, Eastern Europe, the Middle East, and the UK, its biggest theatrical, generated low six figures, "which is encouraging for a U.S. indie," says sales agent Visit Films' Ryan Kampe. Moreover, Decker and Howard are trending big, with Gotham Awards nominations for Best Feature and Breakthrough Actor, respectively. Decker is on to her next feature Shirley, for Killer Films, with Elisabeth Moss and Michael Stuhlbarg; and Howard co-stars in Amazon Studio's The Wilds, based on the popular YA novel.