Back to selection
Locked in Rage: Writer/Director Laure de Clermont-Tonnerre on The Mustang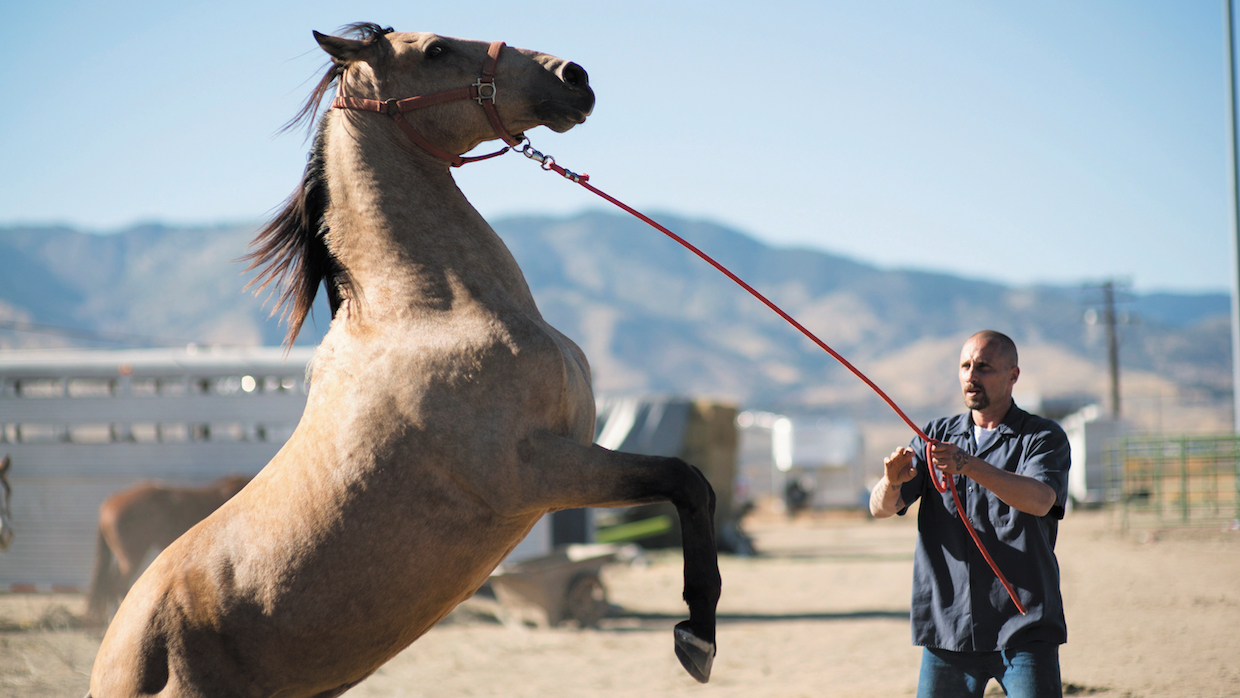 Matthias Schoenaerts in The Mustang (Photo by Tara Violet Niami/Focus Features)
A wild horse is captured, transported to a prison facility where he will be "broken," or trained, in a program that doubles as a form of therapy for the inmates inside. A broken man is released from solitary confinement into the main population, where his ability to banish his anger is dependent on the relationship he forges with that horse, a brilliant brown mustang.
The Mustang, the first feature from Paris-born, LA-based filmmaker Laure de Clermont-Tonnerre, is an artfully restrained, quietly moving film built around the most elemental of oppositions: freedom vs. imprisonment, man vs. animal, violence vs. self-control. And here's another: an instant vs. a lifetime, a binary that's revealed in one of the film's strongest scenes, in which a psychiatrist (Connie Britton) questions a room full of prisoners about the time spent considering their acts vs. the time spent paying for them. In the case of Roman, played with a coiled rage by Rust and Bone's Matthias Schoenaerts, the instant that led to his jailing had a horrific aftermath, our knowledge of which Clermont-Tonnerre skillfully stalls until a moment that prompts viewers to explore the limits of their own empathy. 
Clermont-Tonnerre, a daughter of two producers—Antoine and Marie de Clermont-Tonnerre—acted in a number of French and international productions as a child and into her twenties. She moved into directing with the 2013 New York–set short Atlantic Avenue, starring Brady Corbet and Léopoldine Huyghues-Despointes in a story about a teenager in a wheelchair and her brief romance with a male sex worker. Rabbit, about a pet therapy program for female prisoners, starring Tiffani Barbour and Stella Schnabel, followed a year later and clearly foreshadows The Mustang. As for the new feature, as we discuss below, it grew out of extensive research as well as script development at various labs—most notably the Sundance Screenwriters and Directors Labs—in the United States and in Europe. 
Finally, I should note here as a disclosure that Clermont-Tonnerre is a friend. My late partner Robin O'Hara worked with her father many years ago, she worked on the set of a film we executive produced and she shared an early draft of the script with us. And, perhaps because we met Laure as a teenager and knew her as a young woman in her twenties, my first question is one that sends her back to the cinema world of her childhood.
The Mustang is in release from Focus Features.
Filmmaker: You're from a cinema family, the daughter of two producers. What role did cinema play for you growing up?
Clermont-Tonnerre: It was kind of a playground as a child because my parents always brought my brother and me to their various sets. When I was five years old, I expressed a desire to act. I did an acting [class] for kids at my school and ended up as an extra in The French Revolution, a movie my father produced. It was a big, big set, and I had to wear makeup and a costume from the 18th century. I was fascinated by all those people dressed up, the visuals of it. I remember that everything was built; nothing was real. As a kid, it was a very strong experience.
Every Sunday my father wanted us to watch older movies—old Westerns, old Humphrey Bogarts and Lauren Bacalls. That's how he educated us—my little brother, who is now a producer, and me—and we became cinephiles like my parents. We were completely cemented by cinema, by the life of film, by watching films, by spending time on set. It was a game with a fantasy world. 
I loved it and decided to keep going from set to set. I ended up being in China with my mother. I had turned 10 years old and was playing the daughter of Alain Bashung, a famous French singer. We were shooting this movie, My Chinese Sister, for two months. It was not only an amazing experience as a kid to discover a country that was at that time not easy to access as a foreigner—it was 1993, and they were just opening up to tourism—but it was a completely wild country, not the China that we know today, obviously. I acted [there] for two months and knew at that time that I loved so much this game, and that I wanted to do it all my life. But when I became a teenager, I faced self-awareness. I was like, "Oh, it's not easy. It's not a game anymore." I really started to struggle, and [acting] became a fight against something that was not really natural for me. 
Filmmaker: How did the feeling of a being on a set change as you got older?
Clermont-Tonnerre: The life of an actor—being chosen and waiting and being dependent on other people's choices—was not something that made me happy. From 18 to 28, I had this obsession of enjoying it and working as much as I could, of being a happy actress. But it never really happened. I had moments of happiness, but overall, it was really up and down. I needed to do something on my own that I could drive myself—along with my collaborators, obviously. I was 25 years old in acting school and directed this play, Independence, by Lee Blessing. It's an American play about a mother who has three daughters, and one is crazy. I enjoyed directing this play, directing the actors, so much that it planted a seed in my head that maybe I should do that instead of acting. 
Then, I was looking to do a short film. This is when I met, for the first time, Léopoldine [Huyghues-Despointes], my friend, who goes by "Lily." She said, "I want to do a documentary about how I live my life as a happy handicapped woman. Maybe it could help people." Talking to her, I was like, "Oh no, let's just do a short film and talk about your sexuality, your desire. How do you approach love and seduction?" That's how we started Atlantic Avenue. Also, I had this experience of coming to New York when I was 21 and working with you and Robin as a sound intern on [Manuel Pradal's film] A Crime. I really enjoyed that—there was something about having the pressure of being an actor off my shoulders and just observing different posts, different little pockets of work within the set. I loved this kind of observation, and it taught me a lot, but maybe unconsciously, because I was still very obsessed at the time about acting. But I remembered being on that set and not having the pressure of, "OK, now I have to act." 
Filmmaker: But doesn't directing bring that pressure back again? Or is it in a different way?
Clermont-Tonnerre: It's not the same. Yes, there's a lot of stress around production, but the challenge [of directing] is more like liberating your instinct and going for it. There's not much time to think. You're just going on your trust. I have the best time directing—feeling it organically, directing actors, envisioning a scene, improvising and doing it again. That's my joy. When I was acting, I didn't know how to let it go because it just wasn't part of my nature. When I'm directing, I never think about whether I'm going to be good or not. I'm just trying to do my best. I don't have that question of not being in my right shoes. Now [as a director], whether I do good or not, I am in my right shoes.
Filmmaker: Did any of the directors you worked with as an actor make an impression on you as a director?
Clermont-Tonnerre: Yes, absolutely. Raúl Ruiz was such a character: a kind of genius, I think, and a workaholic. He was writing nonstop. I remember on set with him, everything was so peaceful, with such a mellow atmosphere, and he was so focused. He was always telling stories. One morning he came in [and said], "Oh, I had a dream about you. You had some peas growing on your legs, and you were eating the peas." I was like, "Whoa, that's gross!" He was like, "I know, but this is how I see you today." But actually, it made sense for my character because my character was insane, a kind of vampire. So, eating peas off my legs, it fit, in a way. That's what I will keep from him, that poetic madness he enveloped us in. Luc Besson was completely the opposite. He is a master technician. He has this technical knowledge that I don't think a lot of directors do—he knows perfectly what everyone [on the crew is doing]. He's at ease with every department; it's incredible to watch. Preparation is huge for him—he's a control freak. It's like he's mastering this huge playground, this huge machine. And then, Julian Schnabel. I had this small part in The Diving Bell and the Butterfly. I remember how we improvised a lot, something I love doing. I was doing a scene with Mathieu Amalric, and he would just give us some elements of the scene and roll for I don't know how many times, just to see what we were capable of doing with the situation. And he really took the time to find the frame, the composition. Color-wise, he was very careful so that everything was harmonious in the frame. You could see him using his experience as a painter on set.
Filmmaker: So, you mentioned Atlantic Avenue, the short you did with Lily. And then, you made another short, Rabbit, which, in thematic ways, is a precursor to The Mustang. How did that short lead into your feature?
Clermont-Tonnerre: I was on a train in Paris and read this story in the newspaper about this woman who was entrusting small animals—rabbits and mice and chinchillas, even birds—to this prison three hours from Paris. I thought it was fascinating and decided to contact her, and then to go to [the prison] and spend a couple of days with her to see what was going on. That was very heartbreaking because those men were completely closed off. They were very, very miserable and lonely, and the presence of those animals was a joy for them. [The animals] calmed them down, helped them to open up and reconnect with their emotions and learn how to love.
We shot Rabbit right after Atlantic Avenue, with the same crew. It was very clear that I was going to approach the same subject and themes in The Mustang. I knew at that time that I wanted to shoot a feature film about the horses in Nevada. I was searching on the internet about animal therapy in prisons and found out about this program [involving] riding horses in Nevada. I thought, "Wow, this is so unique," because there's such a political issue around these horses and the environment. The only thing I wanted to do similarly in The Mustang as in Rabbit was to start with the animal's point of view and then lift into the man's point of view. It was very important for me to start with the horses in the wild, and to follow their journey leading to the prison. That's the same beginning as Rabbit, where you follow the rabbit from a farm to the prison.
I told my friend Brady Corbet, who was in Atlantic and who has always encouraged me to write my own stories. His girlfriend [the director Mona Fastvold] became my co-writer. The three of us talked about the first draft and wrote it together. Then, I went to the Sundance Screenwriting and Directors Labs. I went from lab to lab, researching, observing and getting deeper into the story and the characters. I met this woman, Kathleen O'Meara, who is [chief psychologist of the California Department of Corrections] and also a horse owner. We drove to Nevada together and spent time observing many horses. And then she said, "You need to understand your character better; you need to understand more about violence and anger." She was right—it was a nice story, but I could go deeper. So we went to San Quentin to meet men who were [imprisoned] without parole, or who did first and second degree murder or were incarcerated for domestic abuse. This is where we could refine the details, psyche and theme of my character. What was his theme? What was his trigger to violence? What was his past? What is his arc from darkness to awareness? These four years of research started with her, going from San Quentin to other prisons in northern California to Nevada. It was long, deep research, but I knew I needed to feed my script authenticity. I'm proud to say that 85% of the script came from reality.
Filmmaker: How did you land on Matthias?
Clermont-Tonnerre: I knew and loved his work from Bullhead and Rust and Bone. We have the same agent in common. I was in the Venice Film Festival years ago and went with my agents to breakfast. Matthias's mother came and sat down, and we talked for three hours. She was doing meditation programs in prisons. I had just wrapped Rabbit, and she gave me some references and said, "Let's keep in touch." Six months later, she passed.
Rosalie, my agent, said, "Look, you know that this story would be very personal and would really touch Matthias. You should think about him." And I was like, "But he's not American. And how is his accent?" I hadn't thought of [casting] a European. Then I watched several films in English. He's Flemish, so he has no accent. His accent is almost perfect. And [I thought], "When you go in prison in America, you have a lot of men who don't even speak English."
So I sat down with Matthias, and he said, "You know, we have something in common. I know that my mother told you a lot about prison." We started talking about anger and prison, and he was like, "I know about anger." Matthias is a lovely, wonderful man, but I can see that he has this kind of anger and violence inside him. He's a very fiery man—a wonderful collaborator, but he's a wild horse: very sensitive, always on the edge of an emotion, intuitive, instinctive and very physical. So when I sat down with him, I was like, "This is him. This is finally him." After five years of looking for the right person, he was completely an obvious choice.
Filmaker: What kind of relationship did you have with the horse?
Clermont-Tonnerre: The hero horse is actually three horses. We have the wild one, the semi-wild one and the trained one. So we had to build the [horse's] personality. [When watching the film] I see exactly who is who, but I don't think anyone who is not familiar with the film does. At the end, I kept just one horse, the hero horse that was very friendly. He now lives in Burbank. We take care of him, see him and ride him. A lot of the horses came from the Return to Freedom sanctuary, a sanctuary to preserve wild horses. They lent us 10 horses that our horse trainer trained, and they all had a specific element of the mustang, which is very different than a domestic horse. Our horse trainer brought 20 or so of his horses that we used to do the more complicated stunts. But finding the hero horse was kind of a stretch because I wanted him to have [this specific color].
Filmmaker: You've made a film that could have been directed quite melodramatically.
Clermont-Tonnerre: Yeah, it's true. There's a Disney version of this film.
Filmmaker: Did anyone try to get you to make that Disney version? Or to make it more sentimental? 
Clermont-Tonnerre: No, never more sentimental, but during the cut, I have to say that some people really wanted it to have something more emotional at the end, and I really trusted the ending as it was. I didn't want something more, you know? But no one said, "Oh, he should be out of prison." Matthias and I were very careful to never dive into the sentimental. The big trap was to get cheesy, so it was kind of the [dictum] from the beginning to never be cheesy. And also, my editor was very good at brutal, abrupt, abrasive cuts so that you're never holding on an emotion too long or manipulating it in a way that's heavy-handed.
Filmmaker: So when it came time to construct the backstory for Matthias's character, the reason why he's in prison, you chose something very harsh, very troubling. But it could've been many different things. I'm curious what led you to make his backstory the specific backstory that you gave him.
Clermont-Tonnerre: I wanted to have the crime oriented to a woman. I was thinking about rape, but [I thought] "I would never like a rapist. So, no, it's not going to be a rape." Unfortunately, domestic abuse is a very common crime. It's physical violence, anger that becomes eruptive. I decided to meet a lot of men who were incarcerated for domestic violence. I thought that explosion of fury was very interesting—how to control it, channel it and turn it into something else: patience or just words, communication. I wanted to have a man who has this demon of physical violence. He doesn't have the words because he gets angry, so he hits, he uses his hands. I thought it was very interesting to see this man trying to learn patience, trying to learn respect and trust with this animal that is so sensitive to that energy. And I didn't want to reveal the crime before the ending [of the film] because I wanted the audience to feel the experience of liking someone, of getting attached to a character without judgment. When you finally know what he has done, I feel that you can still feel for him. This is what he has done—what do I do with that? Do I give him a second chance or not? Do I forgive? This is something I experienced myself when I was going into prisons. There were some lovely, charming men, and one of them, after meeting him twice, [told me how] he killed his wife. He cried for two-and-a-half hours, and I knew what he had done, but I could still have coffee with him, you know? I could still see the humanity of those men who were in the process of being redeemed because they were working on themselves and still trying to understand what happened. 
I met one man who killed his wife and told me, "I didn't know I was a good person. I grew up in an environment where I was abused by my father and beaten up and not loved and completely abandoned and left alone. I thought I was a monster, so I acted like a monster." This man discovered in prison, by going to therapy, that he was capable of love and empathy. He was like, "I wish I had known that, because not knowing that, I thought I was a monster." That was heartbreaking because what he was saying was, "I could have avoided [killing]. I could have done differently."