Back to selection
"His First Question To Us Was, 'What Are Your Astrological Signs?'": Cristina Costantini, Kareem Tabsch and Alex Fumero on Mucho Mucho Amor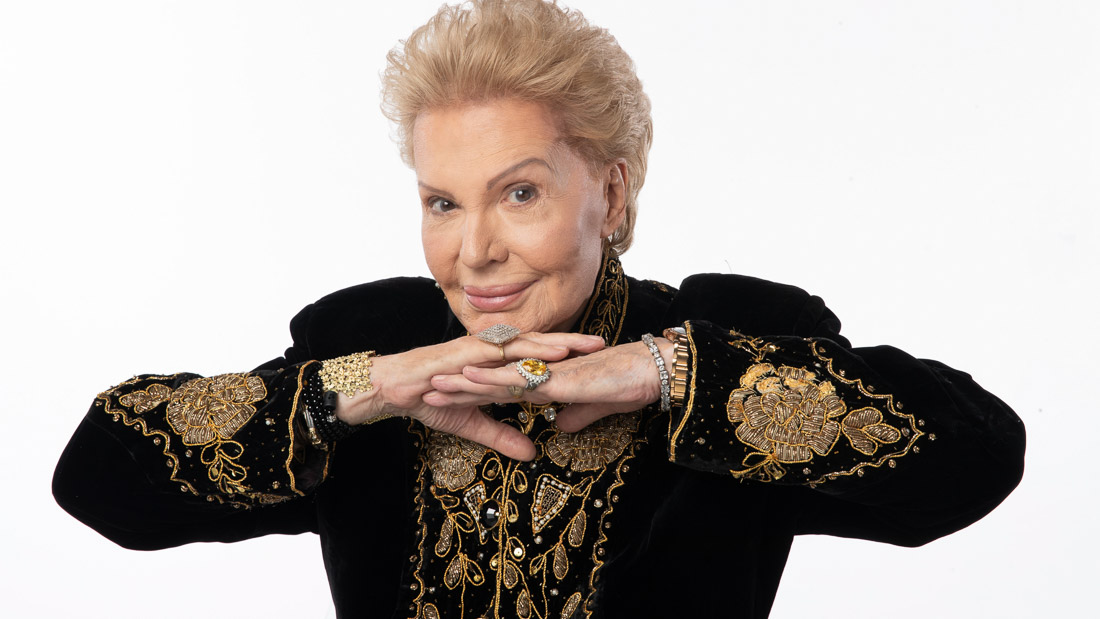 Mucho Mucho Amor
Premiering at Sundance back in the pre-pandemic festival days (uh, January) Mucho Mucho Amor is a much-needed uplift in these trying times. Co-directed and produced by Cristina Costantini (Science Fair) and Kareem Tabsch (The Last Resort), and produced by Alex Fumero (I Think You Should Leave with Tim Robinson), the doc, which hits Netflix today, is a fascinating odyssey into the beautifully eccentric world of Walter Mercado. Combining the fashion sense of Liberace with the relentless positivity of Tammy Faye Bakker, the Puerto Rican astrologer, psychic and defiantly nonbinary pioneer spent decades spreading his mantra of "mucho mucho amor" to an audience of millions — 120 to be exact — of Latinx viewers across the globe. (That would include Lin-Manuel Miranda, who touchingly transforms into a starstruck schoolkid upon being granted an audience with the icon.) Until one day the bundle of energy just up and vanished from the TV.
Exhaustively thorough, the film mixes archival images with contemporary interviews with Mercado's relatives, friends and former business partners, and even the hiding-in-plain-sight Mercado himself. Yet the doc goes further than just stitching together the mystery of what happened to this once ubiquitous ambassador for happiness. Indeed, Mucho Mucho Amor even reaches out to make a convincing case for why this relic from another era, an octogenarian at the time of production, matters today. For Mercado's adamant refusal to discuss his gender or sexuality — while making it clear through his in-your-face appearance that he would never be confined to category nor closet — put him way ahead of his time. (Historically, LGBTQ folks went directly from being shamed into secrecy, to being shamed if they didn't come out. Of course, being expected to proudly announce one's identity is a burden that straight cisgender people have never been asked to bear.) And this unconventional spirit, who at one point declares to the camera that every morning he wakes up is the first day of his life, had no interest in living life on others' terms.
So to learn more about Mucho Mucho Amor and its uncompromising star (though Mercado notes, "I used to be a star and now I'm a constellation") Filmmaker reached out to the trio that rediscovered the legend and so much more.
Filmmaker: So how did this project originate? Was there a plan in place in the event you couldn't locate Walter, or if he declined to participate?
Costantini, Tabsch and Fumero: We all grew up watching Walter with our abuelas. It's kind of a rite of passage for Latinos of certain generations. Kareem and Alex were initially introduced by a mutual Miami filmmaker friend, Andrew Hevia, a producer of Moonlight. The first conversation they ever had was about Walter — as Walter was hosting an estate sale in Miami and Kareem was planning to attend. He would try to make contact with Walter there.
As it turns out, Kareem met Walter's niece, so Alex and Kareem set a followup call to discuss a strategy. Thirty minutes prior to that call, Cristina, who'd been a colleague at a television network, phoned. She said, "I heard you're obsessed with Walter Mercado. I want to make my next movie about him." On a hunch that Kareem and Cristina had complementary skill sets, a similar vision of who Walter was, and were both "not assholes," Alex quickly got the OK from each of them to make it a conference call.
An hour later Cristina and Kareem had agreed to co-direct and Alex would produce. Since Walter's career on TV spanned 50 years and he was so ubiquitous in Latino media, we knew there would be a slew of archival footage we could use. But the whole goal of the documentary for the three of us was to meet the man behind the capes, so doing it without his participation was probably not on the table. Fortunately, he was as excited as we were to make the film.
Filmmaker: Did he come onboard for the opportunity to return to the limelight? Was he at all wary?
Costantini, Tabsch and Fumero: Our first phone call with Walter was the strangest job interview any of us had ever had. We gave him a spiel about our careers, our coming of age watching him on TV, our reasons for wanting to make the documentary. His first question to us was, "What are your astrological signs?" We should've seen that coming, but somehow we didn't. Cristina and Kareem are both Libras, Alex is a Sagittarius, and apparently that was the correct answer.
There didn't seem to be much wariness about returning to the limelight. In fact, he wouldn't ever say he was away from the limelight. He described the more recent years as 'taking a break." He was very Norma Desmond in that sense. Walter always loved the camera, and in many ways the tragic events of his golden years prevented him from sealing his legacy, so the doc presented an opportunity for him. He was always very forward thinking, and was excited that three "young people" (as he described us) were interested in making something new with and about him.
On the other hand, he couldn't understand why we wanted to film him having breakfast, reading a book, meandering around the house — it all seemed so boring to him. He resisted our prying questions about his personal life with marvelous quips, some of which he'd been refining over a 50-year career. We don't think Walter quite knew what he was signing up for when we started the process. And we didn't fully understand just how smart and media savvy he was, and how effective he was at disarming us with his charm and wit.
Filmmaker: I was quite surprised that Bill Bakula, Walter's former manager, agreed to go on camera considering the destructively litigious end to their partnership. So how did you choose who in Walter's vast orbit to reach out to — and of those folks, did anyone ultimately refuse to participate?
Costantini, Tabsch and Fumero: We reached out to just about everybody we thought was relevant. Bill, to his credit, feels he has nothing to hide. He answered all of our questions. And the fact is, he's a big reason any of us have even heard of Walter Mercado, despite what happened between them.
Bill's lawyer, who was involved in the lawsuits, could not be reached for comment after several attempts. That's probably the only person who we couldn't get. There were a couple of other relevant celebrities, like Ricky Martin, but his schedule wouldn't permit. Regardless, we knew we didn't want this to be a straight talking-heads doc, so we stayed away from too many celebrity commentators. Lin-Manuel Miranda, Eugenio Derbez and Raul De Molina gave us everything we needed. They were chosen because of their knowledge of Walter from a US English-language, Latin American, and US Spanish-language points of view, respectively.
Filmmaker: What was the editing process like, especially with regards to the abundant trove of archival footage you had to sift through and stitch together?
Costantini, Tabsch and Fumero: We started editing while we were still in production. We like to describe it as the plane taking off while the runway was still being built. A big goal of ours was to finish the film while Walter was still with us. Unfortunately, we didn't make that goal. We submitted to Sundance on November 1st, and Walter passed away on November 2nd. He ended up only seeing about 20 minutes of the film, which he was very happy with.
The archival footage was a challenge because, while Walter and his family kept literally everything, they didn't necessarily store it the right way. Every time we went down for a trip to Puerto Rico, something new would appear stuck behind something, on top of something, in an un-air-conditioned laundry closet. We're talking archival gold on Betamax tapes, stored in 80% humidity and 100-degree weather in Puerto Rico — and directly after Hurricane Maria caused leaks throughout his house. We did our best to rescue a lot of it with the generous help of the Wolfson Archives in Miami, which did a great job.
Kareem, who has a lot of experience working with archival images, really led the charge on that aspect. We'd digitize as fast as we could, and send drives back and forth between LA, where the edit was happening, and Miami, where Kareem and Wolfson were based. In the end, it was an embarrassment of riches and we had to leave a lot on the cutting room floor (including an inventive 1970's-era episode shot completely through a fish tank to give the impression that Walter was underwater).
We were also extremely lucky to get to work with the wonderful Tom Maroney as our editor. He not only had an appreciation for the kitschiness and campiness of Walter, he was one of Walter's "gringo fans" who had encountered him in passing years before. Though Tom didn't speak a word of Spanish, he had always been mesmerized by Walter. So Tom's keen eye and skill really helped to determine when we needed to lean into the archival footage, or sway back to the vérité.
Filmmaker: It's easy to see how Walter the gay icon, with his nonbinary nonsexual persona, may be even more appealing to today's queer generation. What's a bit unexpected is his long embrace by such a global, diverse Latinx community. (I don't think Liberace, perhaps his closest counterpart in the English-speaking world, was ever particularly beloved by straight patriarchal society.) Was Walter just a genius salesperson, allowing audiences to see in and hear from him whatever they needed to? And if so, did you have to remain alert to avoid being "spun" during the filming?
Costantini, Tabsch and Fumero: Walter was a master showman with an unrivaled, persistent positivity. Despite being a "fortune teller," which some have criticized, he never had bad news for you. There were challenges, yes, but nothing that each of us couldn't overcome if we kept the faith and led with "mucho mucho amor." That message of hope is infectious for all of us, but especially for immigrants and people who are struggling. At the very least, he's a slice of hope (wrapped up in incredible outfits, makeup and hair) that gets us through another tough day.
From a filmmakers' perspective, that was challenging to cut through. We found ourselves at times rushing downstairs mid-interview to "tell on" Walter to his nieces for dodging our questions with hilarious quips. It was very disarming, so we had to be persistent, especially where sexuality was concerned. And in that way you could see how he managed within a machista society to triumph. He endowed his flamboyance with magic, with charm, and with positivity – and in many ways that gave him a pass that others might not get. He was so completely different from what people were used to encountering on television, or anywhere in Latin America for that matter, that he was in many ways above the fray.
Here was this magical, esoteric being who talked in a way and about things that no one else did — so of course he looked so different, so "out there." In a way, we think that was part of the pass he mostly got from folks. Not to mention his was a positive message, so people were more receptive to his being different because what he delivered was something they wanted to hear. All that being said, he faced a lot of mockery, even today, mostly around his sexuality, despite it being a subject he never spoke about. Still, Walter never apologized for who he was and in some ways was gender-fluid and queer before those terms were widely in use. He was always a pioneer.