Back to selection
Sundance Hits and Misses, Pandemic Edition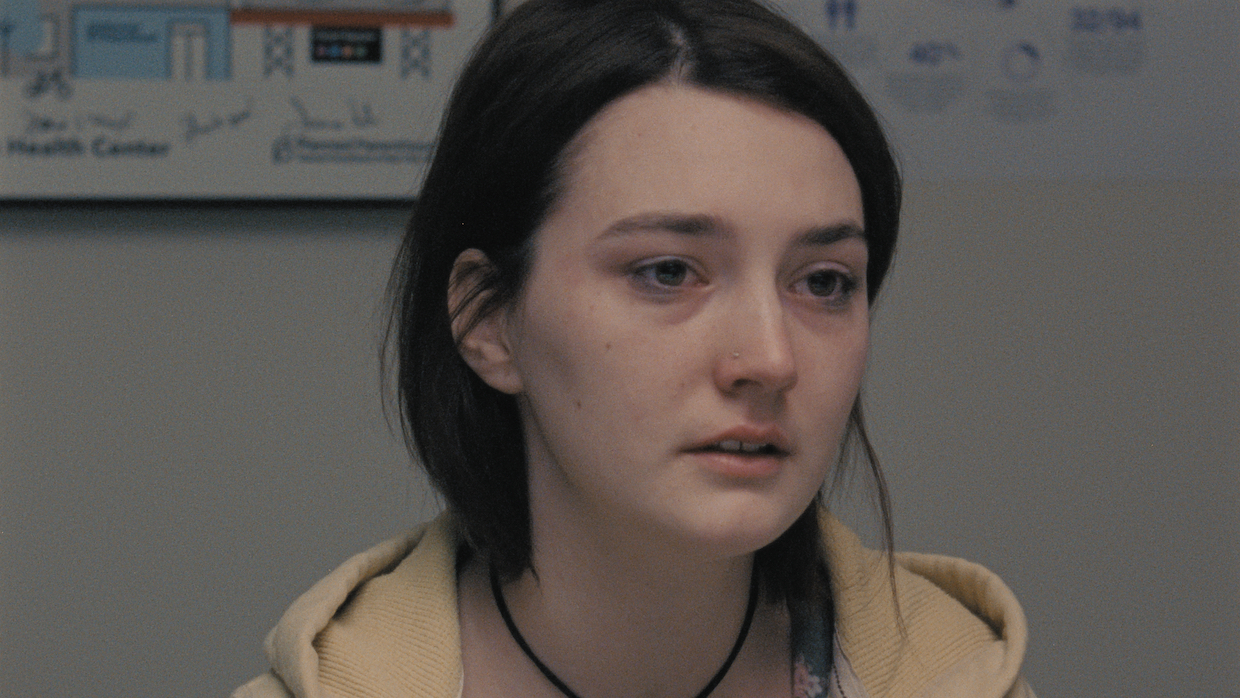 Sidney Flanigan in Never Rarely Sometimes Always (courtesy of Focus Features)
Yes, 2020 sucked.
The worst year of our lives finally came to an end, and most independent films and filmmakers, like just about everything and everyone else, suffered. Grand Jury Prize winners were delayed, critics' favorites were lost and buzzworthy breakouts, briefly the talk of Park City, remained in limbo, waiting for some nebulous future release date when movie theaters might re-open and vaccinated audiences might attend them.
Normally, you could look back at a year's worth of top Sundance titles, examine what became of them in distribution—as Filmmaker usually does—and glean some takeaways about the state of the marketplace. You could evaluate what worked and what didn't; what was a hit and what was a miss; and make some assumptions about the business that producers and filmmakers could take with them into the new year. But this time out, we don't have a survey of standouts so much as a snapshot of tenacious survivors.
Some big titles, such as Max Barbakow's Palm Springs and Radha Blank's The 40-Year-Old Version, made splashes on Hulu and Netflix, respectively, but it's hard to know how big the ripples were. (A Hulu spokesperson told IndieWire that Palm Springs broke the platform's opening weekend record of most hours watched during its first three days than any other film in the company's history, whatever that means.) Sundance's top documentary honors went to Jesse Moss and Amanda McBaine's much loved Boys State, but did anyone watch it on Apple TV+? For the vast majority of titles, releases were delayed, recalibrated or simply nonexistent. In the immediate weeks after Sundance 2020, when deals and release plans are usually finalized, COVID-19 began its irrevocable spread and distributors pulled back. 
However, a few intrepid films and distribution companies pushed forward into the unknown, releasing their films during the pandemic and hoping for the best. Even though box office numbers were dismal, things were still happening outside the public's normal purview. Talent was discovered and new projects were nurtured; virtual cinemas sprouted up and screening partnerships flourished; and a lot of people were watching content at home. "It was one of our best years ever," admits IFC Films's new president, Arianna Bocco. "I know it's because of a really horrible situation, but everything was up—even our library titles were up. People were home, and they were captive."
While we can hope that audiences aren't confined for another whole year, the indie film industry is still paying attention to the changes that took place over and looking for lessons. Focus Features Distribution President Lisa Bunnell, for example, was surprised by the box office numbers for Miranda July's Kajillionaire in certain secondary markets—like Denver and Dallas—where the film might not have normally played had New York and Los Angeles theaters been open. "You don't think of Miranda July going out nationally," she says, "but I'll definitely look at some of these markets moving forward."
As Bocco says, "We're in a different world now—rather than letting the market control us, we were able to control the market. We learned more about eventizing, promoting more cost-efficiently and reaching more people on a grassroots level than ever before."
So, even though 2020 was the worst kind of anomaly, perhaps it has some things to tell us: about the specialized industry's ability to quickly adapt to and pivot in changing circumstances; about different ways to find audiences; and about the very long time it takes for independent films to make a profit, especially during a pandemic. 
For some examples, here's a diverse sampling of Sundance 2020 films that made a go of it, each in its own way, listed below in chronological order (along with coronavirus caseloads at the time of their release).
Never Rarely Sometimes Always
Release date: March 13
U.S. COVID-19 cases: 1,896* 
(*CDC data cited throughout)
Background: A group of specialized film heavy hitters came together to enable indie up-and-comer Eliza Hittman's latest feature. Pastel's Adele Romanski (Moonlight) and BBC Films were the first to come on board; then oil tycoon Tim Headington's Tango Entertainment, Elika Portnoy's Mutressa Movies and nonprofit Cinereach formed the backbone of the "low seven figures" budget, according to Romanski.
While Hittman was in active prep for the shoot, Focus Features stepped in to fill any remaining gaps by acquiring worldwide rights. After an impressive early launch, winning a Special Jury Award at Sundance and the Silver Bear at the Berlin International Film Festival in February, Never Rarely was poised for an indie breakout. "It had so much wind in its sails coming out of the winter festivals," says Romanski.
Pandemic release: In late February and early March, Focus Features revved up its typical art house marketing strategies, leaning into Hittman's emerging auteur status and the story of female friendship at the film's core. They held word-of-mouth screenings at colleges and for women's groups and partnered with Planned Parenthood, which sent out tweets to its more than 300,000 followers. On March 9th, Focus hosted the premiere at New York's Metrograph with the director and the two stars, Sidney Flanigan and Talia Ryder, in attendance.The film scored a 91 on Metacritic. "Everything was going as expected," says Focus's Lisa Bunnell. But on the film's release date, March 13, the U.S. president declared a national emergency, while schools and businesses around the country closed down. The film played in four theaters in New York and Los Angeles, for only six days and four days, respectively—after which most art houses shuttered—garnering a respectable $4,071 per-screen average and $16,285 total U.S. box office. "It was pretty painful," says Romanski, "but there really wasn't another way."
On April 3, the film went straight to on-demand digital platforms for a $19.99 rental. "We felt like the movie had gotten the press, and everything was ready to go, so we just pivoted to the online release and used the assets that we had," says Bunnell. "Even during the pandemic, you're still going after the same audience." On May 26, the film became available for EST (electronic sell-through) for $14.99. 
Results: Despite the shaky initial theatrical release, Bunnell says the film performed "very well and beyond our expectations" on digital platforms. She credits the quality of the movie itself, and the fact that it tapped into themes of women's rights that were resonant at the time. "I'm grateful that the movie was as strong as it was on VOD because it made it available to people around the country that might not have seen it if it had been in theaters," she says. Meanwhile, international theatrical rollouts continued throughout the spring and summer: in Canada (April 3), the Netherlands (July 2), Australia (August 6) and France (August 19), where it performed well, accounting for approximately half of the international grosses (around $250,000 total).
Romanski is hoping that awards season buzz can raise the film's profile so more people will be aware of it—the film has since received a Gotham nomination for Best Film and ranked second in IndieWire's Critics Poll for the year's best film. "Every week," says Romanski, "I get an out-of-the-blue text from someone who has just seen the film, so people are continuing to find it."
Spaceship Earth 
Release date: May 8
U.S. COVID-19 cases: 1,274,036
Background: Matt Wolf, director of acclaimed documentaries Teenage and Recorder: The Marion Stokes Project, first learned about Biosphere 2 from a series of photos he found online of eight men and women in bright red jumpsuits, standing in front of a monumental glass pyramid. When he learned the photos weren't from a sci-fi film, he and his producer Stacey Reiss flew on their own dime to Synergia Ranch near Santa Fe, New Mexico to meet with former biospherians and learn about their ambitious ecological experiment and immense visual archive. Backed by RadicalMedia and financed by Impact Partners for a budget of "low seven figures," Wolf set out to recount their stranger-than-fiction story. After it premiered in Sundance's doc competition, it was announced in February that NEON had acquired worldwide rights. According to Reiss, NEON had plans for a big theatrical release but quickly pivoted in the wake of the pandemic to a unique distribution plan.
Pandemic release: As the first Sundance documentary to receive distribution, Reiss admits, "It was kind of scary, but also exciting to see what we could do." With much of the world reeling from the impact of the disease and theaters firmly shuttered, NEON and the filmmakers still agreed that given the film's subject matter—about eight people quarantined and isolated for two years—they should push forward. "How could we not release this film when everyone was experiencing the same thing at the time?" says Reiss. With a poster and trailer that offered hints of science fiction and a cultish conspiracy, NEON's marketing "also helped elevate the film from a niche documentary to a more mainstream audience," says Reiss.
There were special advanced coastal premieres, at the Mission Tiki Drive-In in San Bernardino County, California, and with Rooftop Films, for the first screening in New York City since lockdown, projecting the film on a blank wall on Bowery and Houston. Neighbors listened to Wolf's outdoor Q&A from the windows of their apartments. "I think the liveness of that event inspired people a little bit," says Wolf. "It was a promise that new forms of watching movies were possible and coming soon." On May 8, opening night of the release, the Museum of the Moving Image had more than 1,000 online attendees.
NEON also launched an ambitious virtual cinema campaign with hundreds of partners, from movie theaters to film festivals; from smaller businesses, such as cafes, bookstores and restaurants, to major institutions, such as the National Museum of Natural History, the National Resources Defense Council and—one of Wolf's personal highlights—a conversation with artist Fritz Haeg hosted by the Berkeley Art Museum and Pacific Film Archive, which allowed for crossover between art world and art house audiences. There were other notable guest moderators, including Star Trek's LeVar Burton and Bio-Dome's Pauly Shore. There were so many events that Wolf and Reiss would host multiple Q&As for different cities across the country. "It was May when a lot of us were locked in, so we had a captive audience," says Reiss. NEON's innovative release got plenty of trade coverage, while the film itself and interviews with Wolf showed up in major media outlets across the country. "I think the novelty of our film being first out the gate helped generate attention and curiosity from virtual cinema partners and audiences," says Wolf.
Results: While NEON would not share revenue figures for either its screening partnerships or its VOD release, the film ranked ninth in its debut week on Apple's independent movies chart and was one of its top documentaries. Because of NEON's output deal with Hulu, there was no lack of opportunities for viewers to find the film. Internationally, NEON also partnered with French sales company Charades to provide foreign distributors with a replicable marketing package for their own territories, and several jumped aboard, including Dogwoof (UK), Non Stop Entertainment (Scandinavia), Madman (Australia), Synapse Distribution (Latin America) and Yes (Israel), among many others. With the film landing on some critics top 10 lists, NEON is also supporting an awards campaign, and the filmmakers have done virtual Q&As for AMPAS and the Producers Guild, among others. If getting people to watch your movie is the goal for filmmakers, all involved were pleased with the results. As Wolf says, "We put a lot of work into not only reaching audiences with grassroots marketing, but [also making] a cultural event out of the film."
Miss Juneteenth 
Release date: June 19
U.S. COVID-19 cases: 2,215,628
Background: In 2014, first-time feature director Channing Godfrey Peoples and her husband and producer, Neil Creque Williams, relocated from Los Angeles to Texas to make a film about a Miss Juneteenth pageant. The following year, Channing participated in the Sundance Screenwriters Lab and a few months later connected with David Lowery's Texas-based production company Sailor Bear, which came on board as producer. They received additional support and mentorship from the Austin Film Society, the SFFilm Westridge and Rainin grants and the Sundance Institute. In early 2018, Tim Headington's Ley Line Entertainment committed to fully financing the film under the SAG-AFTRA modified low budget agreement (for films budgeted from $250K to $700K). At Sundance, trade reviews were positive to slightly muted, and a hometown screening at SXSW was shuttered, never to be (though the film received a juried Louis Black "Lone Star" Award.) But with enough goodwill and generosity shown toward the crowd pleaser, Vertical Entertainment closed a deal for North American rights in the early spring and set a release date, fittingly, for June 19. Yet prepping for the release was worrying. As Williams says, "We made a movie that needed film festivals to thrive, so when that went away, how do we define and find the audience?"
Pandemic release: On the Juneteenth holiday, which commemorates the abolition of slavery, and as Black Lives Matters and police reform protesters continued to hold marches across the United States, Vertical Entertainment released the film day-and-date on VOD, in three drive-ins (in Los Angeles, CA; Atlanta, GA; and Indianapolis, IN) and three "hard-top" theaters (in Fort Worth, TX; Modesto, CA; and Lewes, DE), earning $21,000 in box office in its first weekend. The film received strong feature press, with major coverage of actress Nicole Beharie in the New York Times, the Los Angeles Times, BET and Vulture. In its second week, it expanded to another six venues and, during July, opened in six more theaters. But as Williams says, "When you're not a horror film, it's hard to get drive-ins." After about a month, it grossed a total of $92,349, with Atlanta's Starlight Drive-In remaining the highest performing location week over week. 
Meanwhile, Vertical partnered with more than 70 theaters and theater chains for virtual cinemas through the end of July, with the most participation from Studio Movie Grill, Cinépolis Cinemas and Laemmle Theaters. "We were very pleased with the [number] of theaters we partnered with for virtual cinema opportunities for the film and their ability to adapt to this new form of exhibition during the pandemic," says Hannah Lawrence, Vertical Entertainment's manager of PR and marketing, who adds, "We are happy with the film's overall performance." Virtual screenings continued throughout the fall and winter at film festivals and colleges, as the film's subject matter continued to resonate. 
Results: While the film's U.S. theatrical release may have been underwhelming, there were still some silver linings: It ranked no. 4 on Apple's iTunes independent movies chart in its first week; UK-based Vertigo Releasing acquired rights for the UK, Ireland and South Africa, while U.S. broadcast rights were sold to BET. Right after Sundance, director Peoples signed with CAA and Management 360. Release reviews were generally favorable, and end-of-year accolades continued to pour in as the film was mentioned in critics' top 10 lists and received Gotham Award nominations for Best Actress and Breakthrough Director. For Williams, the film also helped initiate important conversations about the meaning of the holiday, emancipation and "delayed freedom," he says. As for recouping, Williams remains optimistic, particularly because the film has an annual tie-in: "A holiday every June 19."
Relic 
Release date: July 3
U.S. COVID-19 cases: 2,789,777
Background: After the success of filmmaker Natalie Erika James's short film of the same name, Australian-based Carver Films' Anna McLeish and Sarah Shaw worked with WME to find creative partners to adapt a feature-length version, which already had the backing of some Australian state film funding. Attracted by the short, Jake Gyllenhaal's Nine Stories Productions came on board. The movie quickly came together after Emily Mortimer was attached and Joe and Anthony Russo's production company AGBO put up a large portion of the financing. After a successful Sundance launch in the festival's midnight section, where James and her work were compared to Jennifer Kent's The Babadook and Ari Aster's Hereditary, the film received several distribution offers, according to Nine Stories's Riva Marker, including one from a streaming company. But the film team, along with sales agent Endeavor, decided to make their deal for North American rights with IFC Midnight, which matched the streamer's offer of low seven figures, plus a theatrical commitment. In March, Film Constellation came on board for international sales.
Pandemic release: With a female-driven horror film that had gotten lots of love and mostly strong reviews out of Sundance (now a 77 on Metacritic), IFC Films's president, Arianna Bocco, says the company "felt emboldened going into the summer that we weren't going to get lost." Bocco and the IFC team had also seen that drive-in theaters were showing box-office potential with another indie horror film, The Wretched, which the company released on May 1. Without much competition from the studios, they set a one-week exclusive theatrical release for July 3 before their digital release on July 10. The film opened in 69 theaters, mostly drive-ins—led by the Paramount Drive-In (Paramount, CA), the Ford Drive-In (Dearborn, MI) and the Starlight Drive-In (Atlanta, GA)—and earned nearly $200,000. Publicists got creative to convince the mainstream press to cover the film—even sending out dozens of Relic-inspired jigsaw puzzles to sheltering-in-place writers—and well-placed articles followed in the Los Angeles Times, the New York Times, Entertainment Weekly and Fangoria. The film eventually played for 19 weeks and, at its widest, hit 133 venues across the country. However, as was not atypical of this summer's drive-in releases, per-theater averages were well below $1,000 for most of the run. 
Results: One of the few indies this year to break a million dollars at the North American box office ($1,047,083), the film also sold to most foreign territories. It earned respectable revenue in the UK and Australia, but the lack of theaters across global markets has slowed down its international totals (at $1,190,280 as of press time). Meanwhile, digital numbers, according to Bocco, "are phenomenal," which wasn't much of a surprise, she says. "Genre films always perform very well." (It ranked no. 5 among Apple's iTunes mainstream offerings in its first week, just above Universal's The Invisible Man.)
Though the film is "probably not yet in the black," according to producer Riva Marker, "it should be close." Marker was impressed by the drive-in sales, and despite the pandemic, she still feels they made the right decision in choosing IFC Films and other partners over a global streamer. "A proper pandemic release was beneficial to the film itself and the filmmaker because films can get lost in how they're put out on streaming platforms," she says. "It raised Natalie's profile"—and received a Gotham nomination for Best Feature—"and from a press and marketing standpoint, I think it was able to be highlighted more than if we had gone the other way."
The Fight 
Release date: July 31
U.S. COVID-19 cases: 4,543,512
Background: From the team behind the Oscar shortlisted political doc Weiner and produced by Kerry Washington's Simpson Street, this documentary chronicling the intrepid actions of a group of ACLU lawyers was financed by a handful of equity partners and grantors with a budget in the low seven figures. Bow and Arrow Entertainment was also a major equity partner, while the Ford Foundation, through JustFilms, supported the movie with a significant grant. Most of the financial partnerships were forged at the Sundance Institute through its Catalyst program. After the film's Sundance premiere, Magnolia Pictures and Topic Studios jointly acquired world rights for low seven figures.
Pandemic release: Originally, Magnolia and Topic had grand theatrical plans around an early June launch, hoping to follow the blueprint of Magnolia's 2018 doc-buster RBG "with an extensive pre-opening buyout campaign," says Magnolia's head of distribution, Neal Block. "Plans started to change the third week of March, when it became clear that theaters were closing." In late June, they saw a number of theaters beginning to re-open, "giving us some hope for at least a few dozen art house runs" for their new day-and-date launch July 31. But, as the release date approached, theaters closed down again—including all the major national art house chains—and the film ended up in a smattering of 23 physical venues across the country, from the Gray Duck Theater & Coffeehouse in Rochester, MN, to the Ragtag Cinema in Columbia, MO, to the Burns Court in Sarasota, FL.
With a shorter TVOD window than usual before the film hit Hulu on September 18, they focused more on getting the film in front of as many people as possible during those six weeks, leveraging appearances from actress Washington and the film's ACLU lawyers, and partnering with law firms, voting rights organizations, LGBTQ groups and virtual cinemas to generate revenue and spread the word on the film. One highlight, according to The Fight codirector, producer and editor Eli Despres,
 was a virtual screening for about 1,500 high school students. "During the Q&A, the chat window was live, and it was a joy to watch the comments rocketing past," he says. "The kids' enthusiasm for the movie was visceral, exciting and humbling. It made us hopeful for the future."
Results: Despite the buzz and political momentum around the film, moviegoers were scarce in August; box office numbers didn't break $10,000. "One thing we've learned this year is that the success of a film—whether it's a theatrical release or a COVID-era hybrid—lives or dies on the strength of its publicity campaign," says Block. "Ours for The Fight was as wide-reaching and effective as it would have been if we'd released the film any other time and by any other method." Although Magnolia wouldn't disclose VOD grosses or virtual cinema revenue, producer Eli Despres said they were happy with the numbers they've seen. "The movie is clearly having an impact," he says. With some strong reviews and awards season recognition, Despres believes they can't complain. "A lot of movies just got eaten by the pandemic," he says. "We're very lucky."
Feels Good Man
Release date: August 28
U.S. COVID-19 cases: 5,893,163
Background: After director Arthur Jones, producer Giorgio Angelini and editor Aaron Wickenden had been developing the "Pepe the Frog" project for several months, Wickenden suggested bringing in his colleague, veteran doc producer Caryn Capotosto (Won't You Be My Neighbor?), to reach financiers. With a rough cut in hand, they connected with numerous equity investors (including Jenifer Westphal's Wavelength Productions) for about two-thirds of the mid-six-figures budget. The final third came from philanthropic grants, including funds from the Artemis Rising Foundation. The documentary, winner of a Special Jury Award at Sundance for Emerging Filmmaker, left the festival with plenty of critical accolades but no significant distribution offers, except for interest from PBS's Independent Lens for a broadcast deal. As the pandemic settled in, it became clear that they would have to release digitally. Unsatisfied by digital offers with no advances, Capotosto says, "We
realized that our film, which was uniquely suited to a digital (and hopefully viral) release, would best be managed by us."
Pandemic release: With Angelini's background touring with bands and Jones's work as an animator and designer, the team felt they could operate as a "two-man distribution company" and started hatching their plans over the summer to self-distribute Feels Good Man. To fund the release, they used part of the money from their broadcast deal with Independent Lens, along with support from Bryn Mooser's XTR, which came on board as executive producers. They also reached out to the Alamo Drafthouse's Tim League, who was a supporter of the film and agreed to book the documentary in 12 Alamo theaters starting on August 28 (each one operating at 30 percent capacity). They hired Matt Delman's 3rd Impression to handle digital marketing and Cinetic Media, which worked on the film at Sundance, to handle PR. Significant advance national press included radio coverage on NPR's "All Things Considered" and podcast "WTF with Marc Maron."
To kick off the release in late August, they held four online premiere screenings through a website called feelsgoodman.watch in collaboration with Filmbot. Copromoters included comic book publisher Fantagraphics and a bunch of indie book stores (which were also promoting the launch of "Pepe" creator Matt Furie's new book Mindviscosity.) They were hosted by indie personalities such as Adam Johnston of YourMovieSucksDOTorg (more than one million YouTube subscribers) and Duncan Trussell (Netflix's cartoon The Midnight Gospel). "We knew early adopters of the film would be indie comics fans because Matt has a lot of a good will there," says Jones. "We recognized that our audience was not the traditional documentary audience. It was going to be younger and online, and we needed to engage with that," Jones adds. 
 One week later, on September 4, the film hit digital platforms. In late September, they conducted another round of special online screenings hosted by guests such as Tim Heidecker and Ira Glass to keep up awareness about the release. With tickets at $15 a pop, "it ended up being a huge success and an opportunity to differentiate us from other online content," says Jones. 
Results: Box office numbers for its Alamo theatrical release were less than $10,000, but the virtual cinema sneak preview weekend generated $21,690 in ticket sales, plus almost 300 sales of Furie's book. The PBS TV premiere on Oct 19th secured a far greater than expected 1.4 million viewers, and its UK premiere on BBC Channel 4's Storyville also performed well. The team anticipates VOD numbers to hit mid-six figures by the end of the year. 
The film was also highly sought after on illegal download platforms, and in the first week of its release, ranked as the no. 2 most pirated film behind Mulan on the piracy site Pass the Popcorn, according to Angelini. Soliciting donations from pirate viewers, "We've raised almost $2,000 from people who felt bad about it," he says. Foreign sales company Visit Films also negotiated an ample roster of foreign deals—including in the UK, Canada, Australia, New Zealand, Hong Kong, Japan and Scandinavia—"which really helps our bottom line," says Capotosto, "and confirmed our instinct that a story about Pepe would have global appeal."
While the filmmakers saw the bulk of their revenue in the first month, viewers are still finding the documentary—
and the team continued to garner publicity through November, helped by the boom in right-wing Pepe-like conspiracy theories in the wake of the presidential election. "If it continues to have the same week-over-week numbers, we're proud of what we've done," says Angelini. "From where I'm standing, it has a cult vibe."
Save Yourselves!
Release date: October 2
U.S. COVID-19 cases: 7,310,625
Background: At IFP Week 2018, first-time feature filmmakers Alex Huston Fischer and Eleanor Wilson met the folks at Keshet Studios (The Sound of Silence), who were supportive of the project but weren't interested in getting directly involved at the time. "Then 'no' became 'yes,'" says Keshet co-head of film Mandy Tagger Brockey, who fell in love with the project. By January 2019, Keshet was on board as producers-financiers and brought on other equity funders, including Last Rodeo Studios (backers of another Sundance entry, Scare Me) to fund the low-seven-figure budget. In summer 2019, they shot the film, and it premiered at Sundance 2020. "It's one of the fastest movies to ever come together," says producer Kara Durrett. After the film's well-received Park City premiere, Bleecker Street Media acquired worldwide rights. Tagger Brockey recalls they were excited about Bleecker's theatrical vision for the film. At the same time that Bleecker was closing their deal, fan-owned media company Legion M came on board as a partner after the film got high marks from members using its Film Scout rating app in Park City.
Pandemic release: Bleecker Street had ambitious plans to take out the apocalyptic comedy nationally over the summer, starting with a limited platform release on July 31. But like everybody else, the company soon pivoted their focus to a digital launch. On October 2nd, to retain some theatrical awareness, they released the film in nearly 400 theaters—both drive-in and hard-top venues; just four days later on a Tuesday, it was available for rental and purchase digitally. 
According to Kent Sanderson, Bleecker Street's president of acquisitions and ancillary distribution, Legion M and its fan community were "definitely helpful and a meaningful part of the campaign," adding value to their own marketing efforts. "They worked their butts off," he says. "Their Facebook ads were everywhere, and they knew how to target their audience." In addition to driving young viewers to the VOD rental, Legion M was also able to sell digital copies and Blu-rays directly from its website. 
On the Bleecker marketing side, Sanderson says its own materials were well-suited to a VOD release, but the key art was rejiggered to make sure the image would be striking on a smaller screen. Meanwhile, Bleecker partnered with Sony to take on international distribution and levelFILM for Canada. With a Hulu output deal, the film will be released on SVOD in early 2021.
Results: In its opening weekend, theatrical grosses were predictably low on a per-theater basis (averaging $367) but still generated some buzz and $142,694 in overall ticket sales, with the Alamo Drafthouse in Texas driving the numbers. (Says Tagger Brockey, "Not being able to play New York or L.A. was definitely weird.") After three weeks in release, total North American box office reached approximately $300,000. For its digital release, it debuted at no. 7 among all movies available on the Apple Store (just down from Mulan; Happy Halloween, Scooby-Doo!; and Australian sci-fi 2067). Bleecker's Sanderson says they were "very happy with the results." 
Brockey admits she had higher expectations back in January, but given the pandemic, she chalks up the release as a win, and "as a financier," she says, "we feel OK." The film received mostly positive reviews, good word-of-mouth and effectively launched the careers of writer–directors Fischer and Wilson, who signed with CAA over the summer and are currently developing their next feature. "That's the most positive thing," says Durrett, "just seeing them blossom."