Back to selection
Love and Memories: Director Phil Lord Interviews Director Heidi Ewing About Her Debut Narrative Feature, I Carry You With Me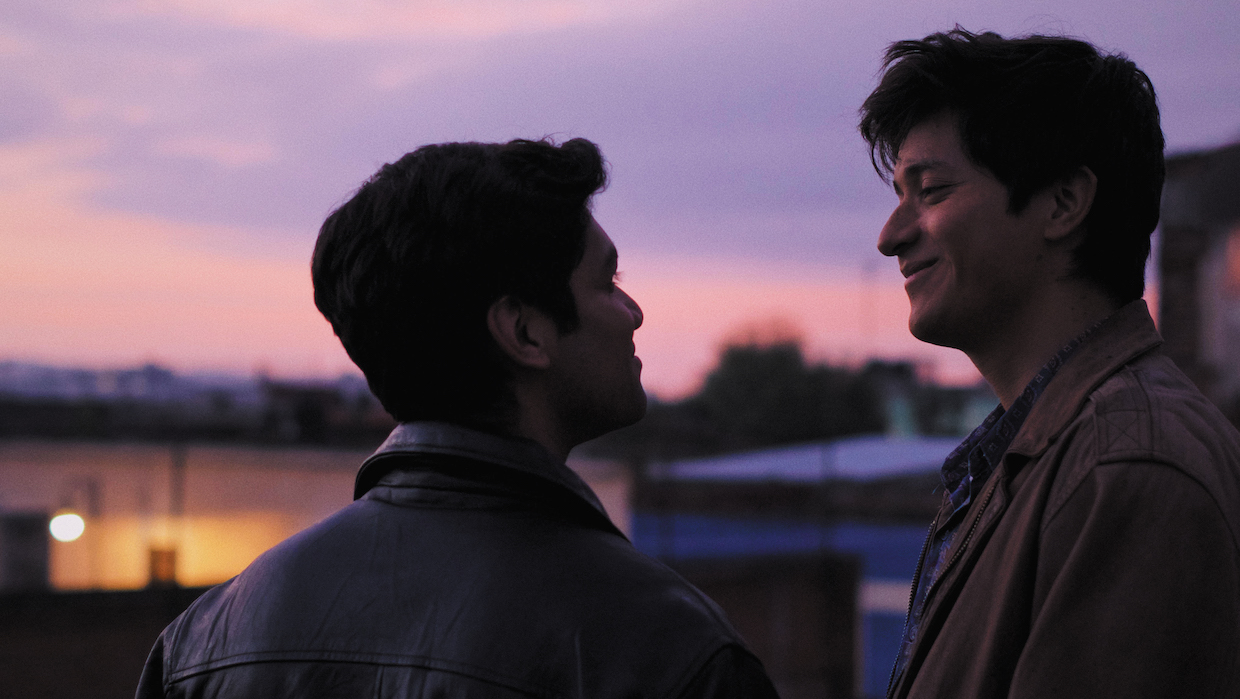 I Carry You with Me (photo by Alejandro López Pineda, courtesy of Sony Pictures Classics)
This article was originally published in Filmmaker's Spring, 2021 edition. It is being posted today online in conjunction with I Carry You With Me's release in theaters from Sony Pictures Classics.
Arriving amidst a number of recent pictures exploring notions of hybridity—mostly documentaries that incorporate narrative or meta elements—nonfiction filmmaker Heidi Ewing's feature dramatic debut, I Carry You With Me, deploys its formal invention in movingly unexpected ways. Taking the recounted memories of an undocumented Mexican couple living in New York, Ewing tells a swooning, deeply romantic period love story. And it's one that achieves an arresting sobriety with contemporary sequences featuring the film's real-life subjects that imbue the drama with urgent political realities. 
Iván (Armando Espitia) is a closeted gay man and father of a young son in Puebla City, Mexico. Separated from his wife, he works as a dishwasher while dreaming of being a chef. One night in 1994, at a nightclub, he's cruised via laser pointer by Gerardo (Christian Vázquez), a comparatively well-off teacher, and a love affair blooms. When Iván's wife learns of the relationship, she threatens to block him from seeing his son, providing the motivation Iván needs to cross the border to the United States and seek a foothold in the restaurant world. When he asks Gerardo to cross with him, his lover demurs—only to change his mind months later. Decades afterward, the two men's risk-taking becomes the set-up for another life-altering decision for Iván, one that's deeply entwined with current U.S. immigration law.
Ewing, who has directed with filmmaker Rachel Grady such impactful docs as Jesus Camp, 12th & Delaware and Detropia, co wrote I Carry You With Me with Alan Page Arriaga. The film's structure is complex, with cuts to multiple time frames (Iván and Gerardo are not only seen as young men and their real-life older selves but also as young boys) while it exploresthemes of class, persecution, immigration and injustice. But far from being didactic or abstract in its approach, I Carry You With Me is an intoxicatingly sensual movie, with fluid camerawork capturing not just the romanticism of its protagonist's secret love but also the electricity and social clashes of its time and place. Shot by Juan Pablo Ramírez and edited by Ewing's longtime editor, Enat Sidi, I Carry You With Me gains from the experience Ewing has developed during her nonfiction career in capturing individual dramas within broader political movements and specific communities. But, as she reveals in the interview below, Ewing brings something else to I Carry You With Me—a friendship with the film's subjects that was a source of inspiration as well as a scary responsibility.
Noting his enthusiasm for the film on social media, Filmmaker reached out to one of today's most inventive directors, Phil Lord, to interview Ewing. With filmmaking partner Christopher Miller, Lord has brilliantly hopscotched across animation and live action, superhero blockbusters and character-based episodic work. Lord and Miller had their first breakout hit with 2009's Cloudy with a Chance of Meatballs and went on to direct 21 Jump Street, The Lego Movie and executive produce TV's The Last Man on Earth. Lord also was a writer (with director Rodney Rothman) and producer on Spiderman: Into the Spiderverse, which brought conceptual daring, hallucinatory visuals and real poignancy to its anarchic reboot. Via Zoom, Ewing and Lord discussed working in and outside of creative partnerships, friendship and filmmaking, and why failing on the first day of production isn't such a bad thing.
I Carry You With Me is out now from Sony Pictures Classics. — SM
Lord: So, you have made one of my favorite movies of the year, Te Llevo Conmigo, or I Carry You With Me. How did this movie come to be, and how did it spring out of all of this wonderful documentary work?
Ewing: Well, you know, I broke the cardinal rule of, I think, all filmmaking but definitely documentary, which is, don't make a film about your friends. I tell people not to do it all the time, so I'm a real hypocrite. It's based on two very close friends of mine, who I met in a little wine bar 15 years ago on my street. They were working up the street—Iván was a cook and Gerardo was the bartender—and we started dancing. Iván was a great dancer, and Gerardo was (good) trouble. I speak Spanish, and we became friends. It was a social friendship for many, many years. They came to my wedding. They always had wanted to go to Sundance, and in 2012, when Detropia, about my hometown of Detroit, was in the documentary competition, they're like, "We're coming. We're going to be the entourage." They came and had brand new jackets and the most beautiful fleece hats. They looked like celebrities, and everybody was inviting them to parties. It was just a great time. One night, at Pizza & Noodle on Main Street, we were very drunk, it was very late and they told me their life stories. I did not know that Iván had a son and that they were undocumented, and I didn't know how they had gotten to the United States. I really didn't know anything about my friends, which is insane because I ask a lot of questions, and I pride myself on being inquisitive and curious.
Lord: You listen to people for a living.
Ewing: I was dumbstruck, not just because of that, because that's my own failing, but [because] they didn't fit the stereotypical Mexican immigrant narrative we see and hear in film and television. Beyond that, [theirs] was the greatest love story I'd ever heard. One leaves, the other follows and they risk their lives to be together, because neither of them had to leave only for economic circumstances. It wasn't the "typical" story we hear. Nobody was chasing them out of their country. They left because one person wanted to realize his talent. Also, neither could openly acknowledge his own sexuality in a very homophobic town in a more conservative era in Mexico. When I got on the plane from Salt Lake to New York, I made a Notes document called "A Mexican love story," and I wrote everything I could remember from the conversation. Did he really tell me that his father dragged him into a field and loaded a gun and threatened to kill him because he was "too feminine," or did I imagine that? 
Lord: This is an amazing endorsement of Sundance because that's what's supposed to happen at a film festival. Filmmakers meet each other, ideas fly around. It's amazing that it took going to another place with your friends to get the creativity in the air between you.
Ewing: My initial instinct was documentary because I know how to do it. I started interviewing them, then got some support from Tribeca and also a MacArthur film grant. But before too long, I realized that I was shooting the third act of a movie. All of the romance, those feelings, the danger, childhood, all happened in the past, and it was building to this [present-day] moment of decision if they were going to stay or they were going to go [back to Mexico]. I kind of looked at myself and went, "Shit, man, this is not an excellent documentary. How am I going to [capture the past]? Recreations? Animation? No, I can't. This is a movie that deserves a narrative treatment." Some films do, and some shouldn't be movies at all. They should be a podcast or an article in The New Yorker.
Lord: Thank god for podcasts. There's a bunch of bad movies that didn't have to get made. But your point is well taken: Not everything is a movie. And sometimes you don't know that until you start working on it. Sometimes, it's too late. Sometimes, you've already made it, and then you find out it's not a movie.
Ewing: That has happened to me a couple of times—I'm not going to say which ones. But, you know, I'm respected and known as a documentary filmmaker, and I put in the time. My business partner Rachel [Grady] and I work really hard. But I never made a narrative, nor had I ever aspired to make one. I watch them religiously. I grew up worshiping Fellini in my house, but it was never like, "Oh, documentary will be a stepping stone to fiction." So, my heart sank a little bit because I thought, it should be a narrative, and it's not going to get made because they only trust me. This isn't a book I'm adapting. This is trust. These are my friends' real stories. This dies right here, right now, for sure.
Lord: Sometimes, you might not be the perfect person to tell the story, but you're the only person.
Ewing: I was the only person. I mean, I'm a straight white woman from Detroit, and I made a movie in Mexico about two gay men and in Spanish. Thank goodness that the film's been appreciated so far by Latinx critics, but that's another discussion that I think is very important that people are having right now: Who gets to tell what story?
Lord: Listen, I'm a half-Cuban American guy who made a movie about an Afro–Puerto Rican Spider-Man, so I relate.
Ewing: I'd like to interview you about your process because it seems like it's got to be a wildly creative and strange base jump every time.
Lord: I would think you would find it very familiar because the movies you make require a kind of fearlessness, right? A documentarian has to just pray that it's going to work, you know?
Ewing: Invent and pray.
Lord: A movie like Detropia has tons of personality and creativity; it's like this symphonic portrait of a place.
Ewing: And zero plot.
Lord: And zero plot but really fun to watch. Heartbreaking, but also kind of funny. It reminds me of Billy Liar. You know in Billy Liar, where they have these wrecking balls that come through and smash these buildings?
Ewing: Yes.
Lord: [In Detropia, you were] juxtaposing that Manhattan-like poem about your city, that hagiography, [with] tearing it apart. It's like a sick joke, you know?
Ewing: It is.
Lord: [When Filmmaker asked me to interview you], I thought, I bet this person is really funny because her movies have a sense of humor.
Ewing: It's funny because a lot of stuff that I've ended up directing or co-directing is kind of dark. But actually, personality sometimes comes out in documentary, and sometimes, it doesn't. In documentary, you're really hoping the person doesn't throw you out of their house before the good thing happens. You're hoping they don't decide that they don't want to participate. They talk too fast. They talk too much. They never pause in between sentences. How am I going to cut it? This is not going to work. That goes away in a narrative. You get to cast it and find exactly the right person. Create silences. Delete dialogue. Have just show, not tell. So for me, it was like that dream you have in New York City that you open a closet door and there's 3,000 more square feet in your apartment. Like, "Oh my god, there is a penthouse suite in the pantry. I didn't know!" You walk in the room and dance around. There's no furniture in it, and it's amazing. It was like that.
Lord: So, you found it freeing?
Ewing: Freeing. And hard and scary. At times, it felt like I didn't know anything. The crew was 80 people, sometimes as low as 50, and I'm used to three people.
Lord: I wrote down "fearless" in my Apple Notes app just now because it must have been scary to make this movie. But it doesn't seem any scarier than making 12th & Delaware or something.
Ewing: That was probably the worst filmmaking experience that myself or Rachel has ever had. But, we are proud of that film.
Lord: Because it was so fraught?
Ewing: Well, you have access to a fake abortion clinic, a "pro-life crisis pregnancy center" that's pretending it's an abortion clinic. You were filming women being lied to about scientific facts about their pregnancy. Half the time after we would film, we'd chase after [the women] and be like, "Listen, the abortion clinic's across the street. You're not where you think you are." We couldn't justify the "fly on the wall" theory anymore. It felt ethically compromised. I mean, making documentaries is a series of ethical questions you ask yourself every day, and I'm not saying that doesn't exist in narrative. The worlds are vastly different, but then not. Story is story, emotion is emotion. You shoot for emotion first. I just tried to keep my own principles intact while learning how to work with actors and being very open to listening and making changes.
Lord: Did you ever sense yourself feeling uptight or something?
Ewing: The first day, I felt, was a disaster. We had a dolly shot. And I won't go into it because I cut the scene out of the movie. I should've made that [scene] work, but I just failed at it. If I made it now, it would not be cut because I know what went wrong. The camera was in a makeshift Avon workshop, because Gerardo's mother used to sell Avon with all the local ladies. The camera was already in the workshop when Iván and Gerard showed up to visit for the first time from Puebla. In many narrative movies, the camera is already with the new person [in a scene], and the characters walk in, which is not done in documentary because it makes no sense. Anyway, the camera's gliding along in the workshop, and all the women are moving product, and it's perfect. Iván and Gerardo show up at the door, and the mom stands up, takes off her glasses and walks through the [workshop]. Everyone's crossing [frame] at the right time… and it was so bad. I turned to my DP and said, "I hate this so much. This is really bad television. I hate how this looks. I hate everything about this." 
Lord: It felt fake.
Ewing: It wasn't the right language. It felt fake. And I couldn't figure out how to crack it. And he said, "I hate it, too. I don't know how we should fix this." And we'd shotlisted the hell out of the movie. We were prepared. So, I resorted to, how would I be shooting this if it were a doc? I would've been walking through the woods toward the house with them, first of all. And I'd be probably slightly behind them, maybe to the side when they knock on the door, and I glimpse mom in the hug, then I would cut. So, I'm like, "We're doing that." So, we went into the woods and followed him through the thing. The scene, it was much better when we did that. [We cut it from the movie because] it was an extraneous scene, but the doc [style] undid the fake and was a lesson to me. I said, "Send the dolly back. I don't want to ever see it again. Get rid of the tracks. We're not doing one fucking dolly shot. That's gone." What I learned in that moment, Phil, was to go with your gut, what is intimate. Don't have the camera ever anticipate the action. Do not over-rehearse. Shoot the first take or that on-set rehearsal. Don't block it before you shoot it. You're going to shoot the first time they're in the space. Light it 200 something degrees. Let them move around. The camera's going to have to follow them and chase them, and it'll be imperfect, but then we'll feel like maybe we're voyeurs, we are not supposed to be there. Maybe we're in the room with them. We found our language partly because of that moment, that false note. 
Lord: You have to fuck up. That's the truth. If you don't fuck up, you're not trying, you know?
Ewing: My DP was like, "It was great that it happened on the first day." It was like an epic fail. 
Lord: You were driven by the tool and not the story or the people in the story, right?
Ewing: Yeah. The tool was taking over. It made me self-conscious.
Lord: We might disagree on this, but one of the overrated values of documentaries to me is objectivity.
Ewing: Oh, yeah.
Lord: It was your first day shooting a narrative feature, and a quite subjective film. And the way that you felt you messed up was [putting] a really objective point of view into a scene, right?
Ewing: Right.
Lord: You were describing the setting, whereas where you felt surefooted was, "I'm with my characters. I'm witnessing it the way they would." It's incredibly subjective.
Ewing: Very.
Lord: And it's what I notice about the documentary work you guys do. You're putting me in the shoes of a person in that moment. I'm watching those ladies at the fake abortion clinic and what they're trying to do from their point of view. And it's just shocking, but it's incredible. And that's why I wasn't surprised that this film is great, because [your documentaries are] great. I'm not sure there's a whole lot of difference between [documentary filmmaking and narrative]. People ask Chris and I what the difference is between working animation or live action, and we don't have a good answer because I don't know that there is any difference, you know? You have more control over the lighting, I guess. But so, that's why I'm really curious about your experience because it's different than I expected. You're here telling me it was so different.
Ewing: It's not as different as it first appeared to me at the time. Technically, it's not that different. The technical stuff doesn't intimidate or worry me. For me, the big challenge was learning how to direct actors. I was nervous, and I felt a little embarrassed or timid around actors. I had heard about Adrienne Weiss in New York—she's a "directing actors" coach, a teacher. When I was writing the script, I took her classes because I wasn't going to just pretend that [this skill] would come naturally. I felt like a beginner again, and it felt great. I spent a lot of months with her, then developed my own style. But honestly, getting an excellent performance is the one thing as a documentary filmmaker I thought about and worried about. Your actors have to trust you, and you've got to be able to guide them. As a documentary filmmaker, that alchemy—how to get the performance I needed—was the most mysterious. That was the thing I practiced the most, then I developed my own style with these guys. That's a big difference [between doc and fiction].
Lord: That's interesting. Chris and I made an animated feature for our first feature. And then, we were about to direct our first live-action feature, and we were similarly terrified and did the same thing. I said to an actor friend, "I think we're really going to bomb this dimension of it." And he was like, "Well, you should meet my friend Maggie [Kiley]. Maggie is a really experienced actor, an Atlantic Theater person and a really good director of performance." And then, we spent months with her. She gave us a private tutoring curriculum.
Ewing: Did it help?
Lord: Totally. I mean, she really embarrassed us first. We hung out, then she brought actors in and we would direct them. She'd be like, "No, that's not right." We did a scene from Thief, one of my favorite movies, the scene where James Caan convinces Tuesday Weld in five minutes to marry him. Chris would do it, and I would do it, then we would try it a different way. We'd watch Maggie do it. And we spent time on other people's sets and watched how they approached [directing actors]. I'm not saying we're, like, the world's best—The Royal Shakespeare Company's not inviting us to help them out. But [this preparation] really worked out a lot of anxiety, you know?
Ewing: That's what it is, to work out and to practice. Well, how do you handle performance? I mean, obviously for animation the performance is as important. Do you do as many takes in the sound booth that you would in live action?
Lord: It's a weird combination of total precision, where you spend months working on somebody's hand movement and making sure that it looks right, and spontaneity. You're starting with the performance of an actor that's kind of a handshake with the performance of a storyboard artist. Sometimes, one informs the other. You might draw the storyboard first, then bring the actor in. There's a real collaboration. When we record voices for our animation projects, we're incredibly loose. We are an editor's nightmare because we get a million different versions. Because we're really looking for spontaneity, which is very difficult to accomplish in animation, right?
Ewing: And then, you go and animate it all. Do you realize late in the process that you missed a lot, and you should've done something differently? Do you write new scenes?
Lord: We are also the nightmare of line producers everywhere because we endlessly rewrite and redraw. We feel into what works and doesn't work. Sometimes it's, "That doesn't work, we've got to try something else." You're shaping the edit while you make the picture, much like in documentary, I imagine.
Ewing: Yeah, that's like doc.
Lord: You're cutting, and you're looking at it and going, "You know what we really need? A scene where –?"
Ewing: Interesting. So, it's actually a lot looser than live action.
Lord: I think to a fault, we're trying to capture as many options, as many different tactics.
Ewing: That's me, man. Same. 
Lord: My nightmare is being in an edit suite, going, "Do we have anything else?" And realizing the answer is, "No. You did it six times the same way."
Ewing: I had this thing that I learned from Adrienne—I never gave the actors direction in front of the other actors.
Lord: That's very clever.
Ewing: Sometimes, one actor was doing everything exactly right, and the other one was lost. I learned to go up to one actor and give him a correction, then I'd go to the other one and say quietly, "Keep doing what you're doing." So, the other actor didn't feel like only he was getting the direction. It worked because he thought, like, they were both getting direction and corrections. There was that ego battle, and I had to be careful. I had these two young men who were are sort of co-protagonists.
Lord: And they're so handsome. They're just both very winning.
Ewing: Aren't they? There's one scene when Iván tells Gerardo he's leaving [for the U.S.]. And at one point, he says, "Ven conmigo." ("Come with me.") Gerardo says, "They hate us there." So, there's never a no [from Gerardo about leaving with him], but that's the "no." Then, in one take, I went over to [Christian, the actor playing Gerardo], and I said, "When he asks you to come, what do you think? You want to give it a try? Don't you want to see New York?" He's like, "I kind of want to go." I said, "Maybe tell them you're going to go with him this time." So, the other actor had no idea. The facial expressions I got from that take ended up in the film.
Lord: And now, you're capturing behavior instead of somebody's idea of the behavior.
Ewing: And that's exactly what you're saying about doing multiple takes in different ways.
Lord: I feel like it's springtime for neorealists right now. The neorealist filmmakers—Eliza Hittman's cohort of CalArts people—are out there making movies in that kind of style, and it's really cool.
Ewing: Maybe it's just the moment we're living in. It's necessary or something.
Lord: And your [approach] is very similar. What's interesting is that rather than finding some kind of thing in the middle, it's narrative, and then I believe you introduce the real people. But there's that one shot on the subway, right? 
Ewing: It's the first shot in the movie, and you think Iván is an actor.
Lord: That's what I remember. You said earlier, you shot all the documentary stuff first. So, when you experience the film, you're like, "I'm watching this narrative feature." And then, "Boy, that actor's incredible. And this [other] guy plays him older. That's pretty cool." And then, you slowly figure out, "Oh, that's really them."
Ewing: Yeah, some people don't figure it out until the credits. At Sundance, there was a gasp when the credits came up, and [the audience] saw that they had been watching the real guys the movie is based on for the last 20 minutes of the film. Then, they sort of rethought the whole movie. Other people, especially film people, are like, "It looks real different." I mean, first of all, the actors don't look that much alike, and [the footage] was shot on totally different cameras in a different style years ago, so I was really surprised that there was any confusion because I tried to make it really clear. There's a montage that takes you from the younger to the old, and it's messy footage. But still, general audiences mostly don't know for a while or at all. I spoke to Rodrigo Garcia for the DGA, and he said he didn't know until the credits. He's like, "I was just in it." None of this was intended. It was just I decided to not cast actors to play them in their 40s. I could have. I also decided not to age my actors because I don't think it would've worked. So, at the end, I'd been shooting their real lives for so many years, I just continued to shoot. I just couldn't divorce myself from letting audiences experience the real guys. 
Lord: It's also that you shot the stuff that you couldn't witness directly, right?
Ewing: Right.
Lord: And then, you witnessed the stuff that you could. And I think that dialogue [between the two] is really great. 
Ewing: We shot this stuff with Iván on the subway and walking on the bridge at the end on the Alexa Mini. It was all the same lenses [as the narrative scenes]. So, we tried to make that seamless. I wanted you to think, "This guy's remembering."
Lord: How about that Mini? That thing looks good.
Ewing: I love that motherfucker.
Lord: I love that camera. It's got a texture to it.
Ewing: ARRI had agreed to give me two free ones. Some "women directors" initiative or something. And the last minute, they were like, "We can't. We're out of them. We're going to give you two Amiras." And I'm like, "No, my DP will quit. We need the style." In the end, I got one Amira, and we ended up paying for the Mini because you can't replace it.
Lord: Every dimension of the process is an opportunity to give a film a point of view or personality. Or not, if that's the choice. But it's an opportunity to make a choice, you know? And your film is full of choices.
Ewing: I appreciate you saying that, and I appreciate when I see that in other movies, like Eliza's films. There's been a choice made. It's called authorship. It's called direction. It could be risky, but do the thing. You can't have it all the different ways. I'm going to endeavor, as I pursue this narrative aspect of filmmaking, to keep making choices, to try not to go the middle ground.
Lord: I'm curious about how your approach to authorship has changed over the years. To me, the documentary work that you and Rachel do feels authored. It has choices, and just because it's a documentary doesn't mean it doesn't require creativity.
Ewing: Absolutely not. It's funny, I'm not going to name names, but I've had conversations with well-known narrative filmmakers who, when first making a doc, are panicked to not have the control and to have to be thinking on their feet all the time. In documentary, something amazing is happening, and it's never happening again. But it doesn't mean the scene is good, because the camera could be in the wrong place. You could be shooting it the wrong way. It doesn't mean you're going to get the scene just because you're in the room. There's got to be a point of view of the scene unfolding. You can't be stopping the action and running to your DP. You have to make calls. It's all on your feet, craziness, in the moment: "The light is changing, and this is an ugly room and I would've never chosen this location, but fuck, it's going down now. How do I make it matter? How do I give it character?" I imagine for a narrative filmmaker who is used to a level of control, to be thrown into the improvisational moment, that's got to be uncomfortable—and I know it's uncomfortable because I hear from them. I think they're trying to exert their vision and their perfection on sequences, but there's a different kind of authorship that comes with going with the flow. It's imperfect, but it's also scintillating because you know it's only happening once, and the audience can feel that they're in on something special. There's beauty in that. So, I think it's hard going the other way, too.
Lord: You and I are both part of fruitful and active partnerships. Tell me about what felt new about doing a solo album. It might be All Things Must Pass, or it could be Ringo Goes Calypso or whatever.
Ewing: That's so funny that those are your references! [Rachel] was super supportive of this. She has no interest in doing narratives, which I guess makes things cleaner. But it was weird for me. It wasn't like there was no one to turn to. I had amazing producers, but I had never worked with them before.
Lord: Like Mynette Louie.
Ewing: She's a badass woman. Many people say this film shouldn't exist, and part of [the reason it does is because of] her badassery. And my Mexican producers are amazing, but I hadn't worked with them before. So, I did feel like I was used to having an immediate sounding board that wasn't necessarily there. For me, there are two big marriages in film: your cinematographer and your editor. And my editor, Enat Sidi, who's edited all of my films, came to Mexico. She was on location, editing. The movie was mostly night shoots, so we would go deliver the material at 7 a.m., when they woke up. When I'd wake up later that day, I'd go to the edit room in the afternoon and could see how we did. I'm not used to that process, either, because we don't have immediate viewing of dailies in doc. So, it was great to have her there because I knew she would always tell me the truth. She would say, "You didn't get it. This seems fake." She's Israeli, first of all. Second of all, she's my long-time editor, someone who has known me forever. She was going to tell me like it was.
Lord: I think it's always good to have at least one person on set who's familiar with firearms.
Ewing: That's a really good way to put it. The first day of shooting, the call time was 4 a.m. There were trucks and 82 people there, and I was overwhelmed. I didn't understand how this had happened, how I got there, how I got the movie funded, why they trusted me. And I panicked. My legs started to feel like I couldn't stand, you know? I gathered the whole crew in a circle, and I in Spanish told them this is a true story about my friends, and I wanted to get it right and I wanted to not humiliate Mexico or myself or them. And I needed help to make it work and be real. I was asking them for their help in making this movie. We were all in this circle, and I looked around, and my editor had come. She'd gotten up at three in the morning, and she wanted to be on the set because she knew it was years in the making, and I didn't know anyone there, really. And I look in the circle, and there she is.
Lord: The fact that your initial message as a first-time narrative director to your crew of 80 other filmmakers is to ask for help and collaboration says something about your style of leadership and authorship.
Ewing: It made a huge difference, and they took me up on it. It's a very hierarchical thing in Mexico, and we got rid of all of that. People would approach me with a really smart comment in their department. And they're proud of this movie. "Our movie. La nuestra pelicula, la nuestra." It was also a cross-border collaboration in a time when the caravan was happening. You passed them on the road. So, this was like Mexicans and Americans making a movie. Let's make it good because this world is totally crazy.
Lord: Fear is a great motivator. Fear of messing it up. Like, if we don't tell this right, no one is going to be able to tell it right, and maybe no one will try.
Ewing: That's right.
Lord: I heard that Sydney Pollack, when he started a movie, would call his HODs and say, "You want to get scared?" That's how I like to approach it.
Ewing: Terror, abject. Yeah, but I think it's going to keep us young. The terror, the fear.
Lord: You jumped into the deep end of the pool with a lot of skill and a lot of experience, and [you got] a great result. But somebody really smart often tells me the last one doesn't help you make the next one.
Ewing: I'm sure that's true.
Lord: You're a big dummy the minute you start.
Ewing: Every damn time, I hear that. I'm working on some other stuff now, and I feel like I'm back to square one, and I think it's probably good.