Back to selection
True/False Film Fest 2021: Unboxing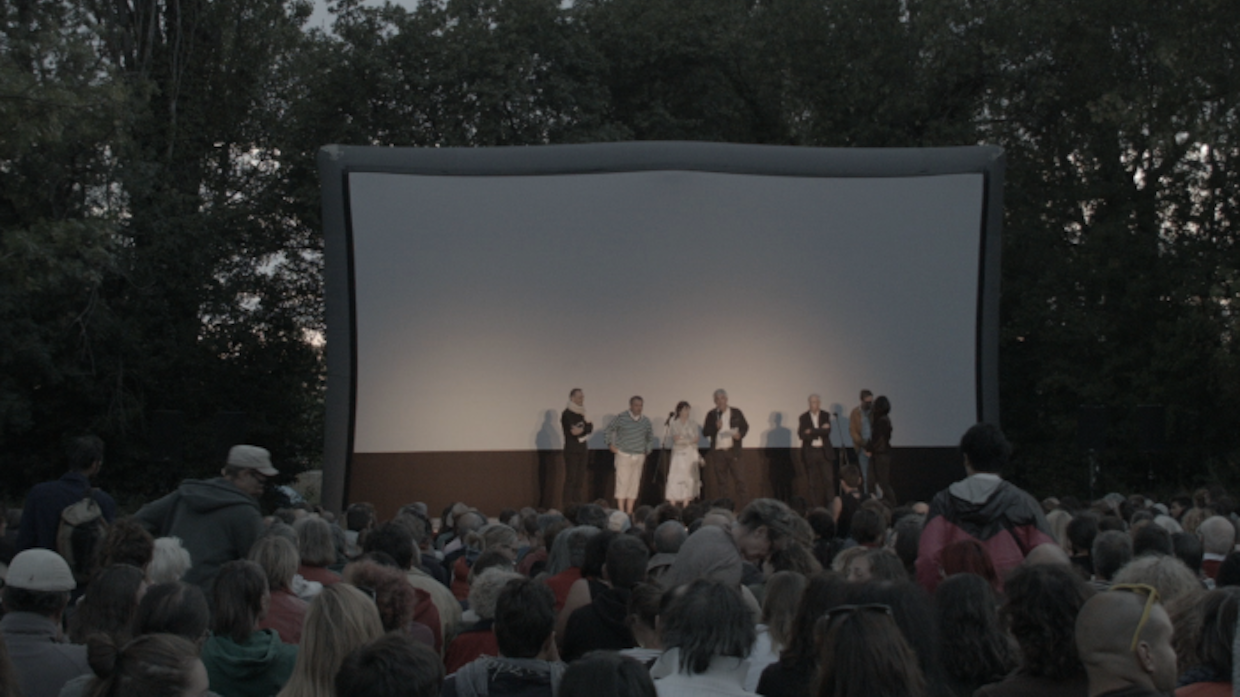 The Grocer's Son, the Mayor, the Village and the World
The box arrived in mid-April while I wasn't home, so my confused roommates kindly brought it in. "What is this?" one asked when we regrouped; their initial assumption, based on The Box's shiny black and vaguely sinister appearance, was that our other roommate had ordered bulky apparel from a goth website. Friends described it, variously, as resembling a monolith and/or child's coffin. This was the first offering from True/False Film Fest 2021's "Teleported" incarnation, intended as not just another at-home streaming festival but an entire experience—birthed out of pandemic necessity, but hopefully joyous on its own terms. Instead of unlocking the entire on-the-ground festival's lineup for a set, multi-day window, the online edition made seven features and four shorts programs available in various windows, some limited to 24 hours; group online hangs, supplemented by the contents of The Box, were supposed to add back experiential value.
The problem was probably mine, not the festival's: after 14 months of plowing through half-a-dozen-ish virtual fests one Shift72 stream and/or Vimeo link at a time, and with CDC clearance to roam freely the day after fest's end, I didn't want any further at-home experiences. (A lesser concern: I wasn't sure if my roommates would appreciate me uncorking a scent custom-made for each night's feature, such as one, tied to day two selection No Kings, "inspired by director Emila Mello's evocative description of standing on a pier along the Brazilian coastline, the wind drawing in smells from the sea, the village, and rainforest around her.") It appears I wasn't the only one: by True/False's own tally, as reported in the Columbia Daily Tribune, final ticket sales came in at "around 9,500 tickets — approximately 7,450 for park screenings and just over 2,000 online." (Those 2,000 sales are, presumably, inclusive of both Teleported purchases and a la carte viewing; neither number seems to account for whatever indoor ticket sales might have been.) It's intuitively understandable that this year's True/False came in well under last year's 46,000 tickets sold; then again, this year's hybrid edition of Visions du Réel boasted 46,600 "viewings and admissions," a capacious designation with some wiggle room but still pretty impressive. (Especially considering that, for those without access to the industry market screening platform, online screenings were geo-blocked to Switzerland, capped at 500 and only available for 72 hours.) Last year's True/False was, unavoidably, The Last Film Festival of the Old Normal; perhaps this year's incarnation was the Last Festival of the New Normal (phase one), an at-home experience geared for a moment when many people finally had the option to be elsewhere.
Over the course of 11 consecutive years of enthusiastically attending True/False, I've overheard a whole education on what nonfiction could be and the obstacles its practitioners face—an experience virtually (pun unintended, but noted) unreplicable online. Even so, I found myself thinking of a few friends who, after similarly attending for many years, wondered if they should take at least a year off from attendance—as one put it, "We're all talking to the same people every year." It's nice to have a community you can catch-up with, but the danger of echo chambers is self-evident. The aforementioned No Kings, for example, has previous attendee Roberto Minervini (The Other Side, What You Gonna Say When the World's on Fire?) as a producer, in addition to credits for New Orleans-based production collective Court 13 (whose producers and filmmakers have long attended the festival, and whose Benh Zeitlin was spotted on the ground this year). Previously a producer for, among others, Lucy Walker, Emilia Mello makes her feature directorial debut here with a perspective that's old-school verite: observational and aspirationally non-interfering, but ready to identify herself and her POV from behind the camera. Her collective subject is Brazil's Caiçara community, and the general approach is respectfully ethnographic: though Mello has her hero protagonists, she strives for a group-based portrait.
Shooting herself, Mello immediately establishes an eye for non-ostentatious framing on the fly and an easy rapport with her subjects, even if the overall impression is indistinct. So I was startled by a series of final title cards that bluntly state the Caiçara's precarity, importance to the environment and generally unconscionable treatment by developers and the government. A film committed to, alternately, the depiction of labor and a series of character plot lines largely devoid of overt politics, does everything at the last second but provide a "learn more" URL. This imposition is strange, as if the film were forced to establish its real importance in relation to impact-producing models—as it stands, it made me instantly feel that what was needed was a much more explicitly ideological, possibly overtly didactic film. No Kings' commitment to its subjects feels responsible and de facto admirable, but also grounded in an idea of "humanism" (when we grow to know someone, we grow to care about them) that does nothing to ground the last-second political particulars.
Unintentionally but inevitably, Claire Simon's The Grocer's Son, The Mayor, The Village and the World spoke most directly to the circumstances of this year's festival in focusing on the rocky launch of Tënk, an SVOD platform entirely dedicated to nonfiction (i.e., essentially a version of the last year of festival viewing). Whittled down from hours initially broadcast as a 20-episode series, Grocer's Son repeatedly draws implicit editorial parallels between the labor it takes to keep both the nonfiction ecosystem and farming going. While picking grapes, a farmer not-precisely-complains that food is a miracle: wind or cold can wipe out an entire crop, a randomness whose unpredictable return on investment means no sane economist would bet on it. The man who eats grapes, he says, imagines they'll always be there: he has no idea what it took to get that food to him. The analogies with the programming and logistical components of the film festival economy are obvious. Sequences of Grocer's Son feel too long within themselves even as the whole feels rushed, which would be paradoxical if it weren't cut down from a much larger piece. What's welcome, nonetheless, isn't just the unapologetically micro-view of very particular type of nonfiction enthusiasts but the granular work underpinning all such enterprises—presentations of business plans by the quarter to skeptically sympathetic interrogators, meetings with untold numbers of parties to secure additional blocks of financing. Having formatted my fair share of newsletters, I couldn't help but cheer for the young Tënk employee who nervously waits to see if the site will a) go live b) actually work, then quickly assembles an e-blast to inform subscribers and high-fives MailChimp's (since-retired) monkey hand back when it high-fives him in congratulations.
In the shorts programs, two films popped out at me. Roman Hodel's The Game (now available to stream as a New Yorker short) trains several long-lens views on FIFA referee Fedayi San. Speaking in German, English and French as the occasion requires to communicate with a diverse array of soccer players, San's decisions are triangulated with fellow refs, commented on by variably sympathetic game broadcasters and made with full awareness of the potentially angry crowd in the stands. (At a pre-game briefing, one supervisor instructs staff to not pick up any fireworks thrown onto the field and let the right people handle it.) The decision to treat the reveal of the precise identity of two observers in the crowd as a final twist is unfortunate, not really recontextualizing anything, but the on-field action is beautifully shot, crisply mic'd and high-pressure—San is making difficult decisions minute by minute, and the film's with him. Better still was another short from the incredibly industrious Kevin Jerome Everson, whose The I and S of Lives is one of the better additions to the burgeoning pandemic genre. Planting himself in Washington D.C., Everson allows his shoulder-height camera to pan fluidly more-or-less-in-sync with a properly masked rollerskater who swoops in disciplined circles on BLM Plaza. Everson keeps his position and swings around, sometimes walking over when the man skates out of frame left or right — at moments, the camera's so swift to keep up it's almost as if Everson's on skates himself. There's nary a white person in sight, just Black folks hanging in the sun. Everyone's so respectful in choosing to either group up together or keep their difference that for once, footage that's now seemingly from a different phase of life didn't bother me every time I saw an unmasked person. There's a sense of community here negotiated under duress but at least with nice weather, and a sense of things opening. The film's pleasure is primarily in Everson's uncanny ability to keep himself within compelling, safe distance of a human planet in orbit at all times. That was summer 2020—now, back to the outside world.