Back to selection
Wreckers of Civilization : Marcus Werner Hed and Dan Fox on their Doc Fortnight-premiering Other, Like Me: The Oral History of COUM Transmissions and Throbbing Gristle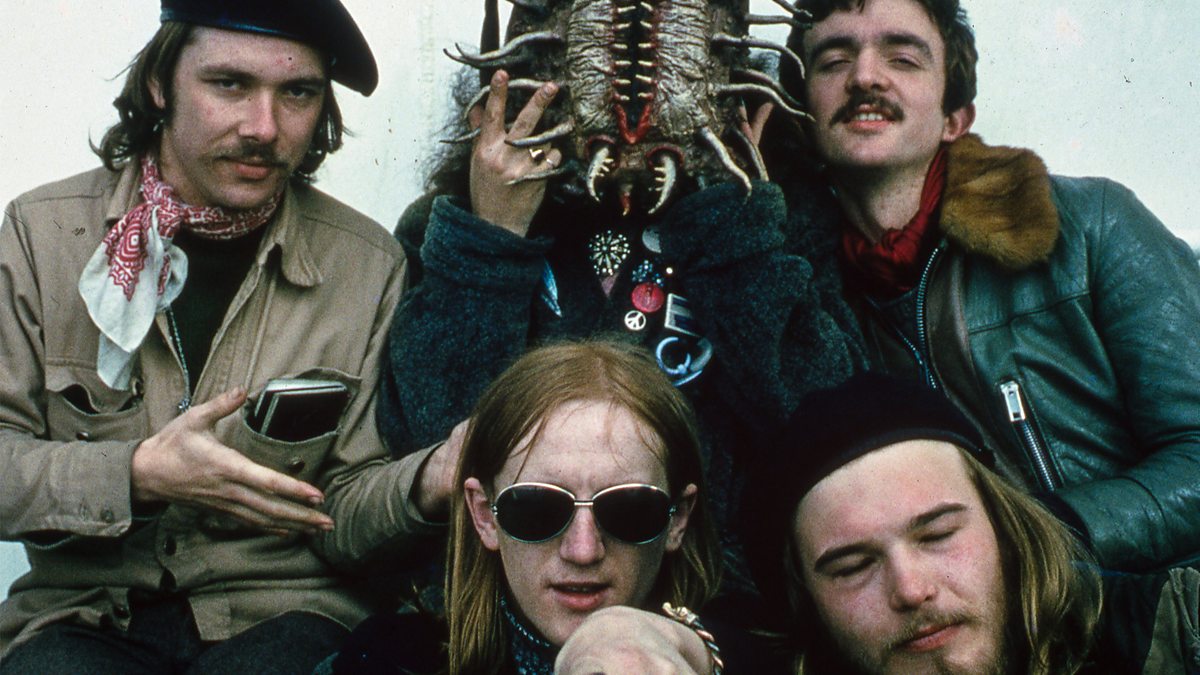 Other, Like Me: The Oral History of COUM Transmissions and Throbbing Gristle
Marcus Werner Hed and Dan Fox's Other, Like Me: The Oral History of COUM Transmissions and Throbbing Gristle, which NY-premiered February 24 as part of this year's hybrid Doc Fortnight, certainly lives up to its billing as "a unique portrait of living for art's sake." The story began in the UK's pre-punk days in Hull — a port city never to be remembered for its music scene — when a group of resident weirdos rebranded themselves as COUM Transmissions and began staging colorful happenings on the city's grey streets. Artists and musicians came and went (and moved to London); the group and its members metamorphosized (most notably founding rebel Genesis P-Orridge); and controversy ensued (a pornographic model, co-founder Cosey Fanni Tutti, boldly re-appropriated her own image by transforming those sex photos into artwork). And then they formed noise band Throbbing Gristle, and industrial music was born.
And now that this unceasing creative whirlwind has been captured onscreen through a massive trove of archival material and candid interviews with the surviving misfits (including P-Orridge who passed away in March 2020, when the doc first hit screens), Filmmaker decided to reach out to the Swedish-British doc duo to learn all about their journey back to a futuristic time. (Other, Like Me: The Oral History of COUM Transmissions and Throbbing Gristle continues screening virtually through March 10, and IRL at MoMA on February 27.)
Filmmaker: So how did this project originate?
Werner Hed: The BBC approached me in early 2017 to make a film for television about COUM Transmissions, the subject of an exhibition in their hometown of Hull that year. A couple of years before I'd made another film for the BBC, co-directed with artist Nathaniel Mellors, about the British artist Bob Parks, which contained some rather difficult material to do with sex, death and performance art. The film had been well received when it was broadcast. So I guess they assumed I'd be comfortable telling the story of another so-called "difficult" group!
I was fascinated by the COUM story, but I wanted my good friend Dan to co-direct it with me. Dan, who is also a writer, is a big music fan. He knew much more about COUM and Throbbing Gristle (TG) than I did, and understood both the art and music contexts they worked in. Also, as a Swede working on a very British story I felt we needed someone who grew up in the UK to help parse some of its local nuances and textures.
Initially the BBC just wanted a film on COUM, telling the story up until their final scandalous exhibition "Prostitution" at the ICA in London. But the project soon expanded to include TG, as the narratives of the two groups were inextricable.
Filmmaker: Though the film has screened Europe and the UK since its 2020 release, Doc Fortnight is your New York premiere. Which kind of surprised me, especially considering Genesis P-Orridge's connection to the city. Was this a pandemic-related delay?
Werner Hed: Yes, it was. We thought we had finished the film in early 2020. But then the pandemic hit and the post-production studio we were working with had to temporarily close operations.
The release schedule was thrown out the window, and festival screenings were constantly being postponed or cancelled due to the lockdown rollercoaster. New York was totally shut down, so there were no opportunities to show it here. At first this was incredibly disappointing, but it turned out to be a blessing. By the time things began to open up a little we'd gained some distance on the film. We had the opportunity to reedit parts of it, adding a couple of new scenes and improving others with new archival material that had subsequently come to light. We made a final cut in 2021. Time truly is your co-director sometimes.
Filmmaker: The film is jam-packed with rare archival material. So did you acquire it from various sources? How much footage were you ultimately dealing with?
Fox: I used to work as an editor at an art magazine. Whenever we did features on, say, obscure 1970s performance artists, it was frequently the case that you'd only have two blurry black and white photographs and one dog-eared poster to use as illustration.
COUM, I think, are unusual in that they produced a vast amount of visual material — hundreds of collages, mail art, broadsides, posters. Then all the photos, film and video. It's extraordinary how productive they were. And TG also generated a remarkably large body of correspondence and visual material, carrying over, I guess, some of the same strategies they had used in COUM.
Unusually for small independent bands of the 1970s, TG had access to video equipment that they used to document some of their shows, such as their extraordinary concert at Oundle boarding school, which we include in the film. They would often add their own video effects, giving their performance videos a beautiful textural quality. Most of the material, though, came from the personal archives of the group members and their friends, along with videos that TG had themselves released. Some came via fans and collectors of underground ephemera. And a couple of very generous Hull locals helped us with locating period imagery of the city.
There is an overload of visual information in Other, Like Me, but it's only a fraction of what exists. We discovered a strange paradox that the more we packed into the film, the less clear the narrative became. There are so many potential forking paths, so many rabbit holes one could go down at each stage in the story of the collective, that it took a long time to find a clear narrative through-line. It's also important to note that the documentary was commissioned for national TV in the UK, so we had to work from the assumption that nobody watching the film knew anything about them. The group has a devoted following of highly knowledgeable fans, but the rewarding challenge for us was speaking to people new to the story.
Filmmaker: The doc includes original interviews with many of the key players, though all done separately. Was this due to logistics and/or bad blood between the former members? (Genesis strikes me as particularly polarizing.) Was it difficult to convince folks to participate?
Werner Hed: People were willing to participate so long as we told the story of the collective as a whole. The interviews were done separately because people live quite far apart, and we didn't see any good reason to try and put people in the same room. We also felt it was important to try and show people at home, in their studios, or in their everyday places of work. There's this reputation they have of being the "wreckers of civilization," but the truth is of course so much more complex and interesting.
Gen was diagnosed with leukemia during the production of the film, so we had to stagger a lot of those interviews due to illness. But each time we went to visit, s/he always had something new to show us — photos of performances, for example, or 'zines s/he'd made as a teenager with COUM member Spydeee Gasmantell.
Fox: We were struck by how generous everyone was with opening up their archives to us and giving us so much of their time. There was a real desire to talk. But we have the sense that maybe that had not been the case until the COUM exhibition in Hull happened. Cosey Fanni Tutti had already brought a lot of the players together in the process of working on her memoir Art Sex Music and the Hull show. I think that had already got people reflecting on their shared histories.
Filmmaker: I'm guessing everyone involved with the collective was able to see the final cut of the film. What were the reactions?
Werner Hed: I showed an almost complete cut to Genesis not long before s/he passed away. At the end of it Gen turned to me and said, "Fuck you." Then there was this excruciatingly long pause, really making me squirm, before s/he continued, "Fuck you. We tried so hard to make the story a mess and you managed to make it all make sense."
Fox: Everyone seemed happy with the film. For some members of COUM I think it brought a lot of memories back of the Hull years. Chris Carter and Cosey Fanni Tutti, who have been really supportive, told me that it wasn't what they'd expected. Recently Cosey said in a public Q&A after a screening in London that the film had surprised her. She felt it was much more than a documentary — it was more like an art work. For us, that was really meaningful.