Back to selection
A Wardrobe of Coats: Costume Designer Eimer Ní Mhaoldomhnaigh on The Banshees of Inisherin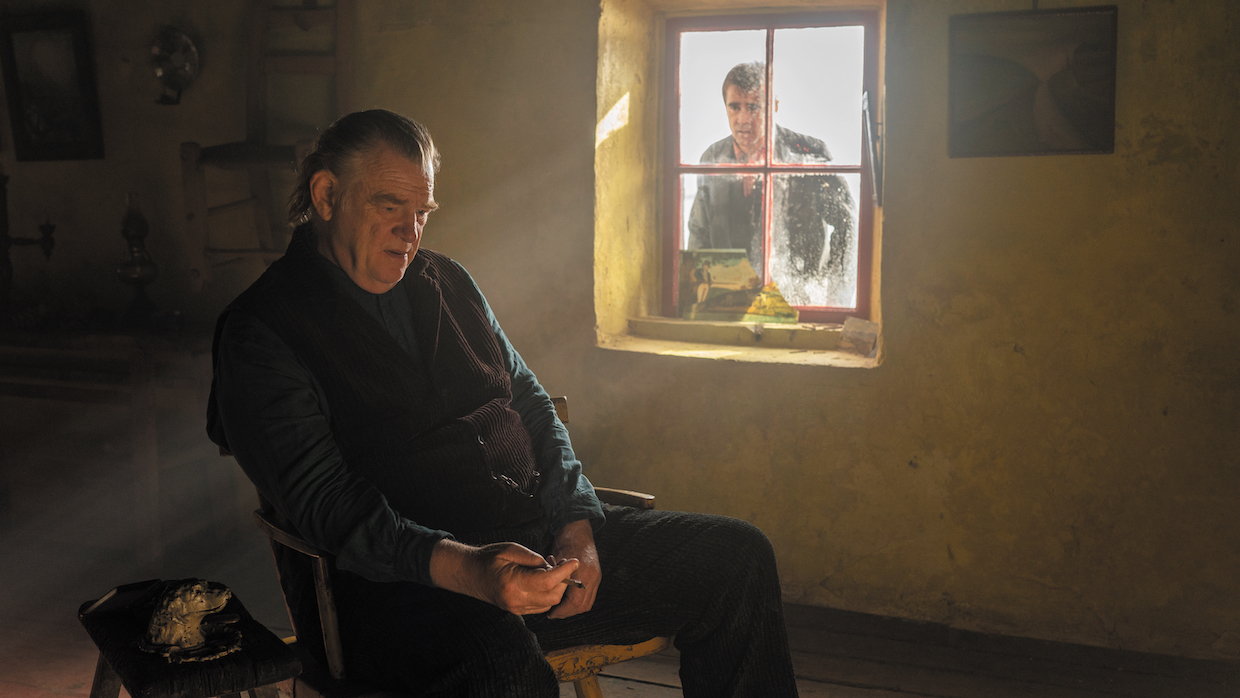 Brendan Gleeson and Colin Farrell in The Banshees of Inisherin (Photo by Jonathan Hession, courtesy of Searchlight Pictures)
Martin McDonagh's The Banshees of Inisherin brings the writer-director's signature caustic humor to the story of Colm (Brendan Gleeson, perfectly surly), who abruptly decides to stop talking to his longtime best friend, Pádraic (Colin Farrell, perfectly perplexed), with devastating results for them both. The film is set on a fictional Irish island in 1923, and the combination of wide-open spaces and unfussy but handsome costuming adds visual dynamism to a film whose appeal is largely rooted in whip-smart dialogue. Costume designer Eimer Ní Mhaoldomhnaigh's filmography includes works by Neil Jordan (Breakfast on Pluto) and Whit Stillman (Love & Friendship), which gave her extensive experience with period pieces, as well as two collaborations with Ken Loach, The Wind That Shakes the Barley and Jimmy's Hall, set in Ireland in, respectively, the 1920s and '30s. "For whatever reason, I've ended up doing quite a few films set in that period over my career," she says. "It's an important period in Irish history." 
Given the significance of the era and McDonagh's penchant for upending expectations, Ní Mhaoldomhnaigh was careful to avoid cliché in her costuming choices. "Martin and I didn't want it to become a pastiche of the Aran Islands, which had a very specific kind of dress code at the time. The cloth was all homespun, and everything the men wore was like a uniform," she says. "We wanted to have room within the story to be able to really express something about the characters with what they were wearing." Given the specific period setting, all the costumes were custom-made. Ní Mhaoldomhnaigh used a variety of Irish wools and linens for authenticity and overdyed certain fabrics to make them stand out. "We kept the wardrobe quite small," she says. "These are people who don't have money. It's subsistence farming, working as a musician, doing a little bit of teaching. It's really important we see that they are wearing these garments. They're not just coming out with something new every day because it's a costume movie." The characters aren't wearing rags, but they aren't elaborately dressed either. Rather, these costumes are the types of clothes that are built to last and filled with thoughtful details. 
"Class, of course, is really important," Ní Mhaoldomhnaigh explains. "For me, it was important that the whole thing had a strong design ethic because I felt that with the story there was a heightened reality to everything. I hate when something is middle of the road. I hate when you read a script and somebody says, 'Oh, he's a farmer, so he should look like this.'" 
Ní Mhaoldomhnaigh brought a sense of nuance to the sweet yet increasingly exasperated Pádraic. "I do love the red jumper with the collar on Colin," she says. Pádraic has a close relationship with his no-nonsense sister, Siobhán (Kerry Condon), which influenced the costuming: "I can imagine Siobhán thinking, 'Oh my God, the winter's going to be very cold. I'm going to knit him a jumper,' then making the little collar as a kind of personal touch." In his collared sweater, Farrell has a schoolboy look: "There's a beautiful naiveté to the way he dresses, but it's very tender as well, that idea that she adds this little touch to it. I think it says so much about him and his relationship with Siobhán, and his relationship with where he lives and his Irishness." 
Pádraic and Colm are costumed in opposition to one another: "I felt that Pádraic needed to have a carefree quality, especially at the beginning. There had to be a sense that before he went out the door in the morning, Siobhán was buttoning up his shirt, smoothing down his hair, and trying to keep him tidy." With Colm, "There had to be something of the poet in the way he dressed, but without it being very ostentatious. So, he wears some corduroy that's nicely dyed and a saffron-colored linen shirt. There's that element of, not vanity, but a knowingness of somebody who has traveled to the outside world at some point and brought back ideas of what a poet or a musician should look like," she says. "It's all about getting those subtleties into the costumes, and hoping that they will come across in the way the actors embody the costumes and the characters."
The specificities of Pádraic and Colm's narrative play out in a stunning landscape—small-scale dramas set against a large-scale atmosphere. "Martin said that he wanted them to have their silhouette be dark so that when they were walking across the landscape, we would pick up this silhouette," says Ní Mhaoldomhnaigh. "He made some nods to Westerns. That's why Brendan has that long duster coat." Coats were an important part of the film —"What I love to do is give each character a wardrobe of coats," Ní Mhaoldomhnaigh says. About Siobhán's deep red coat, the costume designer explains, "She's from the west of
Ireland, and the women there wore red petticoats, so it's a nod to that," but at the same time, "she's got more of a contemporary outlook, and she's trying to get away from the narrowmindedness of the island. She's wearing clothes that are a bit more contemporary." 
The color palette of the film is largely muted, but "I was determined to get some kind of color in there," Ní Mhaoldomhnaigh says. "For the men, a lot of the color is really in the shirts and also in the knits. You can have knitwear on and have a dark jacket over it, but you're still going to get the knitwear and the textures. For the backs of the waistcoats as well, we used linens, but they have checkered patterns or stripes." The environment is so remote that there's no electricity, which also influenced the costuming: "In the pub, it's lit by candlelight. It's quite dark. You're seeing a lot of things in shadow, so I wanted to have little pops of color and texture here and there. It was a way to help frame the characters as well. I spoke a lot to Mark Tildesley, the production designer, asking what color the pub was going to be. So, I would try to make sure the colors I was using were going to work inside." 
Whether they're inside the pub or wandering by the seaside, the characters cut a distinctive profile, their costumes a humble, steady counterpoint to their often vicious words.