Back to selection
"In the Desert, There Were Challenges We Couldn't Foresee": DP Boaz Freund on The Longest Goodbye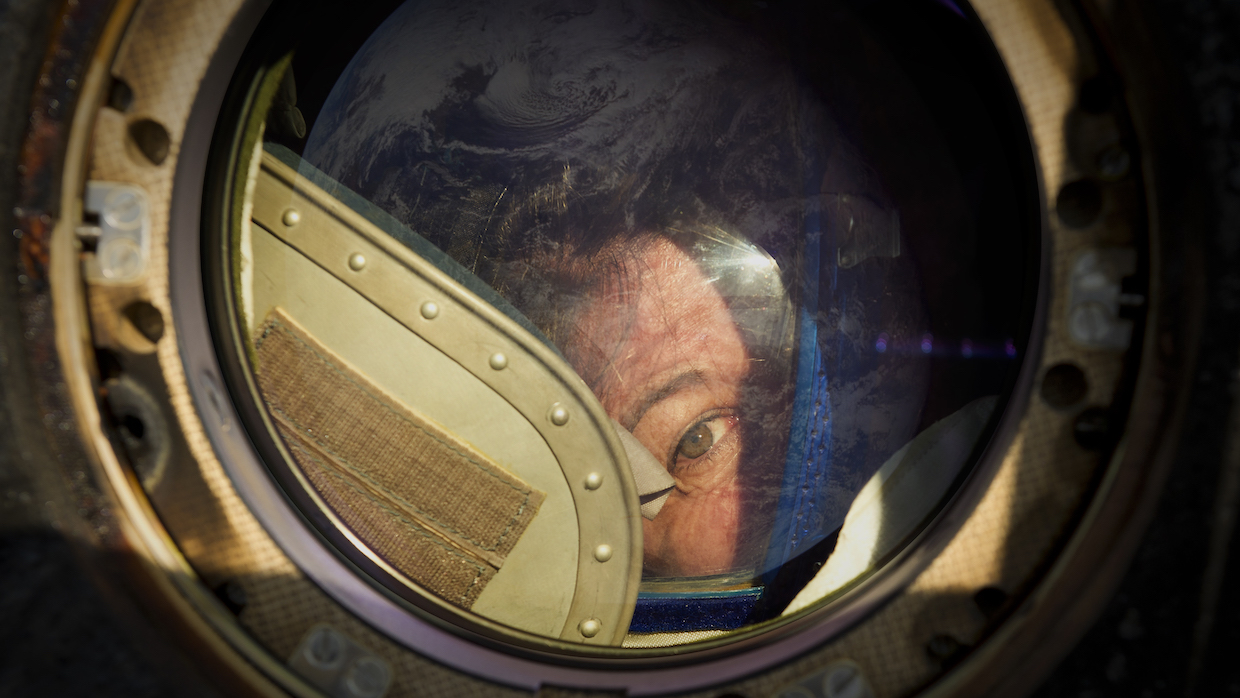 The Longest Goodbye. Photo Credit: (NASA/Bill Ingalls)
The inherent loneliness of deep space exploration is the foundation of The Longest Goodbye, filmmaker Ido Mizrahy's latest documentary. Particularly as it concerns NASA's looming deadline to have a mission blast off to Mars by 2033, Mizrahy explores how technology can aid astronauts in maintaining vital connections—to friends, family and Earth itself—and what scientific advancements are being made to preserve the social and emotional well-being of these intrepid explorers.
Cinematographer Boaz Freund, who's previously collaborated with Mizrahy, tells Filmmaker about shooting in the vast Utah desert, making Mars a character in the film and working with colorist Marc Boucrot. 
See all responses to our annual Sundance cinematographer interviews here. 
Filmmaker: How and why did you wind up being the cinematographer of your film? What were the factors and attributes that led to your being hired for this job?
Freund: I was hired to shoot The Longest Goodbye because I have a close working relationship with director Ido Mizrahy. We did two docs together previously: Patrolman P and Gored, so needless to say we have been in the trenches together and have a very strong sense of shared sensibilities as well as an incredible shorthand and trust.
Filmmaker: What were your artistic goals on this film, and how did you realize them? How did you want your cinematography to enhance the film's storytelling and treatment of its characters?
Freund: My artistic goals were to produce images that would feel natural yet designed. I wanted to create a cohesive visual language for the film that would leave the viewer engaged but not distracted. It's a fine balance. Ido and I spent a lot of time discussing and devising a plan that would support the story and advance the film's narrative, while keeping the visual organic yet striking.
We wanted a natural feel for the images, with Mars being a character in the film. We paid great attention to color palettes and camera choices when filming landscapes, especially when we cross reality and enter dreamscapes in our protagonist's mind. It was a fascinating experience to shoot in the Utah Desert, and we really tried to plan our days around the natural light so the sun could work its magic.
Filmmaker: Were there any specific influences on your cinematography, whether they be other films, or visual art, or photography, or something else?
Freund: We were inspired by the documentary Into Eternity mainly as a reference for the interviews in the film, which feel like you capture the subjects in their native environment. It's very casual looking and we had our own take on that idea. We also looked at The Great White Silence, which is a 1924 official film record of Captain Scott's ill-fated trip to the South Pole. It is gorgeously shot and was a great inspiration for evoking isolation visually.
Filmmaker: What were the biggest challenges posed by production to those goals?
Freund: Working during the pandemic, the greatest challenges were not being able to be on set for some of our key interviews. We had to set up some interviews through Zoom and I had to do the lighting remotely, counting on local crews to execute, which resulted in slow and challenging days. Also, when we shot at the Johnson Space Center, we had a very limited amount of time and a very big shot list to accomplish, so having a clear plan and proper prep was crucial.
Filmmaker: What camera did you shoot on? Why did you choose the camera that you did? What lenses did you use?
Freund: Our A Camera was the Arri Amira, we chose it for the look that the Arri sensor produces, the quality of the color rendition and the dynamic range yields a picture that is instantaneously filmic. As long as you have a plan on how to treat the digital canvas, there is not a lot you need to do later. We also used older glass. We had a set of Zeiss Super speeds T1.3 and a Canon K-35 25mm-120mm T2.8 Zoom. We chose the older glass because we wanted an organic looking image with a nostalgic feel. The story is set in a very futuristic setting so it felt "right" to have a softer, more textured and maybe slightly imperfect image to help make it less esoteric and more accessible. It was a nuanced choice.
Filmmaker: Describe your approach to lighting.
Freund: The approach to lighting was to keep it natural, especially with the interview, we didn't want them to feel "lit." It was more, "Let us find our characters in their working or personal environments." We actually spent a lot of time and effort designing the wide shots in a way that gives you a sense of space, but would feel like the lighting on our subjects came from a natural source in the room—be it a lamp or a window. It's pretty ironic, because the set ups were quite complicated, but when you look at the monitor, it felt like there was no lighting. It's the craft of un-crafting…and it wasn't easy to do. But we got there and I love the results.
With the other visuals for the film I tried to carry that spirit along. We'd spend time figuring out shots and choreographing them, but wait for hours for the sun to be in the right place. For the interiors, we didn't want to over-dramatize or over-stylize, so we kept a balance of simplicity and letting the drama come from staging, or a single source light out of frame. We kept it very restrained.
Filmmaker: What was the most difficult scene to realize and why? And how did you do it?
Freund: The trickiest shot in the film from a capture standpoint was a fantasy shot where one of our characters describes the moment before entering a Mars simulation habitat, and talks about looking at the earth one last time. Ido had this idea for a point of view shot where as he narrates the story, the camera tilts up to the sky and Earth is revealed as if we are on another planet looking down. The planning and staging and, most importantly, timing of that shot had to all be done very meticulously, and we even had a mockup to help time it out. But then when we were in the desert, there were challenges we couldn't foresee and we had to figure out how to make all the elements work together. It took some time, but we figured it out and the shot is very cool in the film.
Filmmaker: Finally, describe the finishing of the film. How much of your look was "baked in" versus realized in the DI?
Freund: The look of the film was definitely baked in because of our lighting choices. In general, I like shooting my materials close to how I like them to finish. Our phenomenal colorist Marc Boucrot was instrumental in making the film move along in a color harmony. There is a lot of archival footage, and he did a great job of bringing it closer to the vibe of the original footage in the film. Marc, Ido and I devised a plan for the film's colors to evoke a feeling, with isolation being represented in cooler palettes, with Earth and home being represented with warmer colors. Marc really honed in on our ideas and was truly great at carrying out the plan.
TECH BOX
Film Title: The Longest Goodbye 
Camera: Arri Amira, Canon C-300 markII, Sony FS-7
Lenses: Canon K-35 25mm-120mm Macro Zoom Lens, Zeiss Super Speeds
Lighting: Litemat4, Quasars, Leko Lusters
Processing: Log-C Custom Lut
Color Grading: Digital Intermediate