Back to selection
"These Same Street Corners Have Evolved Into Something Almost Unrecognizable": DP Sara Kinney on The Stroll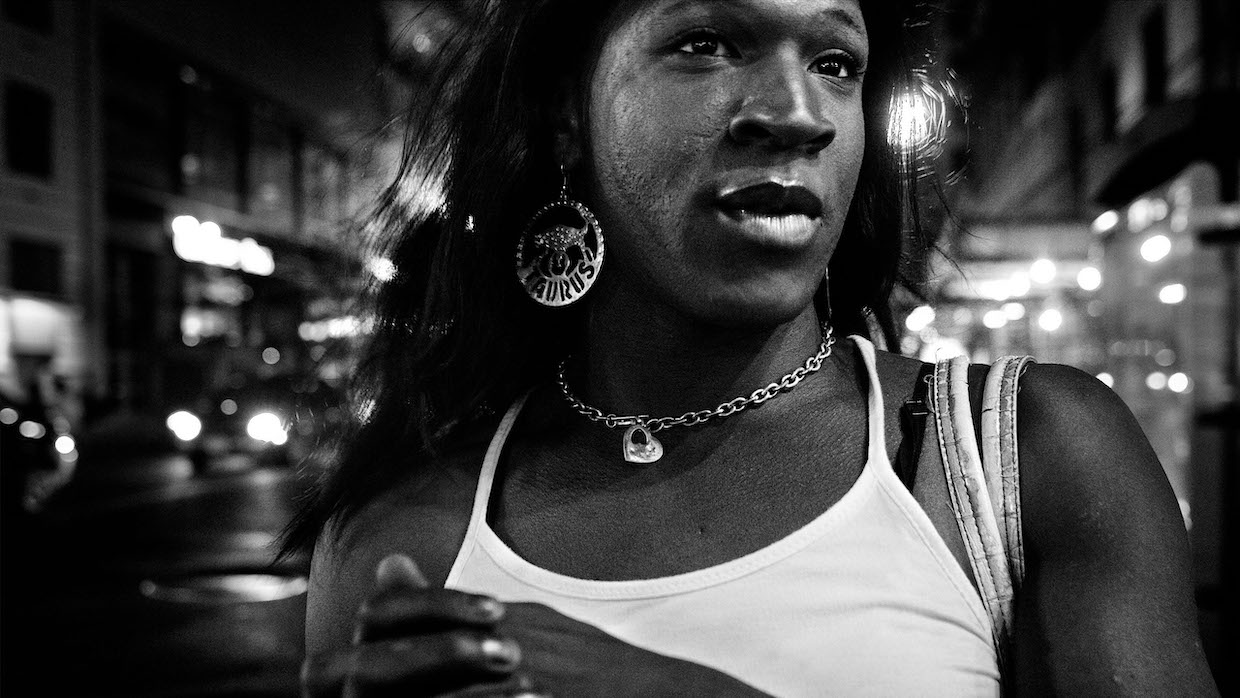 The Stroll, courtesy of Sundance Institute.
The gentrification of New York's Meatpacking District is told through the eyes of the trans women of color who lived and worked there in the nonfiction feature The Stroll. Once a go-to destination for sex workers to meet with clients, the neighborhood has become increasingly sanitized and corporate. In witnessing gentrification unfold due to increased policing and rampant development, directors Kristen Lovell and Zackary Drucker chart a neighborhood's decline by way of its "up-and-coming" nature.
DP Sara Kinney discusses first meeting The Stroll's co-director Drucker when they were teenagers, using a plethora of archival images and the enormous compliment of being told the film had "very trans-friendly lighting." 
See all responses to our annual Sundance cinematographer interviews here. 
Filmmaker: How and why did you wind up being the cinematographer of your film? What were the factors and attributes that led to your being hired for this job?
Kinney: The director Zackary Drucker and I have known each other since we were teenagers. We were in a beautiful crew of combat boot-wearing queer kids interested in foreign films and making art. We've followed each other's careers for a while, and when she reached out to shoot this film I immediately said yes. We have a lot of shared sensibilities and are both interested in telling stories of this kind. We both feel so honored to join (co-director) Kristen Lovell in her mission to tell the story of trans women surviving and creating sisterhood in the streets of New York.
Filmmaker: What were your artistic goals on this film, and how did you realize them? How did you want your cinematography to enhance the film's storytelling and treatment of its characters?
Kinney: The directors and I wanted to create something visually bold. This film documents a rich history that is deep and powerful and occasionally traumatic, and we wanted the interviews to be as visually dynamic as the women we were filming. We gave the background a lot of color with our lighting, and for a few interviews, the production designer built a giant floral installation out of repurposed materials, which was a nod to the legendary activist Marsha P. Johnson, and her iconic floral headpieces. We wanted the background to help tell the story, and for each frame to be as vibrant as the women themselves.
It's about the neighborhood from the perspective of the transgender sex workers who worked there, so we wanted to frame it from their POV, what it looks like to them coming back to these places. For the B-roll, I chose a wide angle lens, and kept the camera close, and just below eye level, to give the shot a feeling of being triumphant, almost reverential.
Filmmaker: What were the biggest challenges posed by production to those goals?
Kinney: A lot of the film is made up of archival images of the city—we tried to recreate some of the shots with the city as it is now, but the city has built up so much, the neighborhood so aggressively gentrified, that these same street corners have evolved into something almost unrecognizable. It's a stark contrast from the Hi8 video shots of the neighborhood in the 1980s, and how we shot it now, all clean lines of glass and steel, very sanitized. We thought a lot about color and also texture. The film we shot was cut in with a lot of archival with varying degrees of resolution, as well as some incredible animation, so the challenge was to create a look for the modern day scenes that would stand out but also work well when it's woven into the rest of the film.
Filmmaker: What camera did you shoot on? Why did you choose the camera that you did? What lenses did you use?
Kinney: I'm deeply familiar with the ARRI family from my narrative work, so it was an easy choice. It was important to have a camera that lends itself to a small build because we were hopping from handheld to sticks to Steadicam. ARRI makes my favorite cameras from a color science perspective as well. I love the Cooke S5 lenses for how they render color, as well as their contrast and how they hold detail. I found them to be very flattering on a lot of different skin tones.
Filmmaker: Describe your approach to lighting.
Kinney: We had a naturalistic approach to the lighting, but with an expressionistic use of color for the interviews. My gaffer Jonathan Alvarado and I created a massive soft source with Aputure 1200s heavily diffused, and then created color in the background with Titan Tubes and NYX bulbs and custom RGB Lekos. We had M18s pushing daylight from the windows, and gave the subjects some eye light with an array of light stream panels. The tricky part was that the interviews had to be lit for two directions at once, because we filmed the director Kristen Lovell asking the questions. One of the biggest compliments we received was from Lady P, who saw her interview and said we have very trans-friendly lighting.
Filmmaker: What was the most difficult scene to realize and why? And how did you do it?
Kinney: The first thing we shot for the film was the director Kristen Lovell at the trans liberation march, which started in Bryant Park and ended in Washington Square Park. We had fairly recently come out of lockdown so I went from relative isolation to marching several miles in a sea of thousands, while shooting handheld, on a 90-degree day.
Filmmaker: Finally, describe the finishing of the film. How much of your look was "baked in" versus realized in the DI?
Kinney: I created a show LUT before the shoot with my DIT John Kirsten to use on set, the colorist used it as a base in the Grade, and we finished in DaVinci Resolve with the superb colorist Luke Cahill. We stayed pretty faithful to the LUT, but of course Luke's work elevated the entire film.
TECH BOX
Film Title: The Stroll
Camera: Arri Alexa Minis, Bolex Super 8
Format: 4K UHD/ ProRes 4444 XQ
Lenses: Cooke S5 primes, Angenieux zooms
Lighting: Arri sky panels, Astera titans,
Color Grading: Davinci Resolve