Back to selection
"Weaving a Texture of Human Behavior": DP Manuel Billeter on Cat Person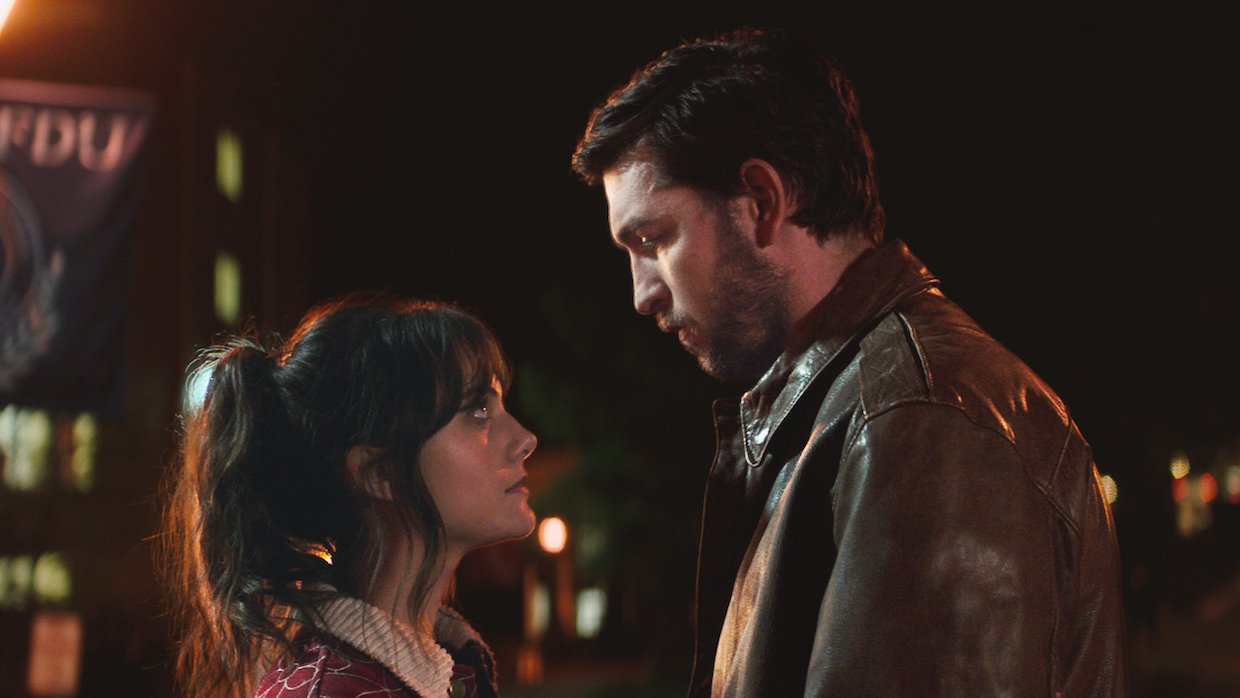 Emilia Jones and Nicholas Braun in Cat Person
Cat Person, the viral short story by Kristen Roupenian that first appeared in The New Yorker, can stoke the flames of discourse anew with the film adaptation from director Susanna Fogel. The premise remains the same: College student Margot (Emilia Jones) develops a mutual crush on 33-year-old townie Robert (Nicholas Braun). Yet when Margot's attraction for him fizzles out, she becomes the target of Robert's misogynistic rejection-fueled ire.
Cinematographer Manuel Billeter tells Filmmaker about his experience working with Fogel and shooting the anticipated short story adaptation.
See all responses to our annual Sundance cinematographer interviews here. 
Filmmaker: How and why did you wind up being the cinematographer of your film? What were the factors and attributes that led to your being hired for this job?
Billeter: You never really know, but I assume that someone reached out to my agent, who forwarded the script to me. I was quite intrigued by it — and curious to learn more about it — as it wasn't an obvious or easy story, more essayistic and observational than action-driven. I really connected with the tone and structure of the script and the psychological trajectory of the protagonist. If you are not taken by the material, you can't really make a case for wanting to work on the project. So after a first meeting over zoom with director Susanna Fogel and the producers, the subsequent pitch of a look-book, and a follow-up meeting, we found some good auspices to embark on a creative collaboration together. Probably there were also other factors involved, such as positive feedback from the first Assistant Director and the Line Producer, who both knew me well.
Filmmaker: What were your artistic goals on this film, and how did you realize them? How did you want your cinematography to enhance the film's storytelling and treatment of its characters?
Billeter: The script was very ambitious in scope and in the intimate portrayal of Margot — there are many different aspects of her journey, internal and external, and the film touches on many different genres, from psychological thriller to horror to rom com and even action drama — and I wanted to find a way to visually represent the stages and encounters she's going through with lighting and composition, adjusting it to become an expression of her psychological state. There are many gray and unresolved areas in the film, its structure weaving a texture of human behavior and interaction rather than a following a classic linear narrative, and I took the lead from that approach — ever changing, bold or subtle, depending on the scene, but striving to be truthful to the moment and finding the right emotional response in the cinematography.
Filmmaker: Were there any specific influences on your cinematography, whether they be other films, or visual art, or photography, or something else?
Billeter: Susanna started off the process by sending me a playlist of songs that she had in mind for the film, loosely descriptive of the various voices in the script, and invited me to contribute. It was a very unusual but interesting way to start off the creative journey, as I always thought film to have a lot in common with music. It also helped us dance to the same music, collaboratively speaking, if you will. From there, we also started having watching sessions of various films that touched upon the various genres and themes that are present in the film — to name a just a few: Let The Right One In, Annie Hall, Black Swan, The Social Network, Parasite, A Ghost Story — a very eclectic collection of films, reflecting the different aspects of the script, not necessarily providing a blueprint, but they kept the discussions flowing, which is crucial in the process. When creating my look-book, which I find always quite tricky because it's a first "from the gut" approach that could potentially be very much off the mark, I included visuals from Wong Kar-Wai films, Let The Right One In, some La La Land. The Neon Demon was also influential in its sheer visual celebration, Punch Drunk Love, Blue Velvet and many other lesser-known films, just to introduce some specific ideas for a relatable visual conceptualization and to describe my sensibilities or preferences for the project. Luckily, Susanna responded very well to it.
Filmmaker: What were the biggest challenges posed by production to those goals?
Billeter: Having a limited budget, the schedule was quite short for a script that had about 130 scenes in it. Even if somewhere very brief, more like thought bubbles or daydreams or imaginations, they would still need the necessary care and preparation, accommodation of time and of resources across all the departments. Many scenes were scripted for nights, or for driving in cars, and it takes special efforts to make that happen, and usually it's not a speedy process. Moving from one scene or location to the next often required that I light two very different sets almost simultaneously, and while our crew was limited in numbers, they absolutely pulled it off by giving their best, strategically planning out every step of the day.
Filmmaker: What camera did you shoot on? Why did you choose the camera that you did? What lenses did you use?
Billeter: I used the ARRI ALEXA Mini, because it's still a great and versatile camera I've been trusting for many years now, and its small format helped keep the operations nimble. We shot ArriRaw Open Gate, using Zeiss Master Anamorphic prime lenses, as I wanted the film to have a scope that goes beyond the intimate and personal, and opens up to a more epic cinematic scale and public discourse, just like the short story had attained when first published in The New Yorker.
Filmmaker: Describe your approach to lighting.
Billeter: I tend to light in a naturalistic, authentic, almost unnoticeable way, very much motivated by windows or other light sources and situations as they are present in the frame. Lighting from within the frame, so to speak, with the help of off-screen sources, so you don't feel the extraneous hand manipulating the shot — unless a more vivid and definite stylized approach is required to express a certain emotion, or stress a certain moment, as for example in the dream sequence, or the barrage of angry texts that Margot receives from Robert, as they were the culmination and abrupt violent ending of the original short story. I tried to keep it simple, incorporating existing practical light sources as they were helpful integrated parts of some locations, but always trying to be as evocative and truthful as necessary and to give it shape and emotion.
Filmmaker: What was the most difficult scene to realize and why? And how did you do it? 
Billeter: There were a few difficult scenes, but perhaps the most daunting one was the opening scene of the script, introducing Margot, simply walking and talking across the vast expanse of her college campus at night. The first scene is always challenging because you never get a second chance at making a first impression, and so many nuances had to be set up — and it was the last scene we shot that day, after a full day's work during daylight. This being an independent film, we had to be resourceful, so to set up the basis I decided to rely primarily on existing practical sources, which I had previously studied and observed at night by myself, and I came up with a plan to which sources we should or could alter with gels, where to place the few lights that I had available, with only very limited access to power, and which practical sources I needed to have turned off. When night started falling, it proved a lot more difficult to turn the selected campus lights off than previously promised, so we had to improvise a lot and also be very patient – all the while the clock was ticking and we still had so much work to do. Thanks to the great crew we got it done, but it proved a little stressful for all involved.
Filmmaker: Finally, describe the finishing of the film. How much of your look was "baked in" versus realized in the DI?
Billeter: Except for the specific look that the types of glass in the lenses intrinsically create, these days not much is "baked in" with regards to image manipulation after principal photography has ended. I had two basic LUTs built that I would use while shooting, one for day and one for night, which coupled with the lighting choices I made on set — I was lucky to have a very talented dimmer board operator available every day to help me fine-tune the levels and colors of the lights as I was shooting them — got me very close to the final result I was striving for.
TECH BOX
Film Title: Cat Person
Camera: Arri Alexa Mini
Lenses: Zeiss Master Anamorphic prime lenses
Aspect Ratio: 2.35:1 
Lighting: Mostly LED sources
Processing: ARRIRAW 3.4K Open Gate
Color Grading: DaVinci Resolve, DCI-P3